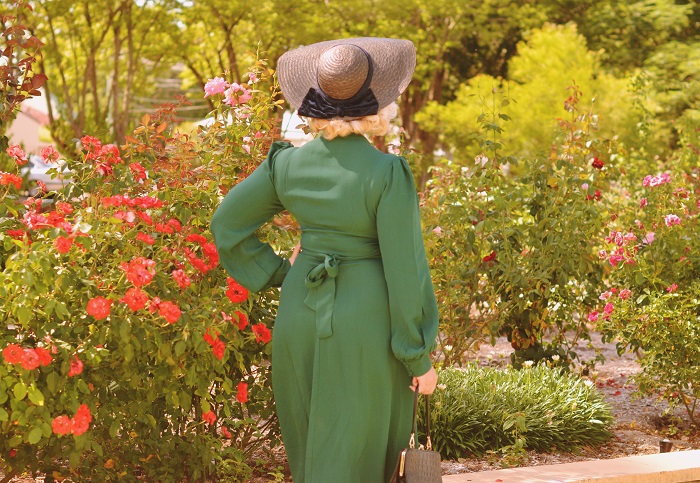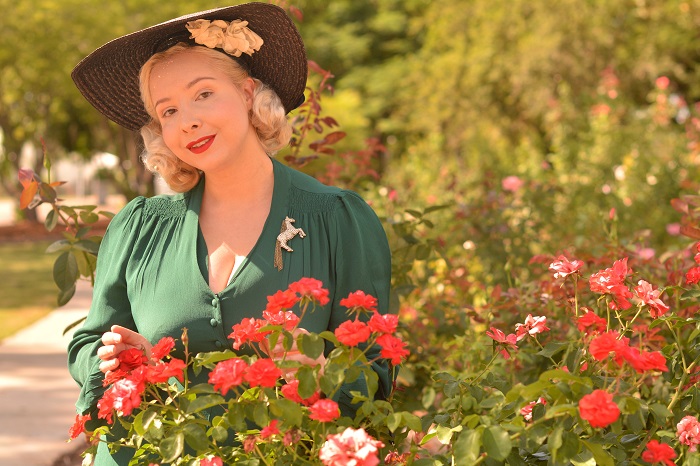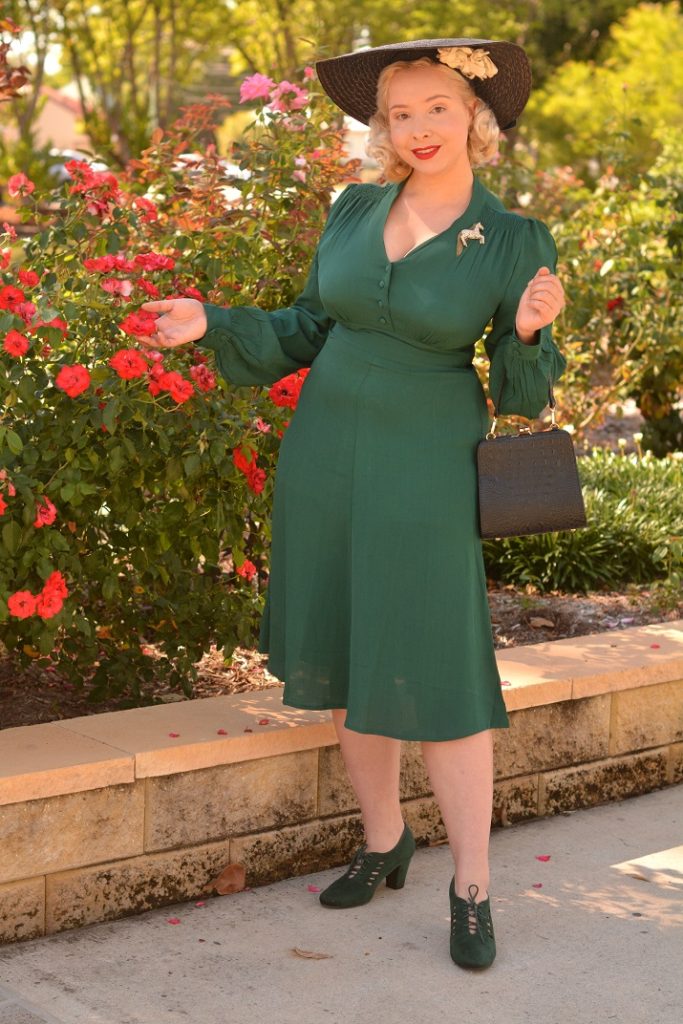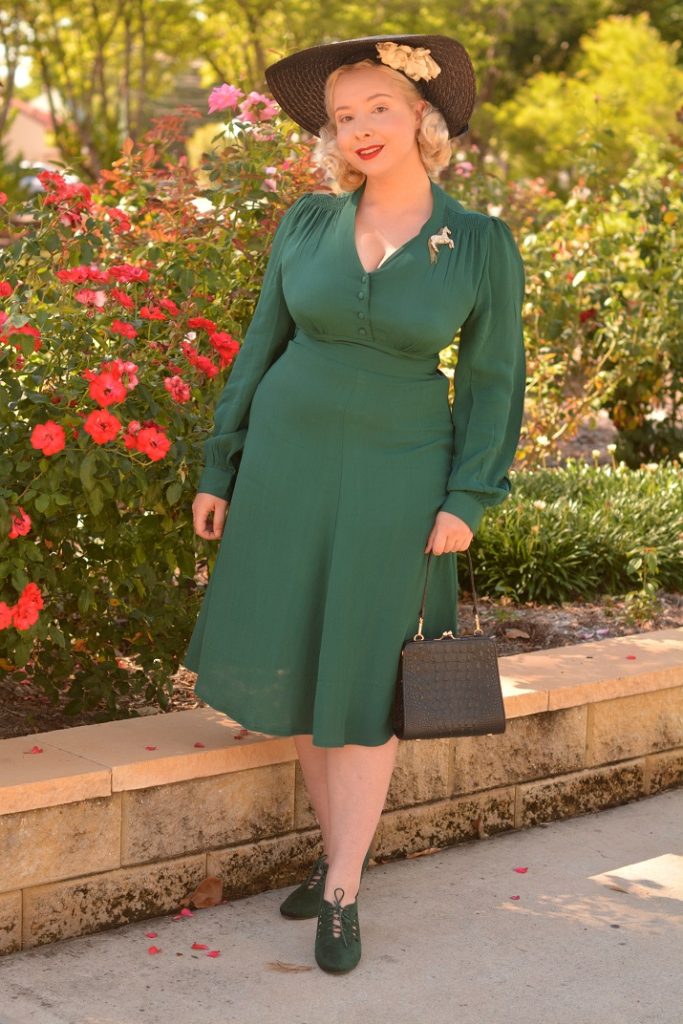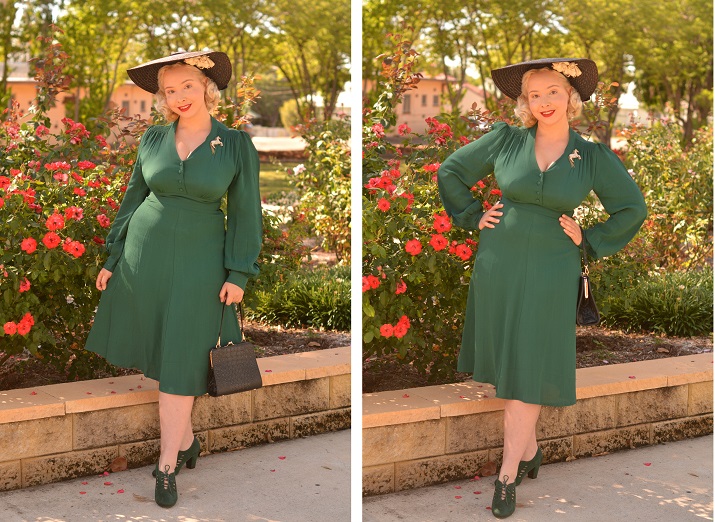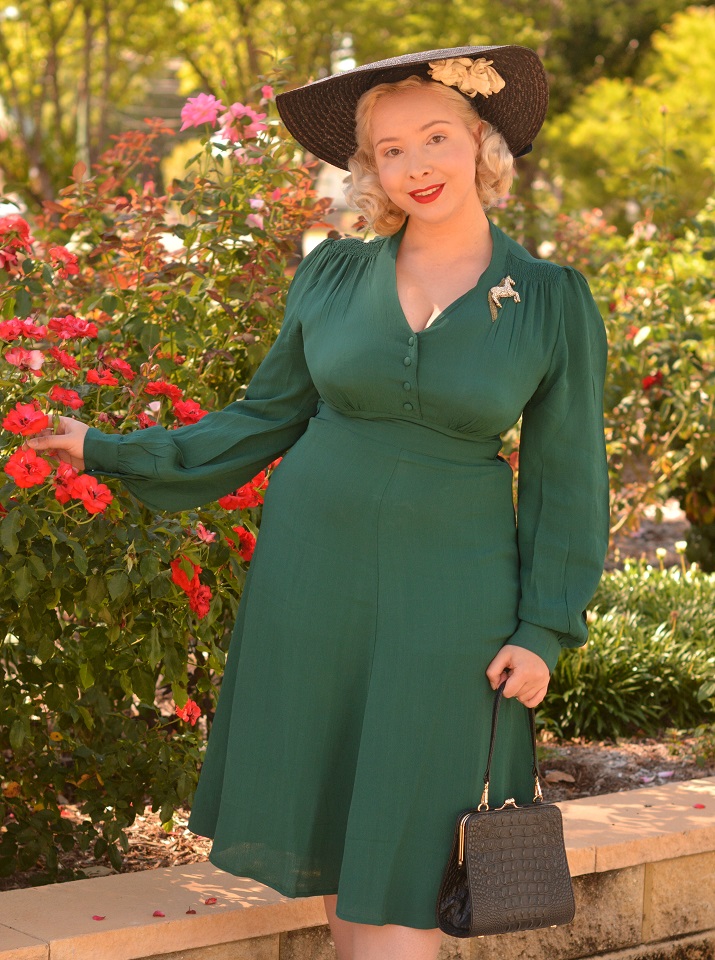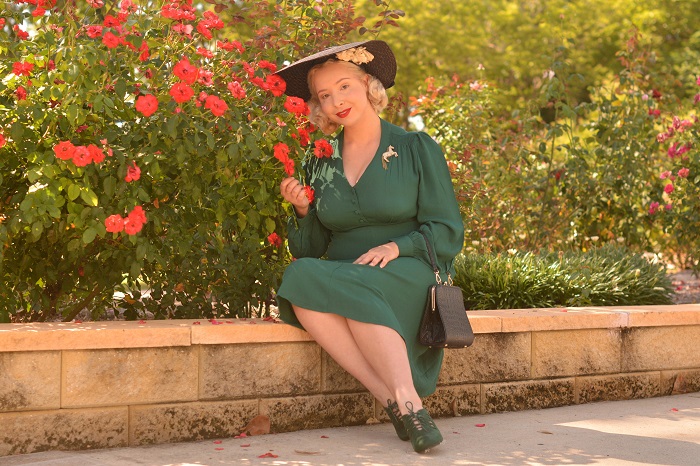 I'm sure there's many of you who will agree that there is something so very satisfying about a well priced vintage find! We all know how rare that is with the popularity of vintage having taken off, and if you live in Australia the options are especially limited…So I was buzzing with excitement when I got my hands on this fabulous 1940s hat the I came across on Marketplace! Even better was that it came with another stunning 1940s hat that I'm yet to wear.
I've wanted a 40s hat with a curved brim for a while now so to say that I'm ecstatic about this find is a bit of an understatement. So while I normally wouldn't recommend Marketplace as a vintage mecca, it does help to keep an open mind and check on there from time to time. One of my favourite features are the silk roses that are attached to the top corner, to give the appearance of hair flowers. Such a clever and convenient design! The roses do have some age spots on them, but for a hat has lived a glamorous life (I was told it was worn to Ascot) it has held up beautifully.
Obviously decadent outings won't be happening for a while, but I was content to wear it out in the park with the new green Ava dress from The Seamstress of Bloomsbury. One positive aspect of lockdown has been discovering pretty spots close to home. This little park full of roses is somewhere I used to pass several times a week on the way to the shops. I never really gave it much of a thought until recently while on a walk with Diago. I love roses and it seems like they've suddenly disappeared from the shops since lockdown.
I'm sure its not because anyone's hoarding them – ha, but likely because there's no overseas workers to cultivate them. I've been on the lookout for roses all week because I've been wanting to make some flatlays, but it seems that I might have to look into growing my own. It's fascinating how since the lockdown home improvement and gardening has become the new national past time. Even we haven't been immune to this epidemic and the last few days have been spent digging up our yard to create a vegetable garden. Much as it is exhausting it has also been very satisfying to watch it all come together. I can't wait to look out into the yard and see rows of vegetables growing.
For all of this stuff the boiler suits I bought earlier this year have come in very handy! It was however very nice to set my hair and actually wear something elegant today. With the cooler weather here I can finally wear something with long sleeves, and the lantern sleeves on the Ava dress are absolutely spectacular! I think the emerald green is a wonderful colour for autumn too, once the temperatures drop I always seem to go for jewel tones. The Ava dress also comes in navy (in polkadot or scotty dog print) and a striking fire engine red.
With the vintage magazines I read in my spare time, I try to match them up accordingly to the time of year and month we're in. This gives me a lot of ideas for outfits and how to style them. One popular trend I've noticed is matching your outfit and accessories to one exact colour. I thought about doing this but I just don't think its for me…I like to break things up a little bit! If you've been planning your A/W or S/S wardrobe and have your eye on a few pieces from The Seamstress of Bloomsbury, be rest assured that orders are still being shipped as usual. If you're in a position to treat yourself, please consider supporting small family owned companies where possible!