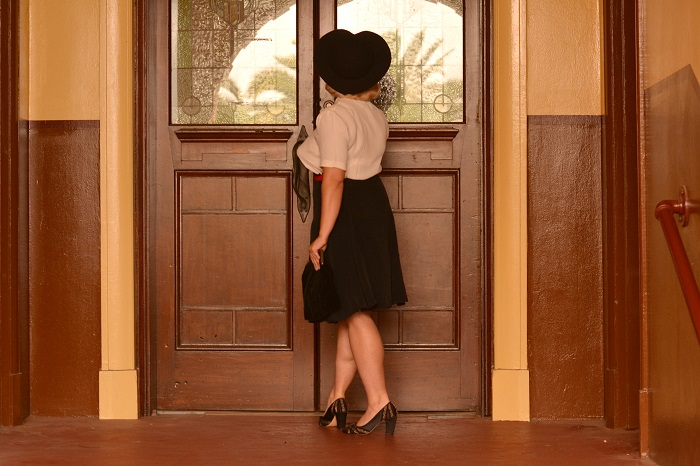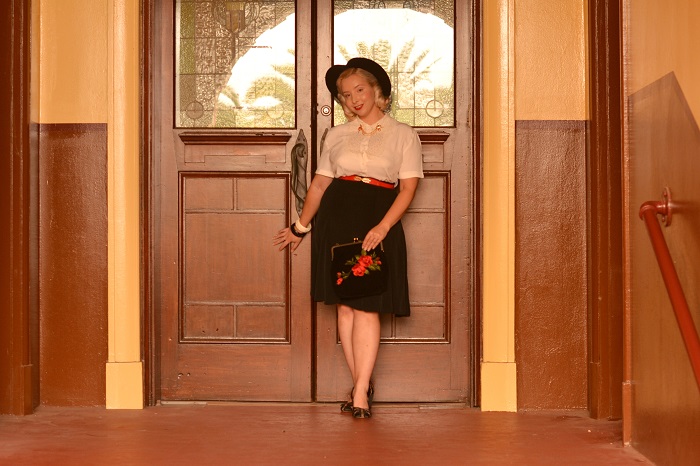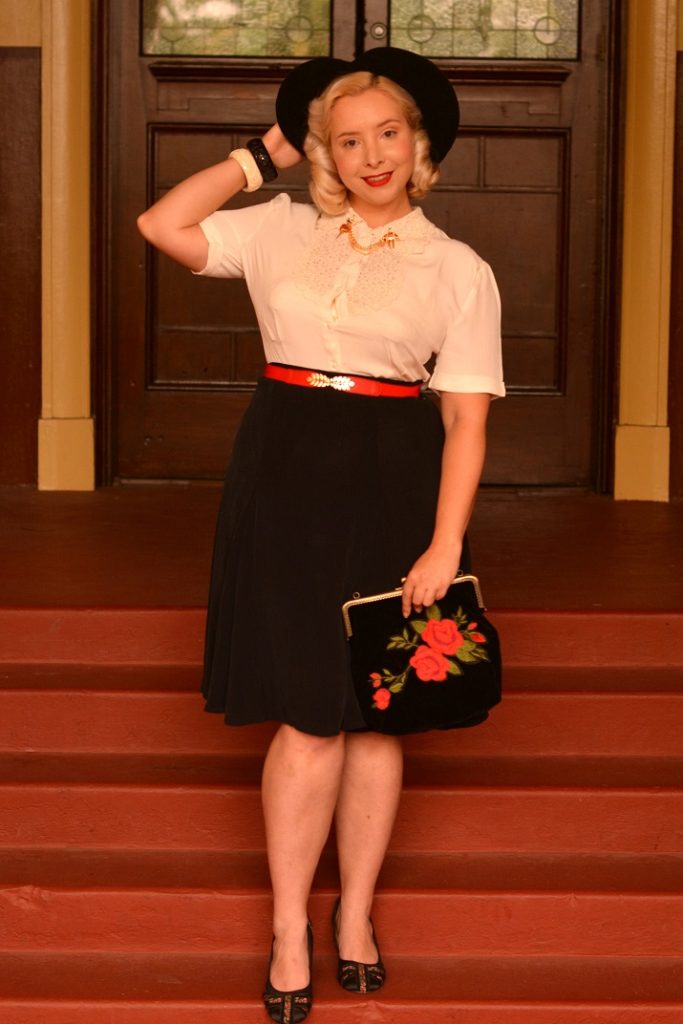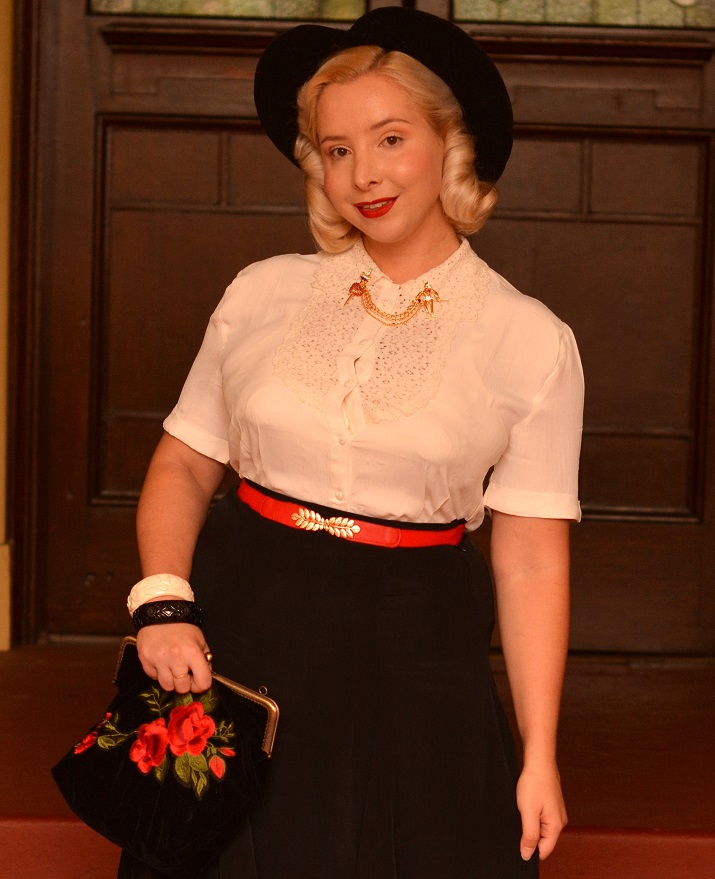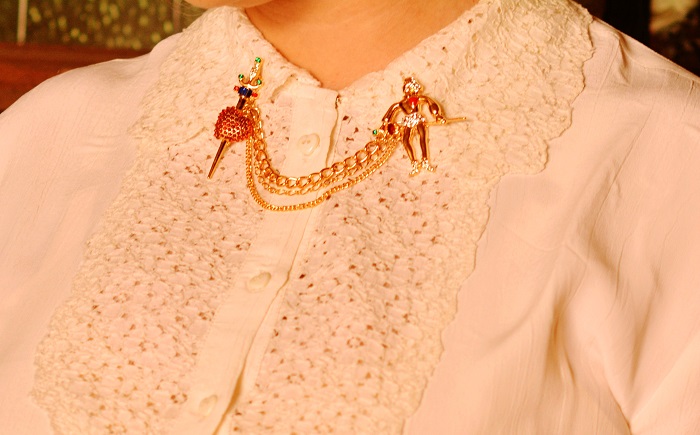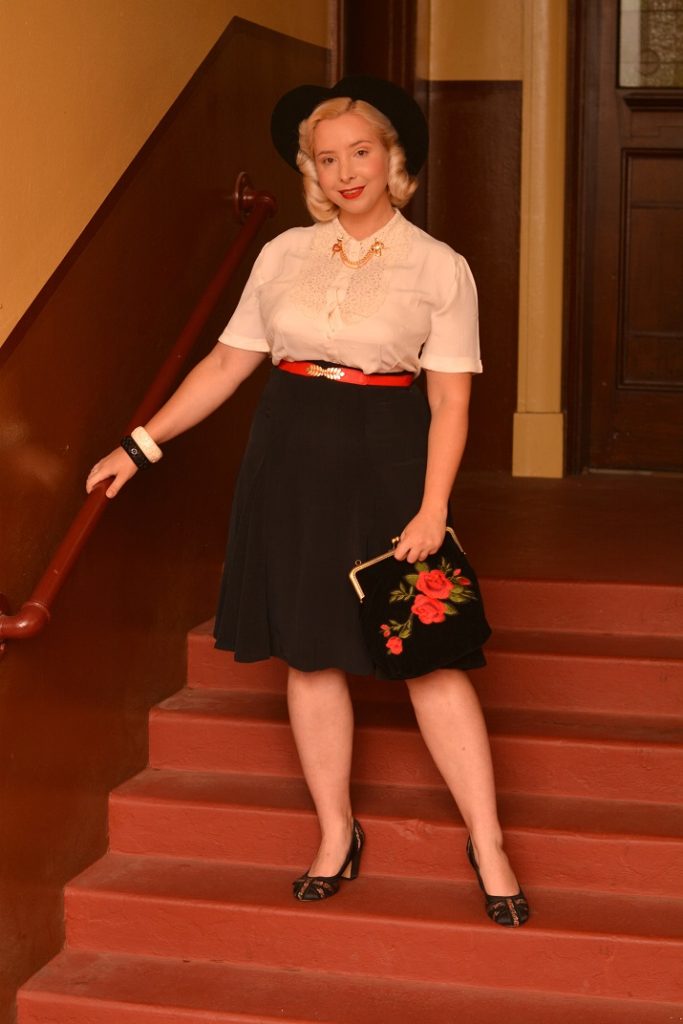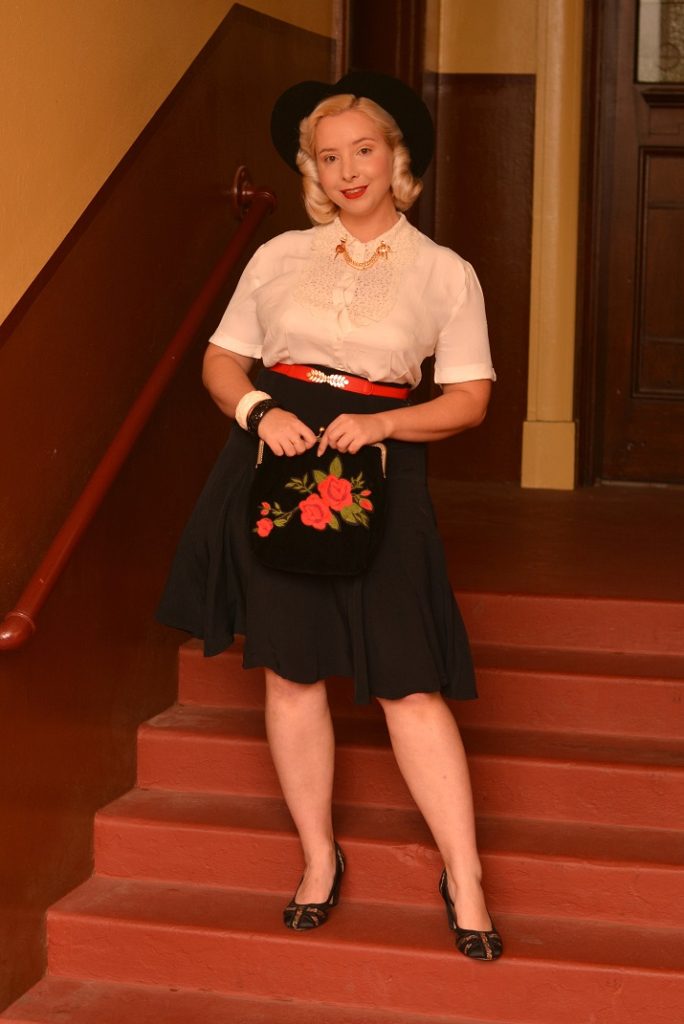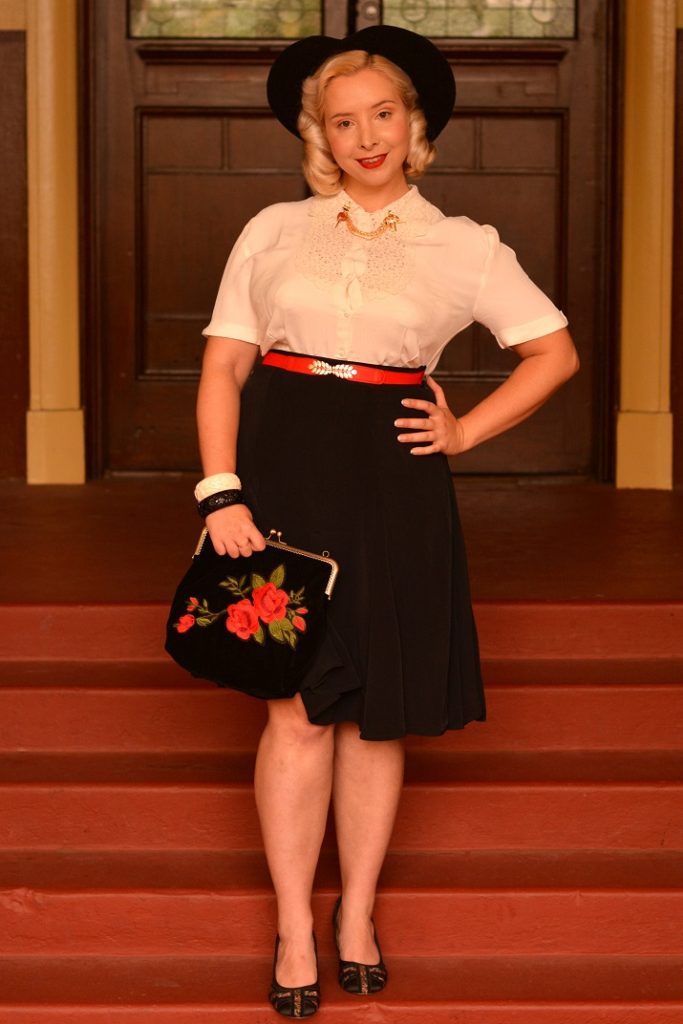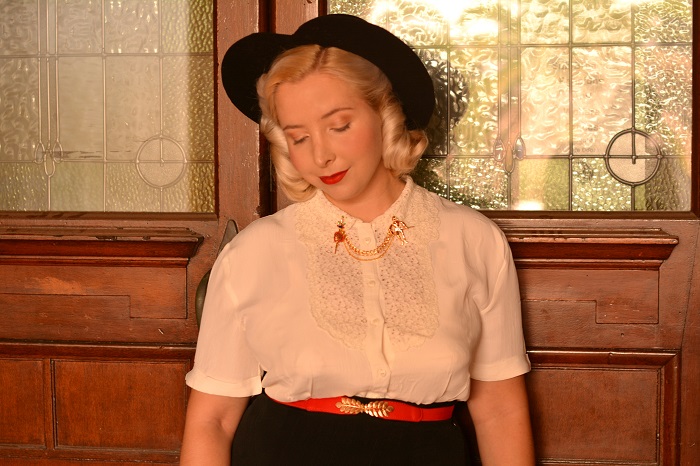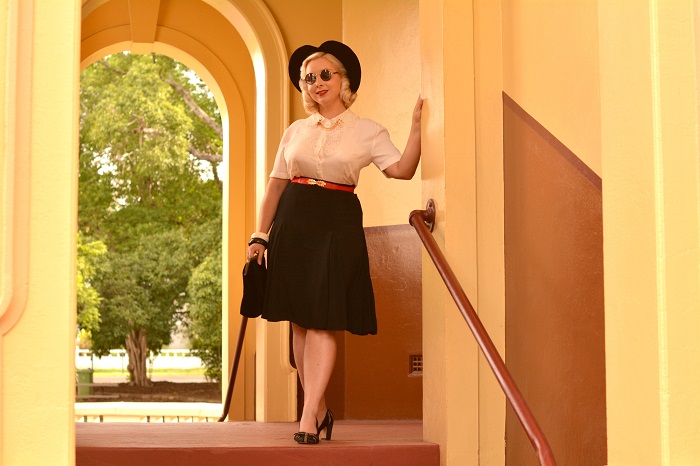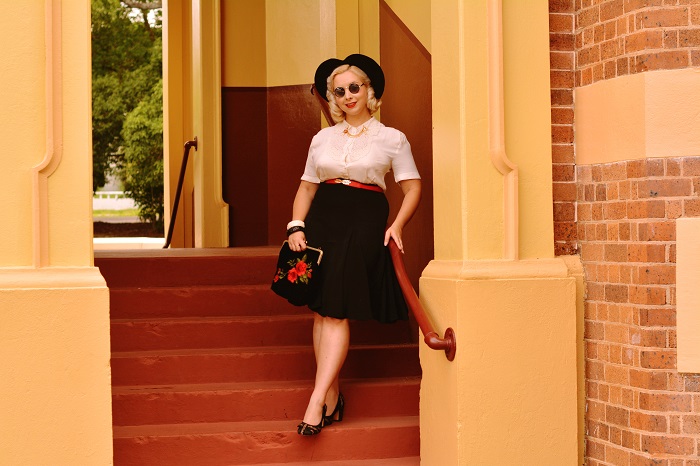 Depending on where in the world you're reading this from, you're either waiting for spring or autumn to show. Like every year I'm feeling a good deal of relief that the worst months of summer are now behind us. Usually by January I start day dreaming about my autumn outfits and buying bits and pieces to accompany them. Such as this fabulous novelty hat that I've been waiting to wear for a while.
I have this thing for dainty white blouses. I just love them! Quite often when I've been antiquing I have come across 1940s blouses just like this. Unfortunately though the lace is usually quite damaged so I've never ended up buying one. The downside of loving clothes that are eighty years old…Which is why I have been a huge advocate of wearing modern reproductions of vintage clothing.
So imagine how delighted I was when I saw that The Seamstress of Bloomsbury released the Lacey blouse! Just like every design that The Seamstress of Bloomsbury have created, the Lacey blouse was based on a 1940s original. In fact, The Seamstress of Bloomsbury keep an extensive archive of true vintage pieces so that they can be studied and recreated with flawless accuracy. With replicas this perfect it gives me confidence that vintage styles will be with us for a long time to come.
I have been having a bit of a moment with chatelaine brooches lately so I thought this would be just the blouse to accessorise with one. After all, I feel it would be a shame not to draw extra attention to the beautiful detail that has gone into the collar and lace overlay. If you look closely you will see that the buttons are actually little hearts, so very darling! With all of my recent The Seamstress of Bloomsbury outfits I have been going up to a size 14. This is because I have developed a fondness for the 1940s 'Harlow' bullet bras by What Katie Did. I find the fit and comfort level to be such a big improvement from modern styles, and they add to the accuracy of a vintage inspired look.
So if you are thinking of wearing a bullet bra with your outfit I would definitely suggest going up a size in blouses and dresses. Now, to make things a little more confusing I will also add that the fit is different based on which bullet bra you go with. The two brands I wear are What Katie Did and Revival lingerie, and I want to note that both of these have a different fit. If I'm wearing the Revival lingerie cone bra then I go down to a size 12 as it takes a few inches off the bust, whereas the What Katie Did Harlow bullet bra adds a few.
I hope everything I've said makes sense! This size difference in clothing is something I noticed when I began my foray into the world of vintage underpinnings. When it comes to trousers and skirts by The Seamstress of Bloomsbury my regular size is a 12, but the size chart for the Balboa skirt advises going a size up. So I went up to a 14 and it was a perfect and very comfortable fit. I'm sure folks that are into dancing will be able to recognise from the name that this is a fabulous skirt to dance in!
For those unfamiliar with the Balboa dance style, this video should give you an idea of how this skirt is designed to move. If you're looking for a smart skirt for summer, the Balboa skirt is very light and incredibly comfortable to wear. It also comes in a bright red for those that are looking to stand out. Myself on the other hand, I love the simple and sophisticated look of a monochome outfit. Although in this case I decided to add a few bright accessories and floral prints for a bit of whimsy and avoid looking too severe!