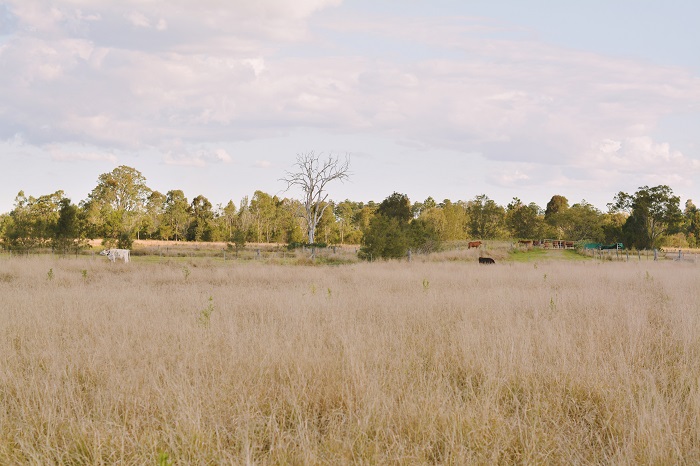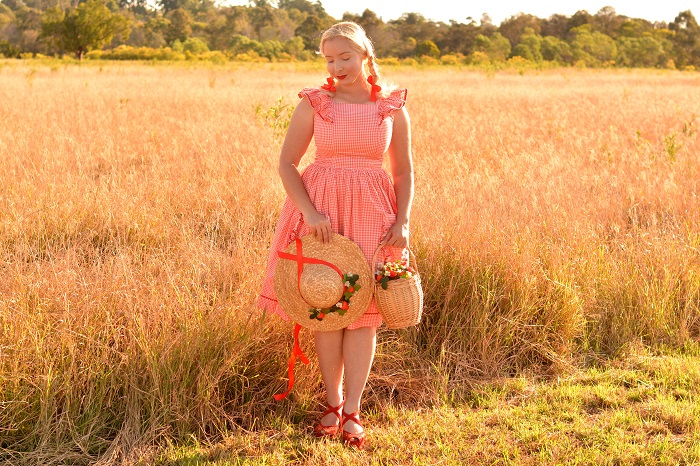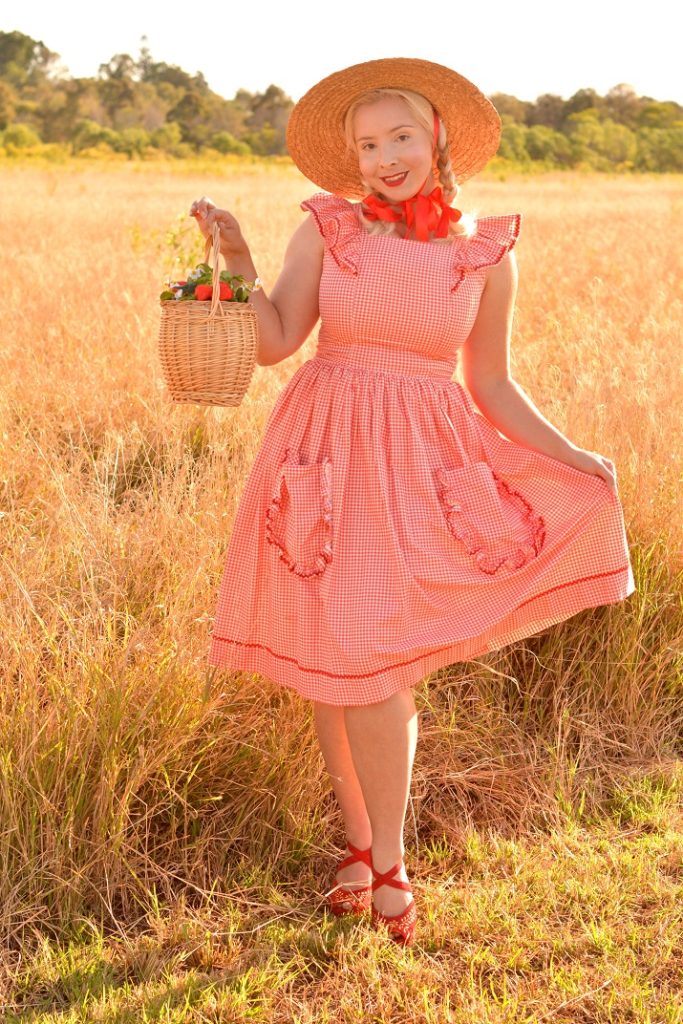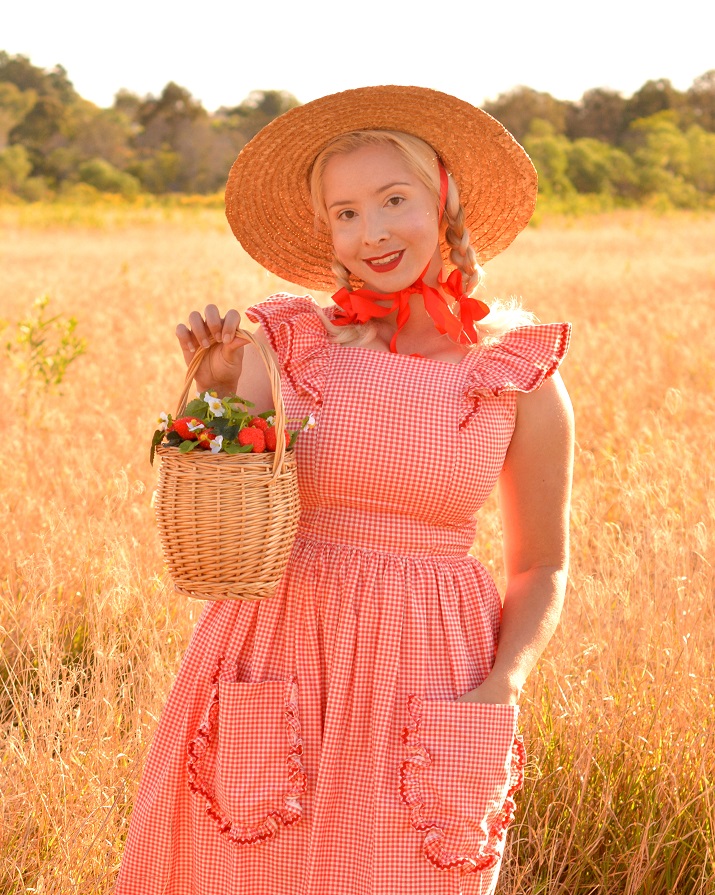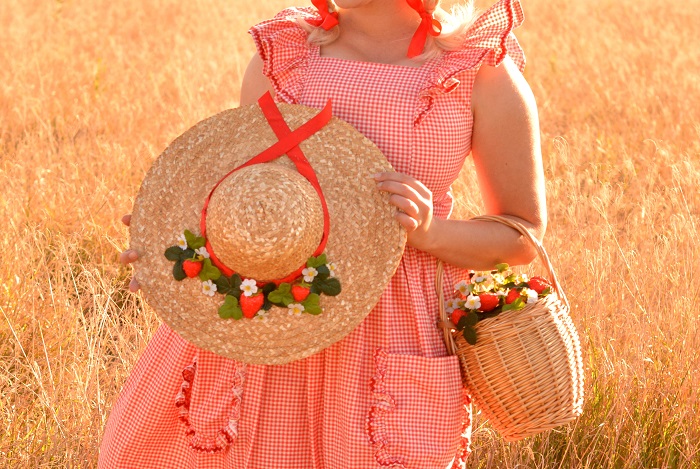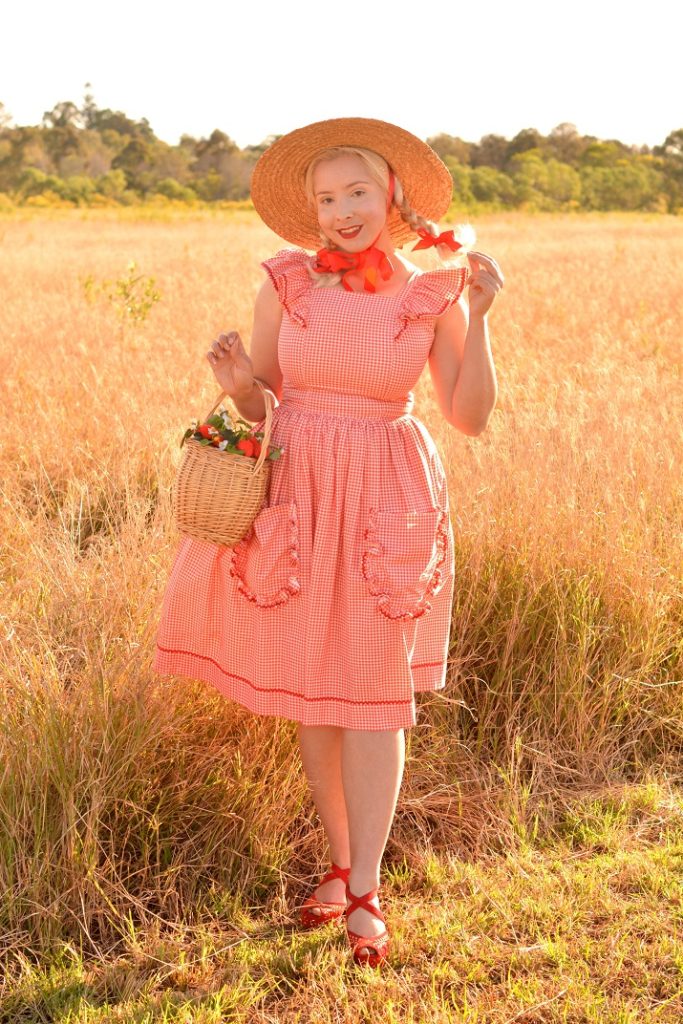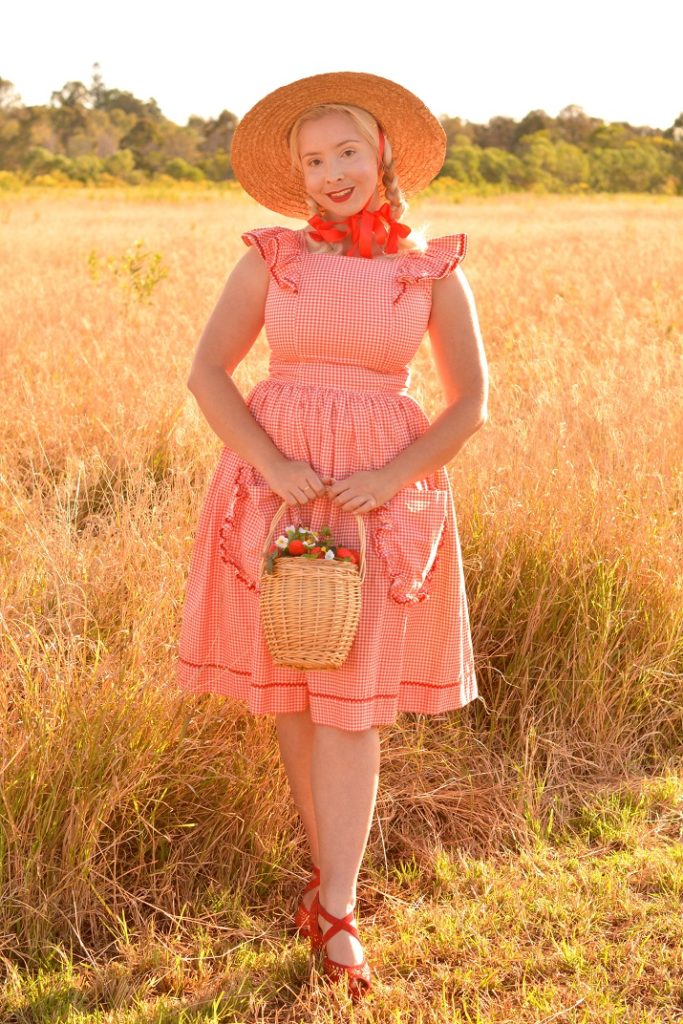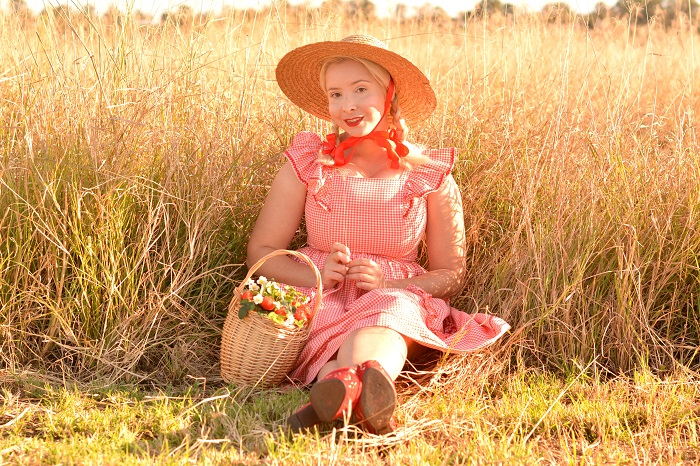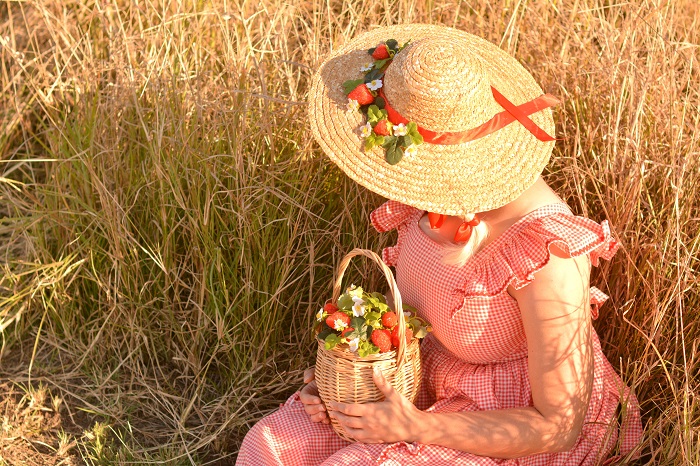 I've spent a good deal of time admiring vintage basket purses from the 40s & 50s in antiques stores, but every time I thought about getting one, I thought; oh I could easily make something like it. And for half the price too…I mean yes, it's not as special as the real thing, but close enough! So I bought a cheap wicker basket, some artificial berries, craft glue…and here we are.
I wanted to create the illusion that I'm carrying a basket full of delicious freshly picked berries, so I glued these to the lid for that overfilled berry look. The lid then slides off to the side and the bag itself is lined and quite roomy so not too different from a real vintage one. I ended up having a few left over berries and rather than letting them go to waste I decided it would be nice to have a matching hat. Rather conveniently I found this hat in a discount store and glued the remainder of the berries as well as some ribbon to it.
In total I spent $25 on the bag and berries, and $7 on the hat, ribbon and glue. Not too bad…right? Well, as someone who never used to bother with making anything I'm actually enjoying coming up with thrifty ways to create accessories that have an authentic vintage look. Since then I've made a few more things like this so I'm keen to debut them in future posts.
Oddly enough this is my first time wearing braids in an actual blog post…and the last time probably since a few days ago I went and got a haircut. I still have a bit of regret ahh, but I've got a lot of 30s looks planned for spring and summer and my hair needs to look the part. So the Anne of Green Gables braids had to go, though I'm sure they will be back eventually!
It's a bit of a tradition for me to post a rustic/country inspired outfit in August because it's Ekka month here. This year I've decided that I will no longer be attending the Ekka, something that has been a tradition for me since childhood. You see, the older and more cynical I get it's hard to look away from the big issues concerning the treatment of animals at events like this. It was always something that bothered me when I was growing up, but in recent years the issue has become more glaringly obvious and this year a horse died during an event in the arena.
I do understand that for many people the Ekka is all about going to see the animals and have that country experience that city folk otherwise wouldn't get. However, there are more animal friendly alternatives to this out there! One thing that I really love doing is going for walks in the countryside and seeing all of the animals in the fields. Sometimes if I'm lucky they will walk over for a pat, but the day we took these photos the cows could care less.
As an alternative to visiting the Ekka, I had been planning to go visit a local farm that rescues domestic animals and lets visitors come and love on them. Deathrow Unchained is a local organisation based in Mount Cotton that has saved many animals and will be having an open day on August 18th! There will be (vegan) food, live music, lots of animals and best of all the profits will all go to running the charity and saving more animals. So if anyone from Brisbane is reading along and hasn't made plans for next weekend – I strongly recommend going and checking them out!
DRU do open days every month, so much as I am sad I won't be able to make the one that's coming up, I'm very much looking forward to visiting in the future. Best of all though, they also offer private farm tours so you can come in and have one on one time with the beautiful animals there. I really don't think there's any need to go visit the Ekka when there's such a wonderful cruelty free alternative!