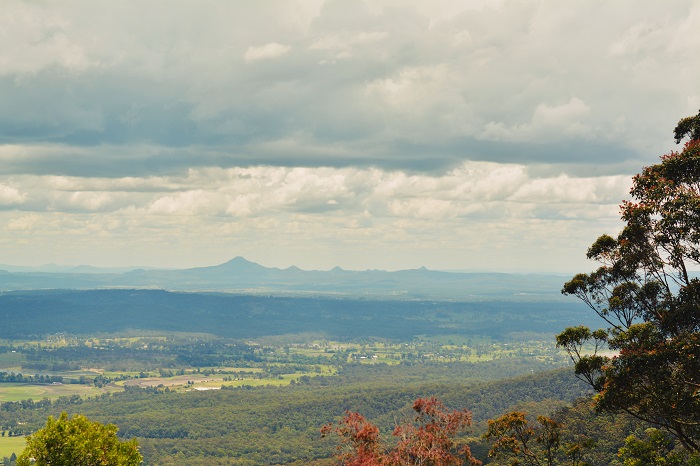 For a while now I've been wanting to try something different. I know it sounds silly but I often feel like even though this is my blog, I can only post very specific content. Well, only things that are fashion related. Much as I do love fashion – of course, I like other things as well! One of my favourite things to do is to go on adventures and I would like to start documenting them on this part of the blog. I love travelling and road trips are something that I really enjoy. Even if it's not going anywhere particularly exciting, for me it's about the things that turn up along the way. Most of the time though, I just really like watching the countryside roll by.
I live in the suburbs and it's just about the most uninspiring and depressing place to spend the weekend. So instead I like to pick a country town that's no more than a few hours out of the way and go see what's there. The part of Brisbane I live in is very much in land so there's a choice – to go towards the sea, or into the mountains. We haven't had particularly beachy weather lately (hence the chunky cardigan in November…) so I thought it would be a good time to visit the mountains and maybe go for a hike. And yes I do happen to think that a nice dress is perfectly appropriate hiking attire, so long as I make a sensible choice when it comes to shoes. I personally am a huge fan of the dress + boots combination. So we drove to Mount Tamborine where there is a beautiful little town tucked into the mountains and a great hiking trail.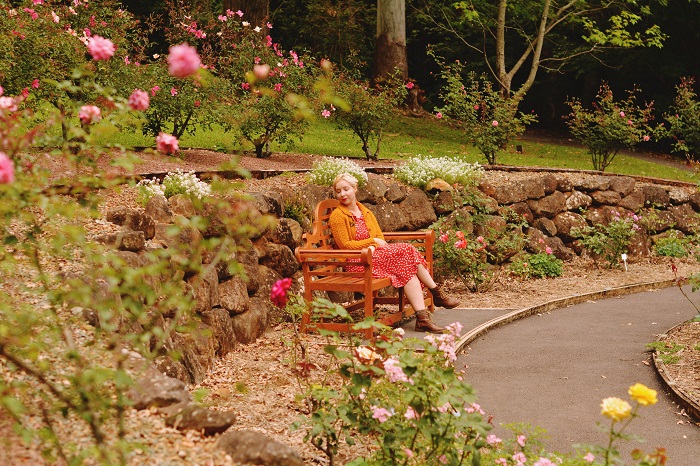 I really wanted to see the botanic gardens in the area, as I had never been before and I find botanical gardens to be extremely pleasant and interesting places to visit. The gardens at Mount Tamborine were especially lovely, with a gorgeous rose garden and all sorts of interesting sections. I've already book marked them for future blog photo locations – because I'm sure other bloggers will agree that it's always exciting to stumble upon a new and unexpected place for outfit photos! Mount Tamborine is famous for its rainforest which is just like something out of the Jurassic Park movies, but what really impressed me were the roses which clearly grow better in the cool mountain air. You'd be hard pressed to find anything like this in Brisbane at this time of year, this is certain!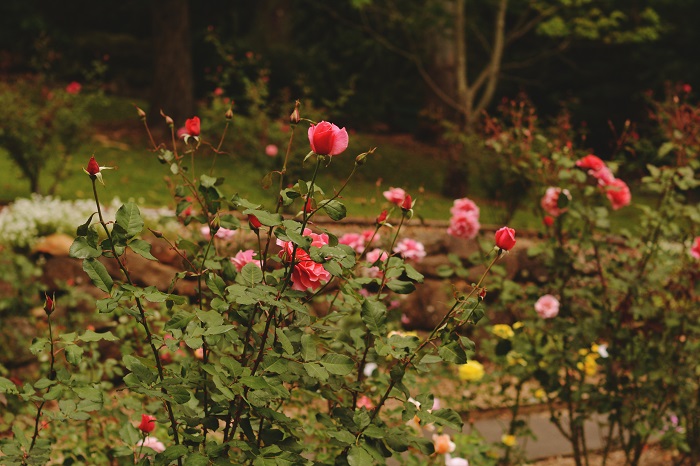 Although I had really good intentions to go for a long hike and work up a sweat, it started to drizzle not long after we arrived and we decided not to bother with the trail this time. Instead we drove around and admired the beautiful historic homes, something that there's growing to be less and less of in Brisbane. I pondered whether it would be worth living so far out of the city in order to be able to enjoy the cool weather and the beautiful range of houses on offer. But much as I do enjoy the country, I'm not sure if I could stand to live this far away from the city, I'd probably get bored pretty quickly…I definitely prefer to just visit for the day!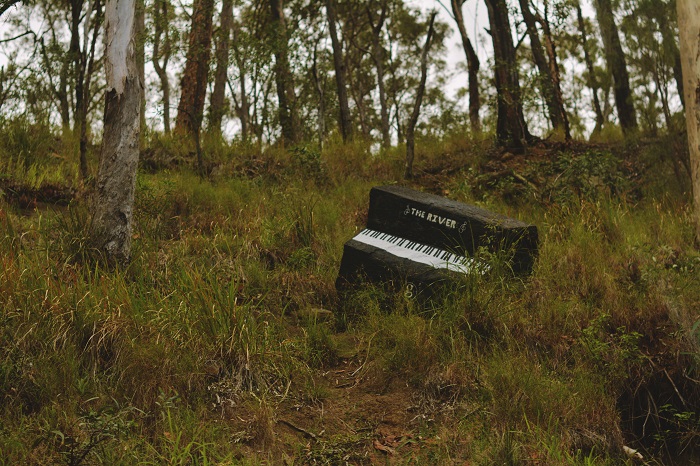 We passed a street that had several rows of vintage shops but I decided not to stop in this time, as the area is one that is very popular with tourists and the vintage on offer is generally very over priced. Or so this is what I have found in the past. I also need to be in the right mood to go in and dig through the racks and piles of stuff. If I'm not really feeling in the mood for the hunt then it's likely any hidden gems that are lurking will go unfound. Does anyone else feel like they have to be in the right mood to dig through things that have absorbed decades of camphor?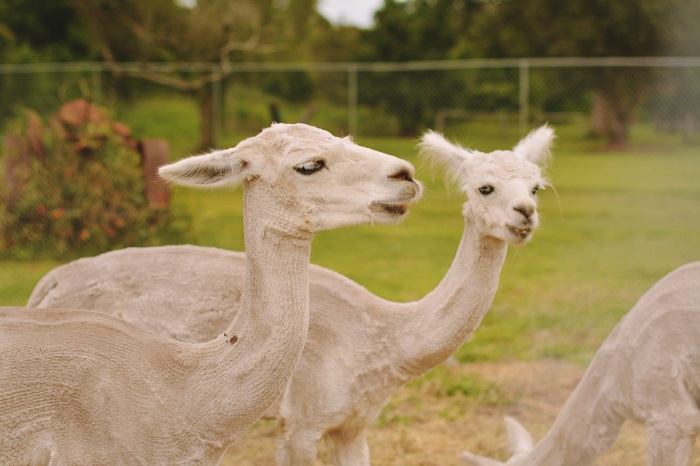 I have a soft spot for places with quirky names/themes and along the way we passed a pub called The Bearded Dragon. Bearded Dragons are actually a type of Australian lizard, and one that I find to be really cool looking so I decided then and there that we'd be stopping in for lunch. I'm so glad that we did, because it turned out that the owners of the pub had pet alpacas – all shorn for summer, and two very friendly hogs.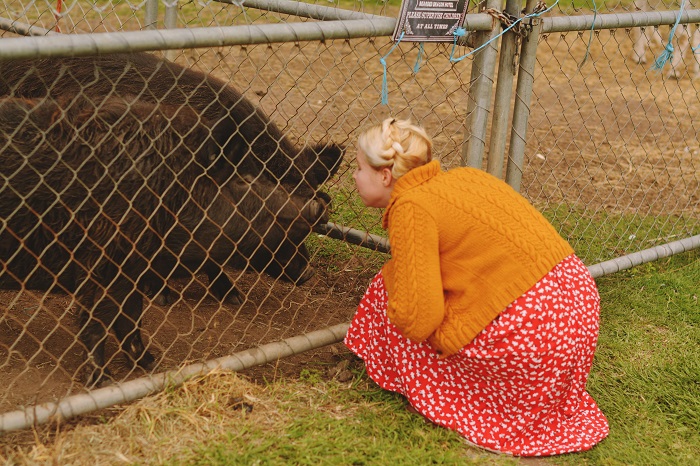 I managed to resist the urge to pat them as they were caked in a very thick layer of mud, and not long after we took these photos it started pouring down so I imagine that they now have an even thicker muddy crust…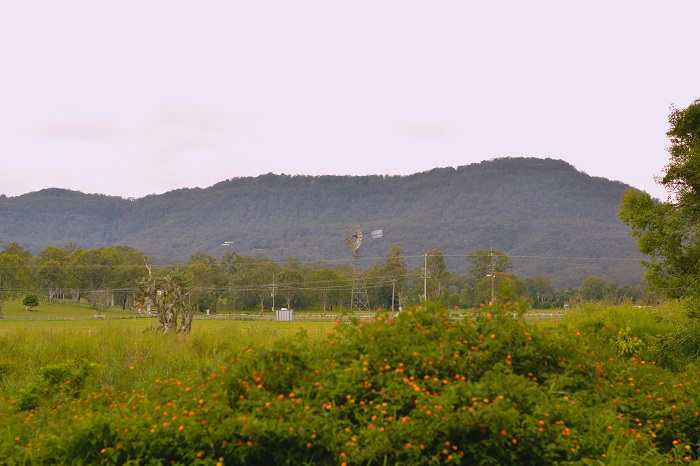 I do love a good pub lunch with a pint – a Kilkenny fresh off the tap goes very nicely with a barramundi burger. The best part was being able to sit and watch the storm roll in through the mountain – it was just as well we didn't take our chances and go for the hike…