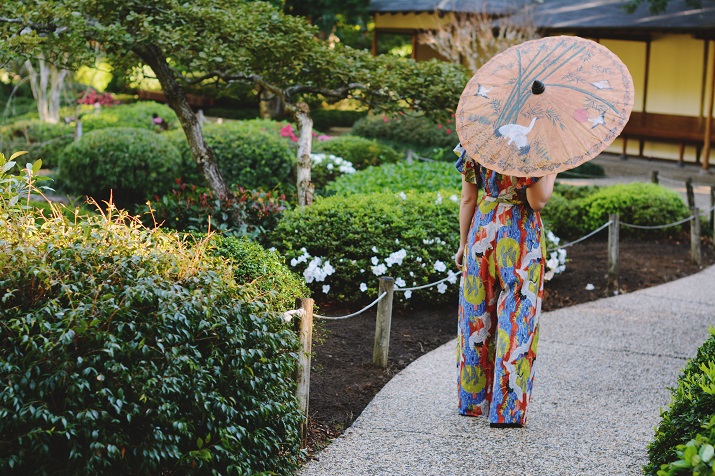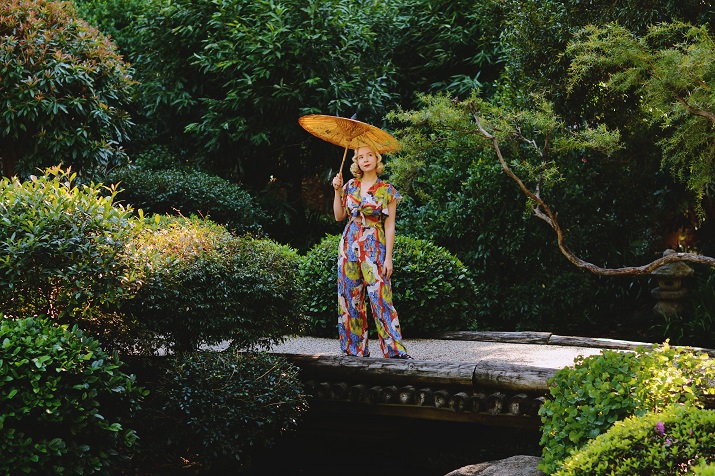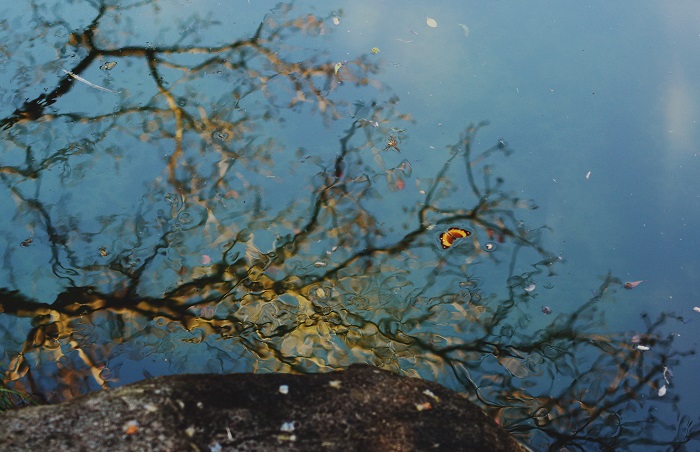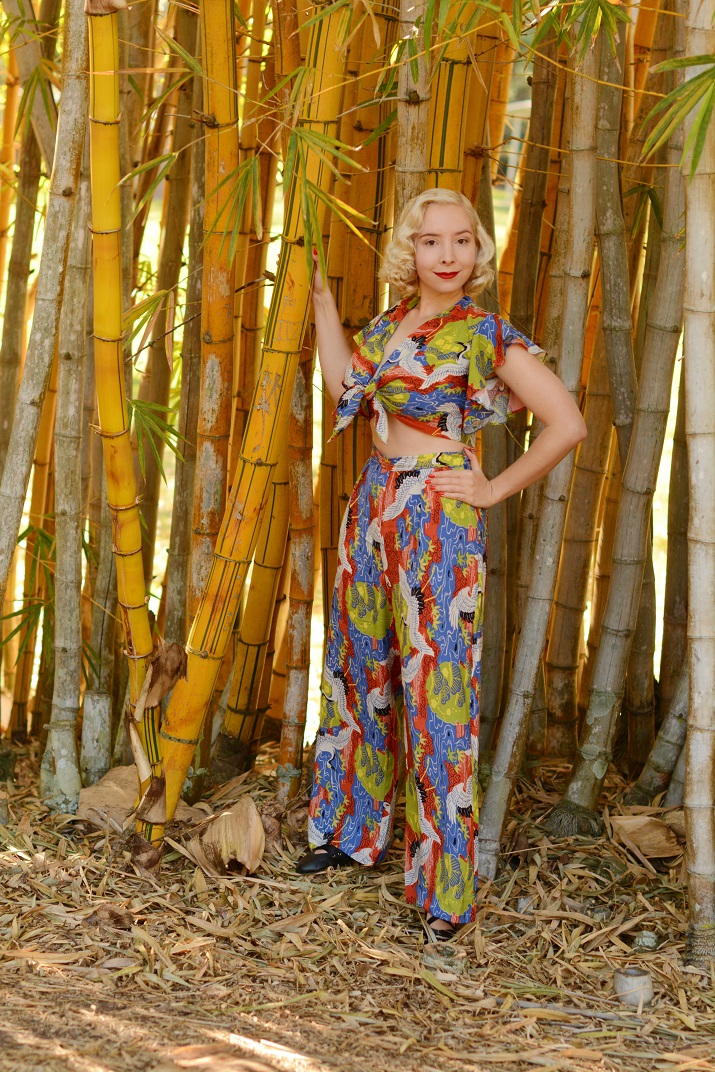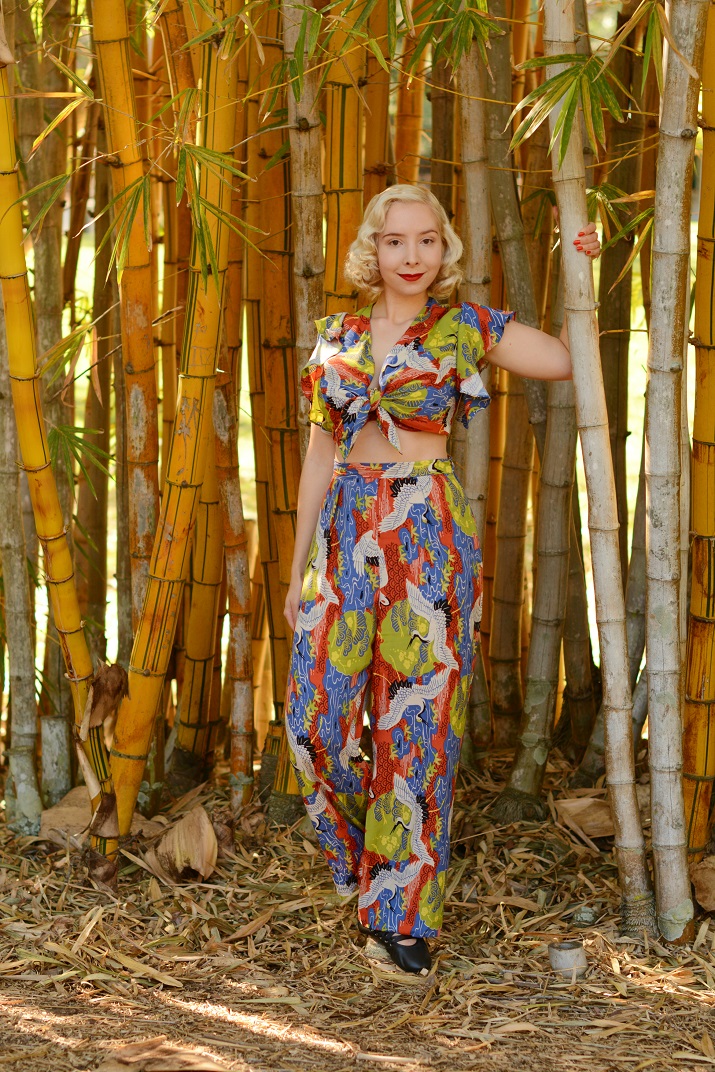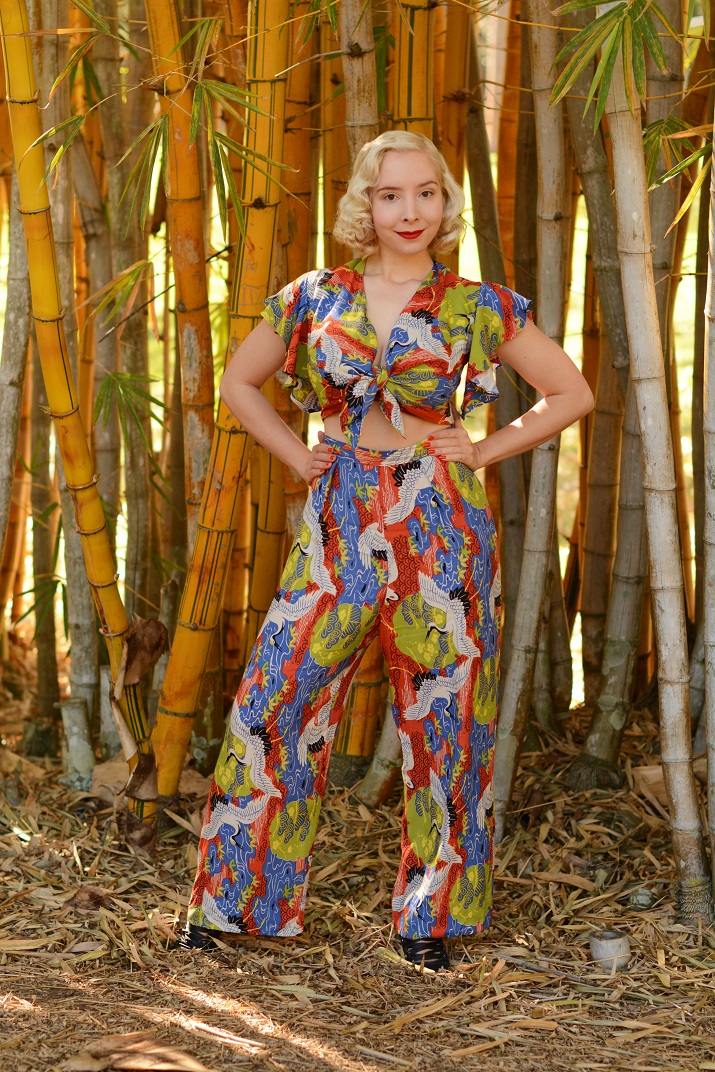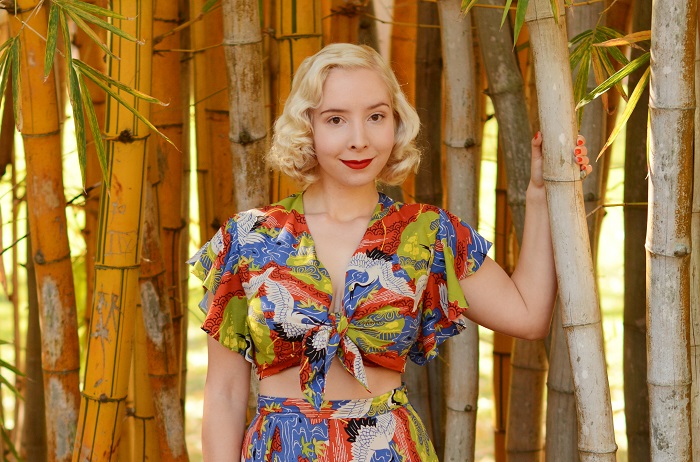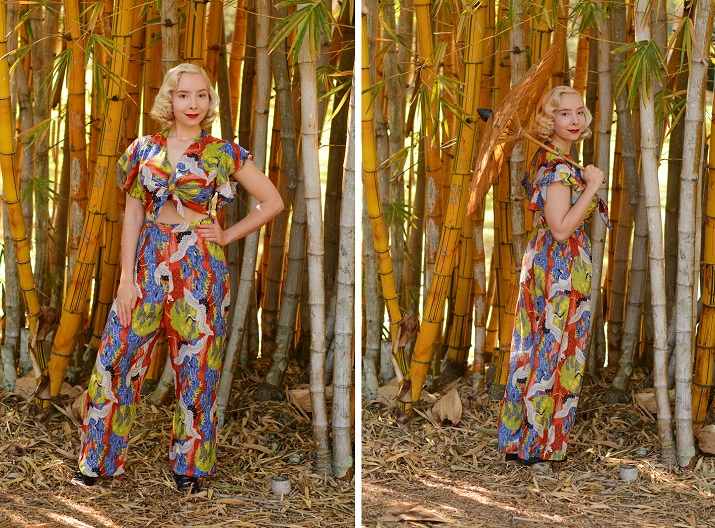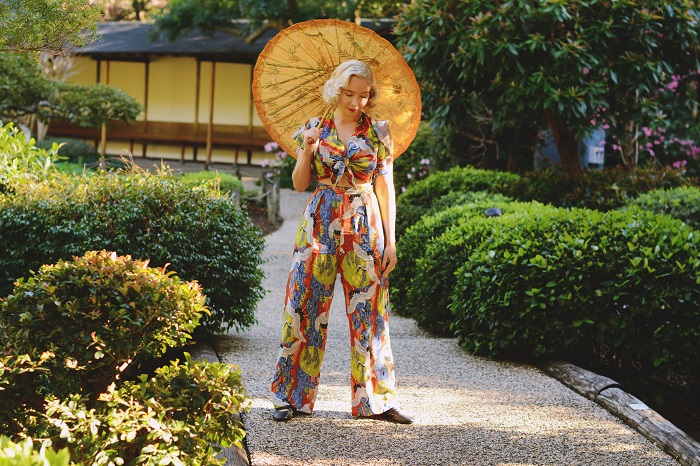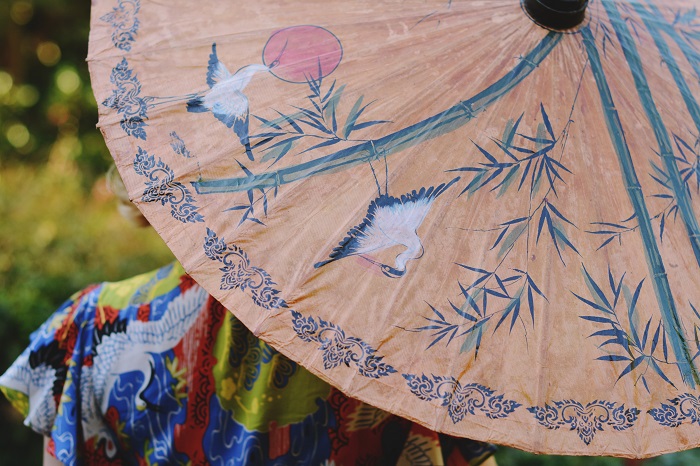 Throughout Asia, the crane is a symbol of happiness and eternal youth. In Japanese, Chinese, and Korean tradition, the crane represents good fortune and longevity due to its fabled life span of a thousand years. 
When I think of the graceful creatures that cranes are, the words ethereal and elegant come to mind. I believe this stunning rayon fabric captures the beauty of cranes so perfectly, and brings to mind the print one might see on a kimono. For their latest collection, Trashy Diva have created a fantastic range of summer styles in this gorgeous crane fabric for their partnership with the Gulf Restoration Network. The Gulf Restoration network are a local group dedicated to preserving and protecting the wetlands ecosystem that keeps South Louisiana thriving and protected from tropical storms.
The wetlands are home to a wide variety of species, and as you may have guessed – cranes. Sadly the Louisiana Whooping Cranes that were once abundant in the area, have become extremely endangered due to the damage caused to the wetlands. Today there are only about 600 Whooping Cranes left. With this collection Trashy Diva will be donating 10% from all online and in store purchases of the pieces in the cranes range from July 28th – August 26th to the Gulf Restoration Network to help fund their extremely important conservation work. To find out more about their great work and photos of the beautiful area that the Gulf Restoration Network protects, head on over to Trashy Diva's latest blog post!
For this blog post, the fabulous folk at Trashy Diva have invited me to put together an outfit from the gorgeous Cranes Collection. The collection features a number of classic favorites such as the Sweetie and the L'Amour together with a wonderful selection of separates to mix and match for summer. As a lover of all things lounge wear and beach pajamas, I am sure it will come as no surprise to you that I have styled a late 30s early 40s lounge wear inspired outfit!
Having loved Trashy Diva dresses for many years now, I was very excited to try out the separates that Trashy Diva create for the first time ever. In these photos I am wearing the Mai Tie Top and the Lounge Pants, both of which are made of rayon. Tie tops are a great wardrobe staple if you live in a tropical climate, however I know that they can be tricky to wear if you do require extra support, as is certainly the case for myself.
So you can imagine how happy I was to find that the Mai Tie Top is designed to accommodate a wide range of bust sizes and can easily be worn with a regular bra! In these photos I am wearing the top with a t-shirt bra and as you can see the cut of the fabric and the tie front discretely conceals the bra. I am wearing the top in a size 4 which is my regular size in Trashy Diva and the sizing is spot on. My favorite feature of the Mai Tie Top are the dainty flutter sleeves!
For the Lounge Pants I went up to a size 6 in order to accommodate for the fact that flat rayon does not have any stretch and it is important to go off your waist measurement to get the most flattering and comfortable fit. I have a 27 inch waist and 37 inch hips, so the 6 fit perfectly with about an inch to spare in the waist plenty of room for movement in the hips. I am 5'5″ so typically I need to wear a pair of heels, or in some cases – platforms, with trousers. However I am wearing ballet flats here as I feel that the length of the lounge pants was perfect without needing to increase my stature.
The really awesome thing about the separates in this collection is that they can easily be mixed and matched to create a whole range of styles based on whether you prefer a 1940s or 50s look. Of course, just because this is a lounge wear look does not mean that it can only be worn inside the home! Glamorous outfits such as this were very much worn out for cocktails and promenading so this is certainly a look that can be worn for various occasions, while keeping you elegant and comfortable all the while.
Mai Tie Top & Lounge Trousers – courtesy of Trashy Diva
Parasol – vintage
Flats – Wittner