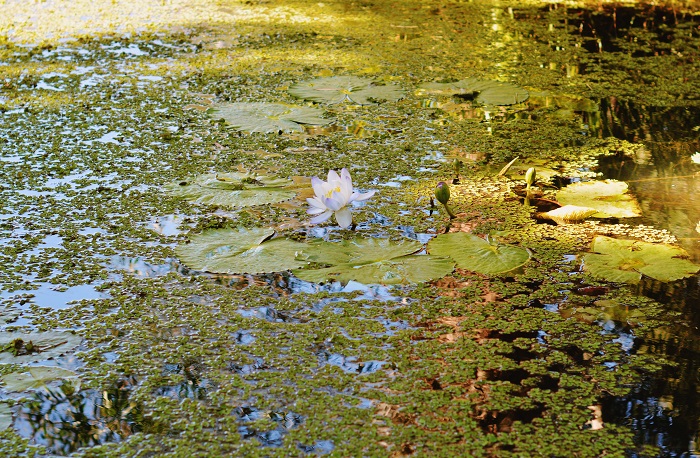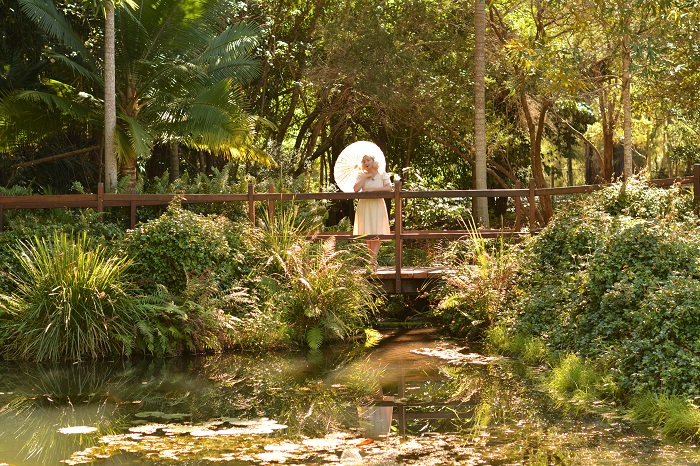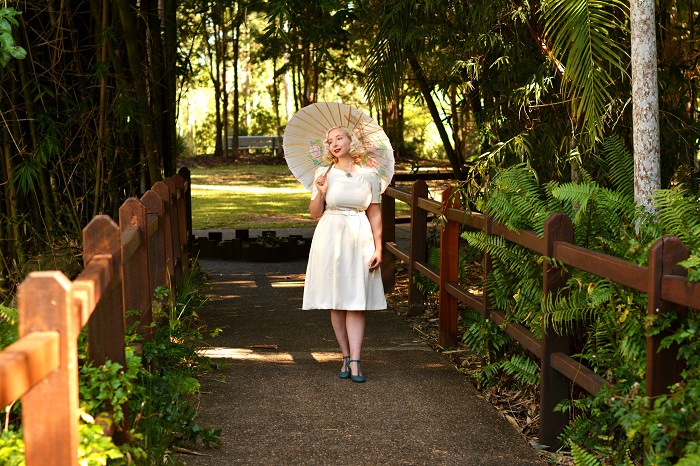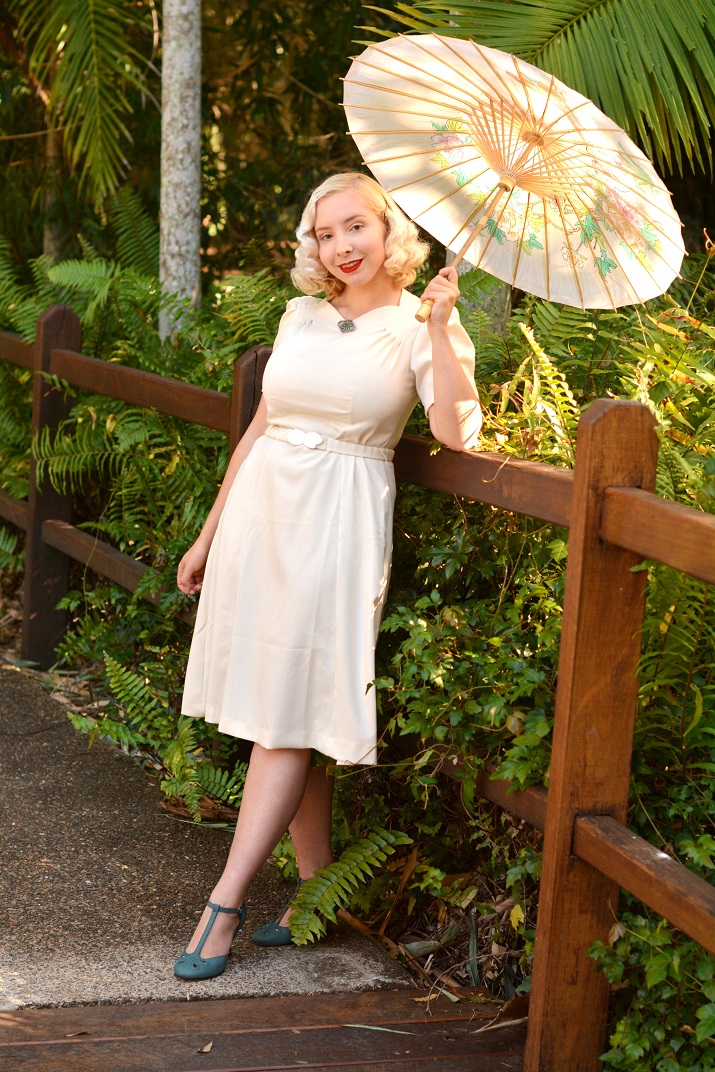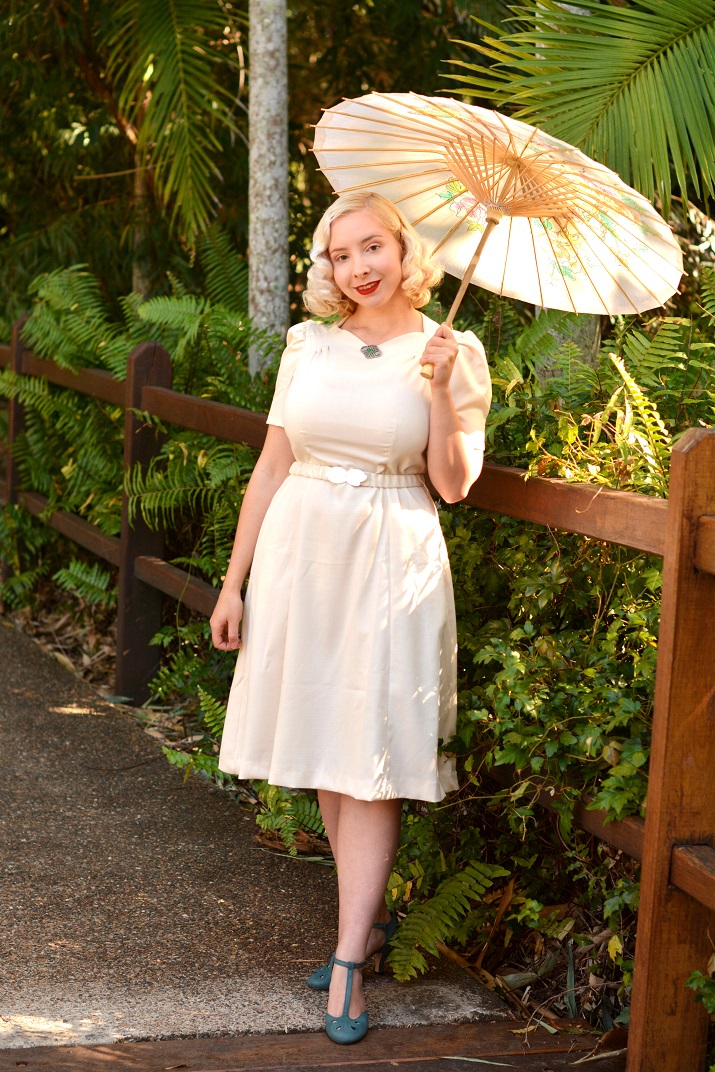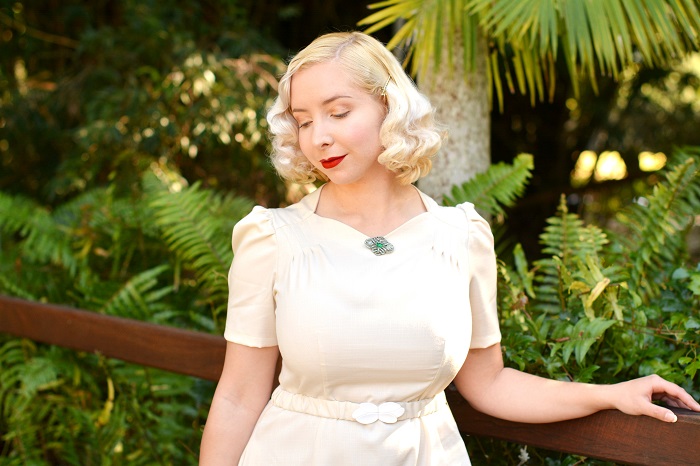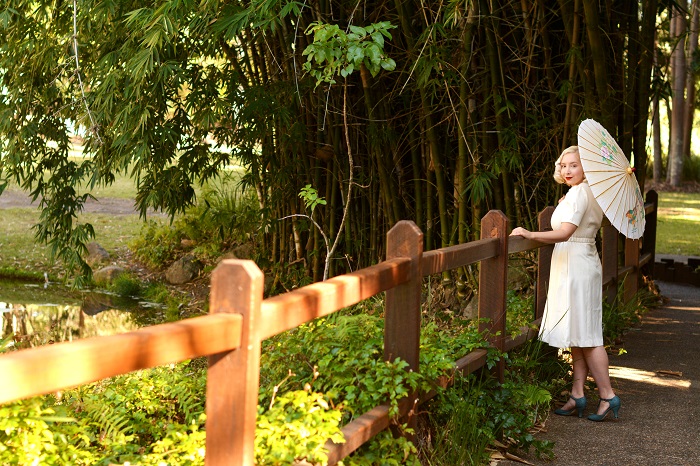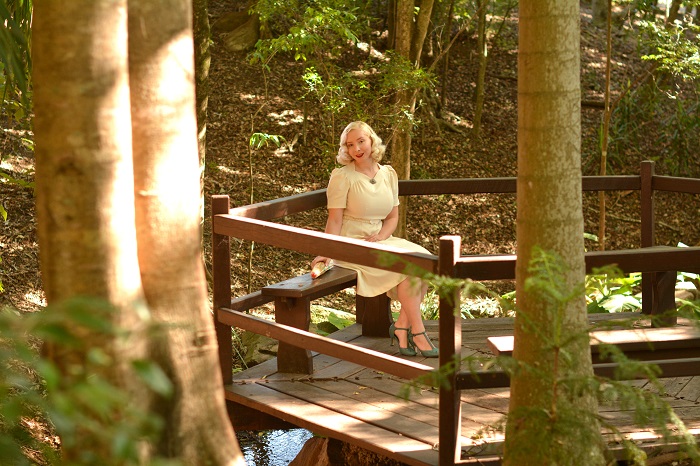 White dresses have been a long time favourite of mine. I love wearing them in summer and the endless accessorizing possibilities that a crisp white dress presents. Although technically the dress I'm wearing is a delicate shade of cream, and it is the appropriately named Darling Darling dress from Emmy Design's latest Spring/Summer release! When I first tried on the dress I think I went through at least five different accessories combinations and then had a really hard time deciding which of them to blog. It's one of those dresses that works beautifully with so many colour combinations that you really can't go wrong. Did I want to go nautical? Or maybe monochrome? But then on a whim I wanted to see how my new brooch would look on a dress and then the outfit went from there and I decided on green accents. And a jungle theme! Lately I've been craving a holiday somewhere exciting and exotic but the problem being that once I sat down and worked out the amount of travel involved to visit all the places I want to see; I felt exhausted by the sheer thought. So instead I indulged that desire by going and visiting a spot that has that exotic jungle feel to it (I nearly walked right into a poisonous snake even so it's very authentic) and pretended I was in some far off land.
Winter this year has lasted a whole two weeks so I figured I should best get on with it and start planning my spring/summer wardrobe. Because you all know I missed summer so much, right? Well every year I get through summer by wearing outfits that I love but that are also really comfortable. Last summer I found myself wearing a lot of dark outfits. And maybe it wasn't the best idea in hindsight. Yesterday afternoon felt like summer even though it's mid winter here, and I decided to punish myself by taking the dog for a walk in an all black outfit. I really have to stop doing that to myself, seriously. So in an attempt to be really sensible, when I started planning my summer wardrobe I decided to stick to a white and cream colour scheme. Easy to mix and match, but most importantly – a colour that doesn't attract heat and will help me stay cool. And then it just so happened that we got Diago the Dalmatian a few weeks ago! Dals shed all year long, leaving tiny white furs in their wake, so a wardrobe that doesn't show off dog hair is now another priority. When I saw the Darling Darling dress in the Emmy Design catalog it instantly stood out to me as one of those special wardrobe essentials that everyone should own. A dress for any occasion, why one could even wear it as a wedding dress!
At the moment my favourite decades to wear are the 30s & 40s, and the Darling Darling dress features aspects of both decades for a very timeless deco look. The latest Emmy Design collection has a strong Art Deco influence with fabulous beach pajamas and ensembles that would make one very riviera ready. For this reason it has been dubbed the tales of the Jazz Age collection! My favourite feature of the Darling Darling dress is the dainty deco clasp belt which gives the dress a truly authentic vintage look. I have seen quite a few beautiful 30s dresses that have a pearl clasp in this style and the one Emmy have designed mimics that look perfectly. If wearing a cream dress seems too much like tempting fate, the Darling Darling style also comes in several different colours, and a floral print as well.
I normally wear a size 38 to 40 in Emmy sizes and for this dress I sized up to a 40 which is a US8 or UK12. I found the fit to be perfect for me and the light cool fabric of the dress was perfect for the strange winter we're having this year – our July feels like January! I'm not complaining because it means I can dip into the summer frocks I've been holding off wearing. I love to have special pieces to look forward to wearing every season! As this is a dress that can be worn in so many different ways, I am really looking forward to styling it with different colour and accessory combinations. So if white dresses are something that is lacking in your wardrobe, this is one that is certainly worth investing in. I also recommend checking out the fantastic sale Emmy currently have with massive mark downs on last years S/S and A/W ranges!
Wearing:
Emmy Design Darling Darling dress in Cream – courtesy of Emmy Design
Lovisa brooch
I Love Billy heels
vintage style umbrella from China Town