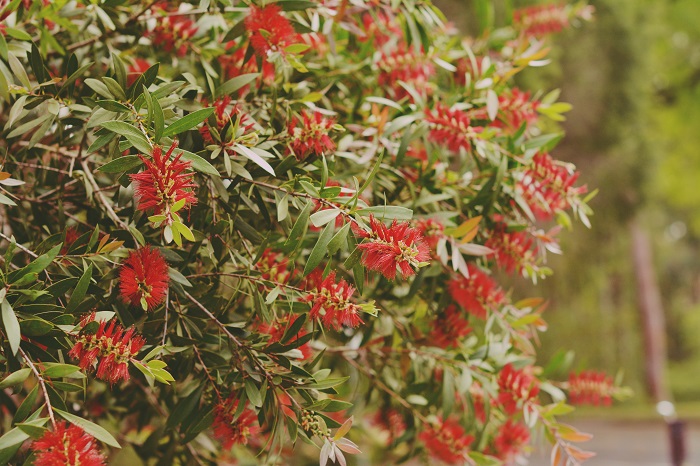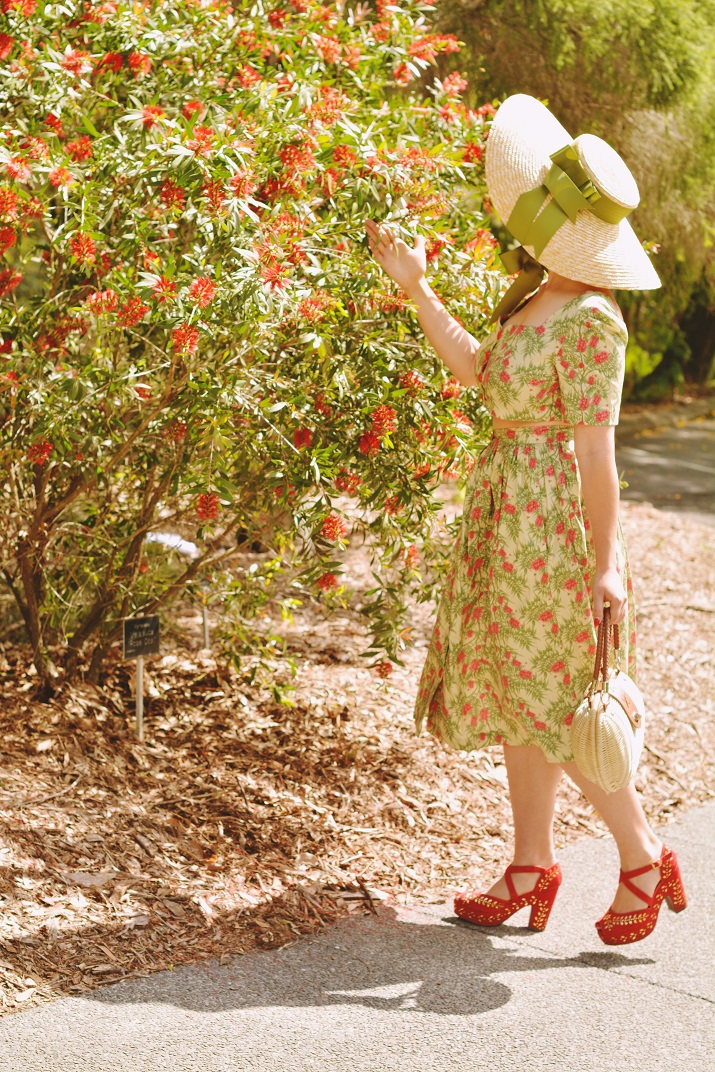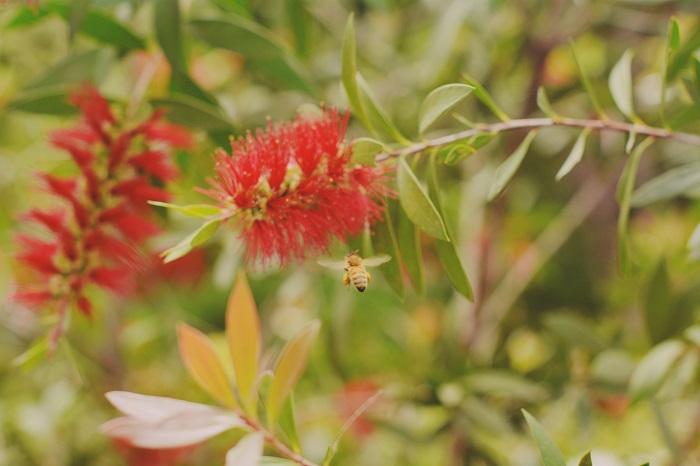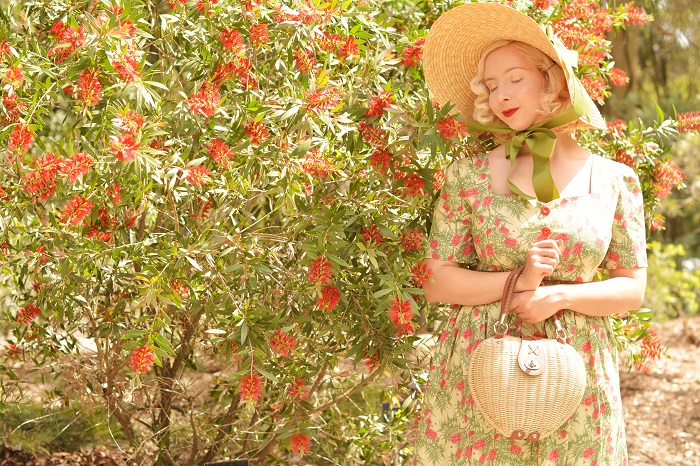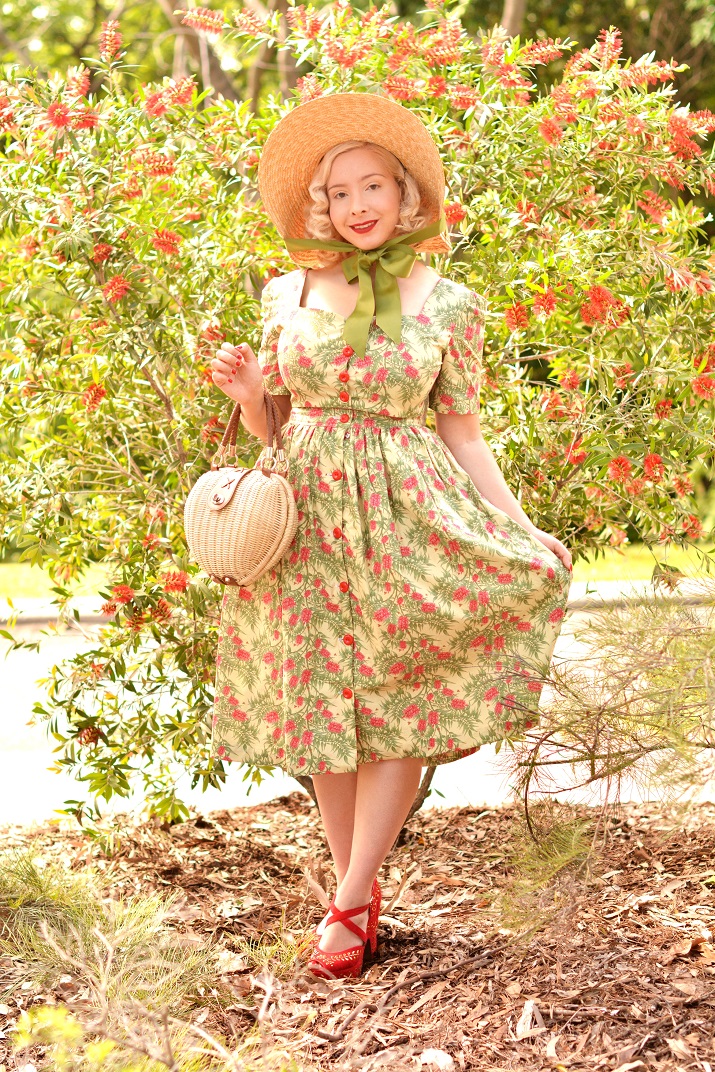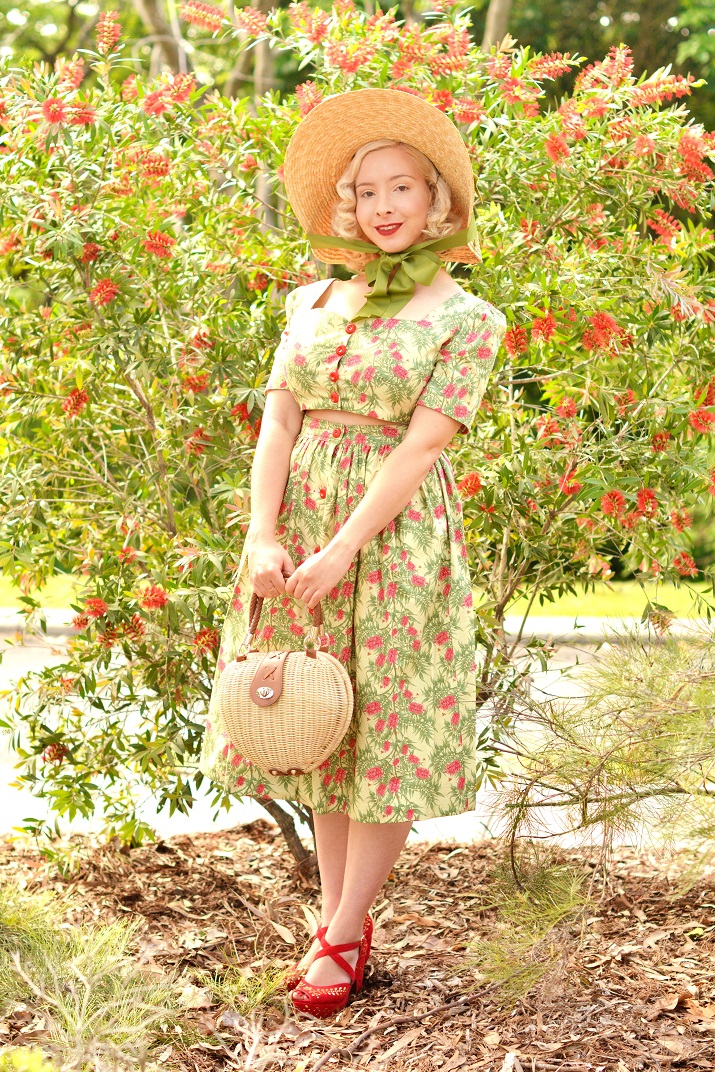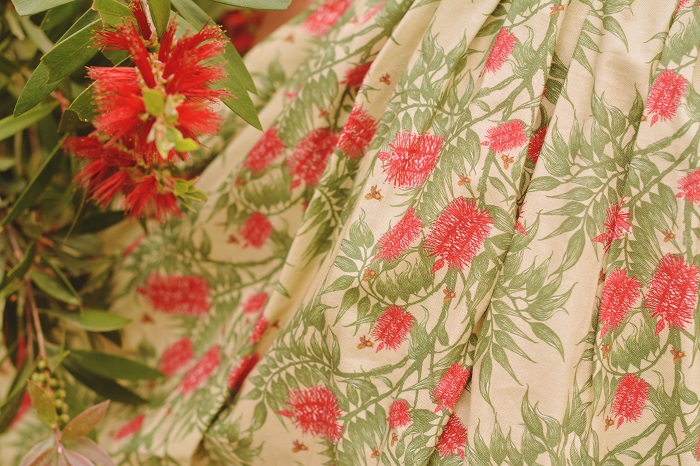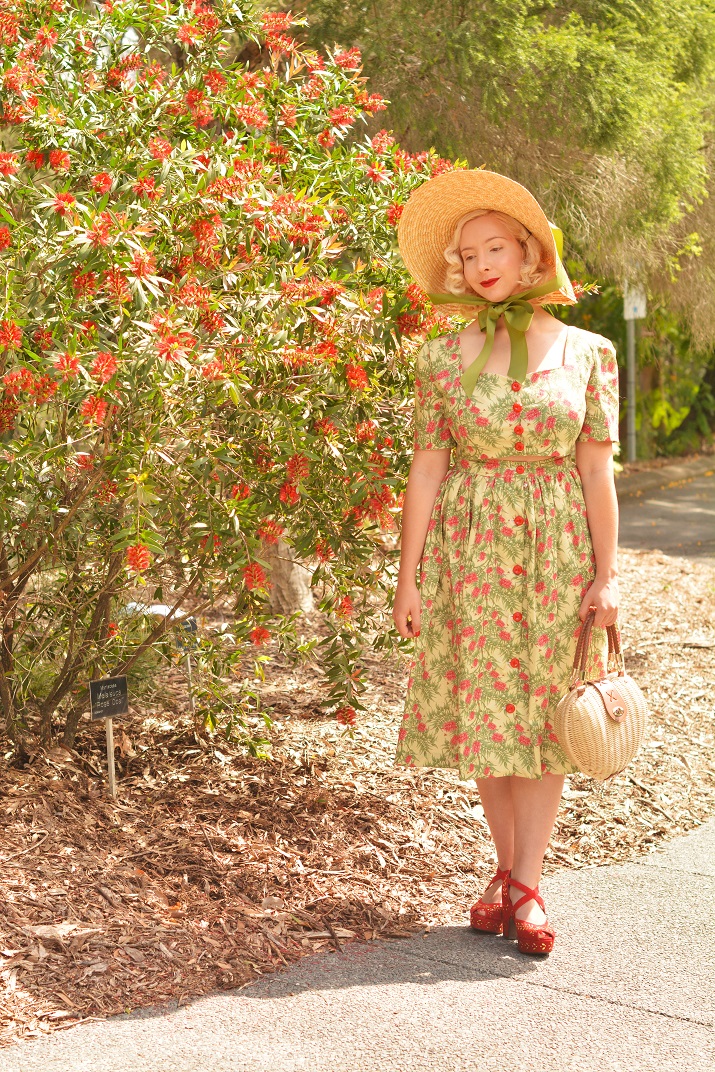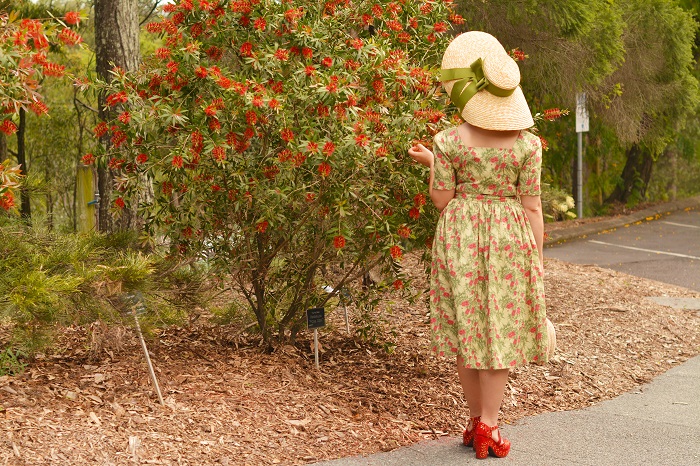 Every year when November comes around I start to get really flustered. I love Christmas and all of the imagery that goes with it – apart from the fact that it doesn't apply to me at all and I simply cannot relate to it. I love snowmen, sledding, holly plants and gingerbread, but the last time I tried to build a gingerbread house it kept falling over. It turned out that it was just too hot to keep the icing from melting! But this year I've decided to adapt Christmas to what fits my reality, which is a hot summer where the closest thing to a snowman you'll get is a sandman. Fittingly, November is the month when all of the red and green plants come out so despite us being in the wrong season, nature puts on a beautiful Christmas display. It was these colours that were the inspiration behind this outfit. I wanted something that featured green and red native flowers and luckily there were a lot of different flowers to choose from – I had a hard time deciding!
I went with the Bottle Brush – or Callistemon (I prefer to call them the latter because it sounds like a Pokemon…) as they are a favourite of mine. Right outside my window is a huge Callistemon tree and it attracts flocks of noisy and colourful parrots each morning and tiny possums at night. The animals come to feed on the nectar and honeybees gather the pollen that makes some especially amazing tasting honey. One of the best things is the smell that comes from the fuzzy red blossoms, the best way to describe would be to say that it smells like very buttery mashed potato. In fact when I was growing up I used to simply call it the mashed potato tree, because that's exactly what you would smell walking under the trees on a hot Queensland night.
When I go antiquing my favourite thing to buy is vintage magazines. I love that they are an authentic point of reference for what people were wearing, and I especially like to find the Australian magazines from the early to mid 40s. In the December 1946 issue of Ladies Home Journal, the girl on the cover was wearing an outfit just like this and I decided that I must have one of my own. I sent a photo of the outfit to JacksDaughter on Etsy, who specialises in one of a kind vintage reproductions, and asked if she could make me something similar. I used to have quite a few two piece sets like this in my wardrobe, but then for a while I stopped wearing them and now that some time has passed I'm rediscovering how much I enjoy wearing them.
Looking at these photos I've realised that it's hard to see that this is actually a top and skirt rather than a dress, but I really like how the hint of midriff is very subtle. Normally I would reserve a set like this for an outing to the beach, but on Sunday we made the impromptu decision to go have lunch at a nice restaurant and I appreciated the fact that it didn't require going home and making an outfit change first. Definitely not something I would have got away with if I had a completely bare midriff! The best part about a set like this is that I already know how well it will go with other pieces on my wardrobe when I go to style the top and skirt separately – for when I don't want to look quite as extra. Of course it doesn't get more obnoxious than wearing a giant Scarlett O'Hara inspired hat, but in my defense this is a part of the world where you wouldn't want to be leaving home without one!
Wearing:
1940s reproduction top & skirt set created by JacksDaughter on Etsy
Miss L Fire Selina platforms
1940s reproduction hat (drop me an email to purchase one for yourself!)
Banned handbag