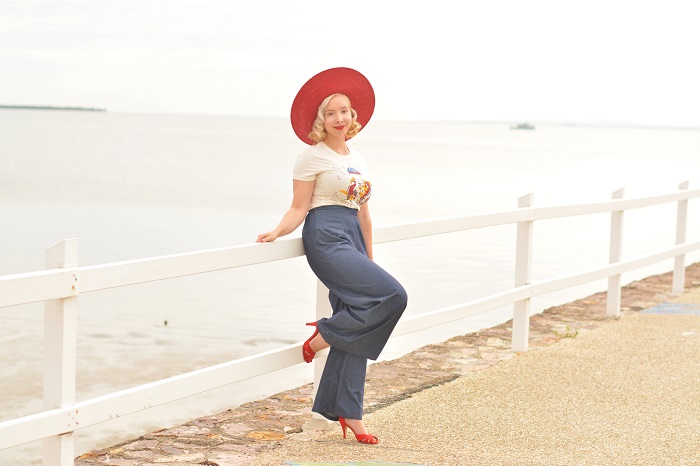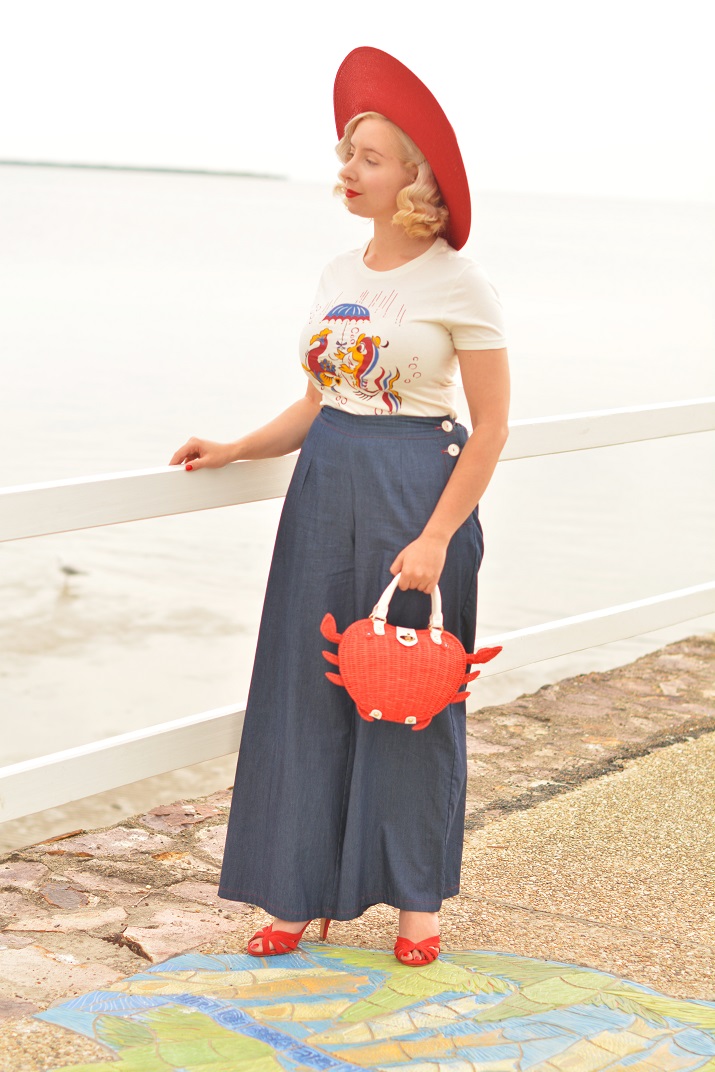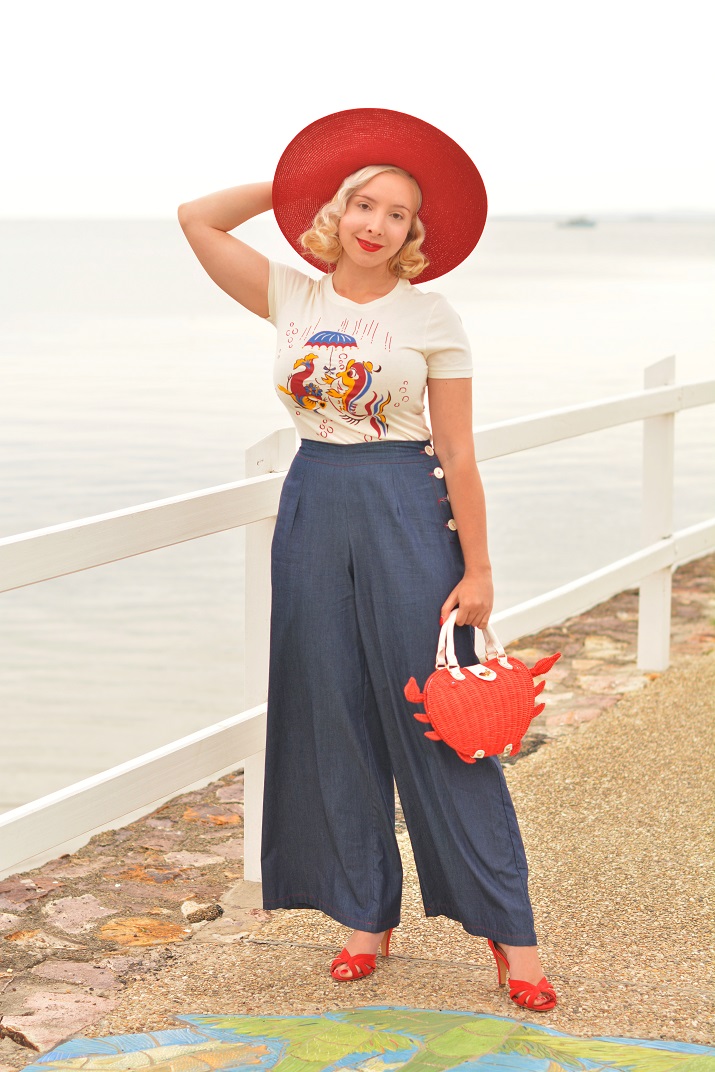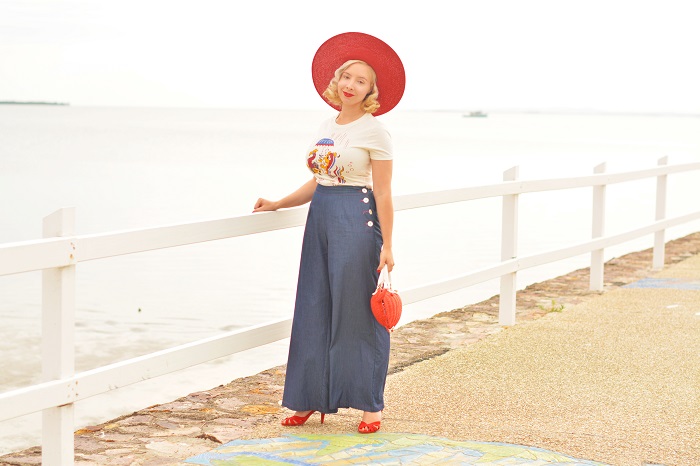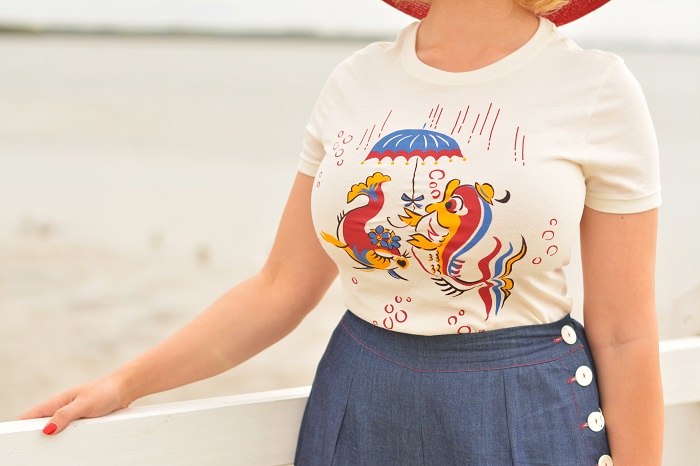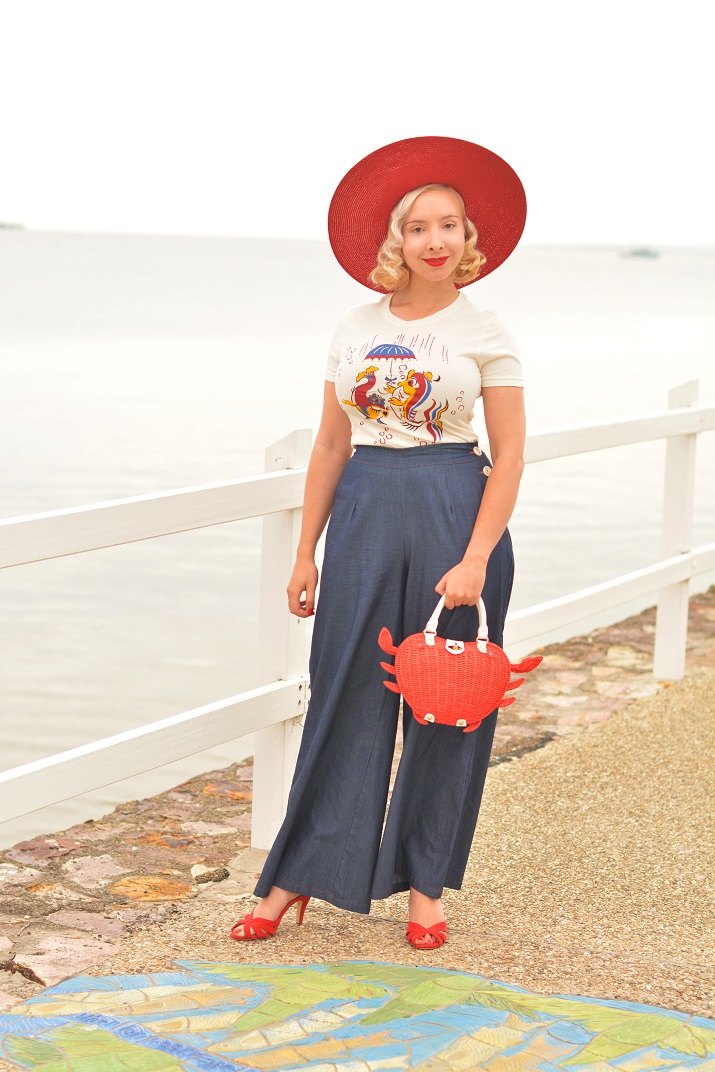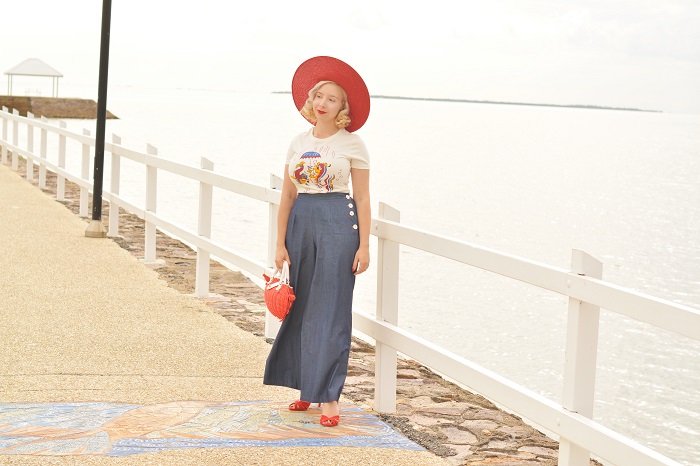 I missed the ocean so much when I was in Russia. I missed the smell of the sea air, and I missed wearing nautical inspired outfits. So taking photos of a nautical outfit was somewhat of an excuse to have a reason to visit the seaside! When I first got into the vintage look I was fixated on outfits that were very prim and for a long time I thought casual looks were absolutely out of the question. After all, I was inspired to wear the fashions of the past because I wanted glamour. I didn't think I would be going back to tee shirts, even though I often missed how comfortable they were. I just thought that they wouldn't really go with a vintage wardrobe and that was that. But I'm sure I'm not the only person within the community that has at some point had thoughts like this, about restricting themselves from wearing something because it doesn't suit a specific aesthetic. These days I tend to be more relaxed when it comes to that, and I enjoy wearing the more casual vintage inspired looks.
I do still like to stick to vintage as a theme though, and Miss Ladybug is a company that specialise in tees with vintage illustrations. This has been the first time I've worn a tee shirt since deciding to wear vintage inspired clothing, and I had completely forgotten how comfortable they are! Miss Ladybug tees are made of the softest cotton and when I tried one on for the first time I couldn't take it off. For three days. Because of jetlag – I should probably clarify! I went to try on some of the lovely things Miss Ladybug sent me and I loved the shirts so much that they were all I wore during the jetlag phase of passing out randomly at all hours of the day. Ever since then I've been reaching for my Miss Ladybug tees all the time, and I love how well they compliment a range of vintage separates. All of Miss Ladybug's designs feature adorable characters from the 20s to the 60s. I went for the fishy print because it reminded me of something one might see in a 1940s children's book and I wanted something that was sweet and wholesome.
On the Miss Ladybug website you will find everything from flappers to kittens, and a wide range of other creatures in between – including classic movie monsters for Halloween. Normally when I wear tees I will go for a baggy fit, but with a beautiful illustrations such as this I went for a fitted look instead to show off the print better. I am wearing a size M in the raining fishy print and I found the size perfectly comfortable and flattering. Something to keep in mind is that the cotton does have some stretch, and I went down a size for a tighter fit. Most of the time I wear my Miss Ladybug tees with jeans when I want to dress casual, but this time I wanted to see how it would go with sailor trousers for something different. This ended up being an incredibly comfortable beach outfit that was different to my usual beach pajamas but still had me feeling glamorous while climbing over rocks to look at all the sea creatures in the tide pools.
Wearing:
Raining Fishy tee – courtesy of Miss Ladybug
Navy Chambray Palazo Pants – courtesy of Loco Lindo
Crab Calloway bag – Betsey Johnson
Dangerfield hat
Novo heels