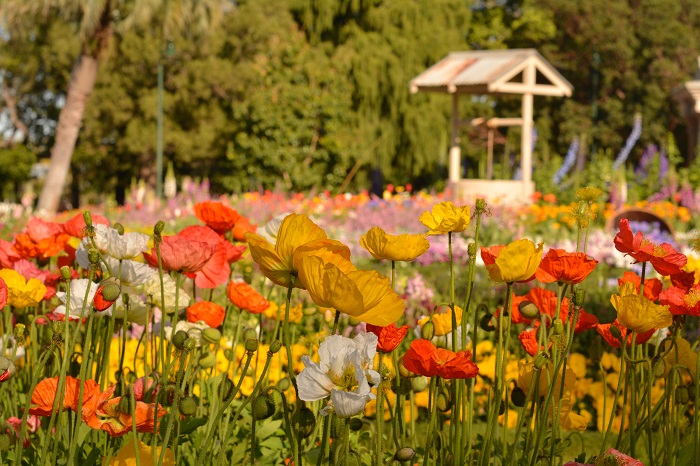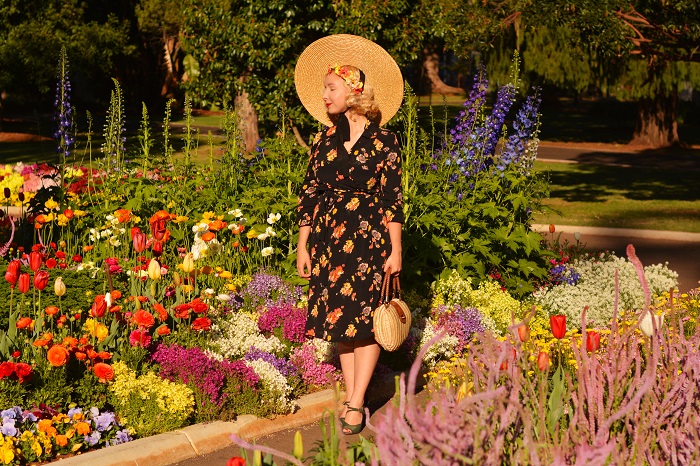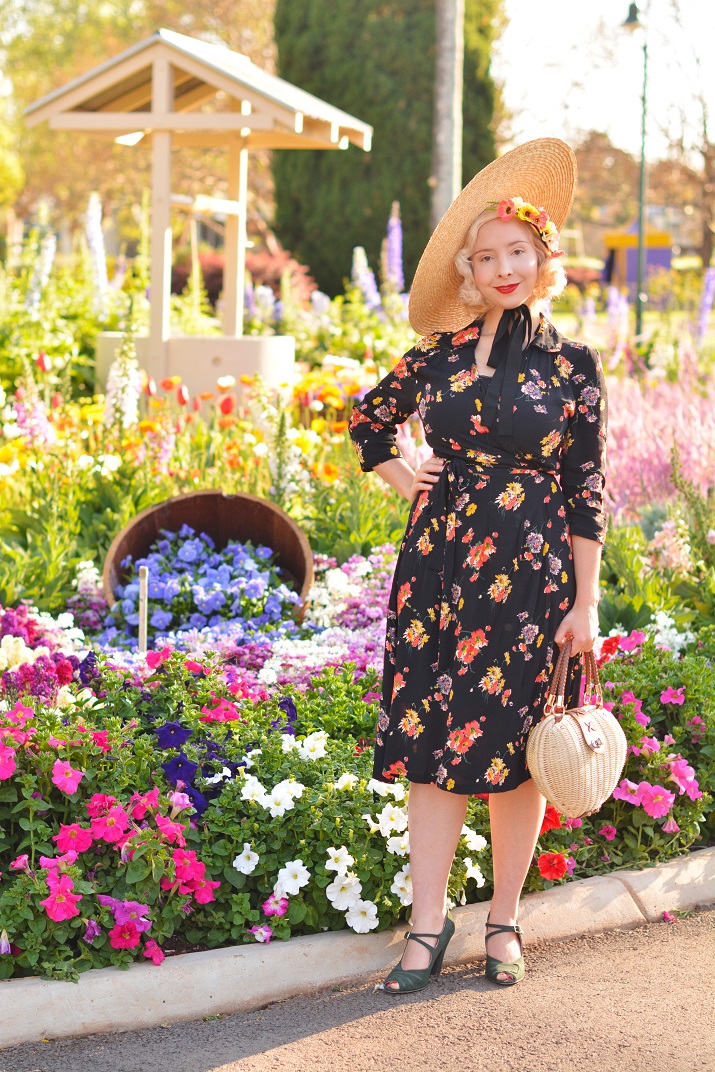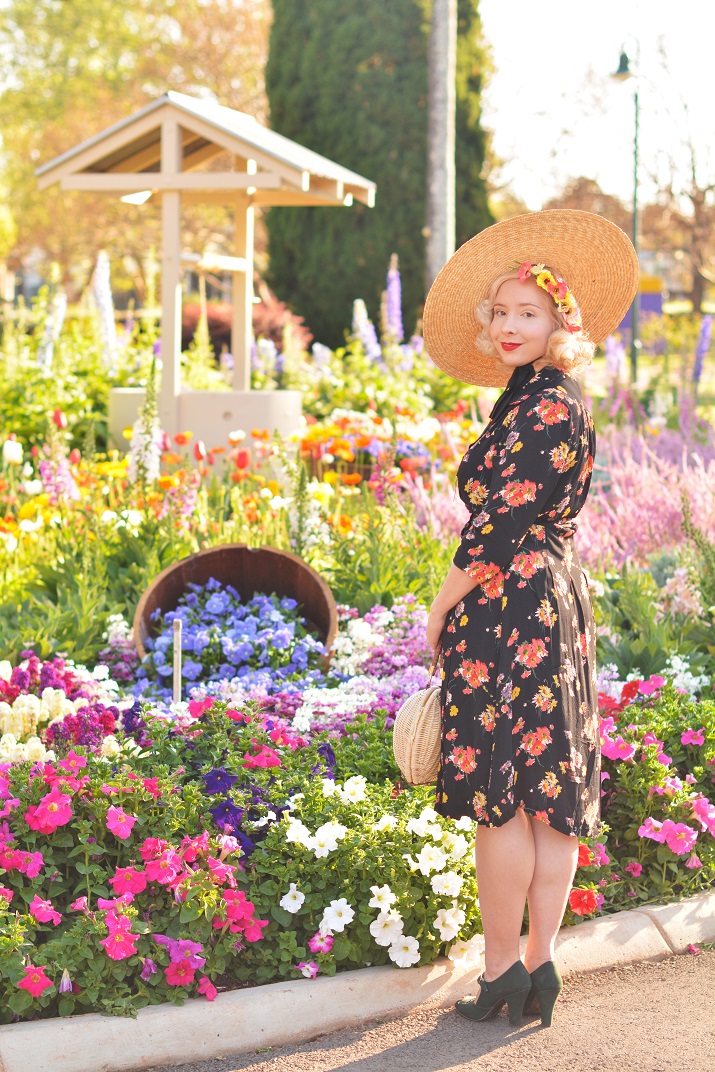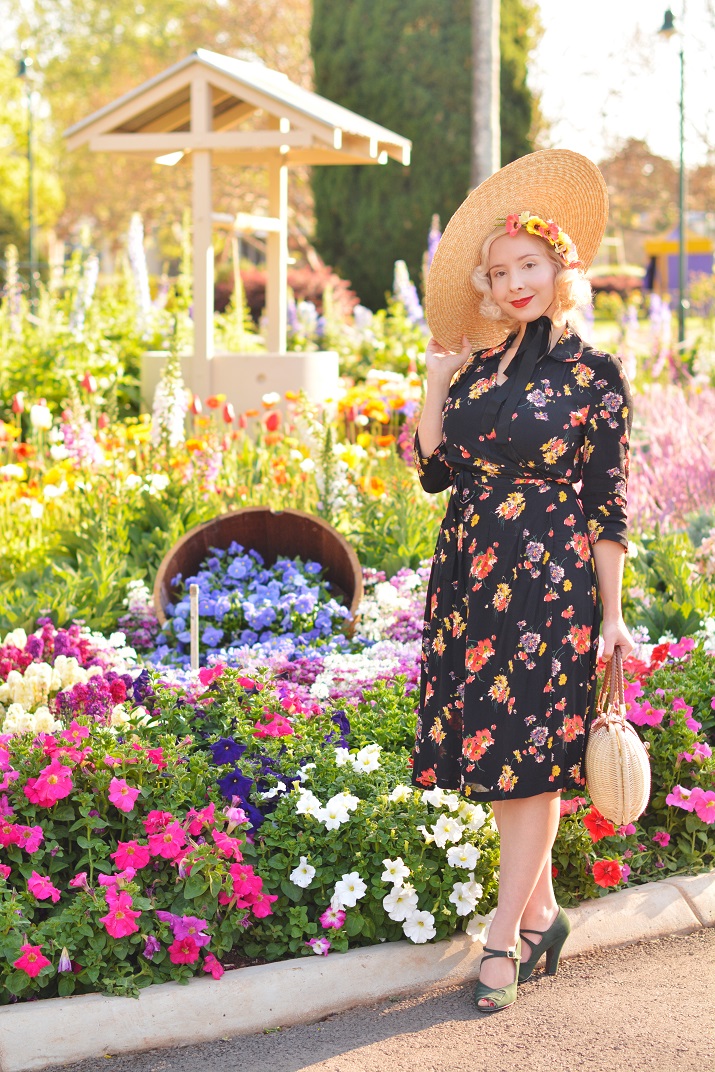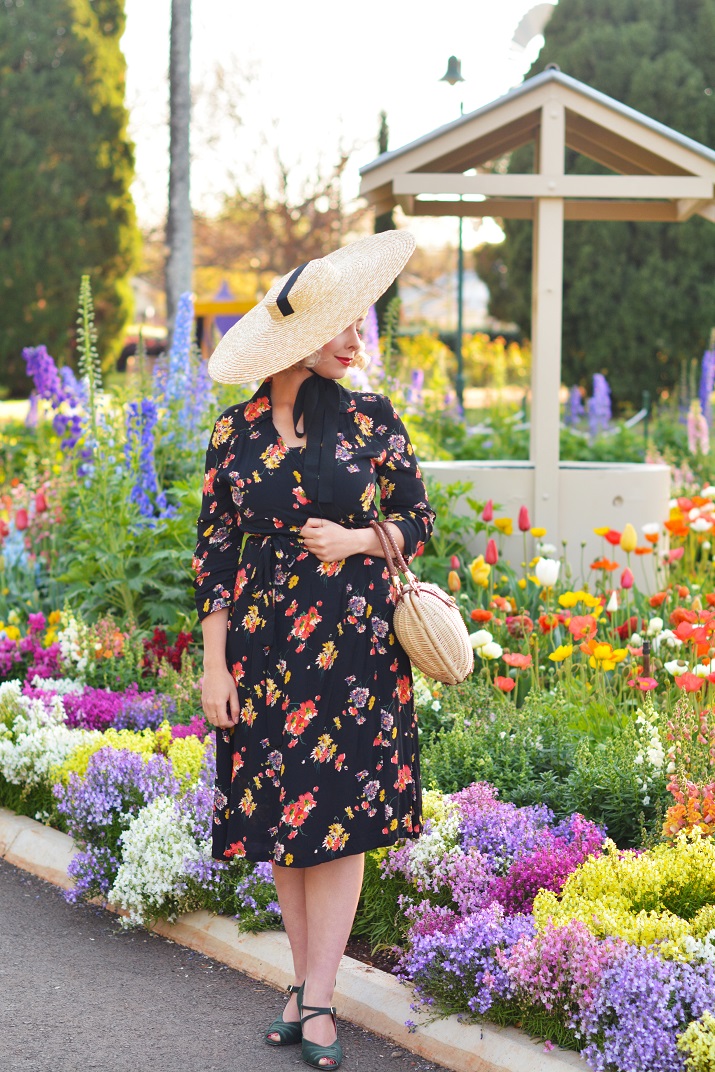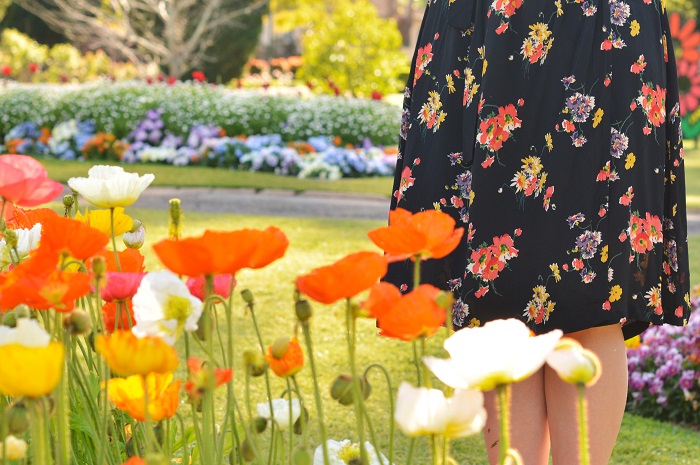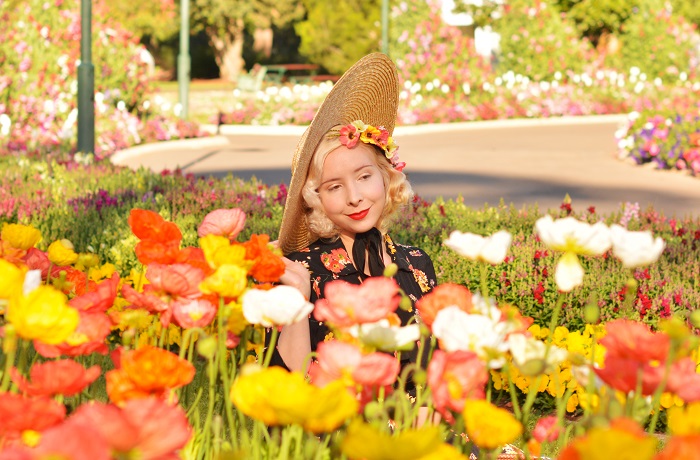 And just like that, it was spring again! A few days ago I was in Moscow where the leaves were golden and the skies were grey, today I am in Brisbane where the sun is shining and flowers are bursting into bloom. My first outing in Australia was to go see the flowers, all of the brilliant Icelandic poppies, delicate tulips, foxgloves and petunias growing in a range of pastel hues. My wardrobe was still set in autumn mode and I wore the Loretta wrap dress in Mayflower print by The Seamstress of Bloomsbury. It was a wonderful coincidence that bright orange poppies just like the ones in this garden feature among the flowers on this print! The town we visited is famous for growing the most beautiful flowers in our state, mainly because it is one of the few places in Queensland where European flowers are able to thrive. It's always a treat to see the garden and the colours are so vibrant that when the sun is shining its like looking at a set of a technicolour film.
I decided to go for a late 30s inspired look by teaming the dress with the biggest hat I could find. Now that I'm back in Australia, the bigger the hat, the better! In Moscow I often wore the Loretta dress as evening wear, styling it as a very toned down version of this outfit with a plain clutch and heels. I love dresses that work for day and night, and the 1945 inspired Loretta dress is a great option if you're aiming for a more streamlined wardrobe, or planning on living out of a suitcase for some time. Loretta is a fabulous cross of an LBD and a floral dress, suitable for every and any occasion, whether you're a guest at a spring wedding, or gin joints in all of the towns of the world. Depending on the time of year, I will usually add a slip; the morning we took these photos I wore the Loretta dress with a warm slip underneath for an extra layer, but when it warmed up by midday I took the slip off. The rayon crepe is not at all see through however, so you can go on ahead and wear the Loretta dress in spring as well as autumn!
Loretta is another one of The Seamstress of Bloomsbury's famous wrap dresses that suit all figures beautifully. I am especially fond of wrap dresses because the fit is so flexible and there is no risk of the dress being too big or too small. I just adjust the belt based on the fit that I want and it's as easy as that! One thing that is the biggest appeal of wearing vintage reproduction, is how easy it is to care for. When I got home from Russia I hand washed all of my Seamstress of Bloomsbury pieces and gave them a quick steam before hanging them back up in my wardrobe where they look good as new and are ready to wear once more. No fuss and no dry cleaning required, which is just how I like all of my clothing to be!
Wearing:
Loretta wrap dress in 'Mayflower' print courtesy of The Seamstress of Bloomsbury
Bait Footwear heels
Banned handbag
alternate normality hair flowers
vintage reproduction 1930s/40s hat (shop coming soon – email me to pre-order yours!)