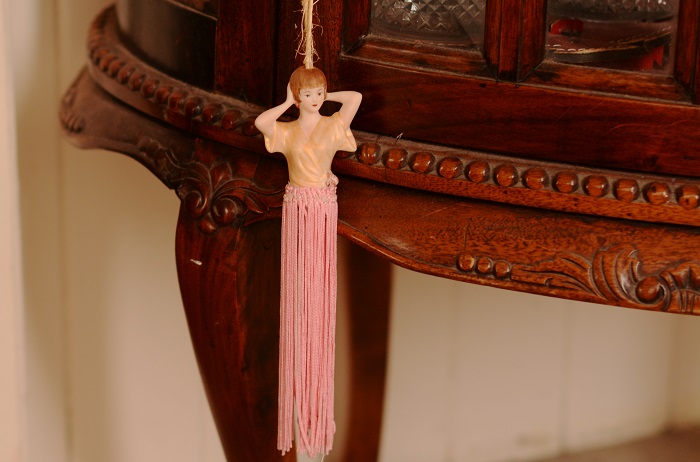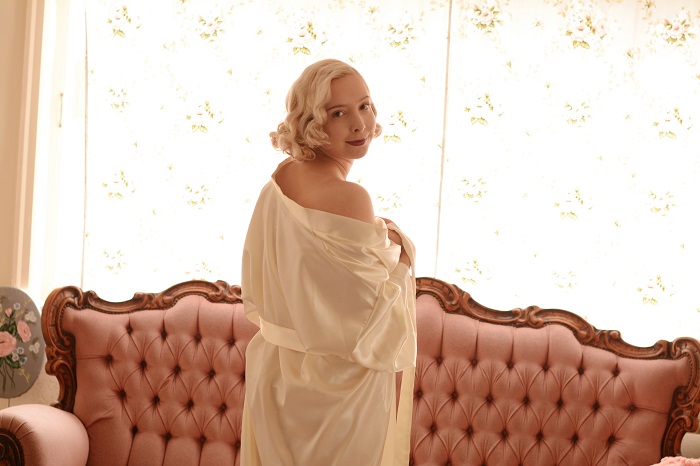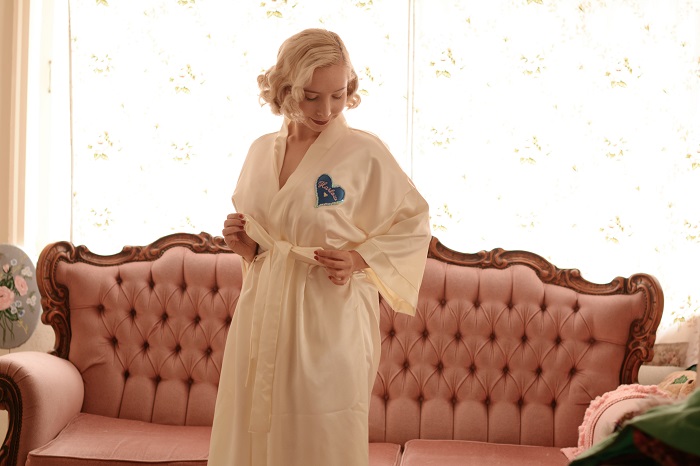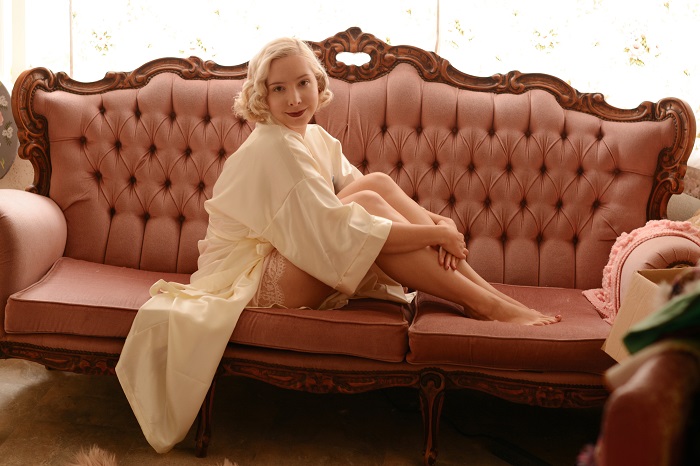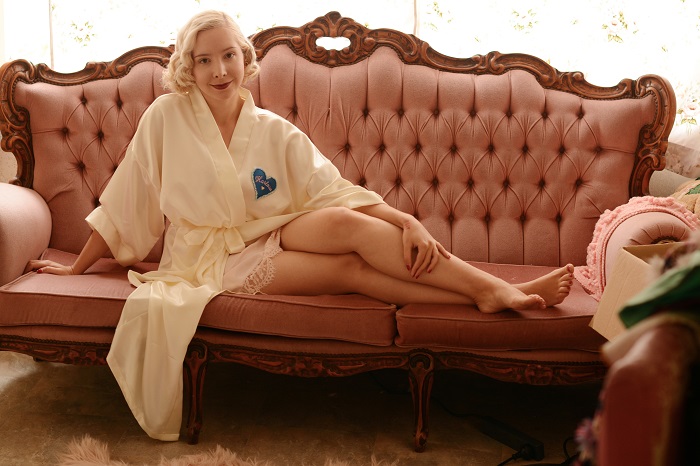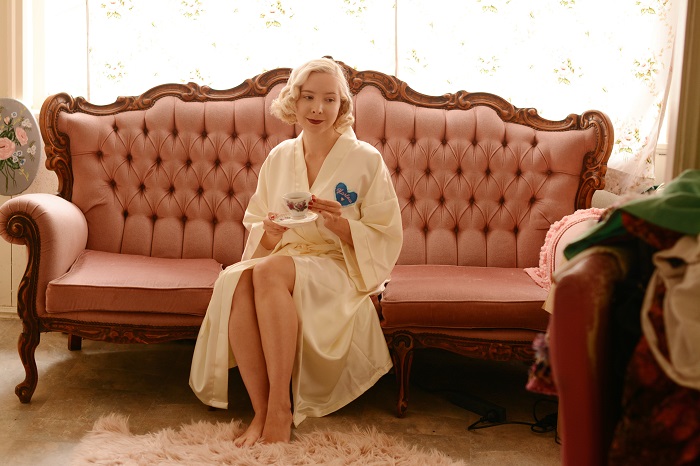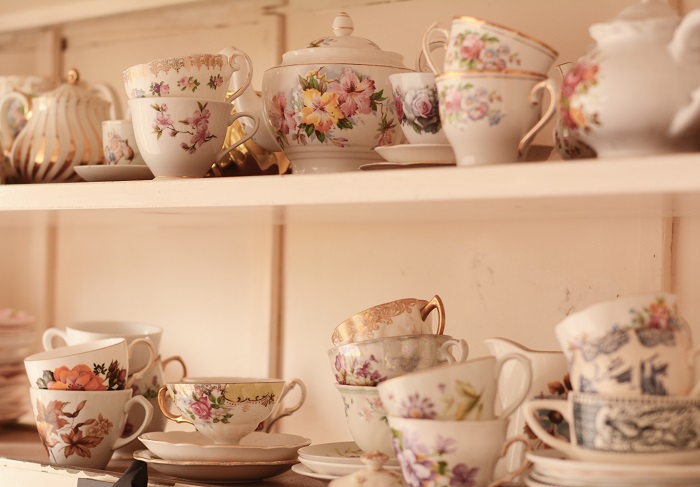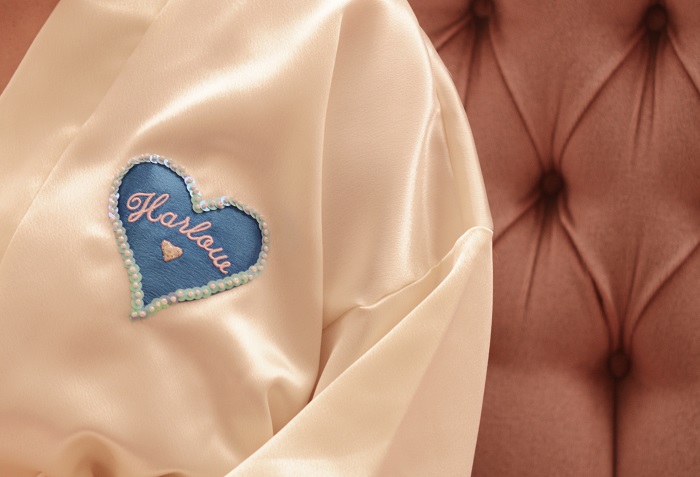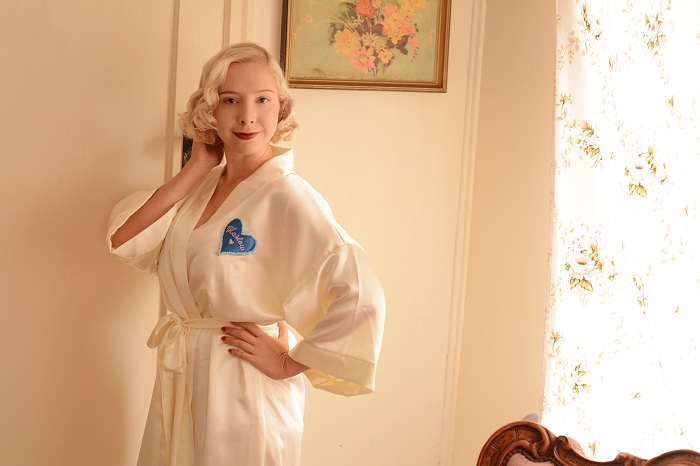 I love looking at photos of the screen sirens of the 30s & 40s lounging around in fabulous silk robes. A lot of thought went into making lounge wear that looked glamorous and made the wearer feel like a queen. Glitter and the Moon are a UK company who have brought back the decadence and glamour of the golden age with a brilliant collection of lounge wear and lingerie. I am wearing a personalised robe from their collection that allows you customise a robe with your own name or motto hand finished with sequins and beads.
The very lovely Glitter and the Moon let me pick a customised robe and so of course I couldn't resist getting 'Harlow' embroidered on it! I always wear a big fleecy robe when I do my makeup, and with summer here a gorgeous satin robe is just the thing to wear when I get ready. I absolutely love having a robe with my blogging name on it to wear when I get ready and do my hair and makeup before taking blog photos!
The robe is made from a luxurious thick satin that feels lovely against the skin and is very comfortable for lounging around in. I am wearing the robe in a rich cream, but it is also available in cherry red and in black. All of Glitter and the Moon's products are made in the UK using quality materials and lovingly hand finished in the studio. Along with the personalised robes, they also have a gorgeous range of hand embroidered robes featuring mermaids and burlesque vixens.
If robes are not your thing, Glitter and the Moon also do a beautiful range of personalised bed jackets and I highly recommend checking out Porcelina's lovely blog post featuring her bed jacket set from Glitter and the Moon. For vintage girls whose aesthetic ranges from the 30s – 60s, this is a brand to watch and with Christmas growing closer the ability to have a piece personalised makes for a gorgeous gift.
For these photos my friend Kim of Say CheeseCake Photography let me use her amazing home to take some photos. Isn't that pink couch just stunning? We took these photos in the early morning and as a result were lucky to get some soft whimsical lighting.