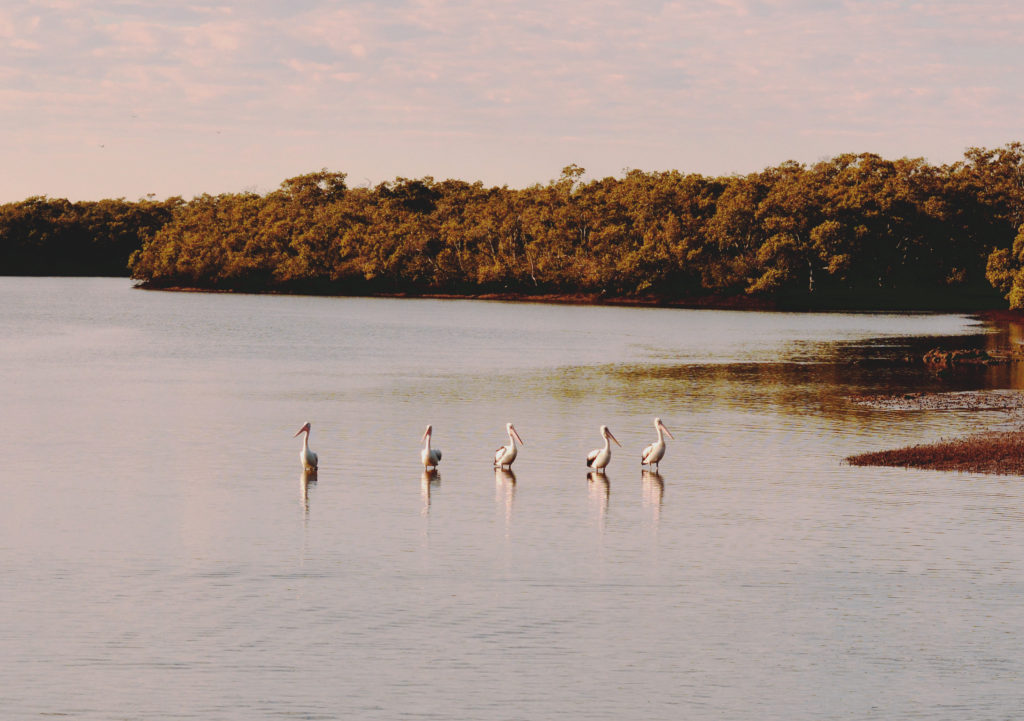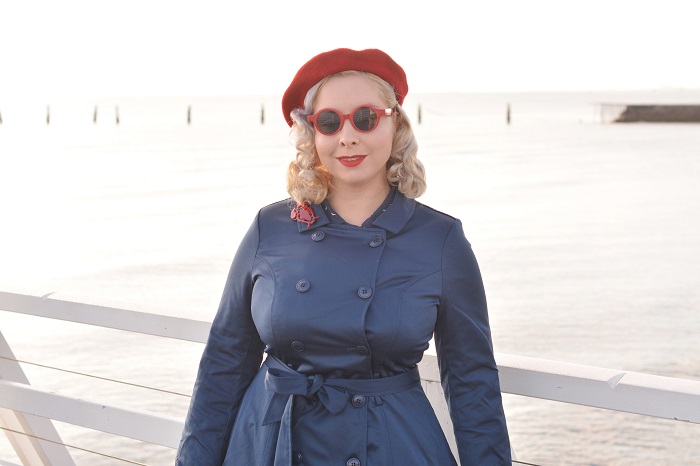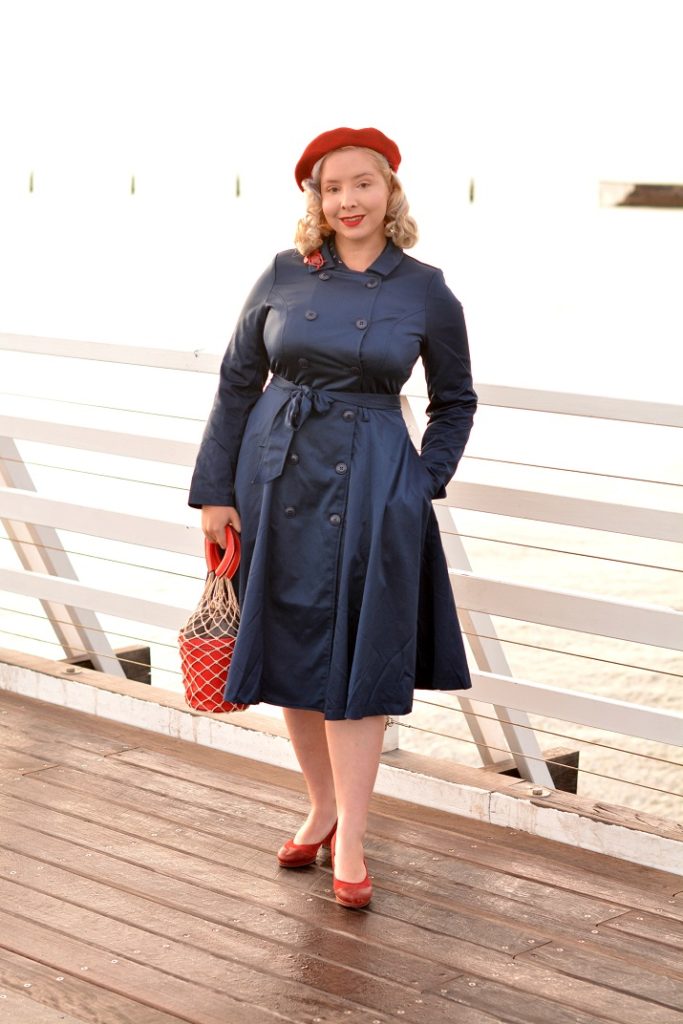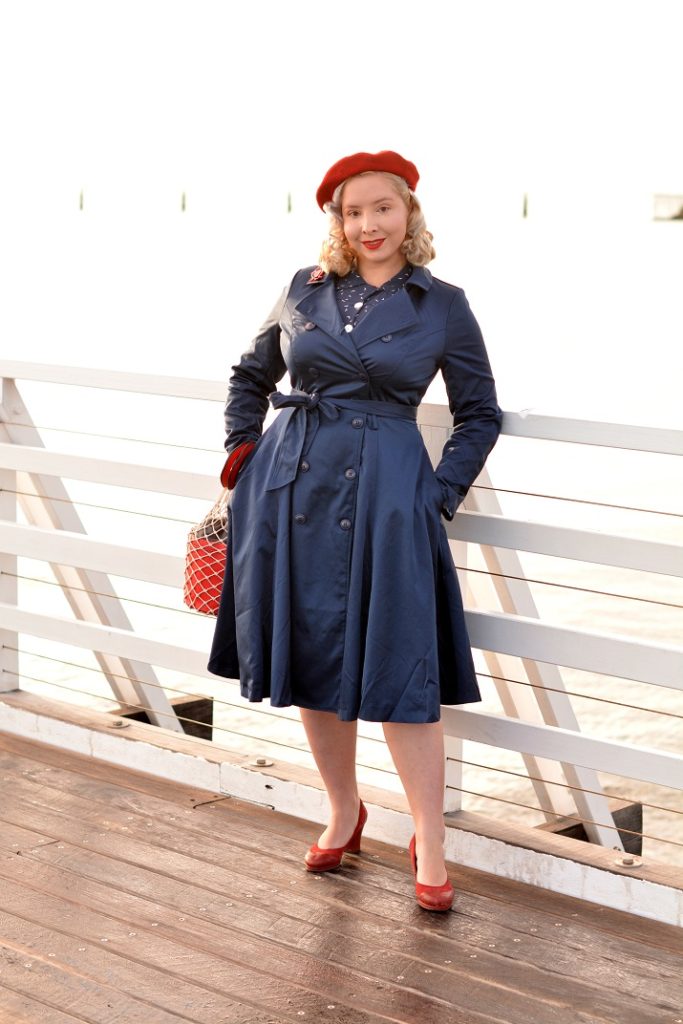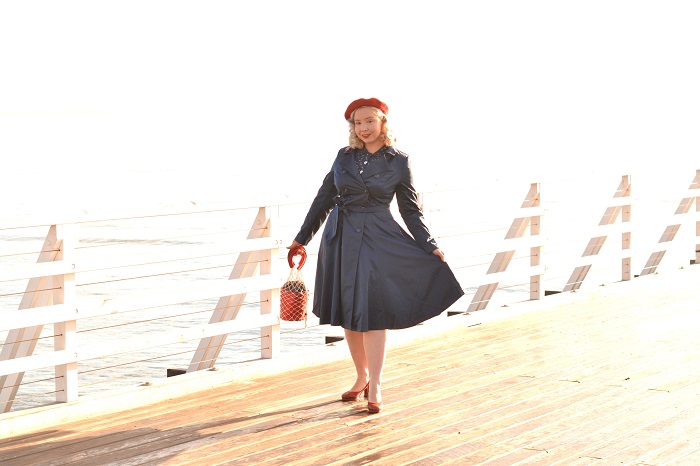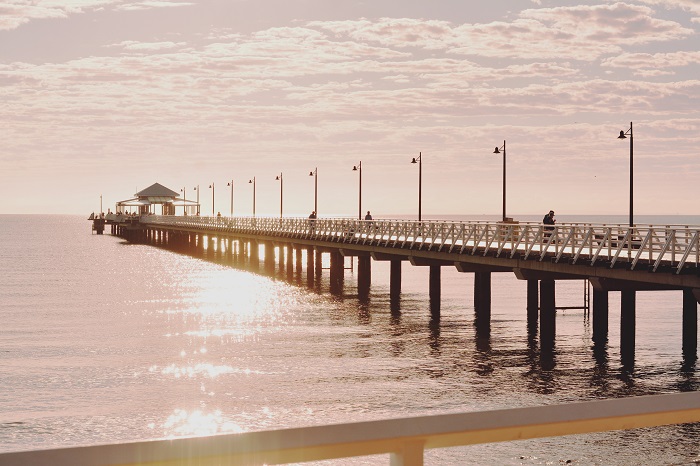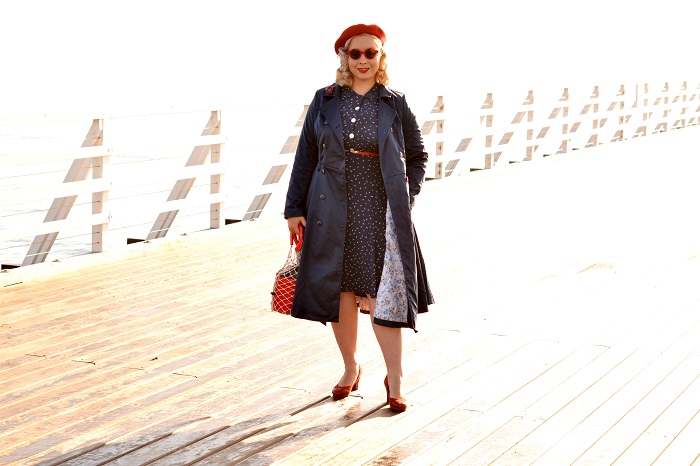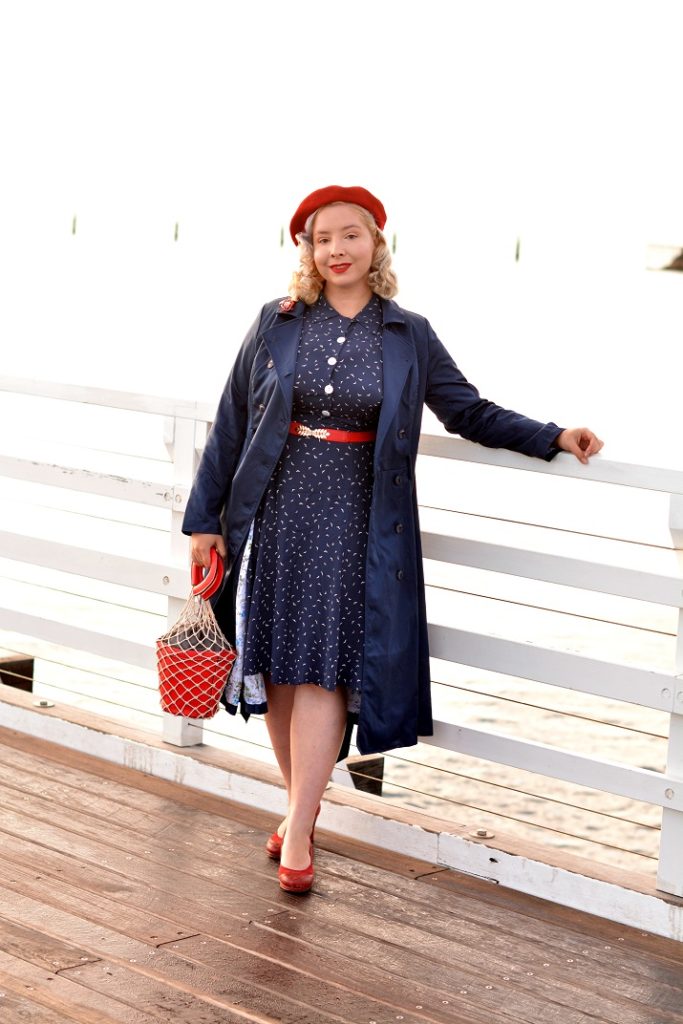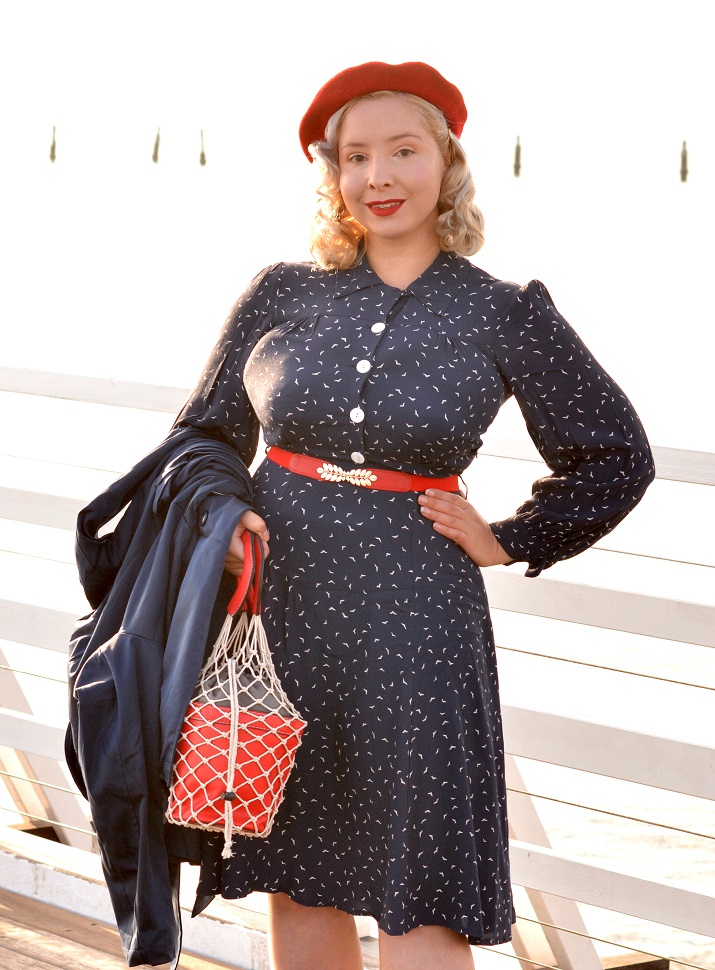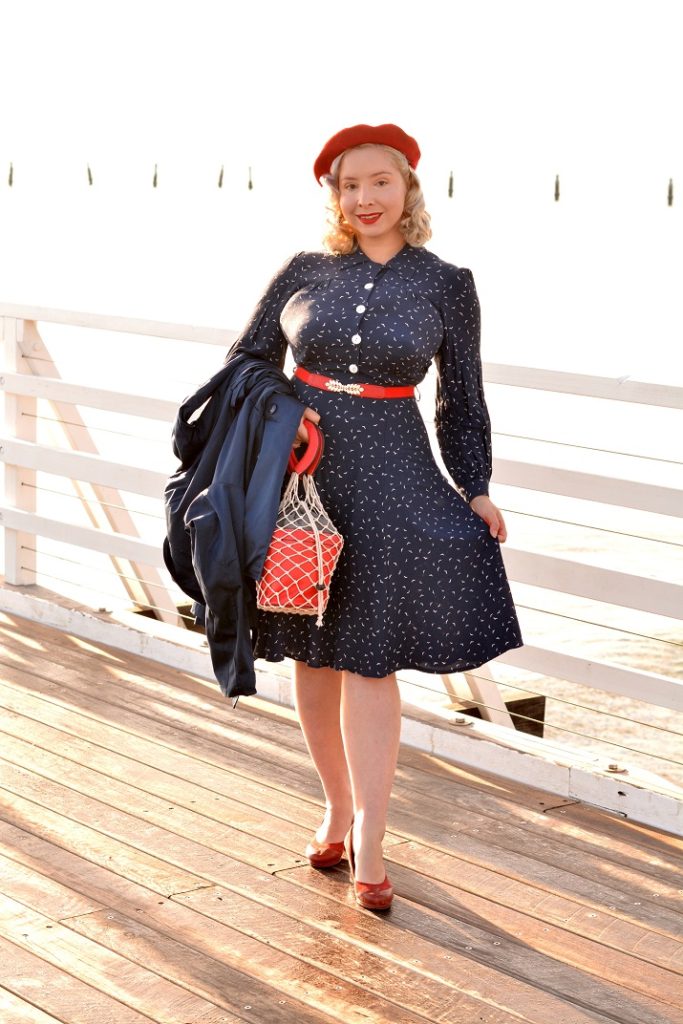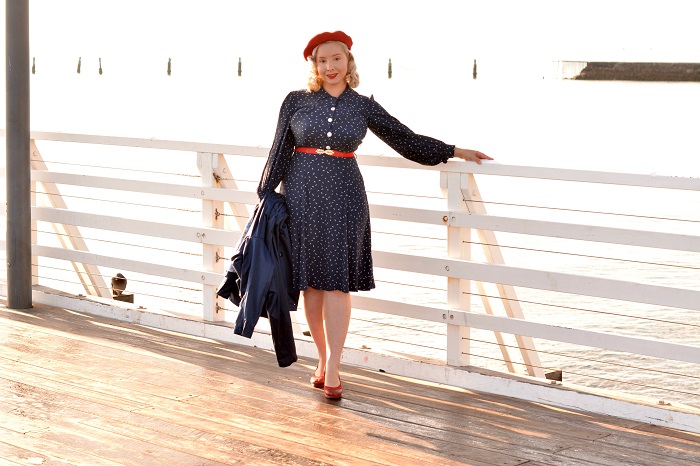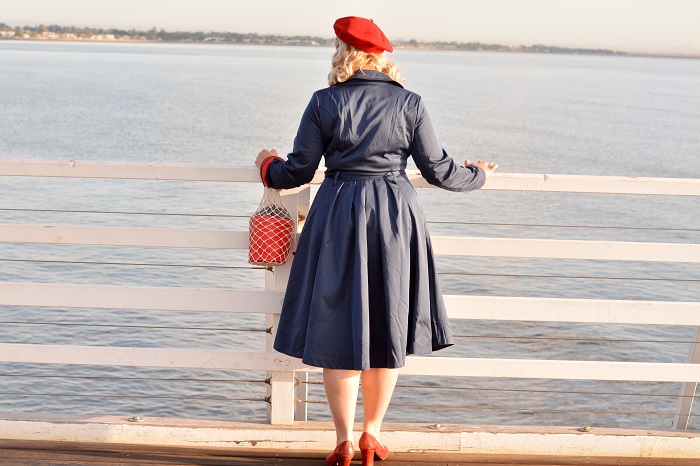 Those of you who live near the seaside – I hope you don't take it for granted! We live a long drive from the nearest beach so it always feels a bit special to make a day trip. And obviously I have to take photos to mark the occasion, since that's just how seldom we go. It's the last month of winter here and as you can see; I dressed accordingly. Which is why I got a good deal of amusement watching some very keen beach goers braving the cold early morning water…Especially one man who was trying to swim with his dog and the dog just wanted nothing to do with the cold water.
I was very excited to receive the Korrina swing trench coat from Collectif Clothing and knew right away that I wanted to style it as part of a nautical look. The double breasted style and smart navy blue brings to mind something a ships captain might wear. I have been a big fan of Collectif's trench coats for many years now, and also own the Dietrich coat in beige. I think every elegant wardrobe should have a trench coat as they are so versatile and can be worn regardless of whether it's rain or shine outside. However after an expensive dry cleaning bill I have learned that a dark coloured coat is the best bet if you're like me and prone to spilling things on yourself…
And…I just really like navy blue. I mean obviously, since I'm wearing navy on navy here! But in my defense, this dress has tiny seagulls printed all over it so I thought it was very fitting. A few of you might recognise it from this post when I wore it in Russia…which feels like it was a lifetime ago, in a life lived by someone else entirely. But somethings never change, and my love for wearing red white and blue combinations seems to be one of them.
If you've had your eye on scoring one of Collectif's glamorous trench coats, the time is now! The Korrina coat is currently on sale and a brilliant investment piece for any vintage wardrobe – whether you're getting ready for autumn or spring showers. As I've previously said, we have pretty mild winters here in Queensland, so to me ten degrees Celsius is what I consider really bloody cold. I've worn the Korrina coat on many days like this and it has kept me nice and warm as it is well lined and keeps the cold out well.
Normally when it comes to coats, I like to go a few sizes up. Especially if I'm likely to be layering up like an onion underneath. I waver between a size 10 – 12 on the Collectif size chart and for the Korrina trench I went up to a size 14. As you can see from the photos, with the coat done up the entire way it was a very close fit. So I would certainly advise going a size up in this style. The Korrina coat is also available in a classic beige (currently on sale) and has just been released in black!
I'm wondering if this might just be my last winter outfit for 2020, but we'll have to see what happens! I am hoping for a few more weeks of cold before the hot weather hits…Even if I'm actually very excited for the things I have to wear this spring.