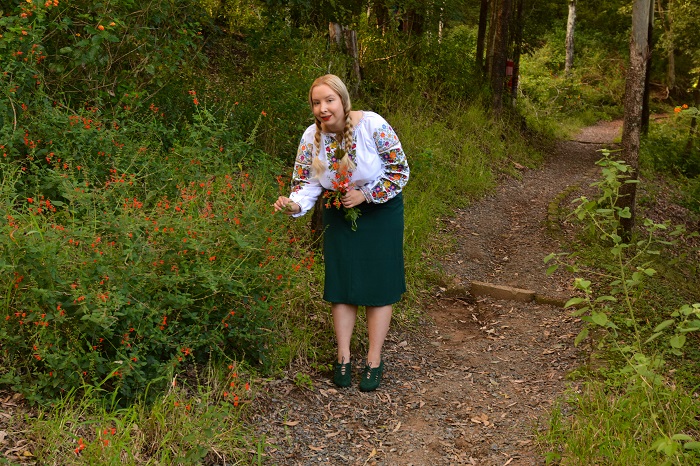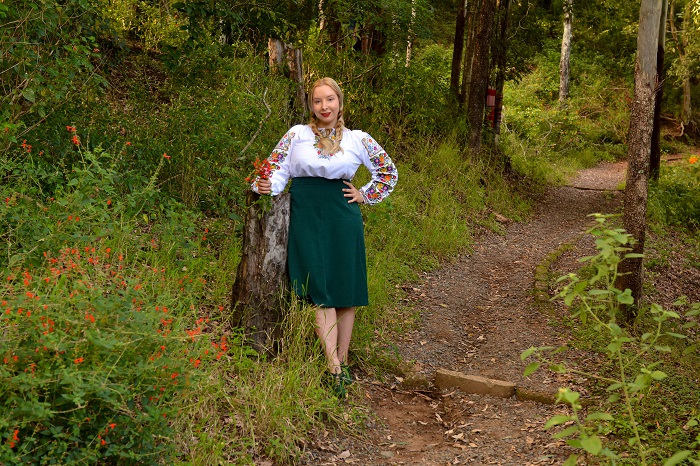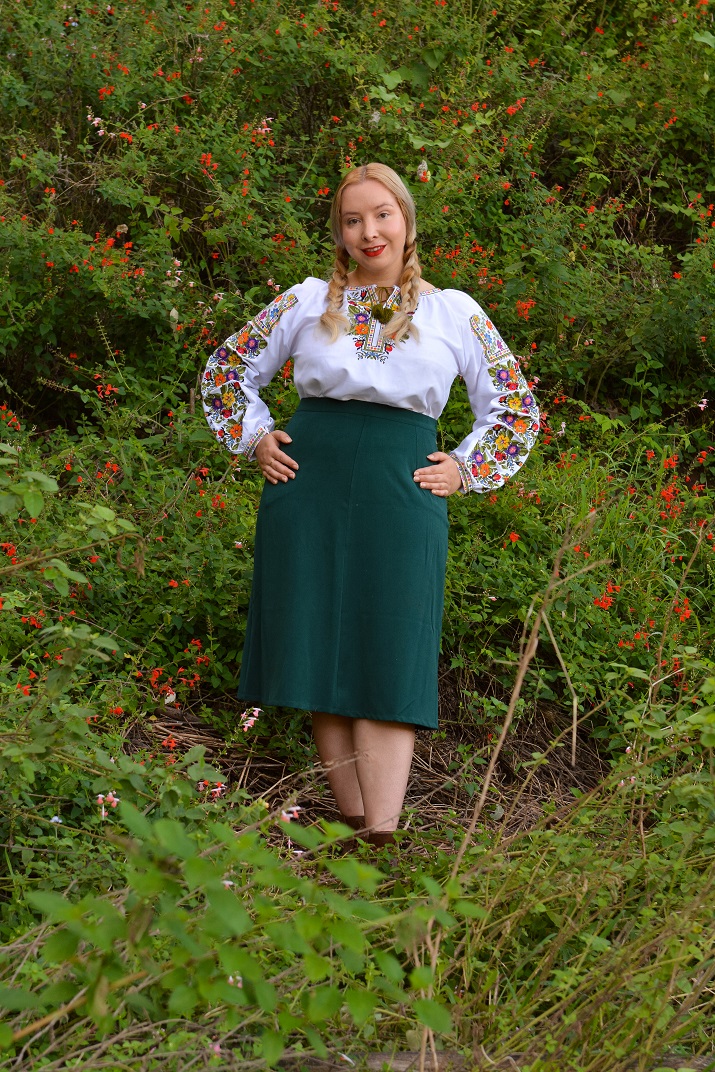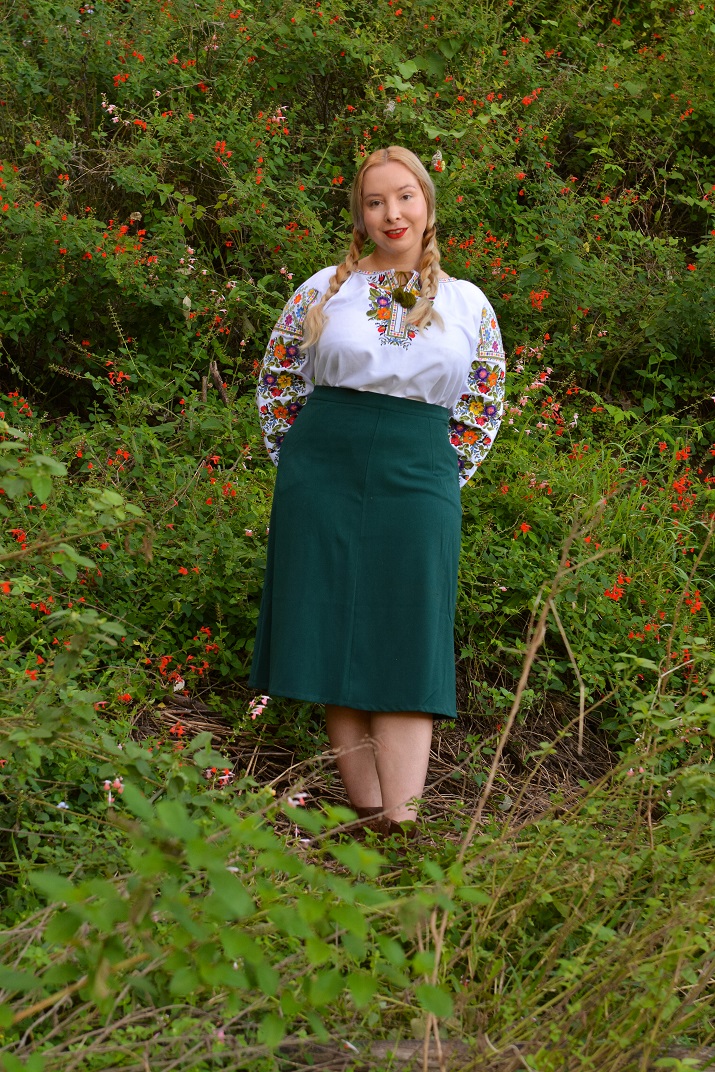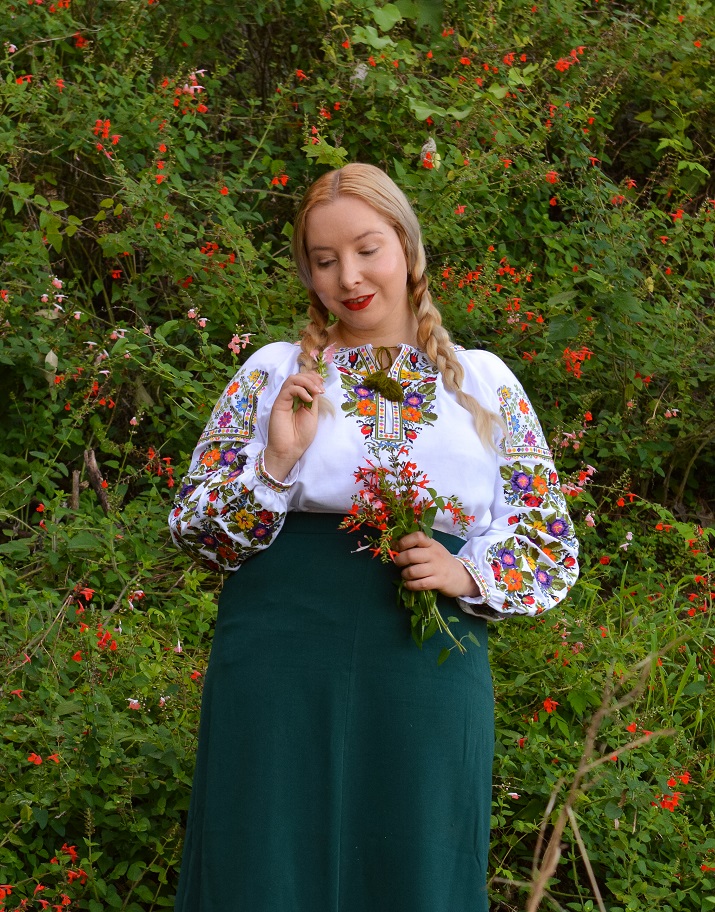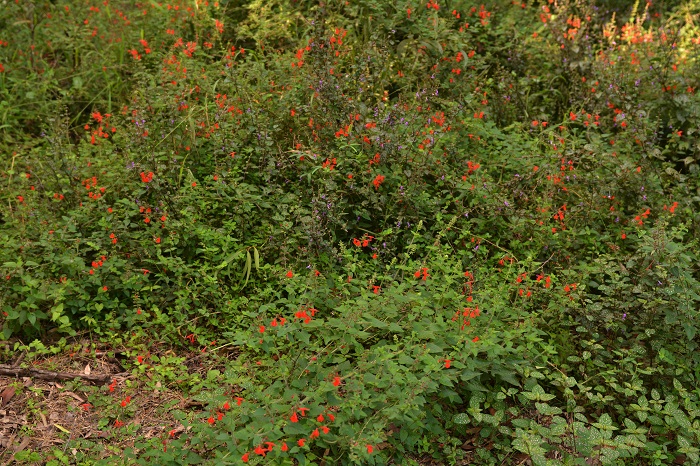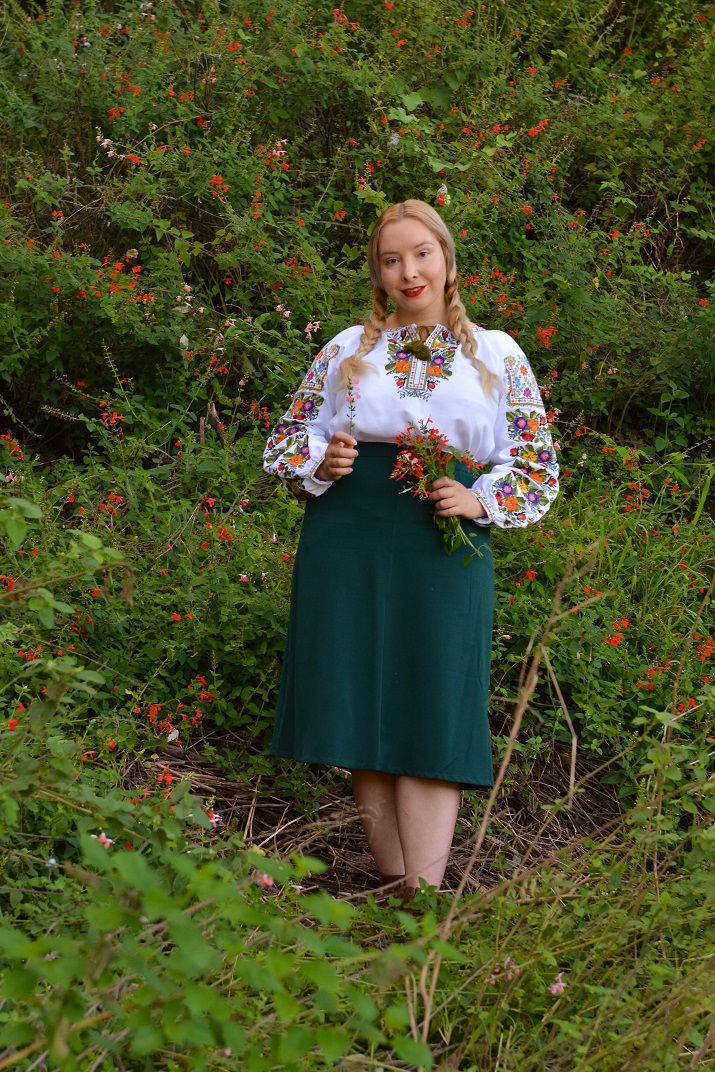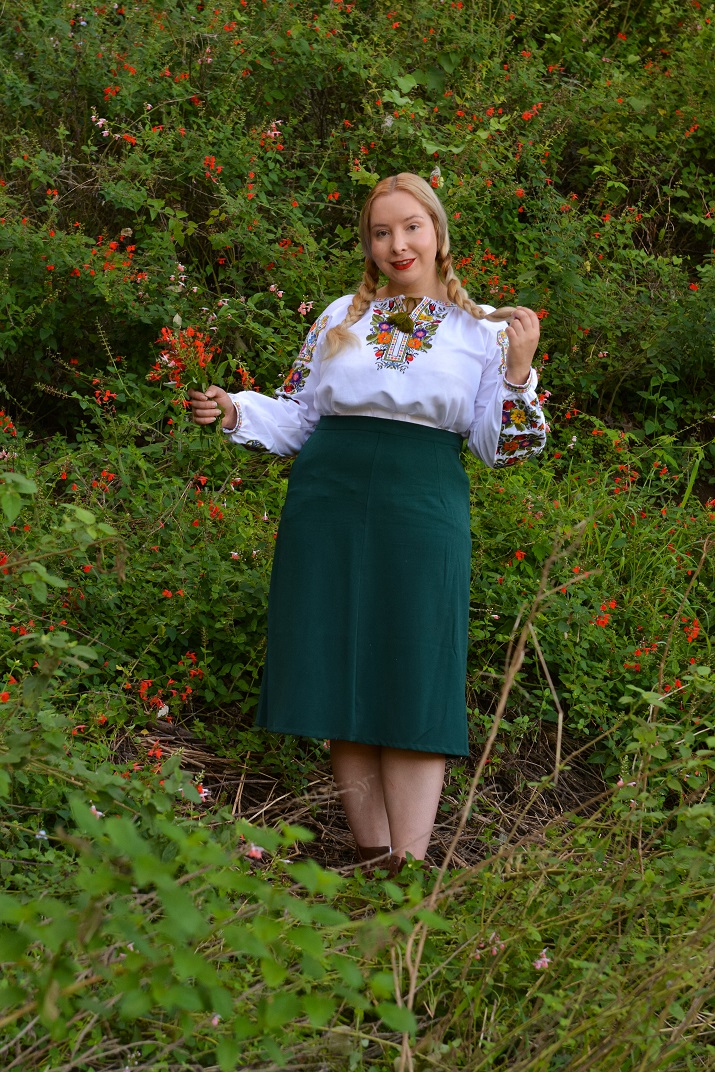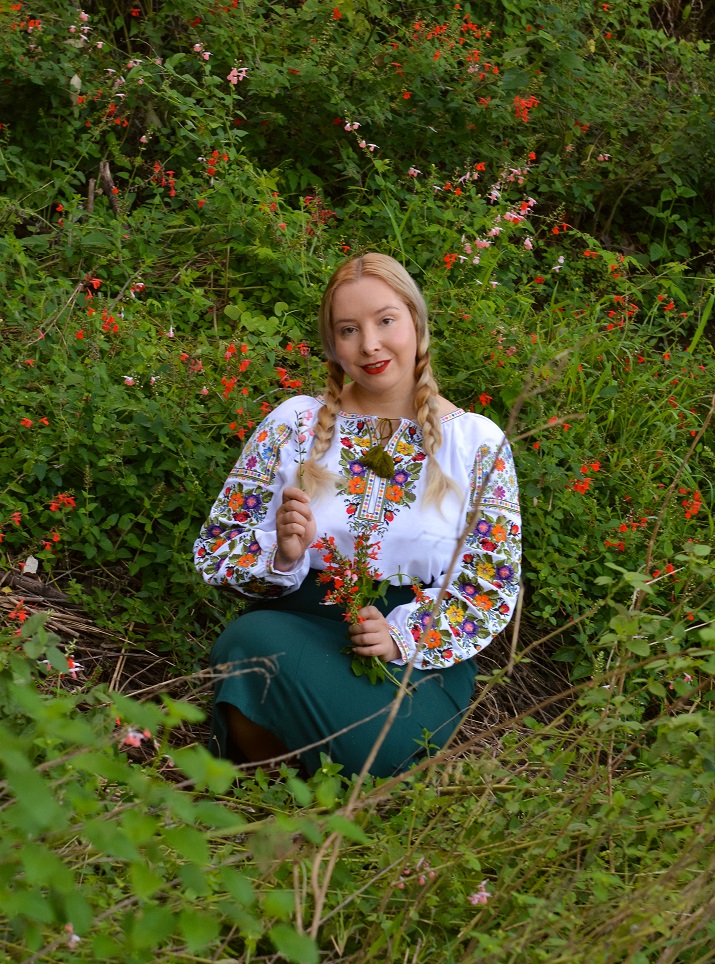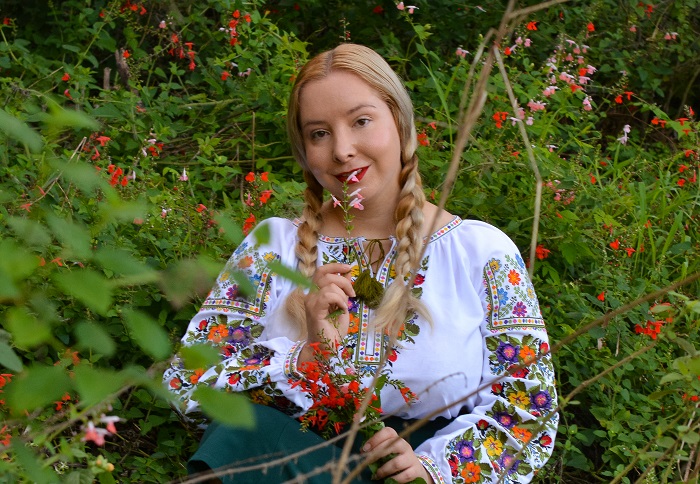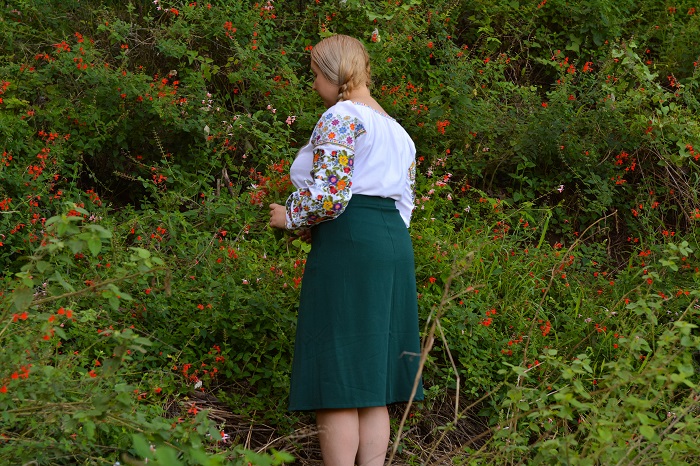 Last Christmas my dearest friend got me this beautiful Ukrainian blouse, purchased from a small Ukrainian business on Etsy. She had bought herself a similar blouse in a different pattern and colour, and seeing how much I admired the one she had, was kind enough to get me one too. So we would have matching outfits. I never anticipated the tragedy that would happen in the following months…
This type of blouse is known as Vyshyvanka (Ukrainian: вишива́нка) which translates to embroidered shirt. Shirts like this vary in design by region and are the traditional national costume of Ukraine and Belarus. Each pattern and symbol in the embroidery has its own meaning and acts as a talisman for the wearer. For example, stars to signify good health and protect the wearer from illness, or grapes to symbolise a happy family. The blouse I'm wearing features a lot of squares (symbolic of earth and fields), stars, and poppy flower to ward off the evil eye. It is a beautiful, high quality piece and something I will treasure for many years. I'm already looking forward to going out with my friend in our matching blouses.
Writing this post has not been easy for me. I hold a Russian passport, and in it is a Ukrainian name. Like many people from this part of the world, my family members come from a wide range of backgrounds; the result of when once upon a time all of these neighbouring lands were united as one. We all bleed the same blood, which makes this conflict all the more devastating. To me this is the same as raising a weapon at your own family. We have all read the horrors, seen the photos. It is hard not to be haunted by the accounts of what is happening and to think of those for whom this is the new reality.
I wanted to share a link on my social media for the maker of this blouse for some time, but every time I checked back it said that their store had temporarily closed. Today, after several weeks of checking daily I see that WoodenWorldLife have reopened their store once again. I would love for you all to have a look at their beautiful designs and support this small independent shop based in Spas, Ukraine. For the quality of the work, these blouses are very reasonably priced, absolutely stunning, and their sizing is inclusive. If you are not in a position to purchase one of their designs, I would love it if you could share a link to their Etsy on your social media, or link to a friend who might be able to buy one.