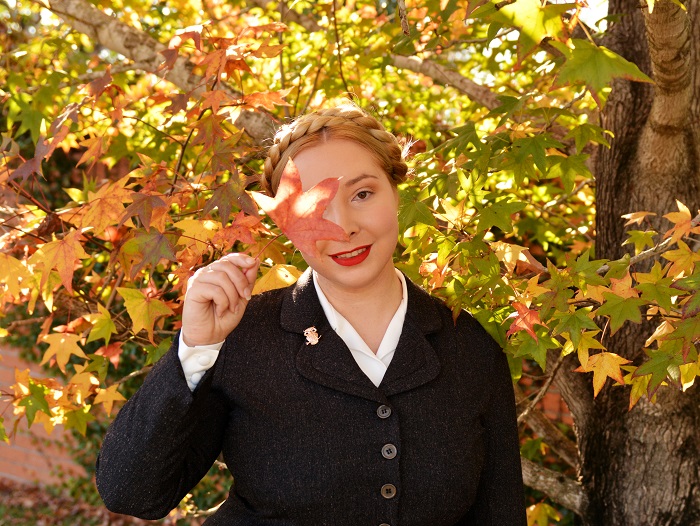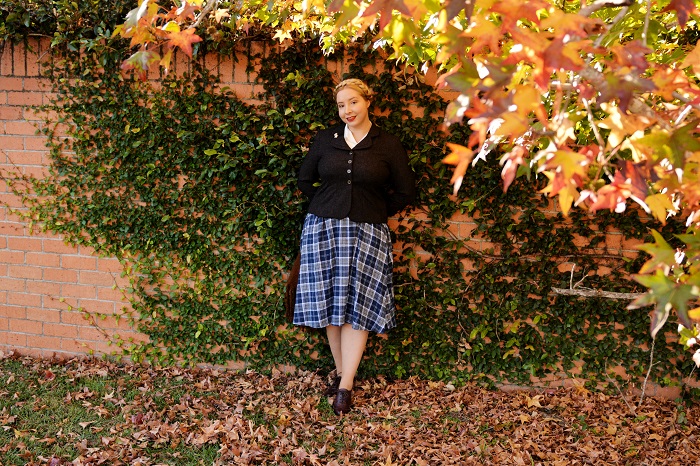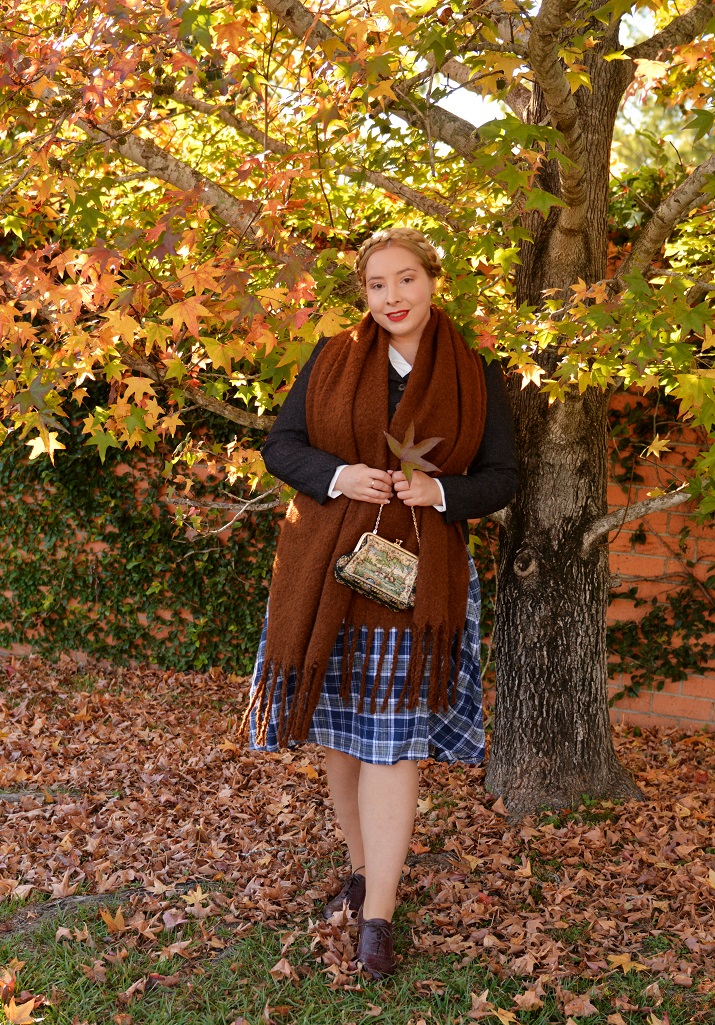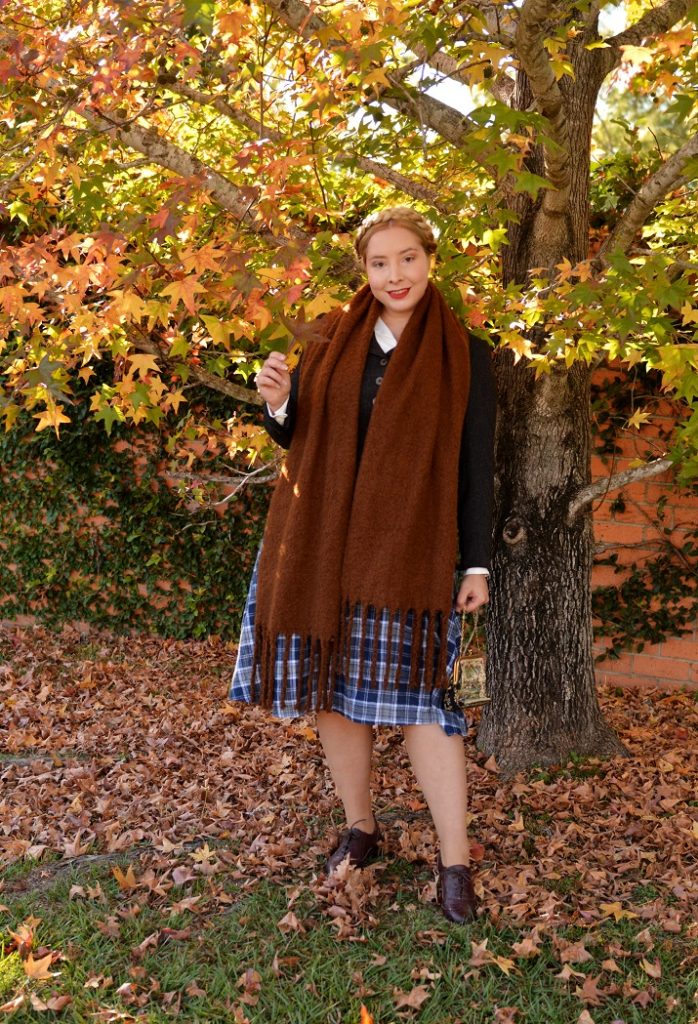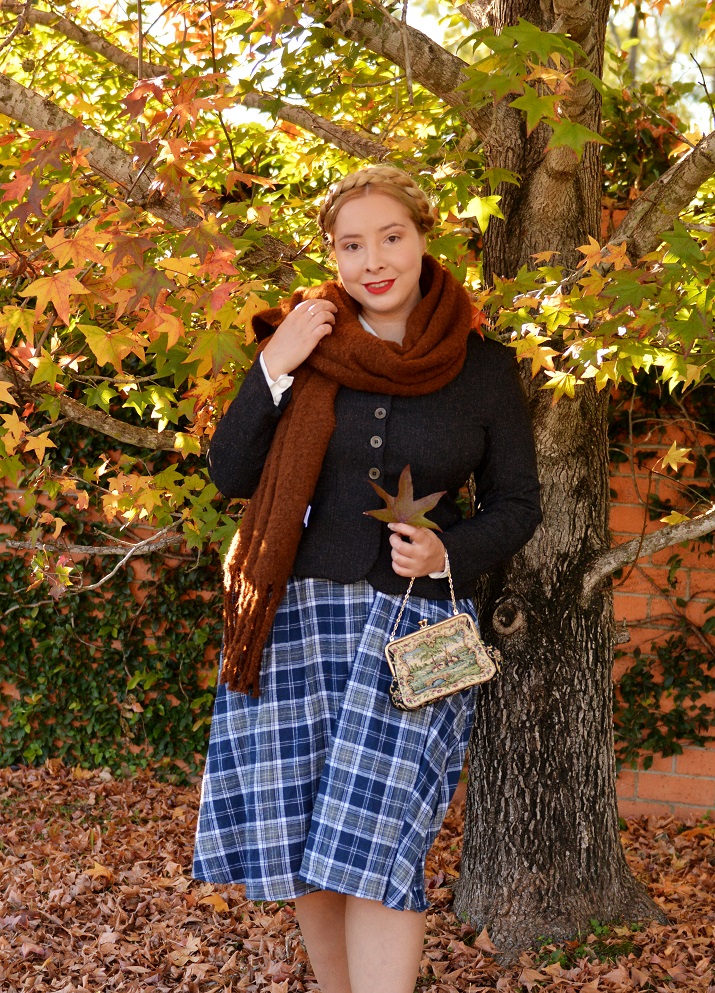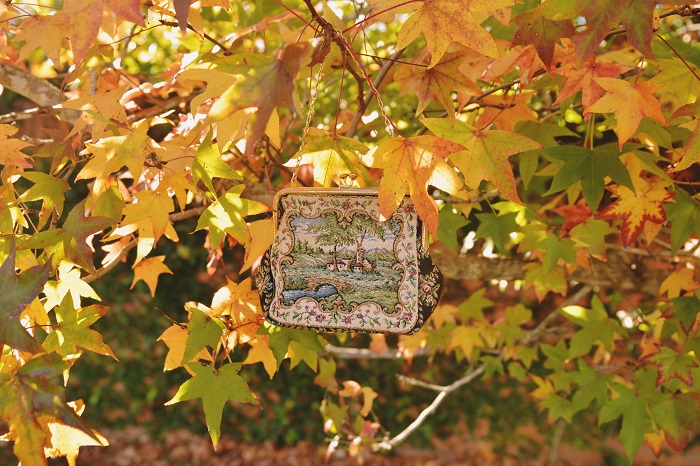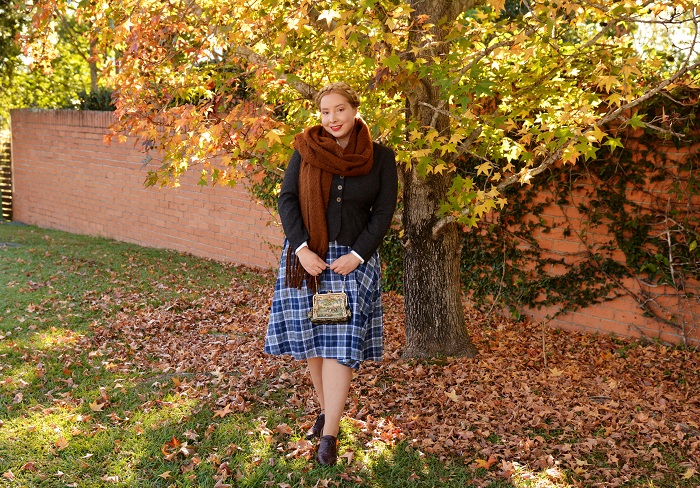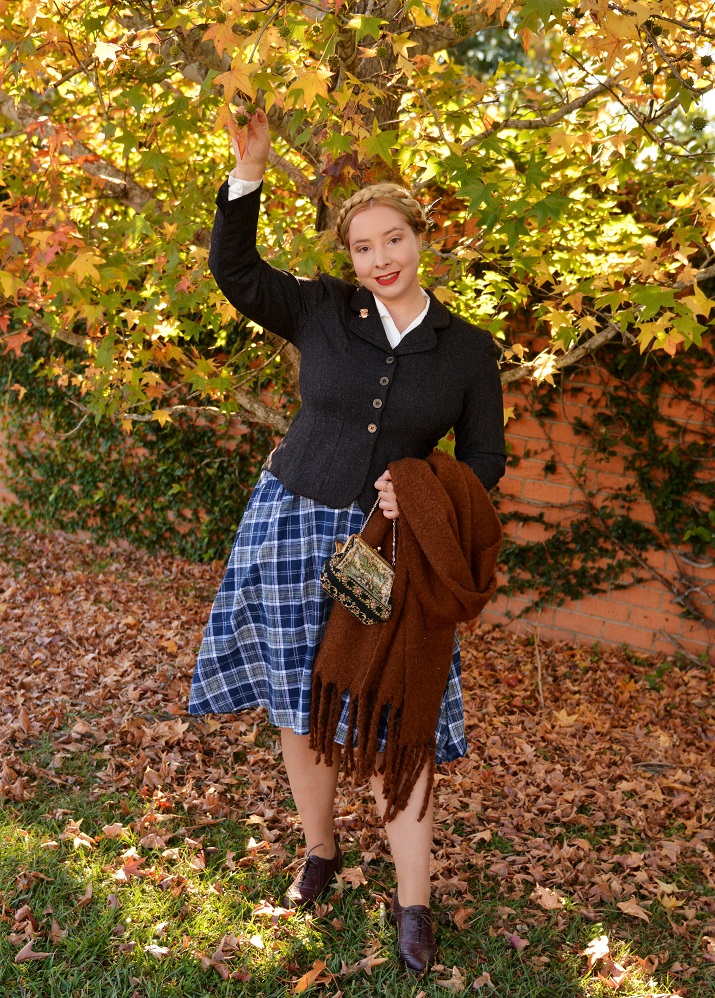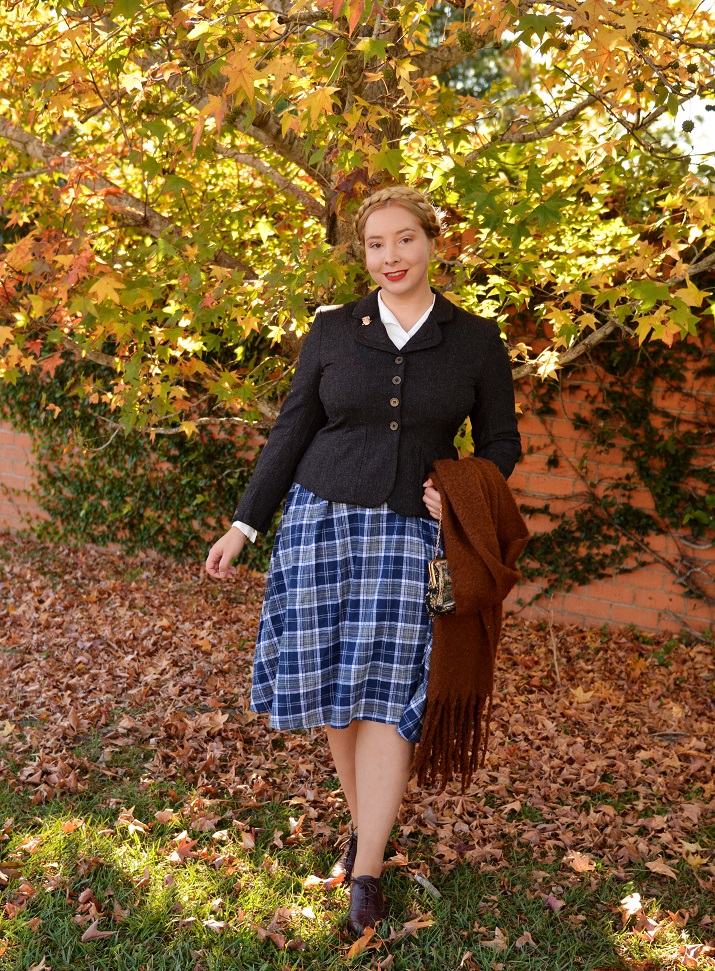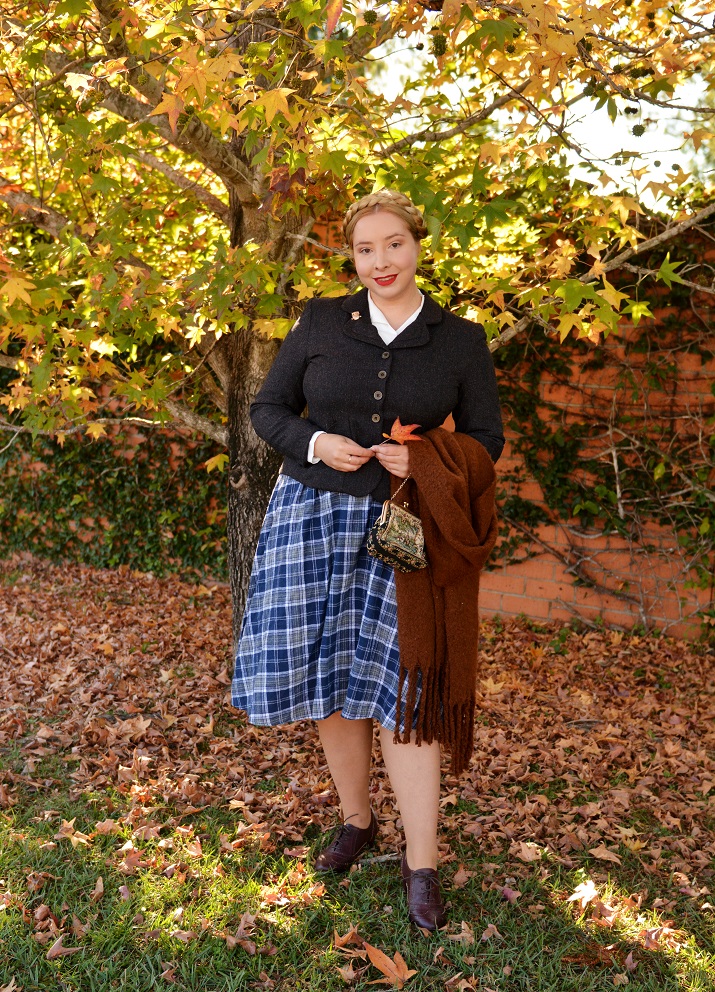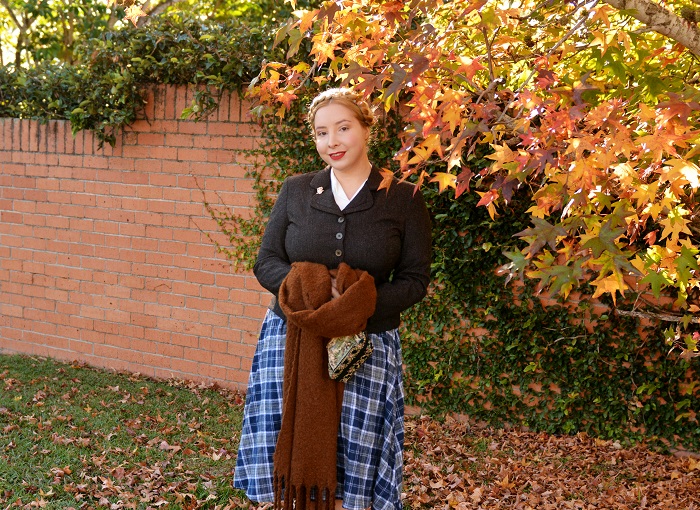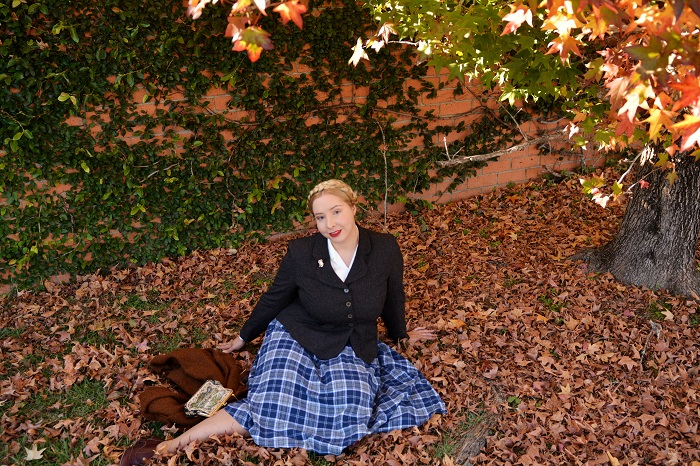 When I sat down to edit these photos…my first thought was; why is my hair red? It seems that the orange leaves on this tree created a natural red hued filter and changed my hair colour. Not that I'm complaining, I just find it amusing! And now I know how it would look if I was to decide to dye my hair this colour. Although, I don't think I'd be up for the upkeep of having dyed red hair. Been there done that, didn't love it.
Last post I mentioned my new found love of 1940s suits, so here is one half of another suit that I bought recently. This jacket is part of a skirt suit by Australian brand Retrospec'd Clothing, who have a boutique in Sydney. I first started out wearing their lovely 1950s dresses ten years ago so I was pleased to recently learn that they now make wonderful 1940s suits. And of course it is so nice to be able to support a home grown independent designer.
I've been wearing this blazer non stop since I bought it, and I feel it really gives an outfit that authentic 1940s utalitarian look. My winter uniform is very simple; floral dresses under a chunky knit or with a blazer, and plaid skirts. I have this same skirt in four different colours so its very likely there will be more renditions of this outfit in the future. Topped off with oversized scarves and berets of course. My handbag isn't era appropriate, it's 1950s or 60s probably. But I love it all the same, and it's the first bag in this style I've seen that features a landscape design rather than a floral print.
It's interesting because when you really think about it; fashion hasn't changed a huge deal if you compare 1940s autumn/winter fashions to 2020s. Winter trends like plaid and tweed are popular now as they were then. But what has changed are the cuts and silhouettes. A lot of non vintage wearers might regard vintage styles as frumpy, and yet I look at off the rack styles today and to me that's the definition of frump. Sloppily made ill fitting clothing that you just throw on and go yes, good enough. Not to mention all of the ghastly synthetic fabrics.
Before I bought this blazer I did go and see if I could find something in a regular store to style as vintage, because I'm not above the instant gratification of real life shopping vs online. And the results were hilariously awful. Depressing even. I would not recommend it. At some point in modern fashion, creating clothing that was flattering and well made stopped being a priority…Which is not to say that I don't love wearing outfits that are unflattering but totally comfortable! I do. But when that's the only option out there on the market, that's a bit grim. Even when I did find something where the fabric was actually lovely, the cut was just horrible.
So that was a very eye opening experience. Which made me glad that I was able to discover vintage fashion and the vintage community a decade ago. Otherwise I would probably still be standing in dressing rooms resenting my existence, instead of laughing at some of the rubbish modern day fashion is getting away with. Not that I haven't made some dreadful fashion faux pas over the years experimenting with different vintage styles, or just worn things that were hilariously awful andd didn't fit right… In fact sometimes I am reminded of an outfit I wore a long time ago and I think wow, I really left the house looking like that huh?