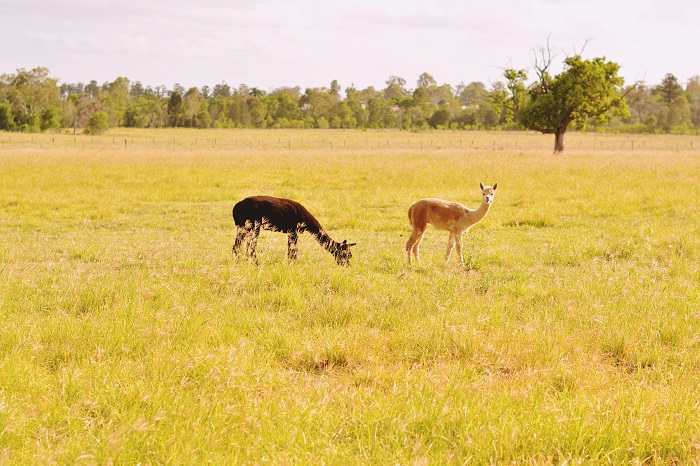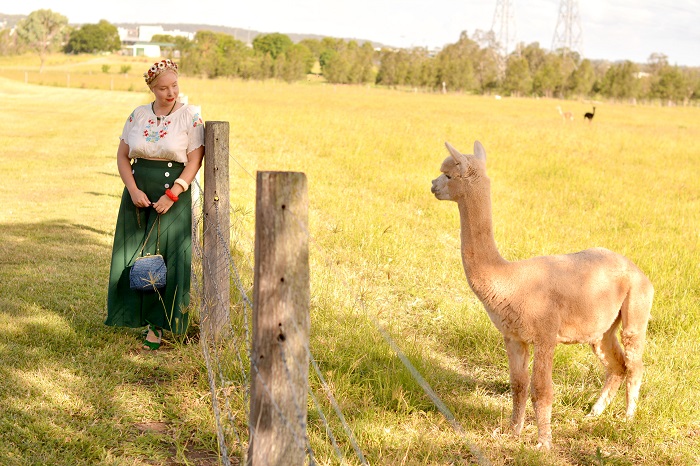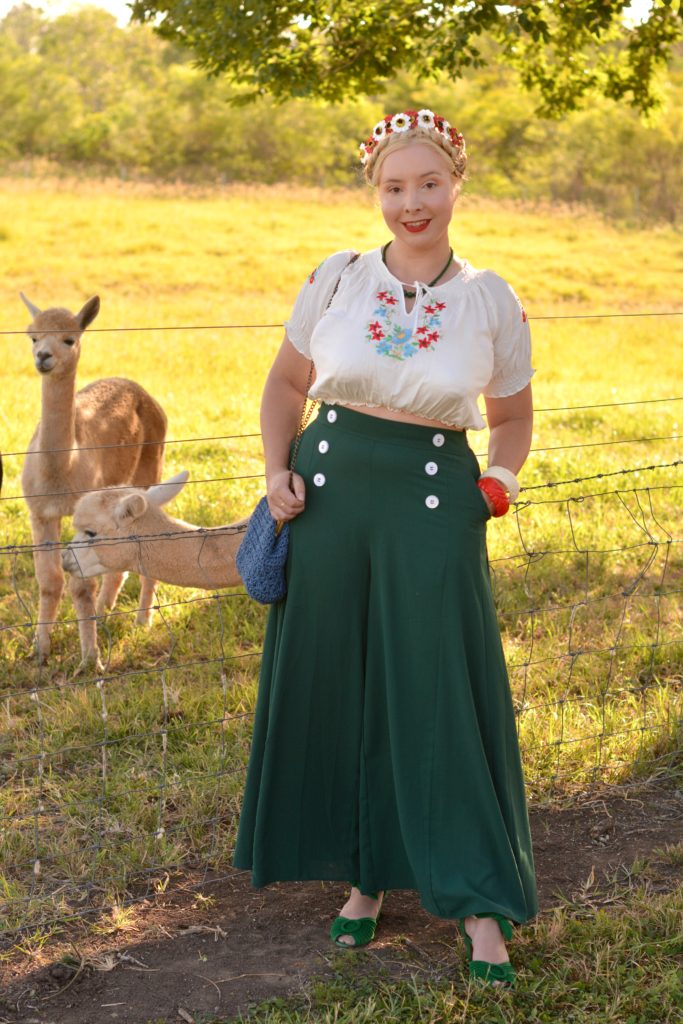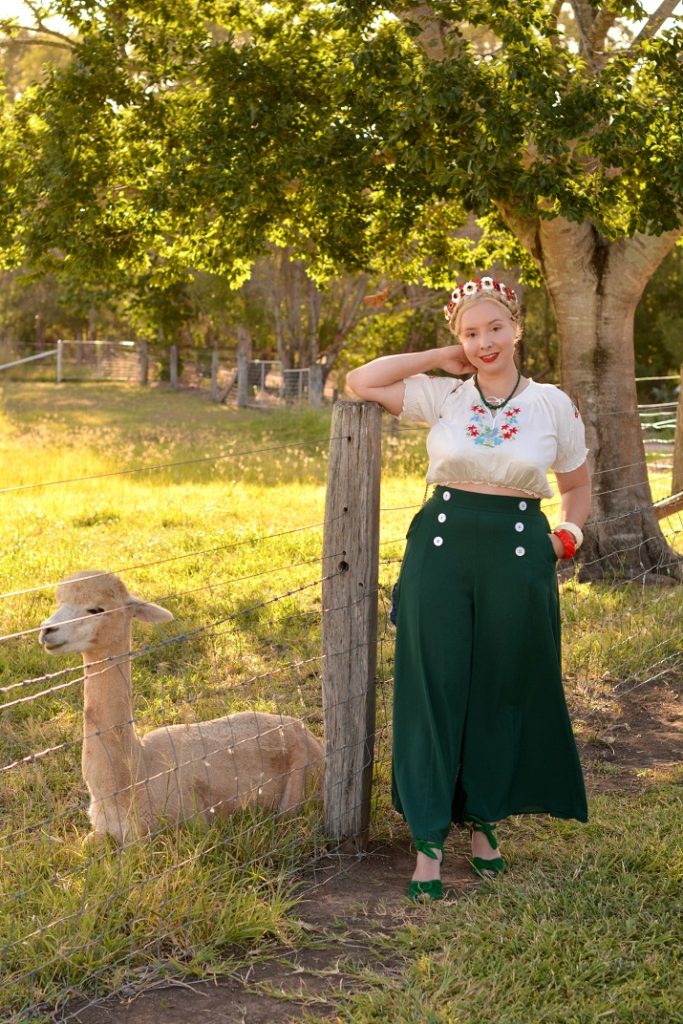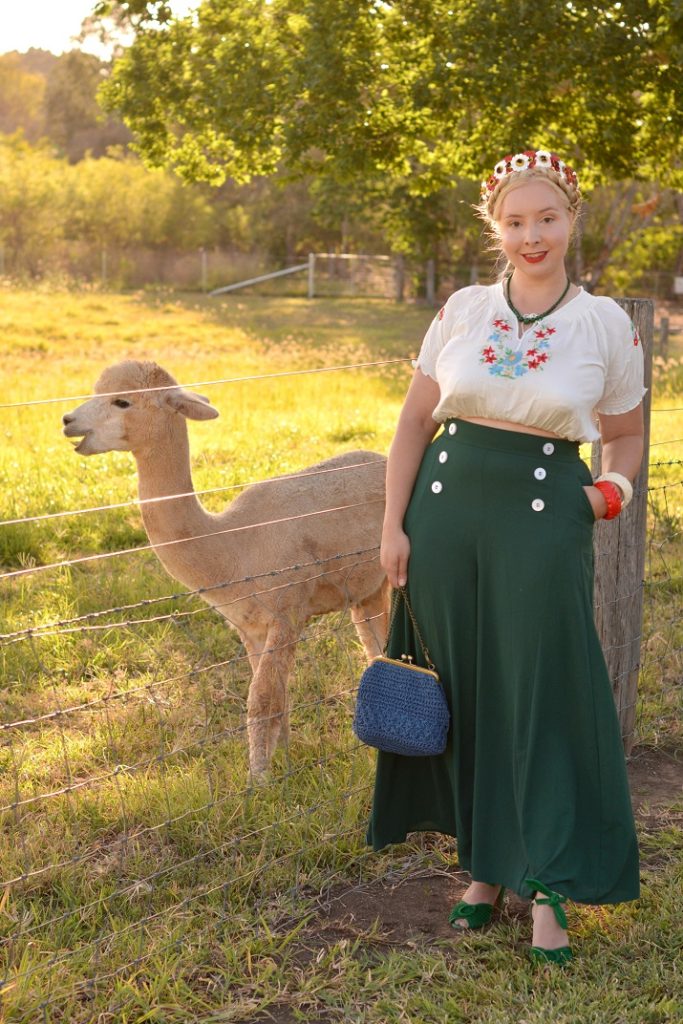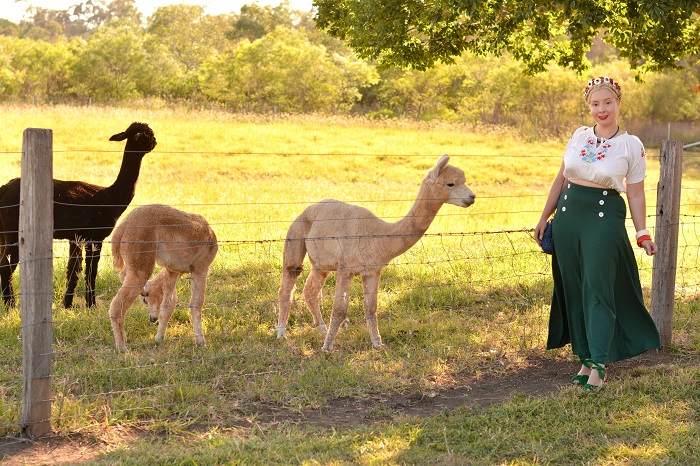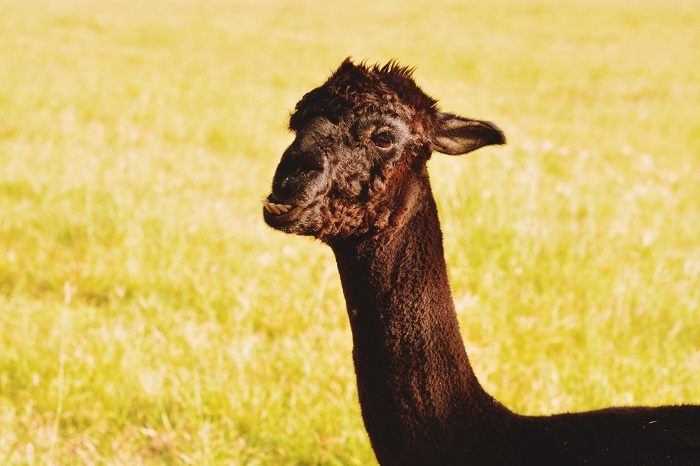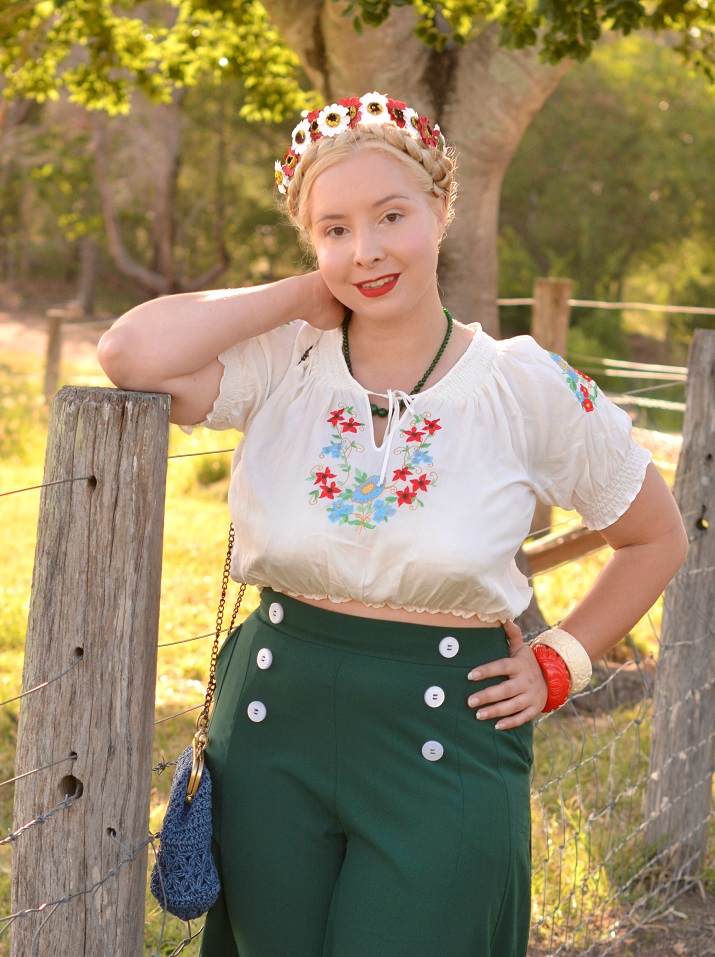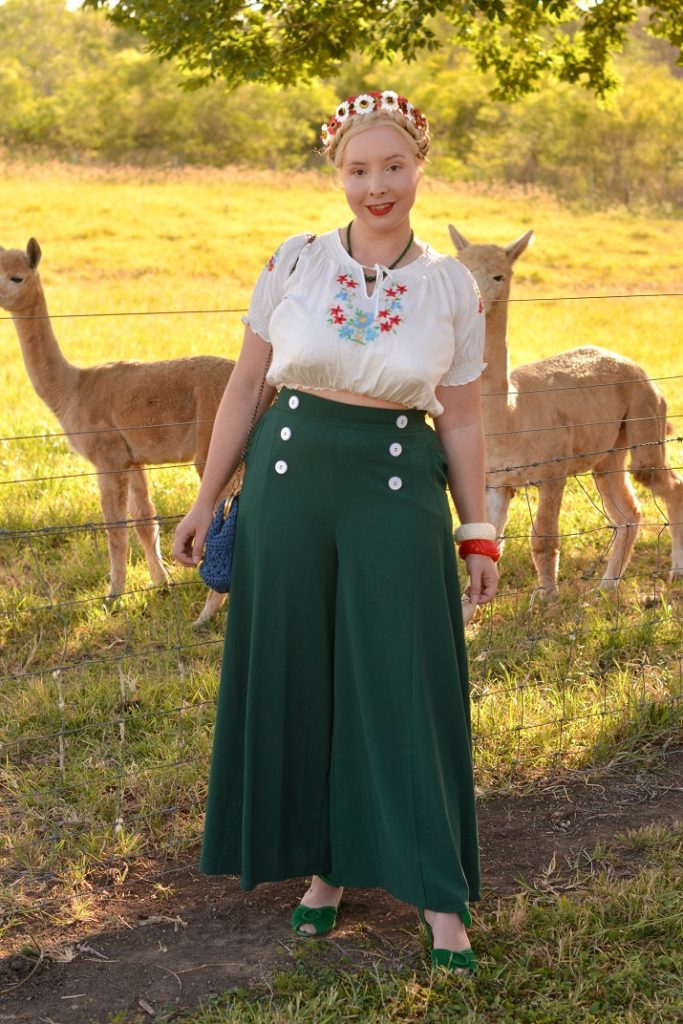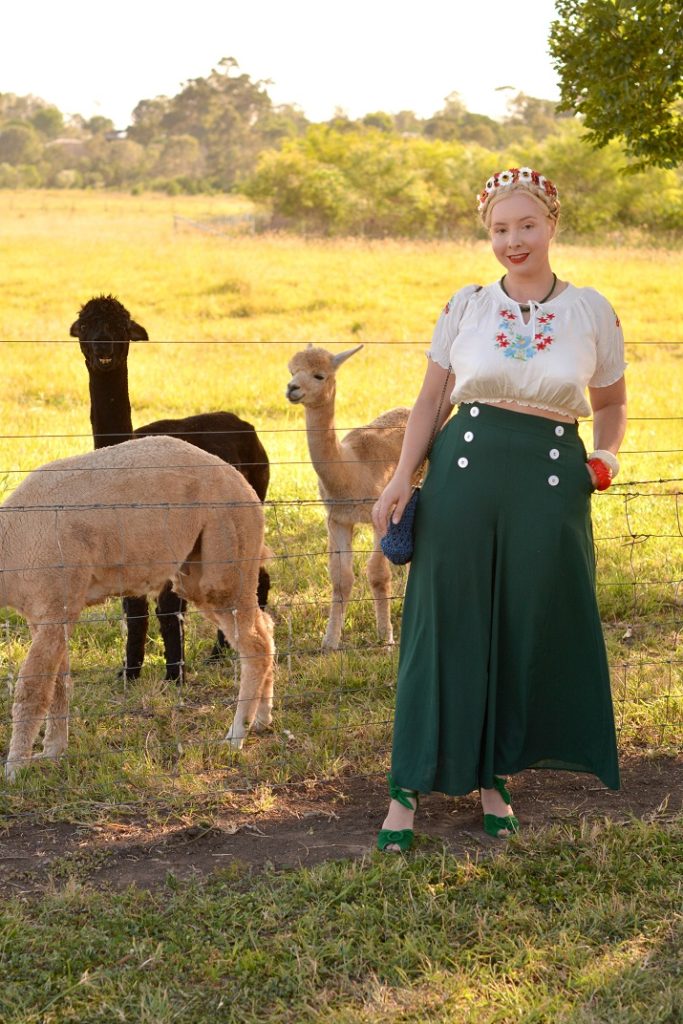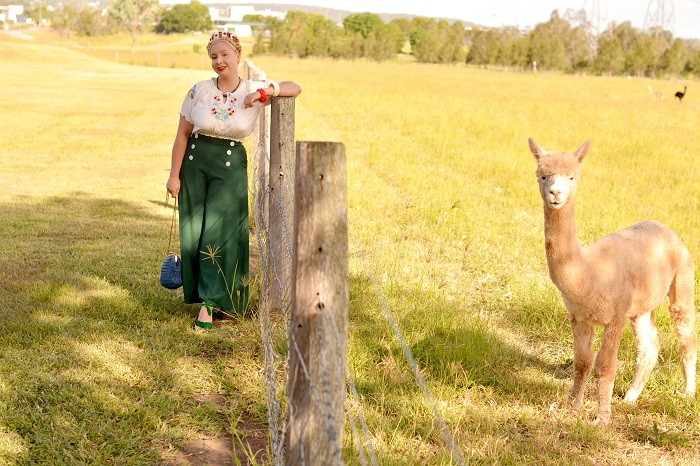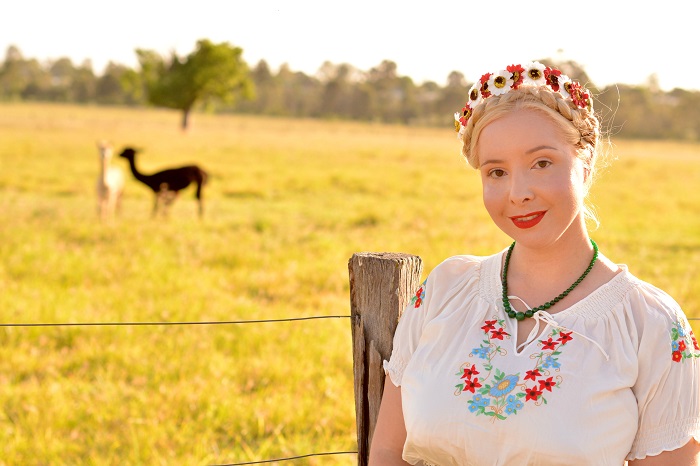 After calling these animals llamas this entire time, I've now been told that they are actually alpacas…Or aren't they? Honestly I struggle to tell the difference, to me both of these look like the same animal…especially if their woolly coats have been cut, the way these ones were. But I've come to the conclusion that these creatures are in fact alpacas, because they had such a friendly, gentle nature. And llamas I've been told, are very grumpy and standoffish.
I was on the fence about buying this blouse for the longest time. I had owned similar blouses before but felt like they just didn't suit my shape and never felt comfortable wearing them. However, when I saw that they were being sold by local retailer (Call Me Valerie) I decided it would be worth a shot since at least I would be able to return it if it didn't work. As it turned out, it was actually perfect – the way The House of Foxy designs always are.
Blouses like this have been traditionally worn throughout most parts of Eastern Europe, and some areas of Western Europe for hundreds of years. Their popularity in mainstream fashion peaked throughout the 30s & 40s when folks in the West decided to embrace this style also. It wasn't my original intention to wear this outfit as part of a folky look, as I didn't want it to look like a traditional costume. Or like I was part of some sort of traditional Russian dance ensemble…
So I figured pairing it with trousers might break that up a bit, although obviously I'm aware that the braids are totally part of that aesthetic. The reason I decided not to cut my hair this year was so that I'd have a lazy, go to hairstyle that would outlast the summer humidity. Good call, really. Another bonus being that it's wind proof too, which is just as well because it was very windy when we took these photos.
Flower crowns like this one always make me think of my grandfather, who is a flower crown aficionado. He always makes the most wonderful flower crowns from field flowers for me to wear. This one sadly isn't even made out of real flowers…instead I used paper flowers. I don't think they look too bad though?
I really wanted to come up with some festive looks for this month, but for some reason I can never get it right. This outfit doesn't exactly scream Christmas, but it's got red and green…which should count, right? It's not like things ever look like Christmas here anyway, well not the traditional Hallmark Christmas everyone is familiar with. So instead of reindeer, have some alpacas.
Who I should add, are the most delightful creatures! Before we took these photos I was giving head rubs to a group of very charismatic goats, and after the goats walked off the alpacas approached us. They decided that we were apparently very fascinating and wanted to hang out even though it was clear we didn't have any food. Normally the last thing you want when you're taking photos is a group of obnoxious photobombers…especially ones that insist on making silly faces behind your back.
But look at these faces! Aren't they just the sweetest, silliest things? I was more than happy to allow the photo bombing and goofy faces. I thought they were simply wonderful. It was so nice to have their company, I'm of the opinion that time spent with animals is never wasted…