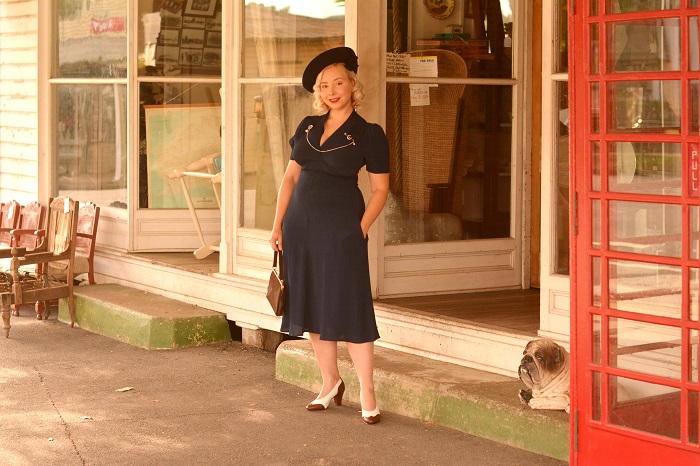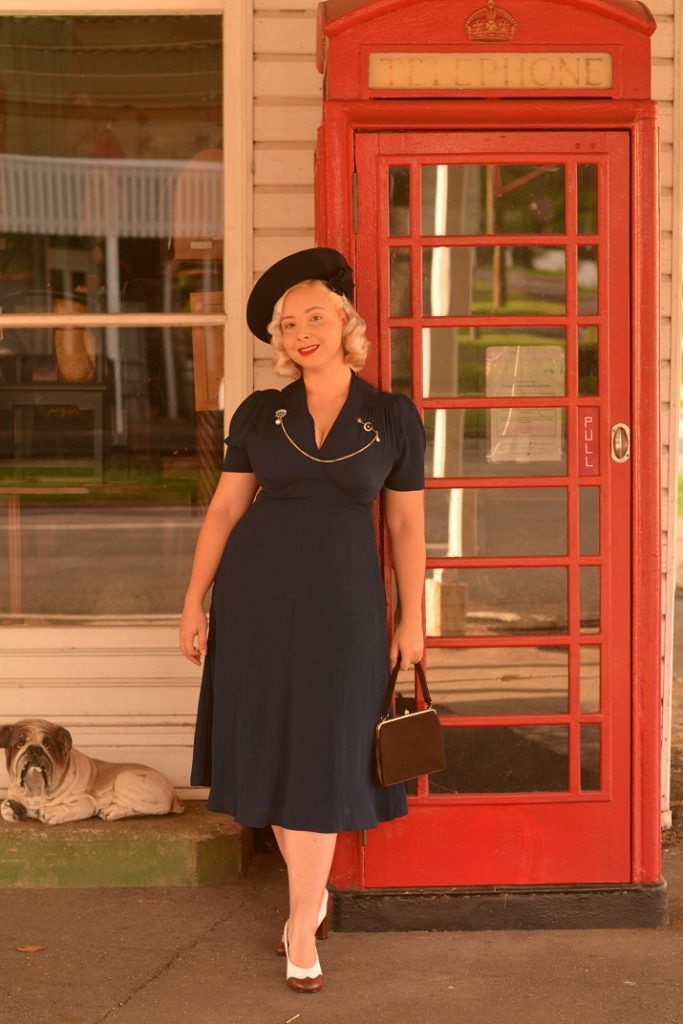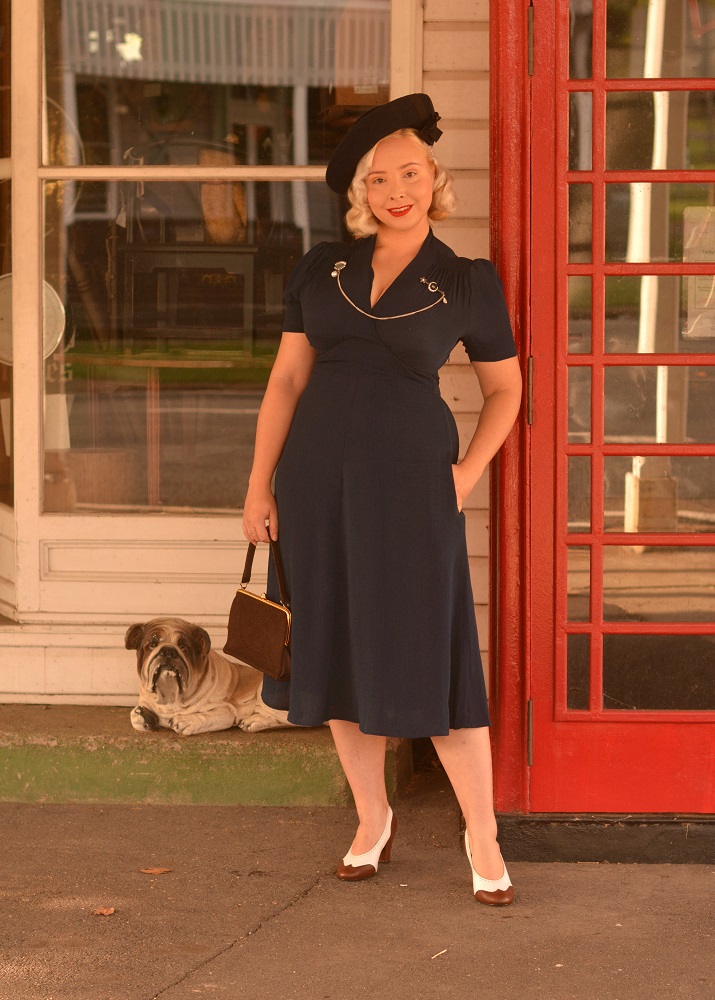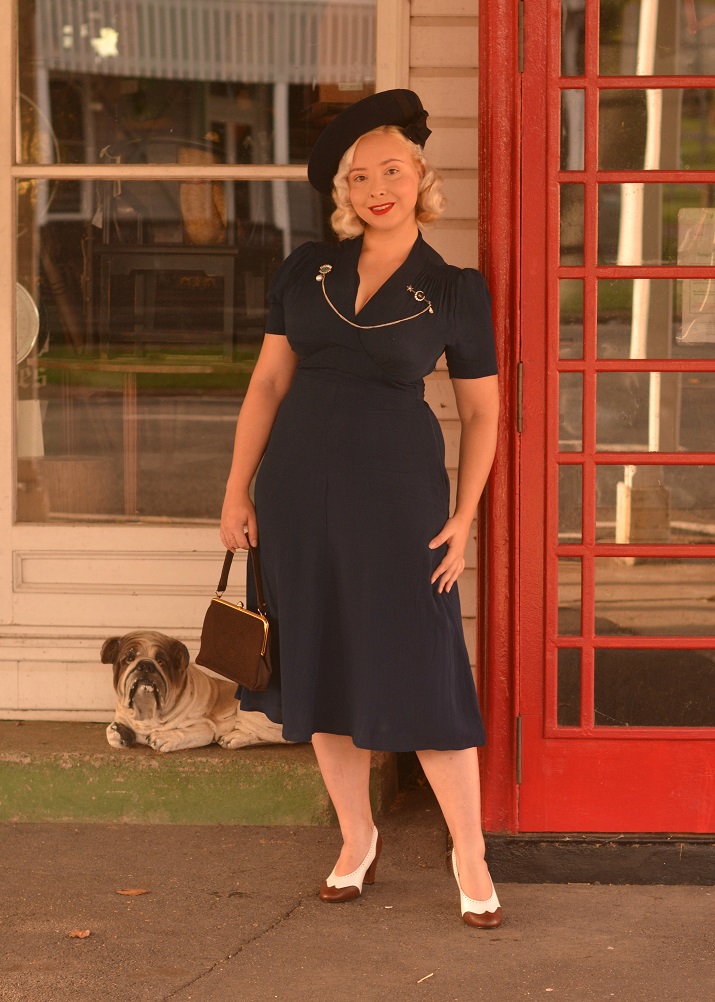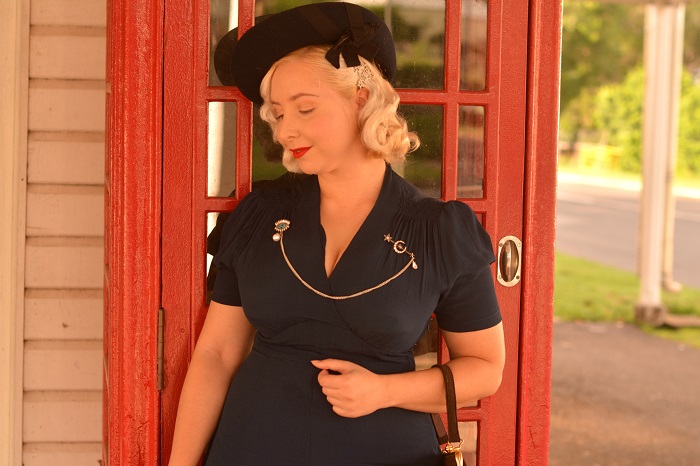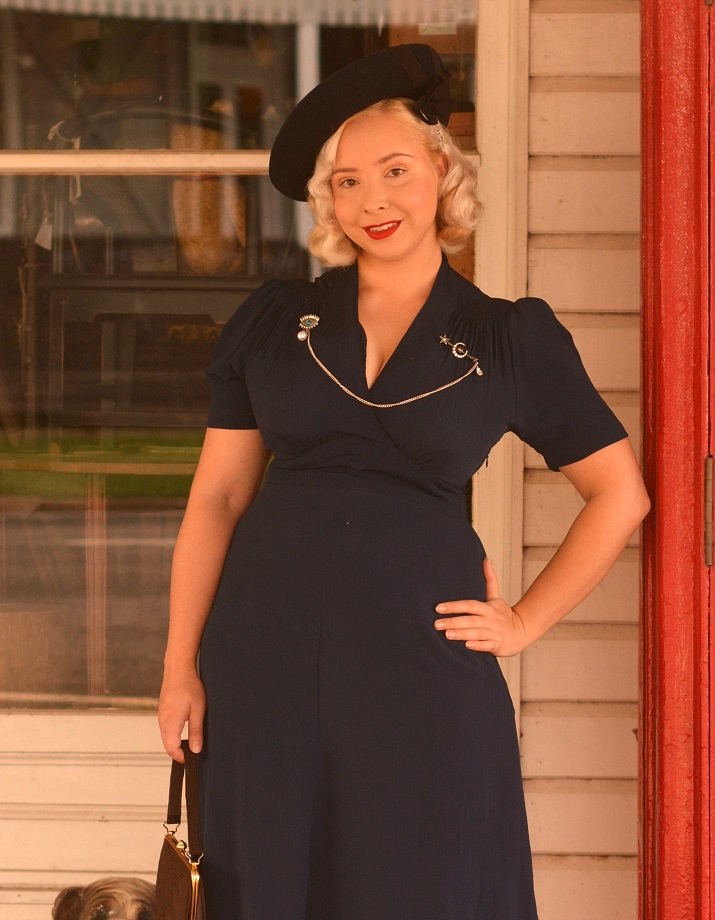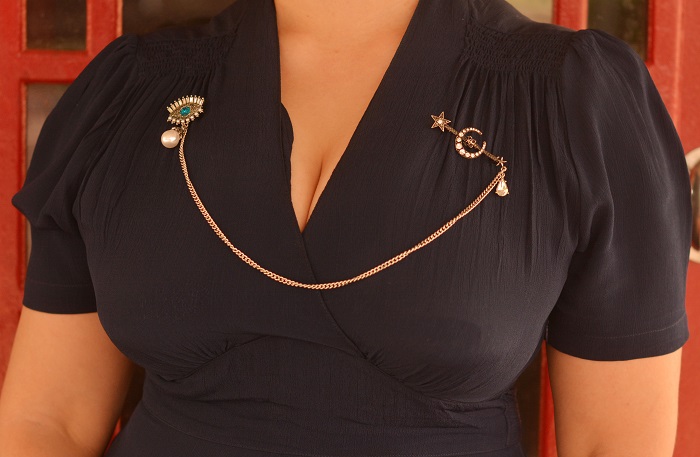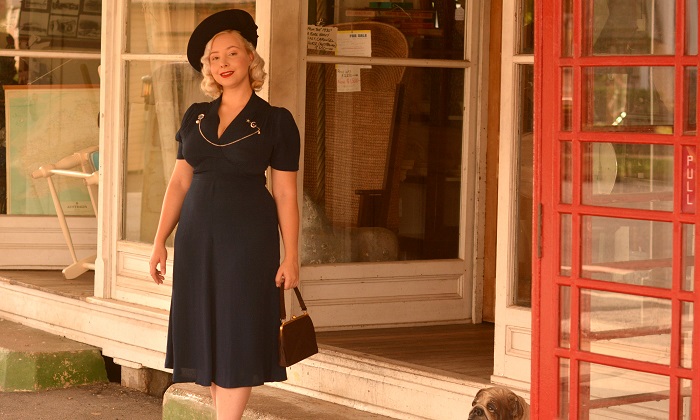 It's a beautiful crisp autumn morning as I sit here writing this, the air has just the right amount of chill in it and the sun is out. I'm contemplating whether today is the day to dig out my autumn/winter wardrobe and do a wardrobe rotation. I don't want to jump the gun, it just pleases me immensely to see all the clothes I love that I haven't seen for a year! There's not many reasons to hoard winter clothing where I live but I did decide to treat myself to a new wool cardigan for the upcoming season. Remember my much worn mustard one from Lindylous Clothing? Well, I thought it was time to invest in a burgundy one.
Last autumn I blogged the Dolores dress in blue floral by The Seamstress of Bloomsbury, and here I am in another Dolores dress! I love this incredibly flattering cut so much and navy is one of my favourite shades to wear because of how well it goes with so many colour combinations. So be prepared to see me style it a few different ways over the coming months! I've already decided that this is exactly what I'm going to wear to a wedding in May. Although I'll be swapping this smart hat for some simple rhinestone hair accessories instead. Much as I love a wonderful dramatic vintage hat, I think that as a wedding guest one should not dress to stand out. Instead I like to opt for a more subtle, elegant vintage look for weddings. As someone who dresses in an unconventional style already I think it's just good manners to tone it down a bit for these occasions.
After all, I get to enjoy wearing dramatic outfits like this every other day of the week. When I first bought this hat I actually had no idea how to wear it. I had to have a more knowledgeable friend show me how…which is the way it is a lot of the time. I have a habit of accidentally wearing vintage hats the wrong way… I think tilt hats like this are especially flattering and I love the bow detail this one has on the side. When it comes to the rest of my accessories, lately I've been really favoring the look of enamel and rhinestone vintage reproduction brooches. I feel that they add a nice extra touch of authenticity to an outfit. Not that I don't still love the acrylic brooches that are in my collection, I am just finding myself reaching for them less than I used to.
When it comes to getting dressed, some days I like to wear an authentic vintage look like this, and others I will aim for something more low key. If I'm going for a less intense vintage look I usually opt for high street pieces. But then there's days when I just want to look like a character in a 1940s costume drama so I wear a wonderful Seamstress of Bloomsbury design. I think the key factor in enjoying wearing vintage styles is not putting any constraints on yourself. I am a firm believer that clothes should be enjoyed, which is why I think one should always first and foremost dress for themselves.
Getting dressed is something that should be a happy experience! For me, part of the fun is deciding what character will I be today. Do I want to be a land girl, a sailor, a spy, a high society lady, an explorer, a film noire femme fatal? I love that the opportunities are limited only to my imagination, and will usually be determined by whatever television series or film I'm obsessing over at the time. I'm fortunate to have a very peaceful and mundane existence, so for me getting dressed up like this for a few hours a day keeps things interesting. Growing up I loved nothing more than wearing crazy costumes from the dress ups box and I guess not much has changed since…