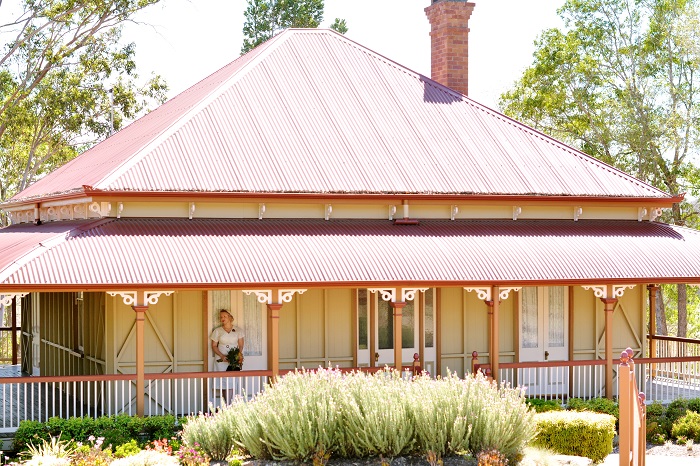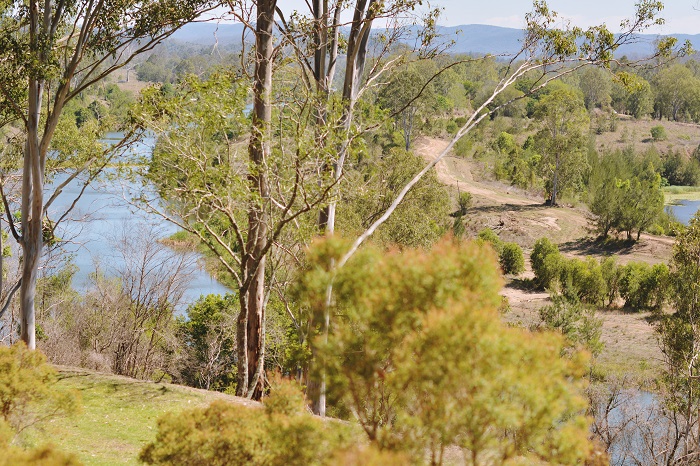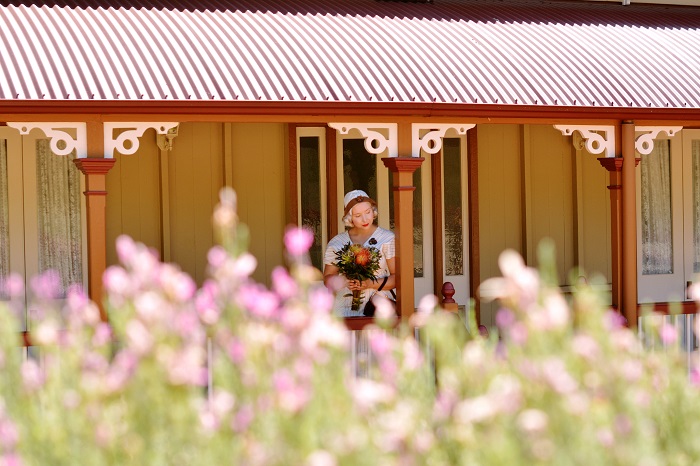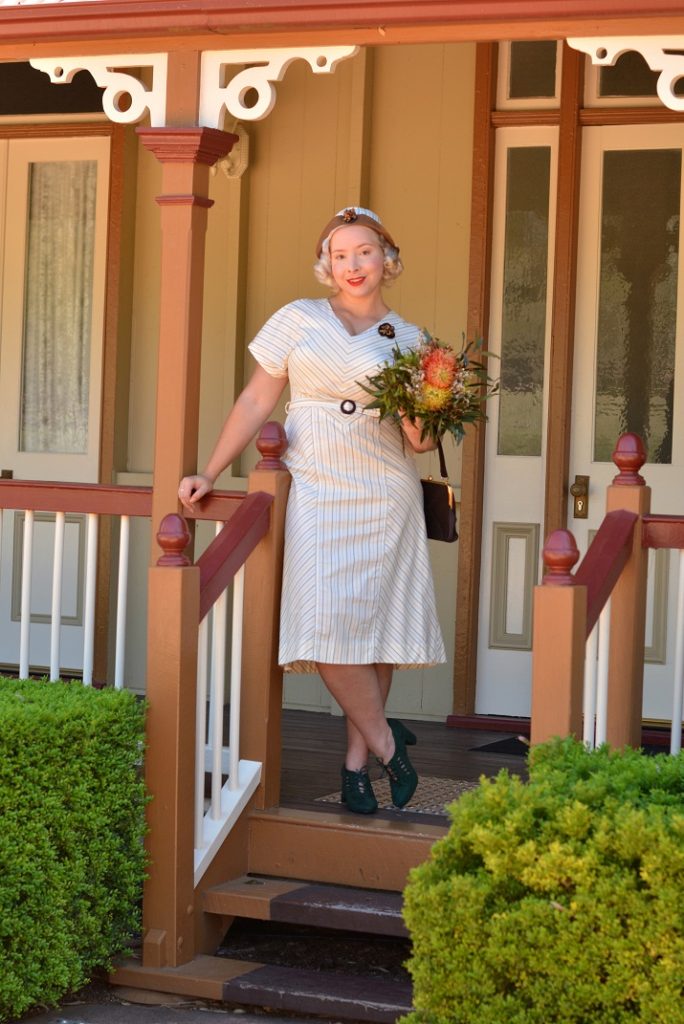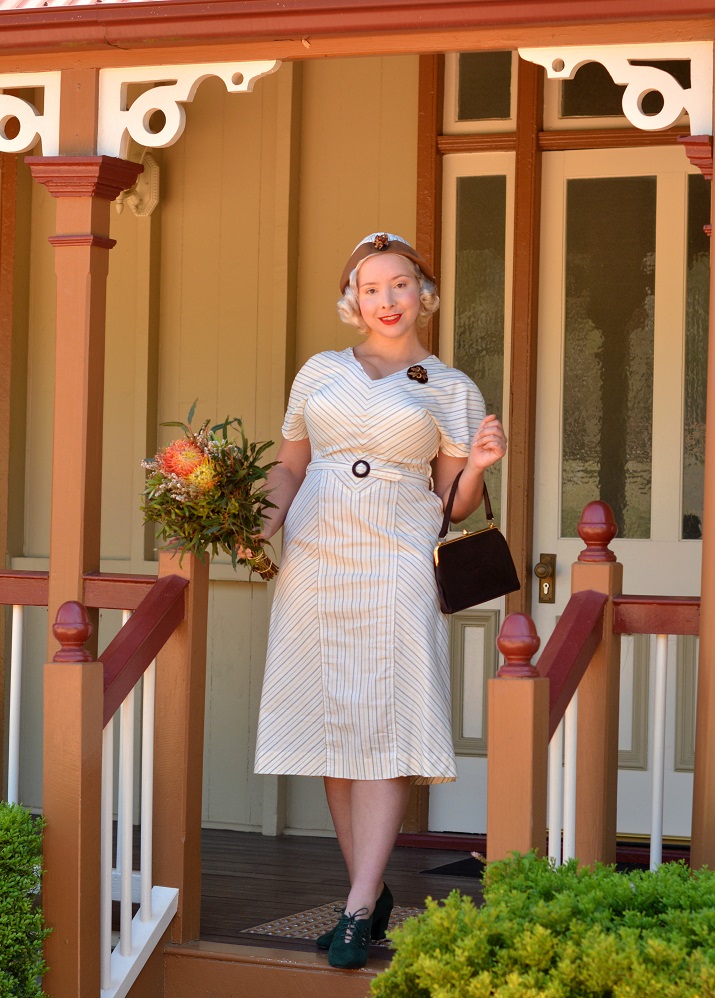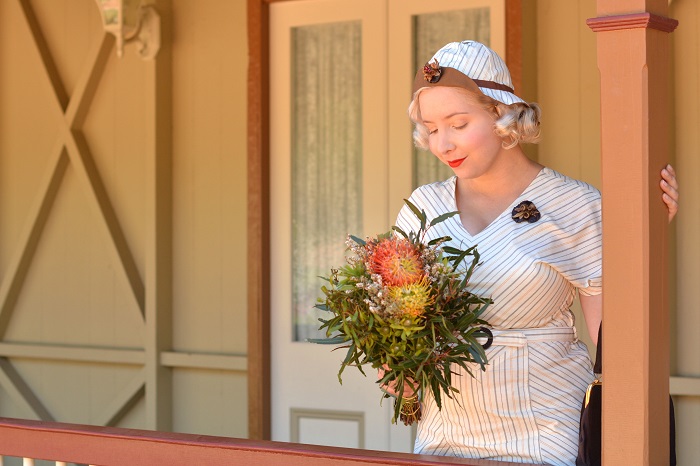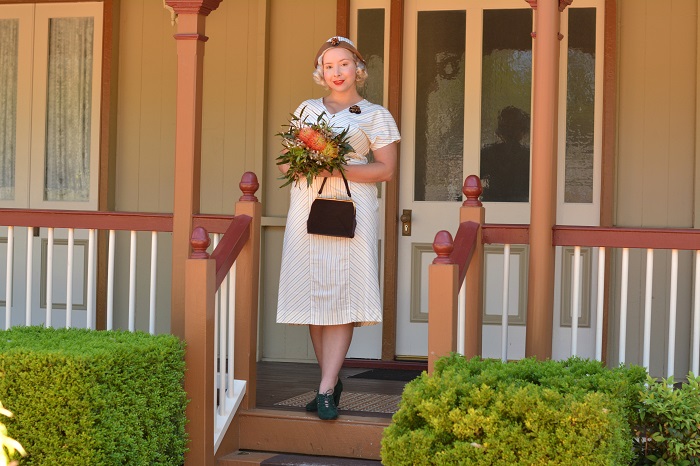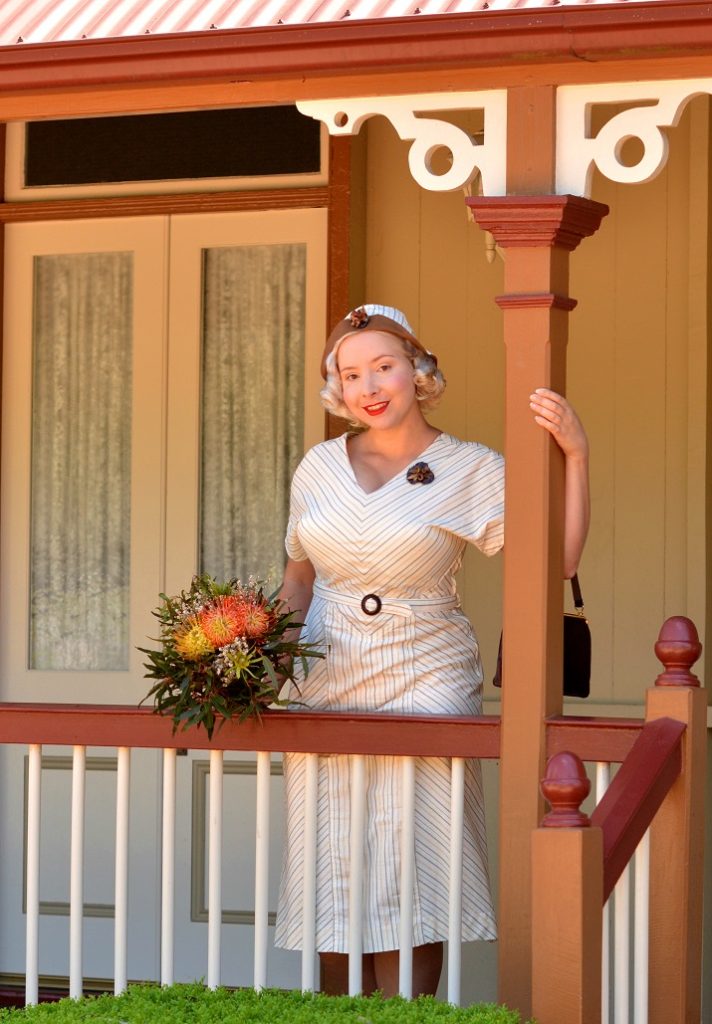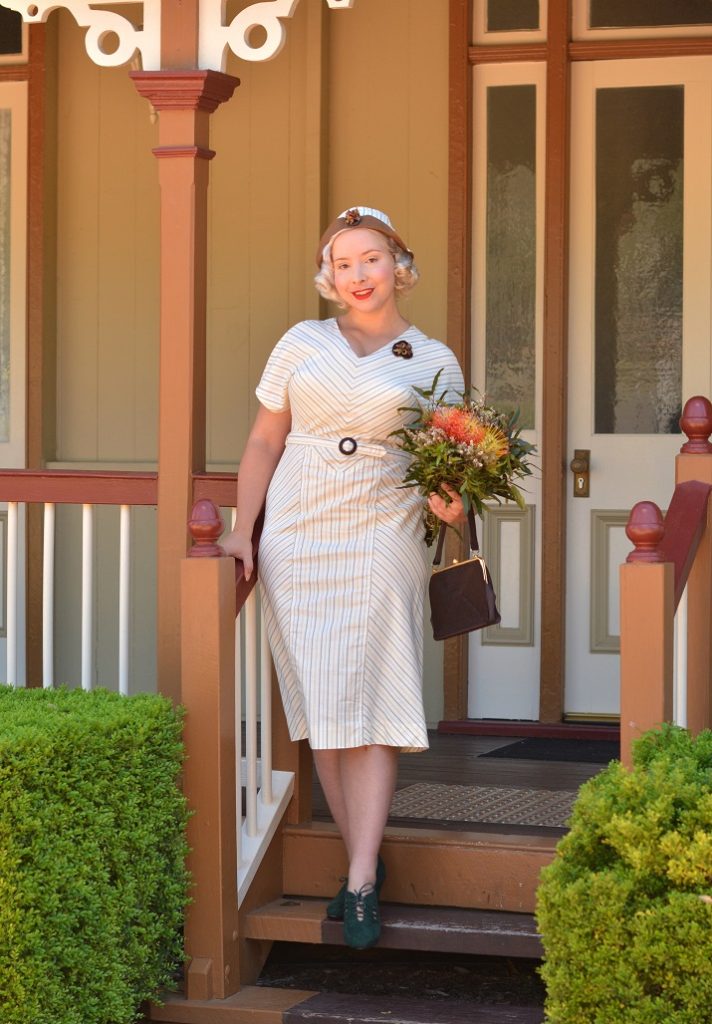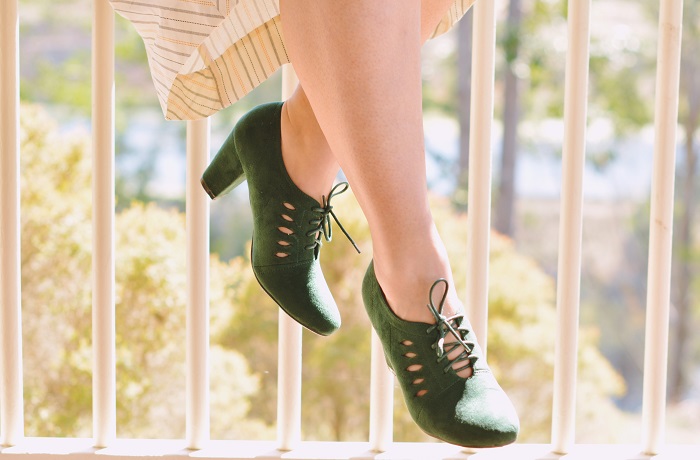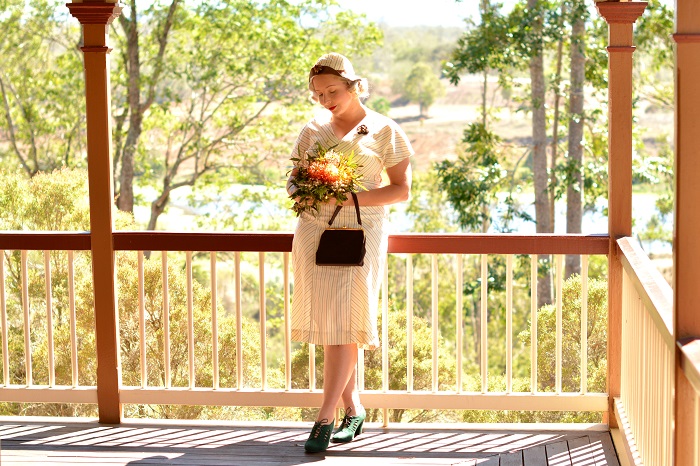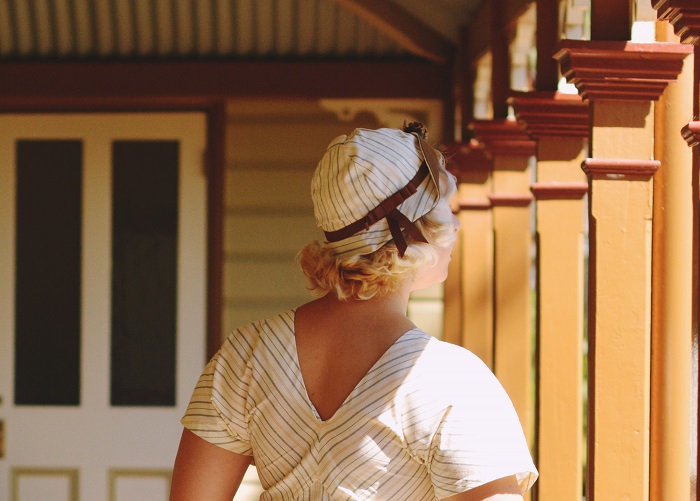 It's no secret that I love anything with Australian plants and flowers on it. When I saw this 1930s dress with a matching hat – that had gumnuts pinned to the brim and came with a gumnut brooch, well, it was meant to be. It's also really clever, or perfect even, that the colour scheme of the fabric bares all of the shades of a eucalyptus tree. If you look closely at the second photo you'll see what I mean.
For some reason every day 1930s casual hats are really illusive. Fancy ones tend to pop up often enough but it's the ones that suit simple outfits that seem to be the hardest to source. So I'm going to work on that, whether I end up having a few commissioned or having a look at sewing a few of my own that are similar. Wish me luck! To me the perfect outfit is something that's easy to wear, comfortable, and has an authentic look to it. I know I say this a lot but I can't stress this enough. I've learned over time that accessories play a big role in how authentic an outfit looks.
Because all of my outfits are vintage repro I try to focus on matching things with a nice vintage hat/bag or pair of shoes. Shoes are definitely very important. The correct shape and heel can make a world of difference. I've never felt the need to make the foray into the world of vintage footwear as I've felt that there's equally as good vintage reproductions to choose from. I'm sure all of you are familiar with most of the brands out there who create high quality vintage inspired footwear – but have you heard of Lulu Hun? Their motto just so happens to be; style starts with shoes – and I couldn't agree more.
I was very excited when recently Collectif gave me the opportunity to try a pair of shoes from the latest Lulu Hun release. After much deliberation (since their selection was truly superb) I decided on the Gertrude heel for its timeless Art Deco look. This particular style is perfect for anyone looking to invest in a high quality pair of shoes that can easily be styled for both 1930s & 1940s looks. This of course was just the thing for me as these are the two decades I prefer to flit between.
The Gertrude heels currently come in navy and dark green, both of which are very versatile colours to style…and I think it would be amazing if they were to do a red pair in the future as well! I have a feeling that this green pair however will be getting a workout over the festive season – they are sure to be a beautiful match for Christmas looks. Most importantly though, these aren't just a pretty pair of heels – they are comfortable too! Which is important when a pair of shoes is this lovely.
I'm a standard EU size 39 and these were a perfect fit for me and ran true to size. It gets better though – Lulu Hun are a vegan friendly brand. While suede is of course important for an authentic vintage look, modern times mean that faux suede can be used instead. I think this is absolutely terrific. If you take a look at the rest of Lulu Hun's range you will see that they have a very eye catching selection of Art Deco inspired heels this season. Some of my favourites include the Amelia heel, Tanya heel and Mona heel – swoon! The full Lulu Hun range is available on the Collectif website and with Black Friday just a few weeks away I would recommend getting in quick before these beauties disappear…