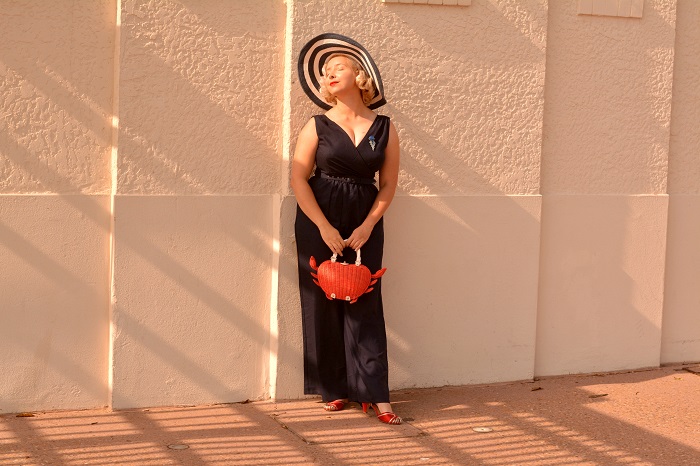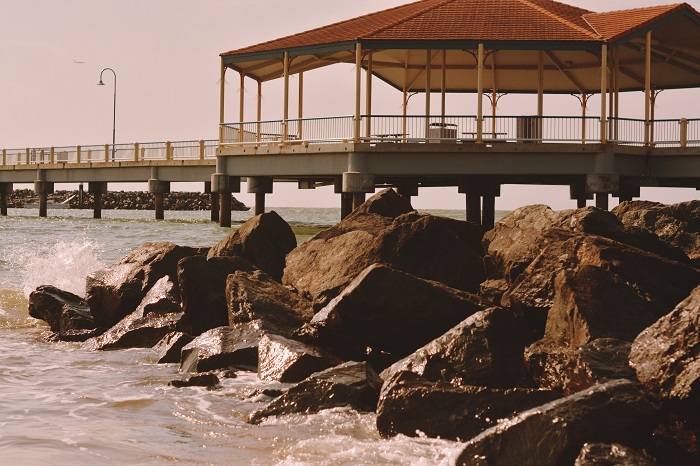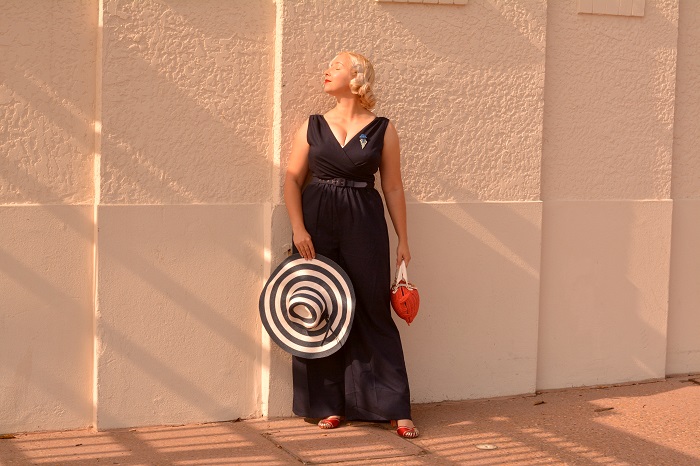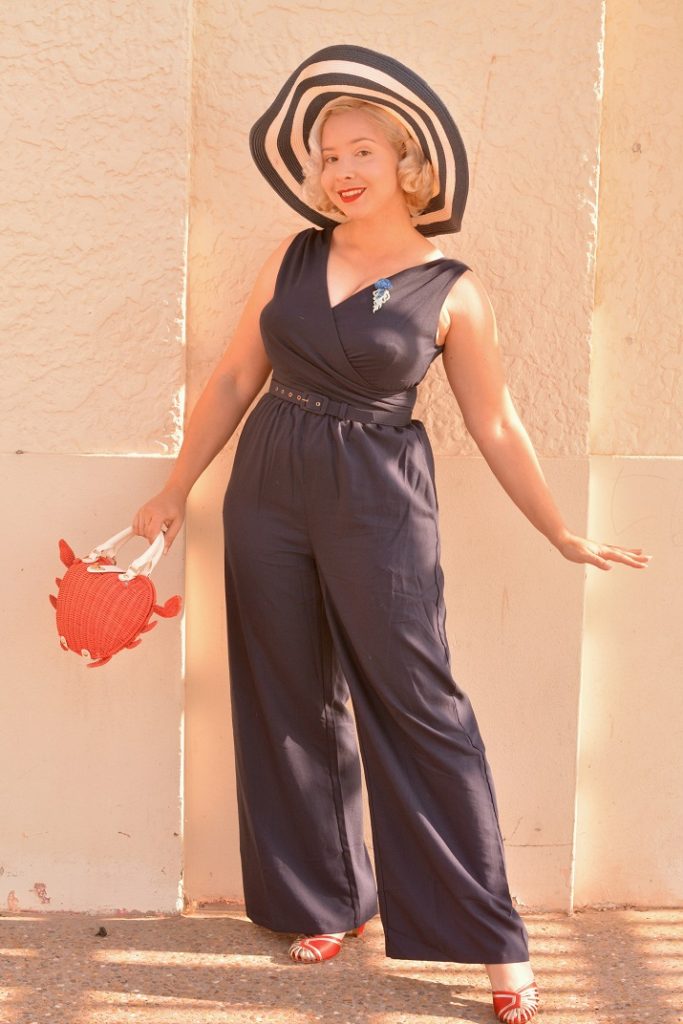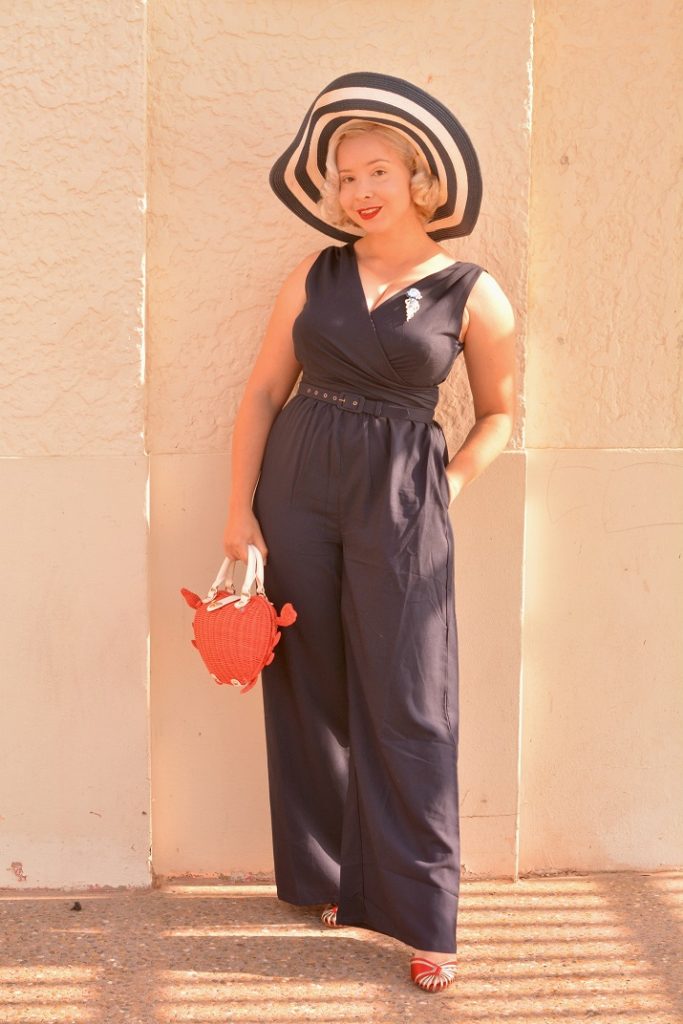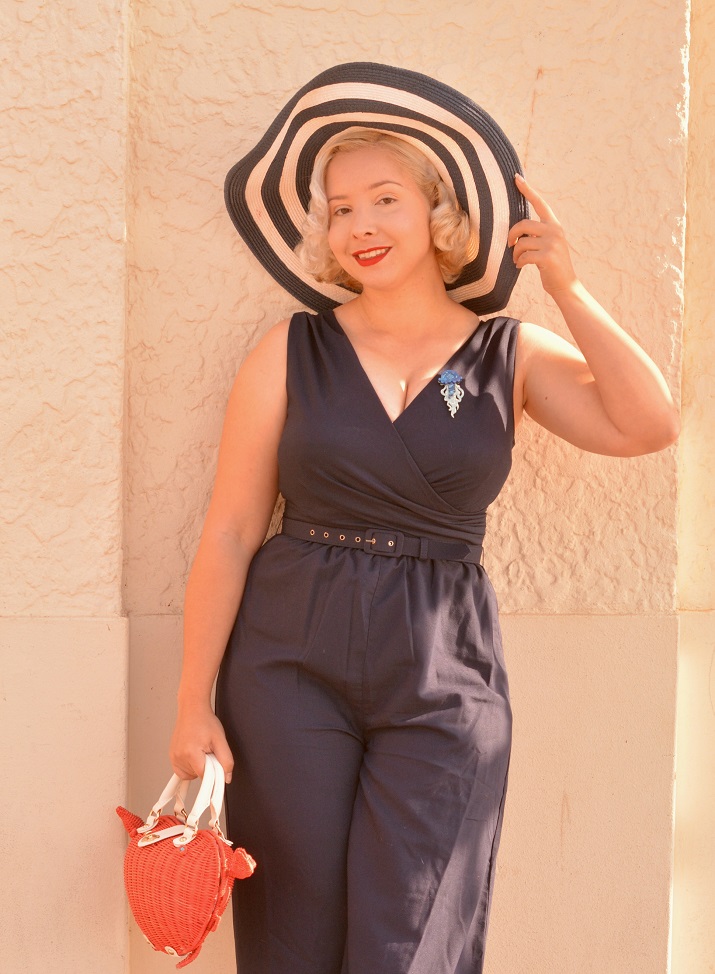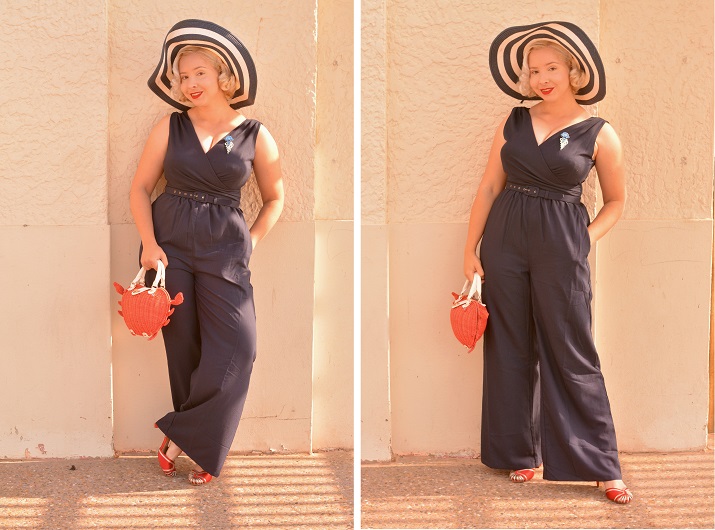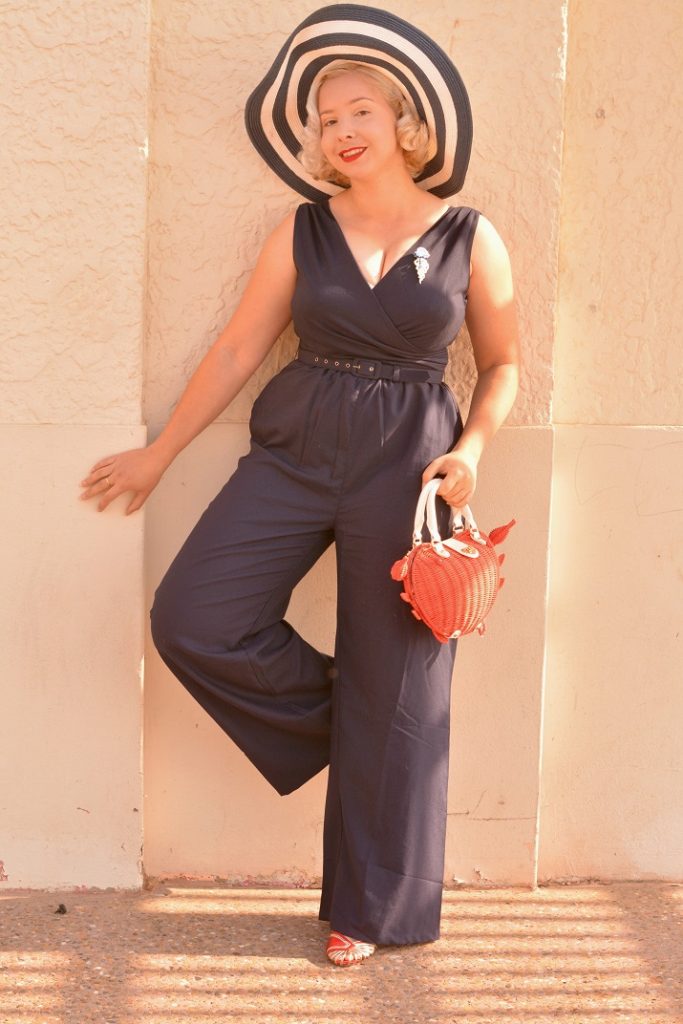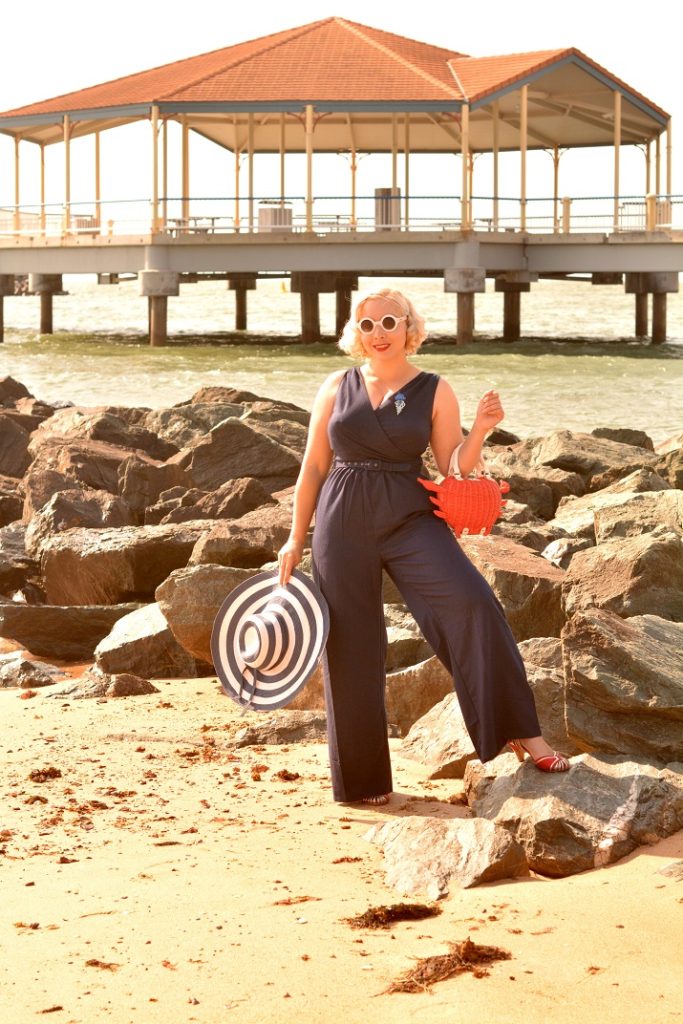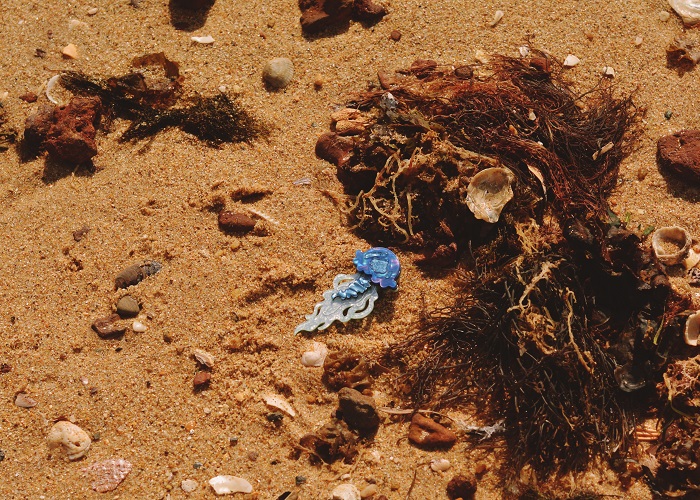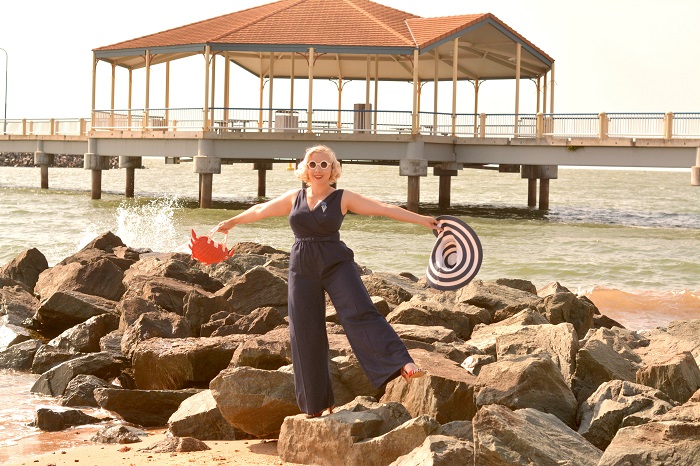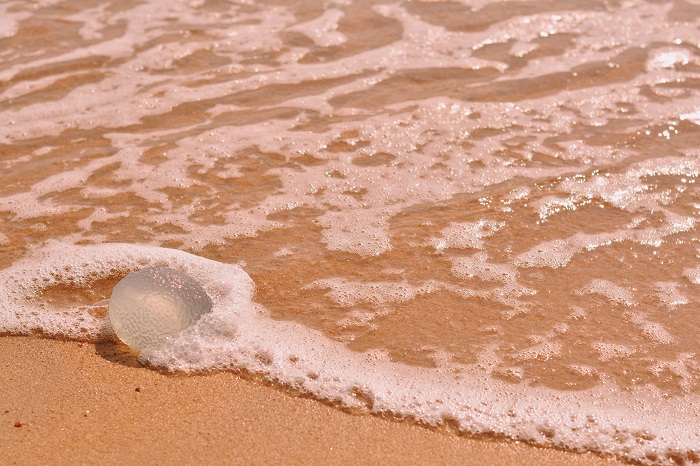 I'm constantly on the lookout for the perfect 1930s jumpsuit. Thirties lounge wear/beach wear is after all a long time favourite of mine. So when I saw the Collectif Clothing Charline jumpsuit – I knew right away it would be the perfect addition to my wardrobe and a piece that would get a lot of wear in the coming season. Fittingly of course, its maiden voyage was to the seaside earlier this week.
For the past month people kept posting photos of the dugongs who had been coming to the jetty to show off their calfs. This got me very excited as seeing these creatures in the wild is a very special thing, and I had only ever seen them once before when I was on a boat. So we decided to make a day out of it, and I did my best to dress accordingly.
Unfortunately however we did not manage to spot any dugongs, the sea was pretty choppy so I guess they decided to stay away, perhaps for fear of becoming beached. We did however see lots of jellyfish…so much jellyfish…You might think from looking at these photos that I'm a big fan of jellyfish since I am wearing one as a brooch. But this couldn't be further from the truth! In fact, in the past I just about refused to go anywhere near the shore if there were jellyfish lying there. That's just how afraid of them I am…
Despite all that though, I'm still happy to wear one as a brooch, for terrifying as I think they are, I still find them oddly beautiful? I just prefer not to have them anywhere near me. Diago on the other hand can't go past a jellyfish without trying to stuff it in his mouth, which is why he didn't get to go to the beach this time. I didn't feel like chasing after him yelling leave it!
Instead we enjoyed a lovely brunch, took some photos and had a nice stroll. I was amazed we managed to take any photos at all because it was so windy and my hat didn't want to stay put! It's really just as well I wore a jumpsuit because it ended up being a great outfit for a windy day by the sea. The Charline jumpsuit really has a very timeless design and I found it to be perfect for styling a 30s look, and it could work as a 40s look just as well!
The wide leg palazo style trousers of the jumpsuit are just the thing for strutting around the riviera and the pockets are a nifty little feature. Very convenient for storing treasures like sea glass and shells found along the shore. When it comes to Collectif pieces I tend to fluctuate between a size 10 – 12 and for this style I went up to a size 12.
I've always found with jumpsuits that it works best to size up for the most comfortable fit since it isn't necessary for jumpsuits to be super fitted. And as you can see here, the Charline jumpsuit comes with a nice little belt so there is no need to worry if you do decide to size up. Although I'm wearing the Charline jumpsuit as a summer look, there's no reason why it wouldn't look fabulous with a contrasting red or white cardigan or jacket in the cooler months!