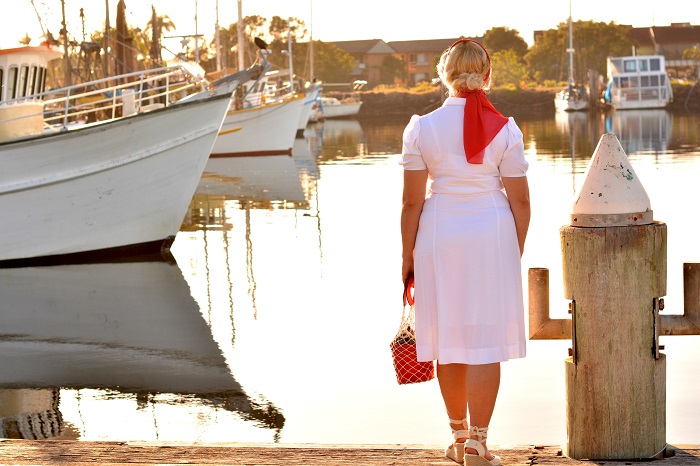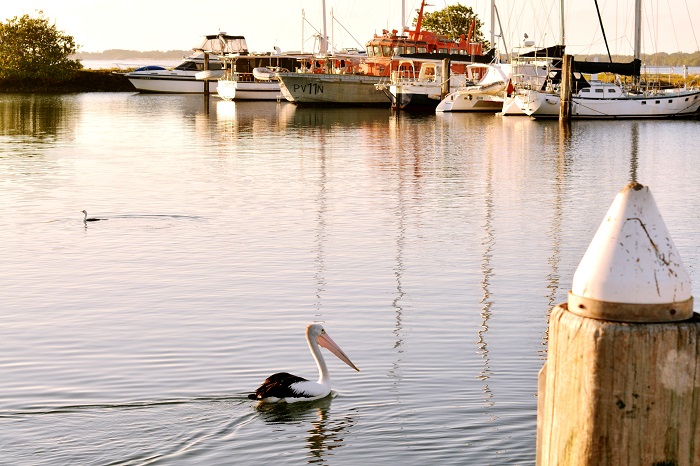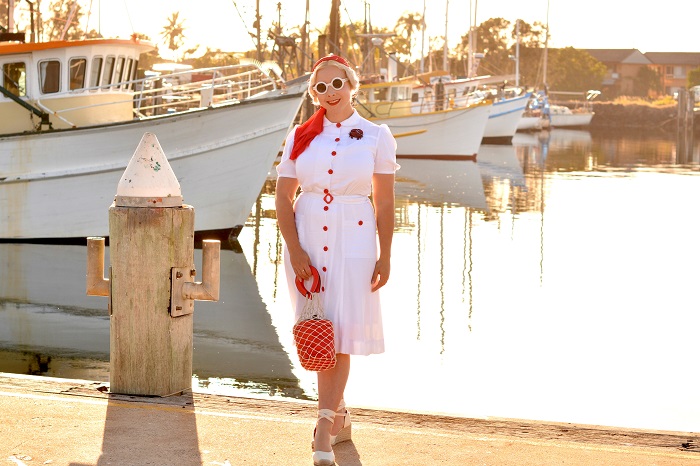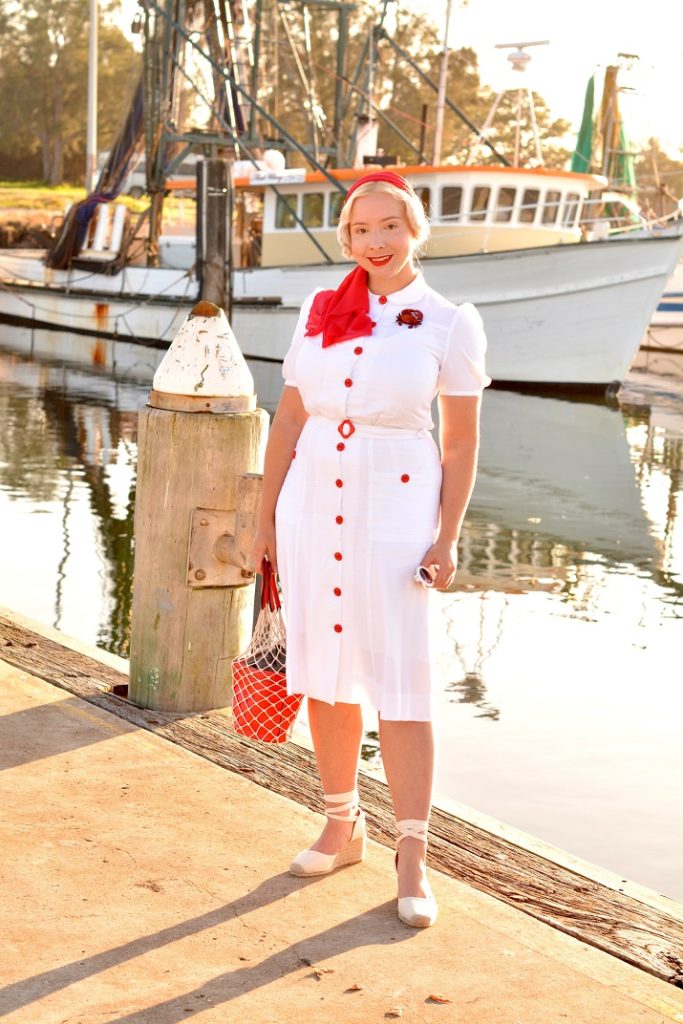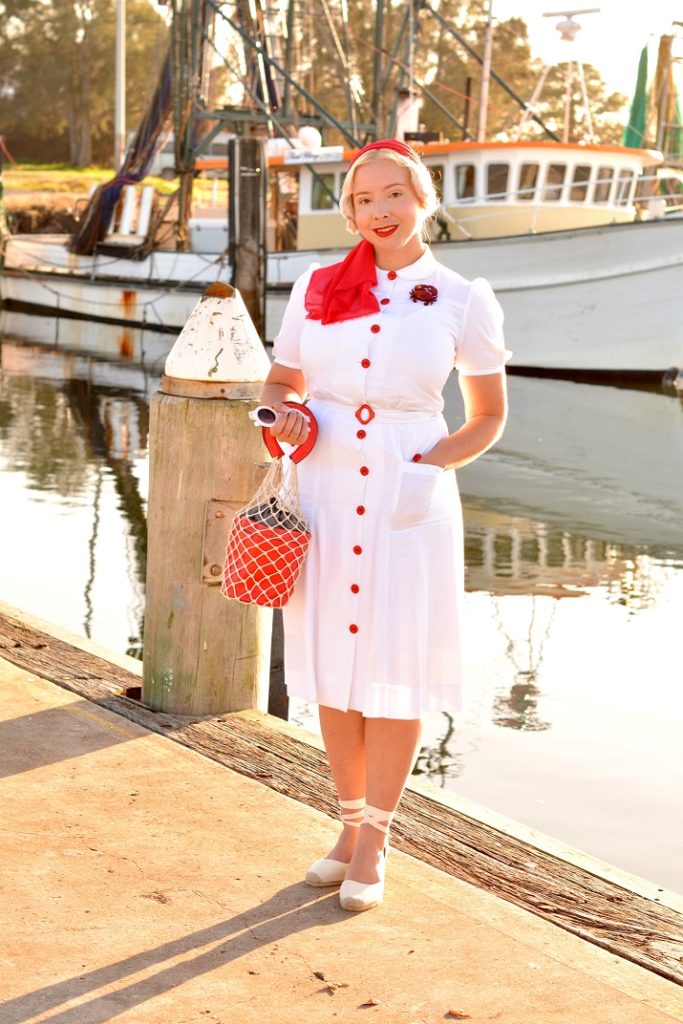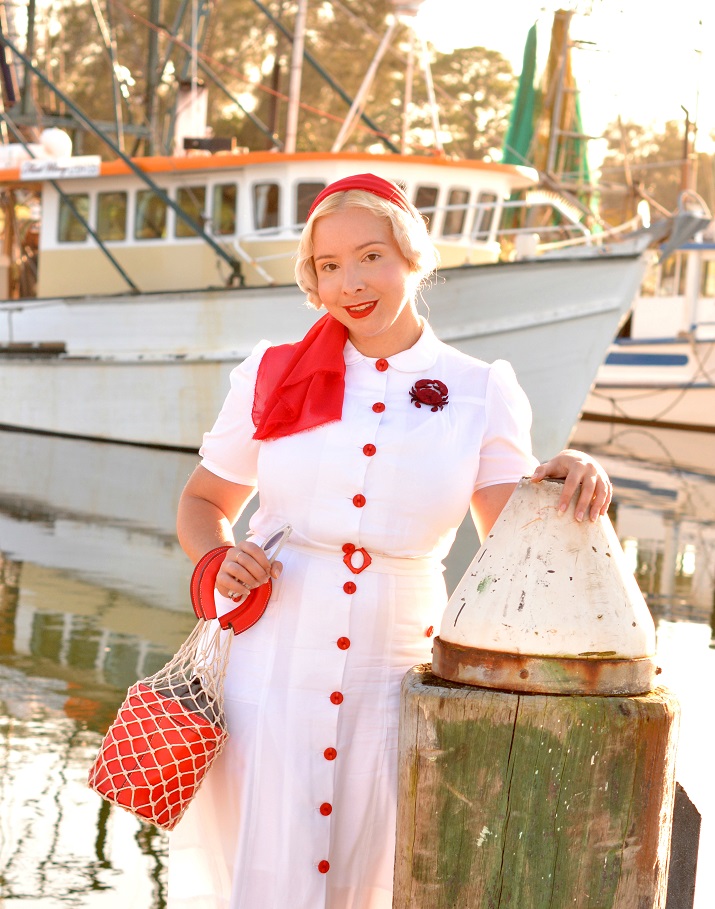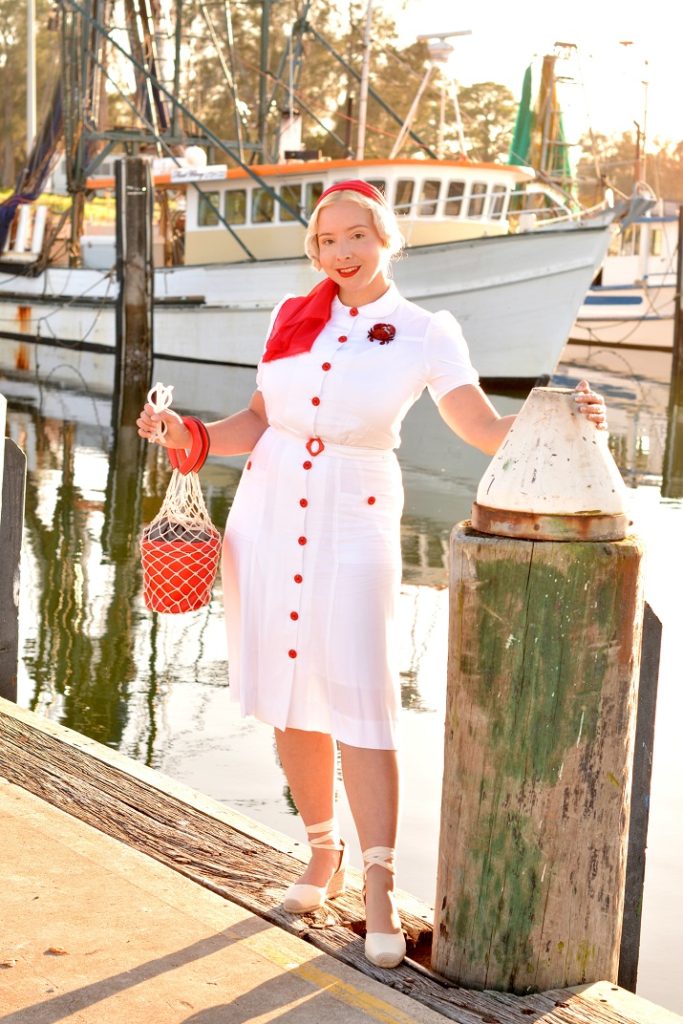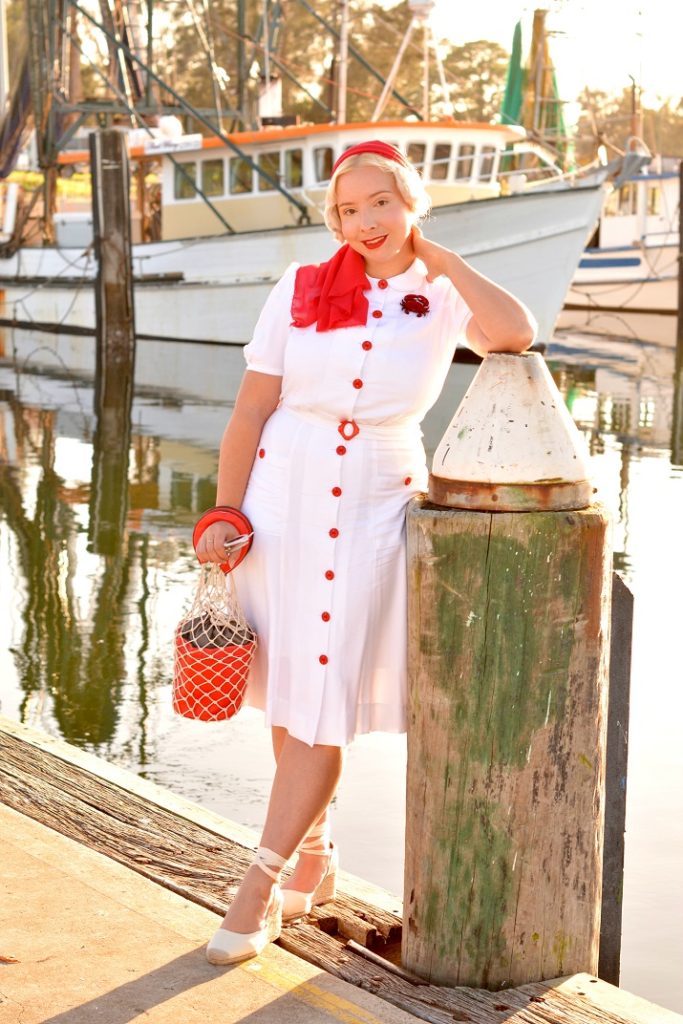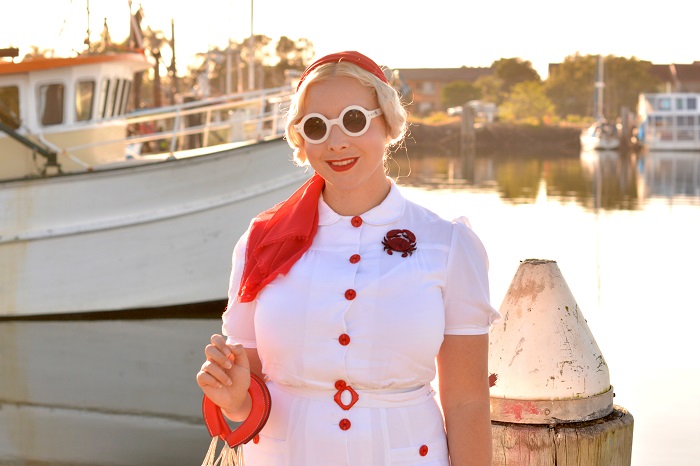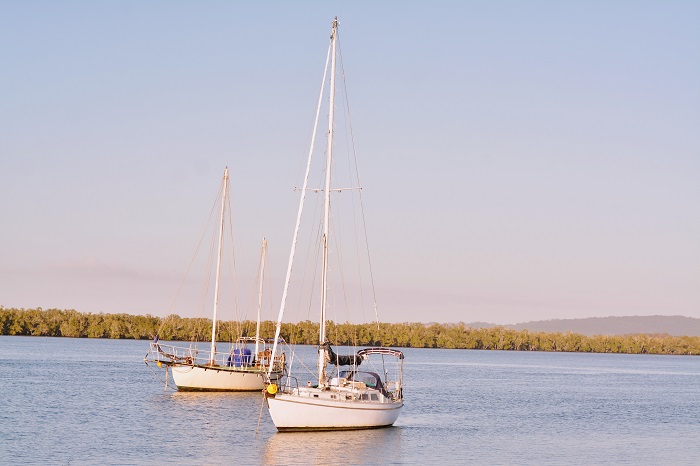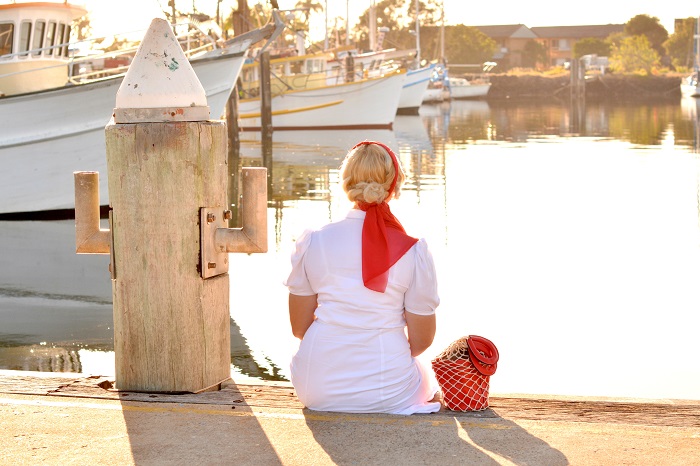 Yes, I'm clearly having a moment with head scarves right now. Some of it is to do with how easy they are to accessorise, and because I've been having a lot of bad hair days lately. In the case of these photos I thought it would be a great idea to try a different style (inspired by 30s faux bobs) and expect it to all go to plan the first attempt. While also doing my hair and makeup in the car at the same time. What ended up happening was the curls on one side didn't set, and I also ended up getting mascara through my hair…
As I've mentioned before, we live a good distance from the beach and a few weeks ago we drove interstate to visit family. Well, since I knew we'd be making a stop over in the picturesque beach side town of Ballina – this called for blog photos. After all, I don't get many opportunities to have some nautical back drops and I do love a good nautical look. At the moment I'm really loving the 1930s and working my way through taking photos of some of the gorgeous 30s looks that are currently hanging in my wardrobe.
One thing I've noticed is that I have to be in a certain mood to wear a specific decade. With spring and summer right around the corner I'm really in the mood for fresh sporty 30s looks. Now, if this dress looks familiar to some of you, it might be because you saw it first worn by the absolutely fantastic Cate who blogs over at Vintage Gal. This wonderful blogger has been a great source of inspiration for some time now and the dress I'm wearing is inspired by her true vintage 1930s dress. Be sure to have a look at Cate's post where she's wearing the original version!
Blogging has been on my mind a lot lately. Now I apologise for being embarrassingly nostalgic, and I'm probably going to say things many don't agree with – but I for one really miss the pre-instagram days. Truly. Personally, I love sitting down and looking at actual blogs. I like seeing all of the details of an outfit. I like looking at large photos! I think it's such a shame that the work bloggers put into getting their shots gets squashed into a little square… Then of course there's the pressure to constantly be posting, that whole algorithim thing, the constant ads…oh my god the ads though!
I love seeing everyone's pictures but nothing exasperates me more than scrolling through content I don't care to see. Whether it's bloggers who pay to be in everyone's feed or random products (some of which I find offensive and unethical…). It's all a bit of a double edged sword really. As a blogger you post on there to attract readers to your blog…while at the same time making people less likely to bother because they've already seen the photo of the outfit. On one hand it's great if you're feeling lazy and don't want to try and want to just snap a quick picture – which is mostly how I use instagram, but if you have gone to the effort of a set of photos it can be a bit of a blow.
Then of course a few years ago we saw the rise of the super instagrammer. Or blogger. Although in my opinion one should actually have a blog to count as a blogger? Anyway, what I mean is accounts that are one big advertisement featuring editorial grade photography and faces. As a once upon a time consumer of magazines I turned to blogging because that kind of content was exactly what I wanted to get away from. I loved the grass roots movement that blogging once was, that was its whole appeal. Ordinary people wearing extraordinary things.
But yes, these are some thoughts that have been circling in my head for a while but only discussed among close friends who are bloggers themselves. Just to be clear though, I'm not writing this to say that I'm throwing in the towel or anything like that! Blogging has been my hobby for a while now as my clothes are my main form of self expression. I genuinely love it! I enjoy coming up with different outfits, taking them on nice outings and having something to look back on and reminisce. See, I am a very nostalgic person, I told you!