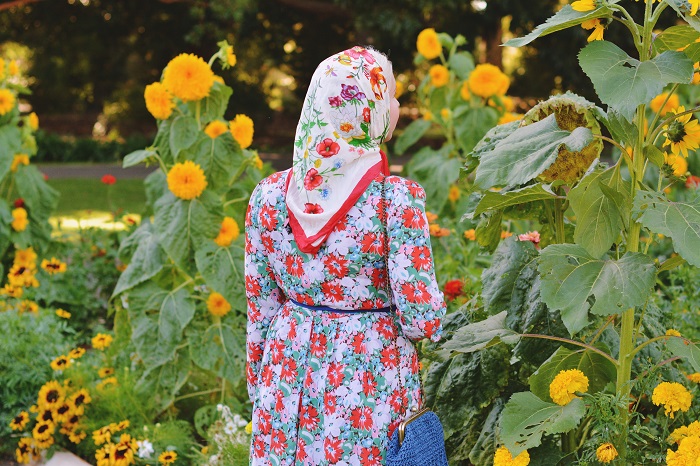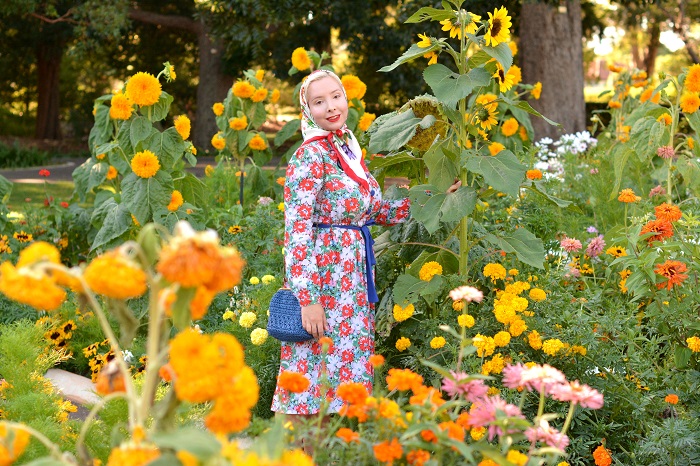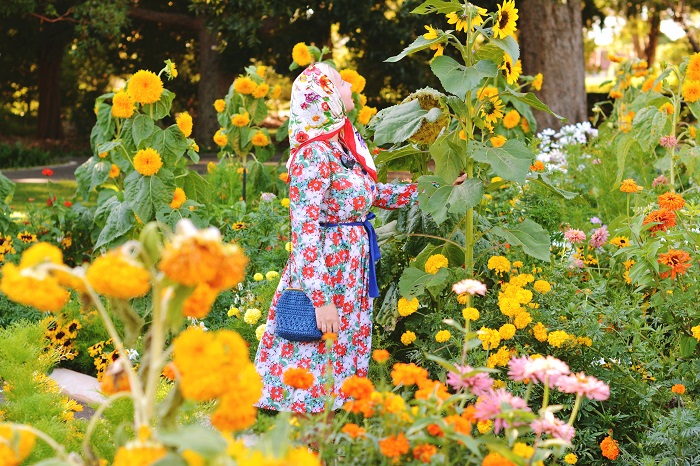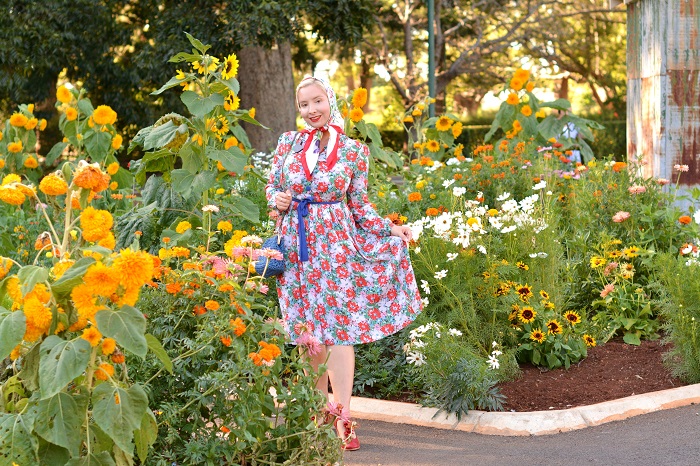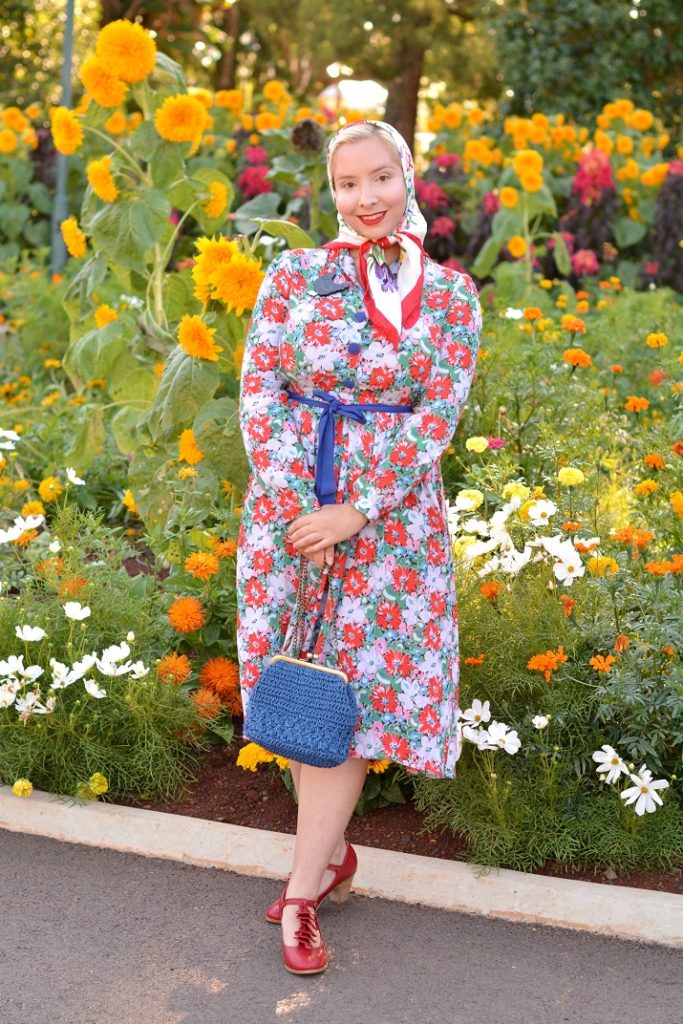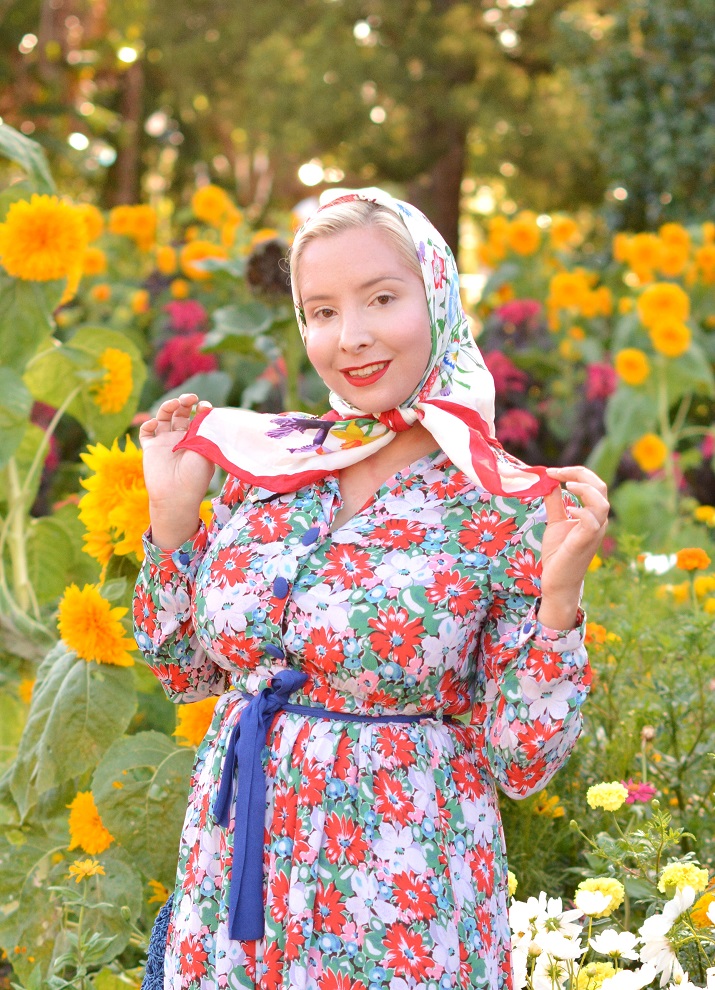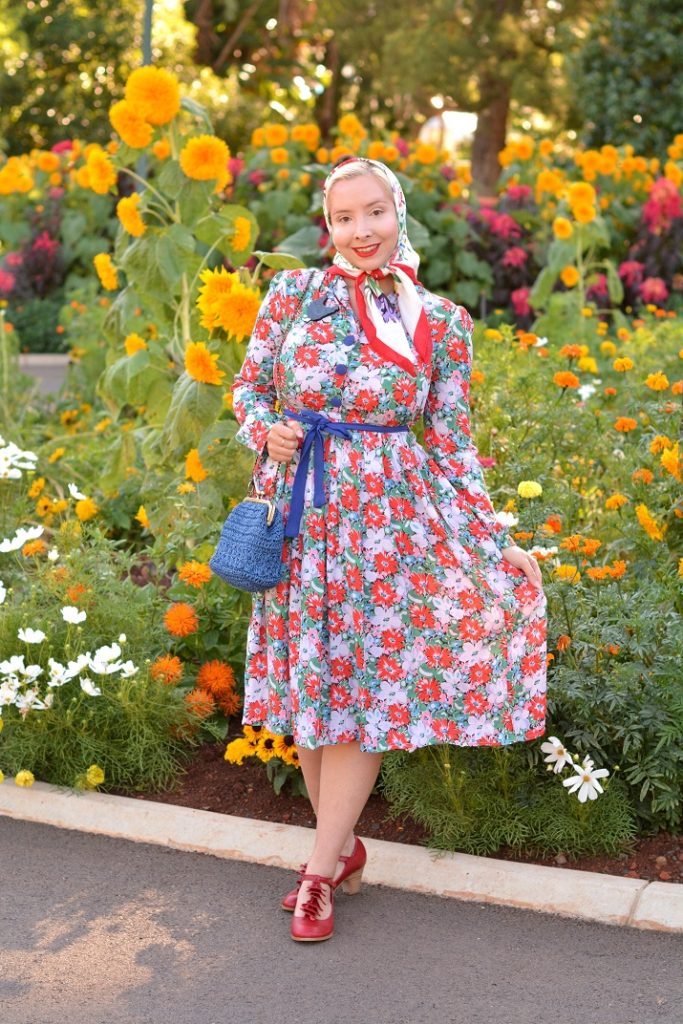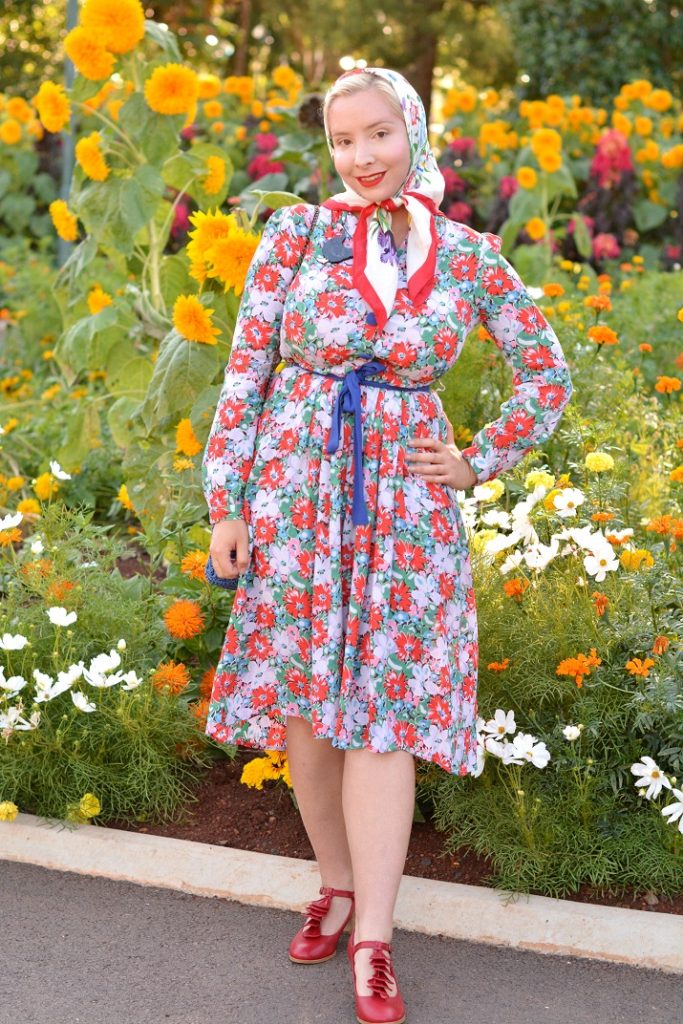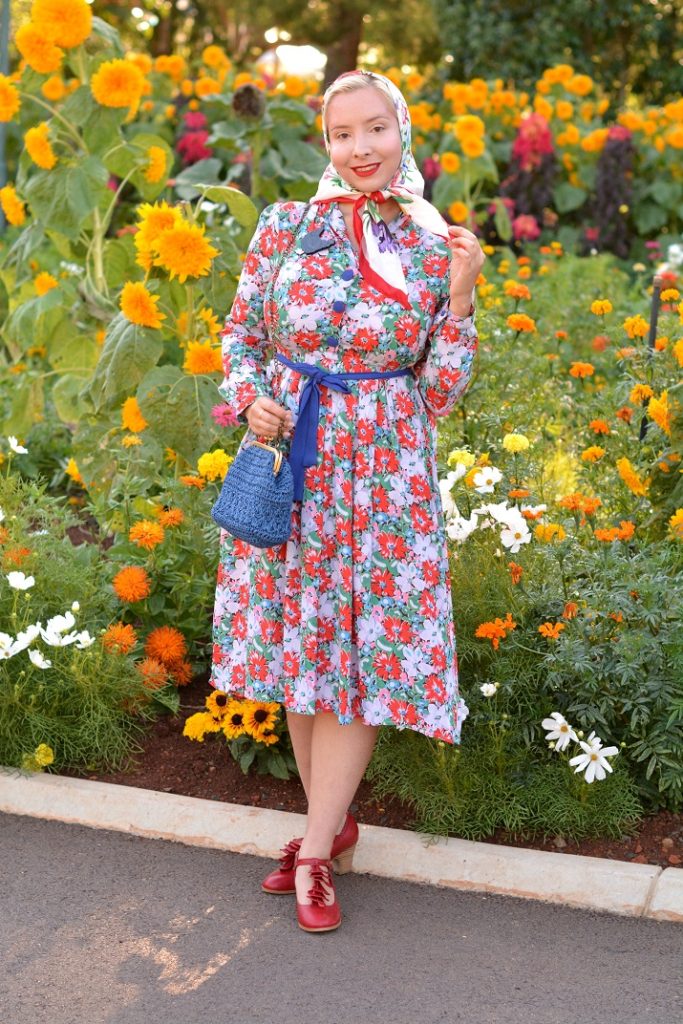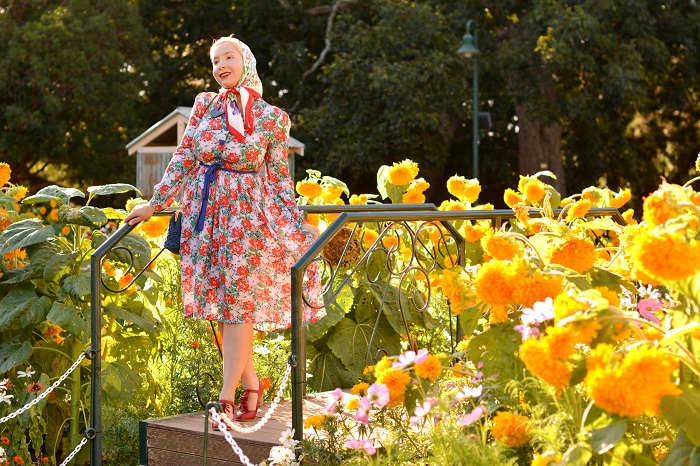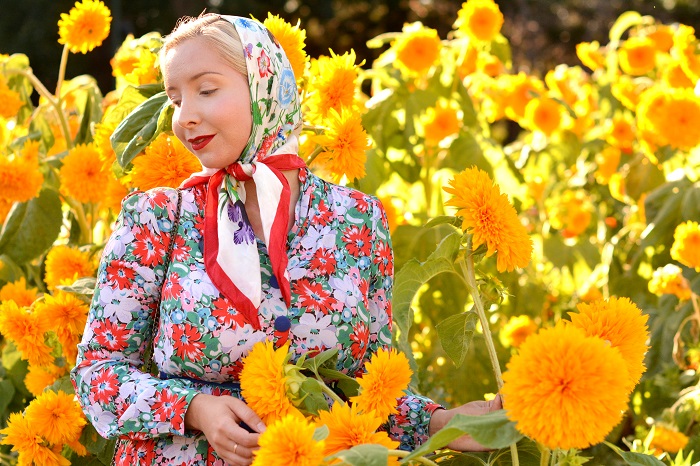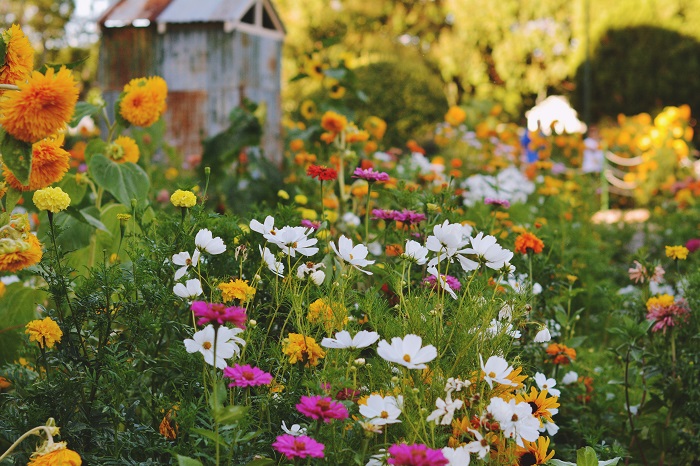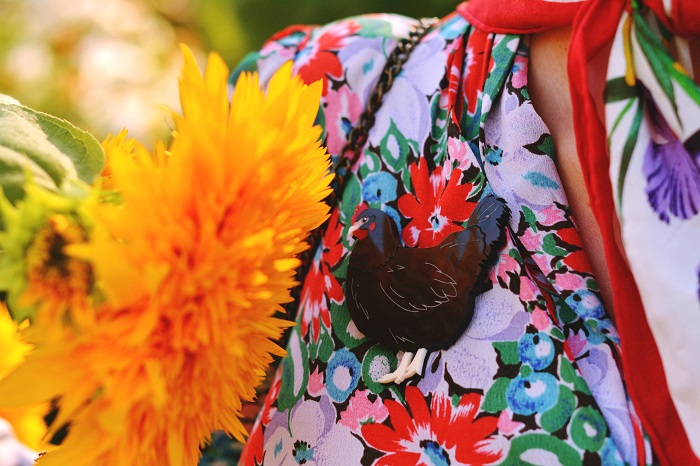 Sometimes, I like to wear black head to toe. And then there's times when I like to sport an explosion of colours. Loud outfits like this may not be everyone's cup of tea, but this one is a favourite mine for sentimental reasons. I love it because the vibrant colours and print of this dress bring to mind something a Russian babushka might wear. When I saw this Seamstress of Bloomsbury dress it brought to mind the fashions worn in Russia during the 40s – simple, wholesome patterns and practical silhouettes.
I was especially thrilled when I saw that my favourite garden was in bloom again and this time with flowers planted just like the ones I saw in Russia a few summers back. Looking at them instantly brought back fond memories for me, as these aren't the flowers you normally see planted here. For those wondering what on earth those large fuzzy flowers that resemble Big Bird are – it turns out that they are a variety of sunflower. Best of all though, they have the most adorable name that matches their appearance – they are called Teddy Bear sunflowers! How wonderful and fitting that they have such a name!
Together the outfit and setting made me think of a scene from a Soviet film that takes place on a collective farm and has characters that frequently burst into dance and sing songs about the harvest…Or this Factory Girls music clip by a Russian pop group called Fabrika which I'm a little bit obsessed with. Unfortunately the Brenda dress is a discontinued style which I purchased on sale last year, but The Seamstress of Bloomsbury have many equally lovely floral styles at the moment, such as the Sweetheart dress and the Loretta dress.
Ever since I started watching Russian costume dramas I've been pretty stuck on this sort of aesthetic. I'm not really sure what the right word for it is, but I love all the simple rustic looks. It might also be to do with the fact that I do miss Russia a lot of the time. Even if I am perfectly content where I live now, sometimes I will see a certain flower or someones photo of Red Square on instagram that will instantly make me nostalgic for the adventures I had a few years ago. The headscarf I'm wearing in these photos was one that I bought at a market in Moscow and wearing it has been a wonderful way of remembering the trip.