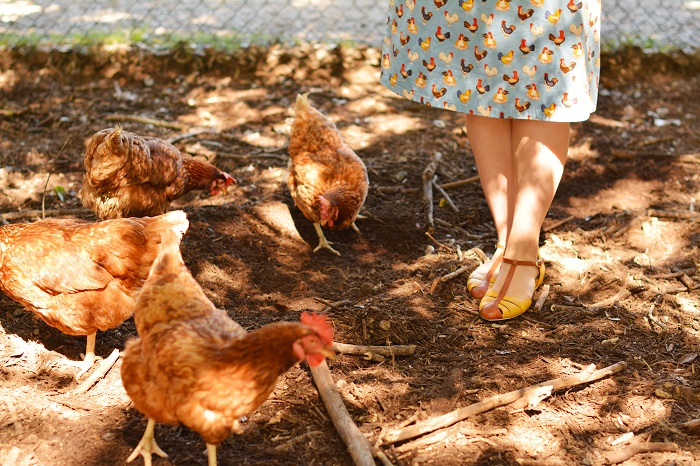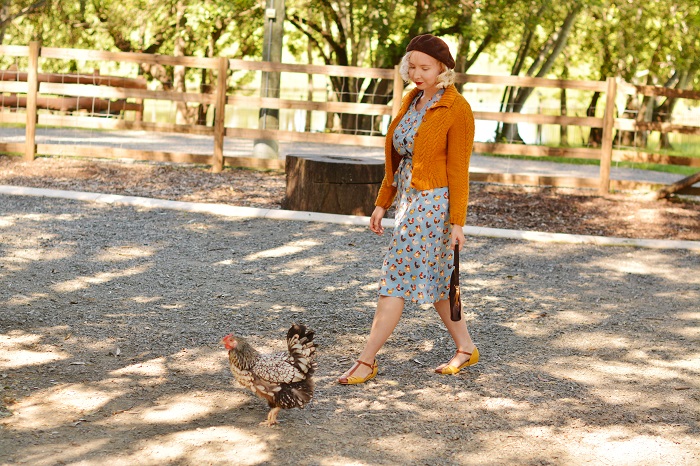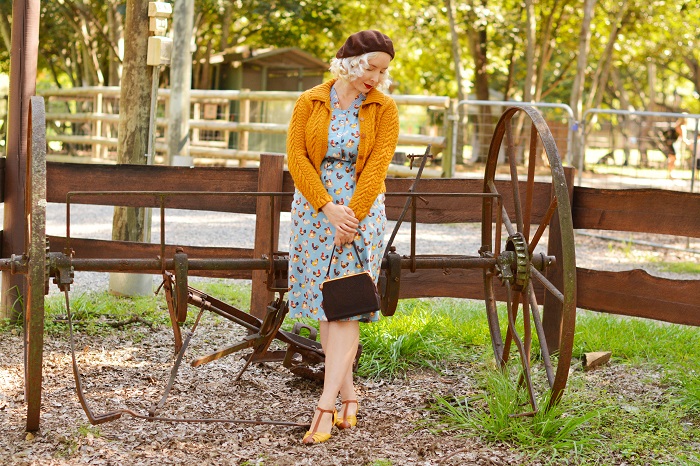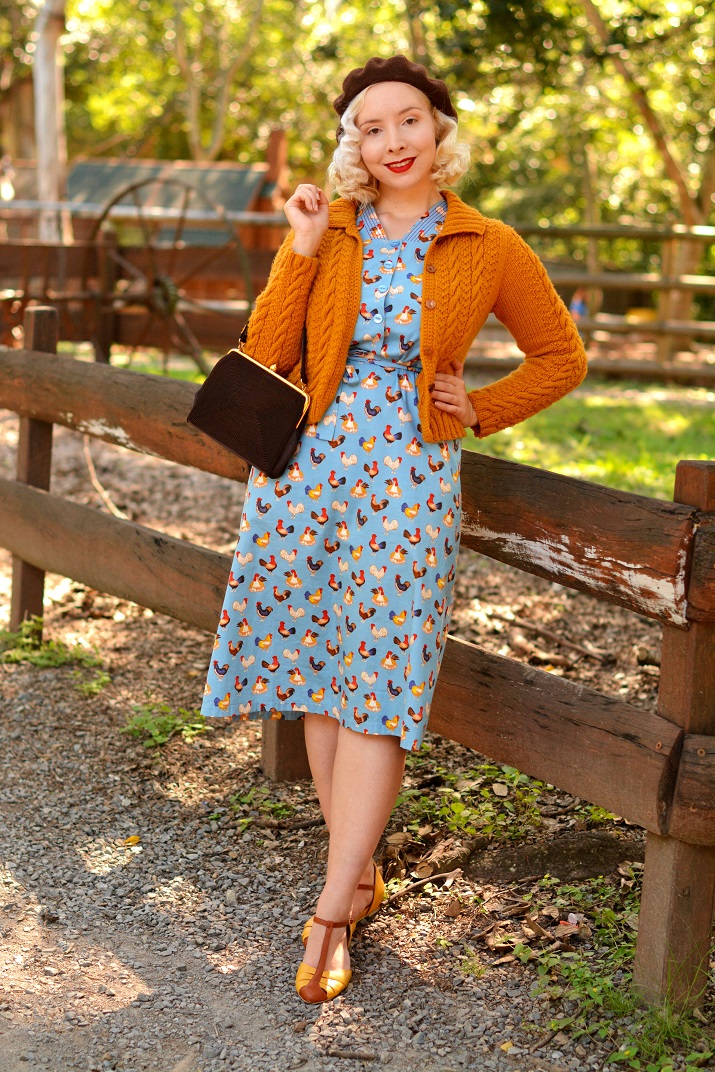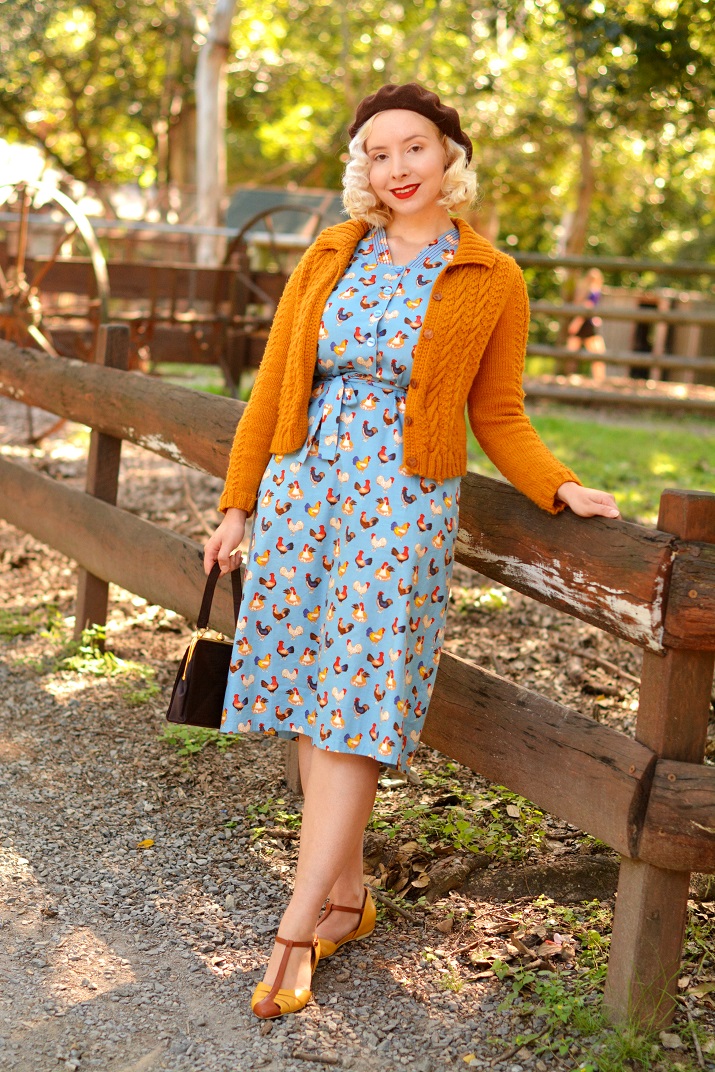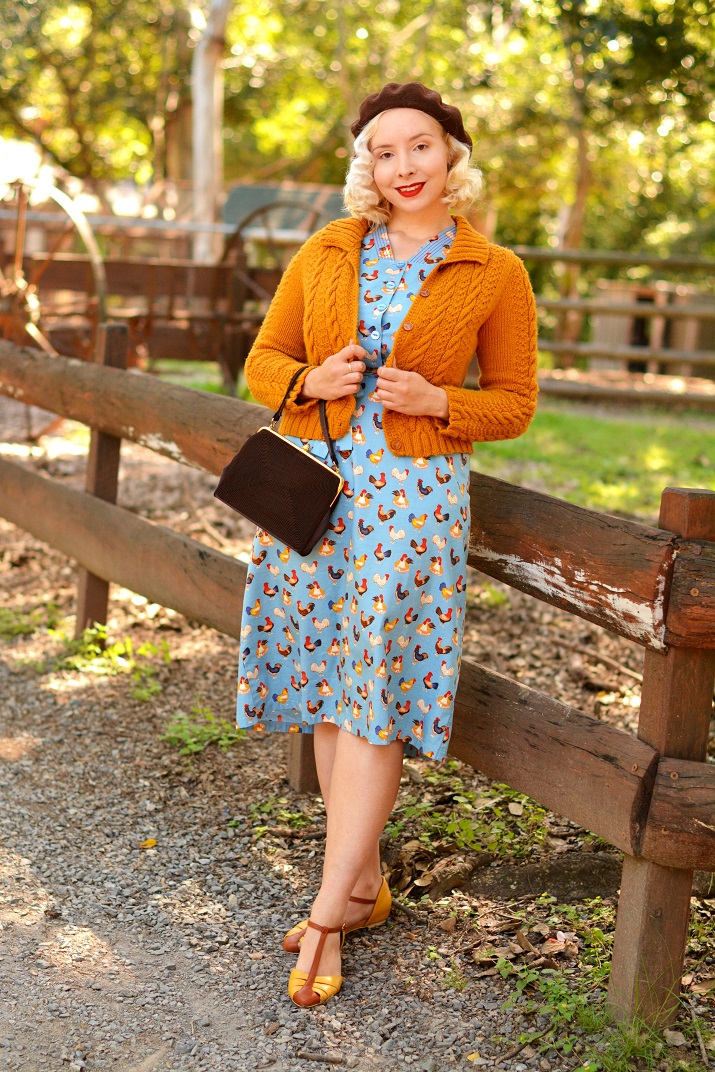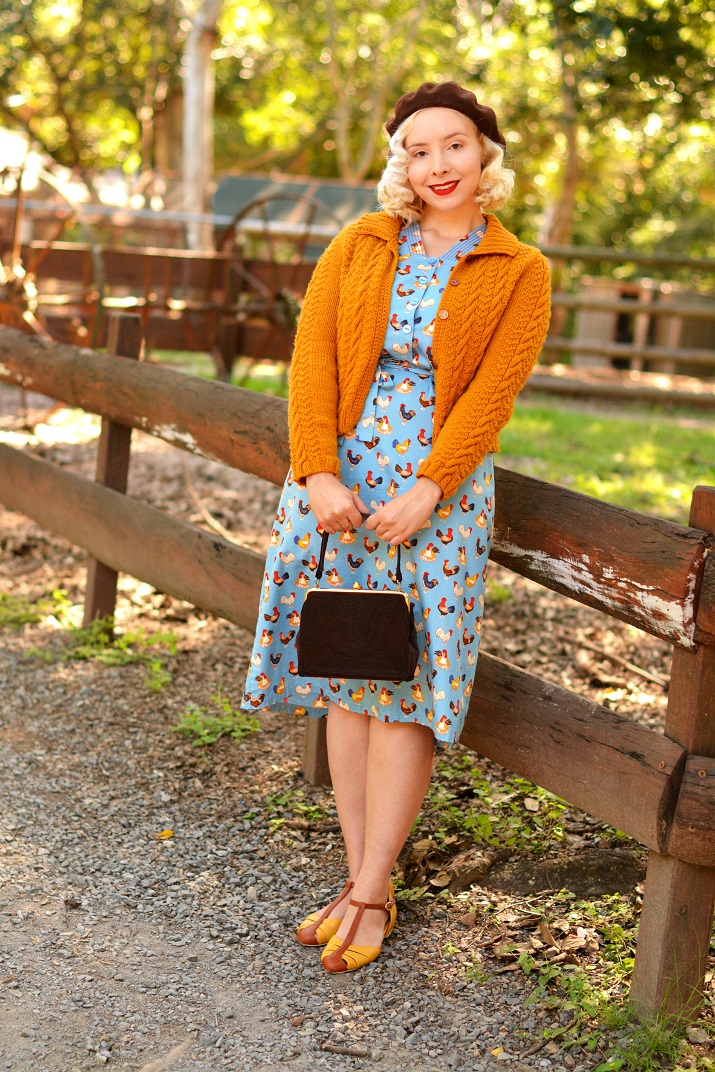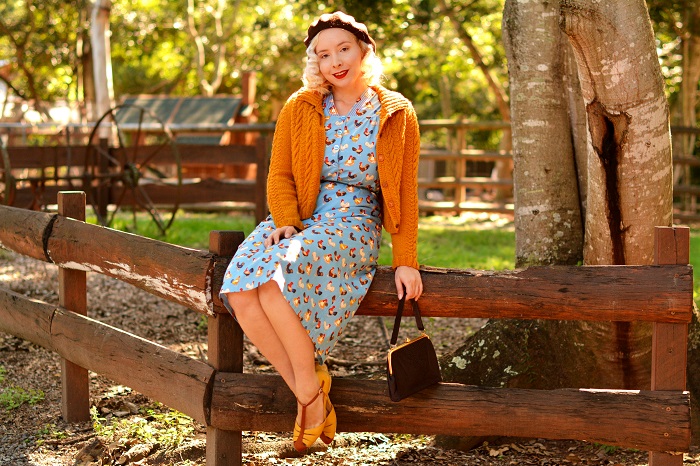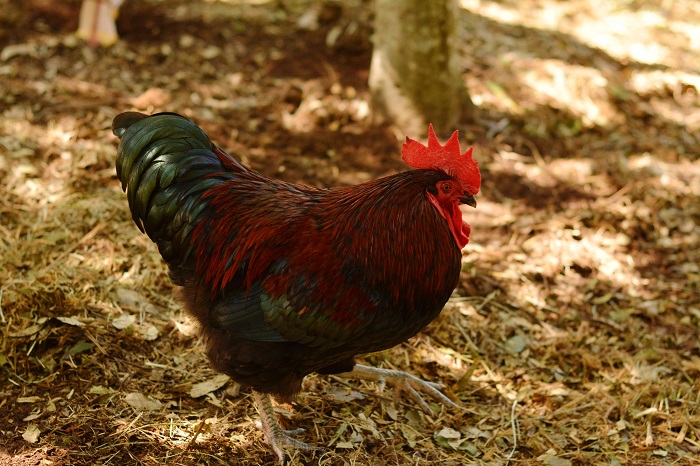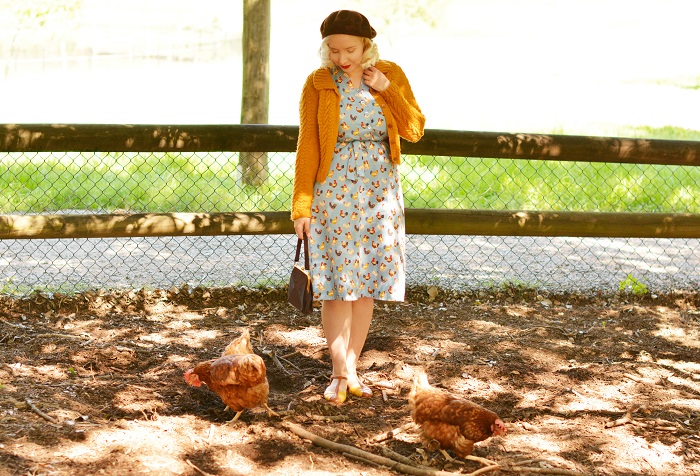 What is with the chicken obsession, you're probably wondering. Well, I honestly don't even know myself but I have always really loved chickens and wanted some of my own. Anytime I see them they instantly put a smile on my face, there's just something about watching them potter around scratching at the ground that makes me happy. I also really love the sounds they make. Our neighbours have chickens and I really appreciate having the soft clucking as background noise. Roosters, well, they're very handsome fellows but I'm not sure if I would want one of my own as I like a good sleep in…For now though I'm making do with collecting chicken themed decorations and clothing, this dress being a long time favourite of mine.
I've really missed wearing 20s & 30s looks so I figured it was time to finally bob my hair again which I'd been growing out this whole time so that I could wear it in braids and gibson rolls. However I've come to find that neither of these hairstyles suit me at all (or just any up do for that reason) so I've given up on that and just decided to stick with what works. I'm also finally feeling really inspired to blog again, now that the worst of the heat has finally passed – not that it's actually cold or anything. I just really like wearing this cardigan, and it's mustard which is a colour I really love but find really hard to find for some reason….
That is why I was so excited for the opportunity to own these lovely 30s inspired shoes in the perfect autumn colours. When I first started wearing vintage looks the first thing I accepted was that when it comes to shoes the saying no pain, no gain – is actually a real thing. My husband recalls (with much frustration) the early years of when I was first getting into vintage styles and was adamant about wearing uncomfortable shoes all the time, everywhere we went. This meant constant stopping to apply and reapply bandaids, followed by me begging to take frequent stops to sit down and nurse the dreadful blisters that were always inevitable. He would say really "helpful" things like "why can't you just wear sneakers or something comfortable" which would only make me face palm at the mere suggestion. The thought of something like that, am I right?
Shoes are such an important part of a vintage look because we're trying to recreate the aesthetic of a time before sneakers were a thing but we don't want to sacrifice our modern comfort. This is something that I'm sure a lot of vintage ladies can relate to and that is exactly how the brand Charlie Stone shoes came to be. Samantha Szetu, the creator of Charlie Stone was frustrated by the lack of comfortable vintage inspired shoes on the market and decided to take it upon herself to find an alternative. Her solution was to take inspiration from timeless vintage shapes and styles to create shoes that didn't have a heel but still provide the right amount of cushioning and support. Several gorgeous collections later, Charlie Stone have successfully created a brand that is synonymous with not only vintage glamour, but comfort too. A rare feat indeed!
As it is now autumn in Australia, Charlie Stone's latest range includes an autumnal colour range to go with the rich hues of the season. I'm wearing a pair of the Toscana shoes, and went with my regular size (EU39) which I found to be a perfect fit. Having had a whole week to test how comfortable these shoes really are, the thing that really struck me was the fact that I've not got a single blister any of the times I have worn these. Now that is a pretty big deal for me because I'm not a fan of breaking shoes in, if I really love a pair of shoes I like to wear them right away and usually all day. I only wish I had known about Charlie Stone when I went overseas last year, I couldn't think of any better shoes to pack for travelling.
Not only would they take up no room at all in a suitcase, but they are suitable for walking around in all day. Normally I like to blog while I'm away, so I end up having to pack a lot of shoes. This is because there are shoes that are for blog photos, and then there's shoes that I will actually wear walking around. In most cases that means really unexciting flats that don't look vintage but don't look offensive with a vintage outfit the way sneakers would. When I do go travelling again I will be making sure to pack a few pairs of Charlie Stone shoes to save me the trouble of dealing with that, because it really doesn't get any better than vintage appropriate shoes that are meant for walking and dancing in!
Wearing:
Heyday Judy dress
custom made cardigan via lindylousclothing on Ebay
vintage 1940s handbag
Toscana shoes courtesy of Charlie Stone