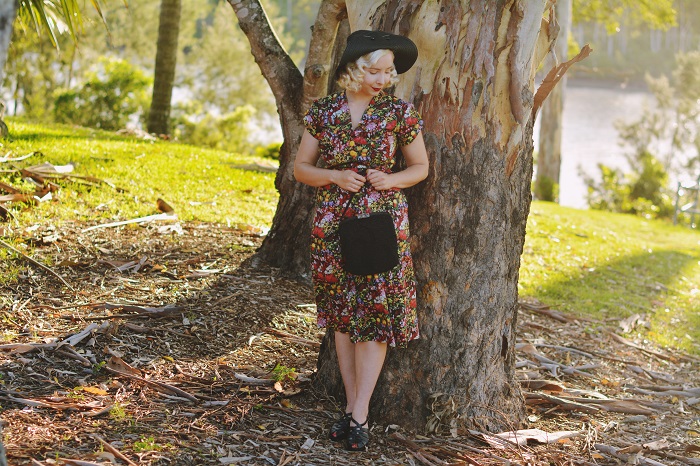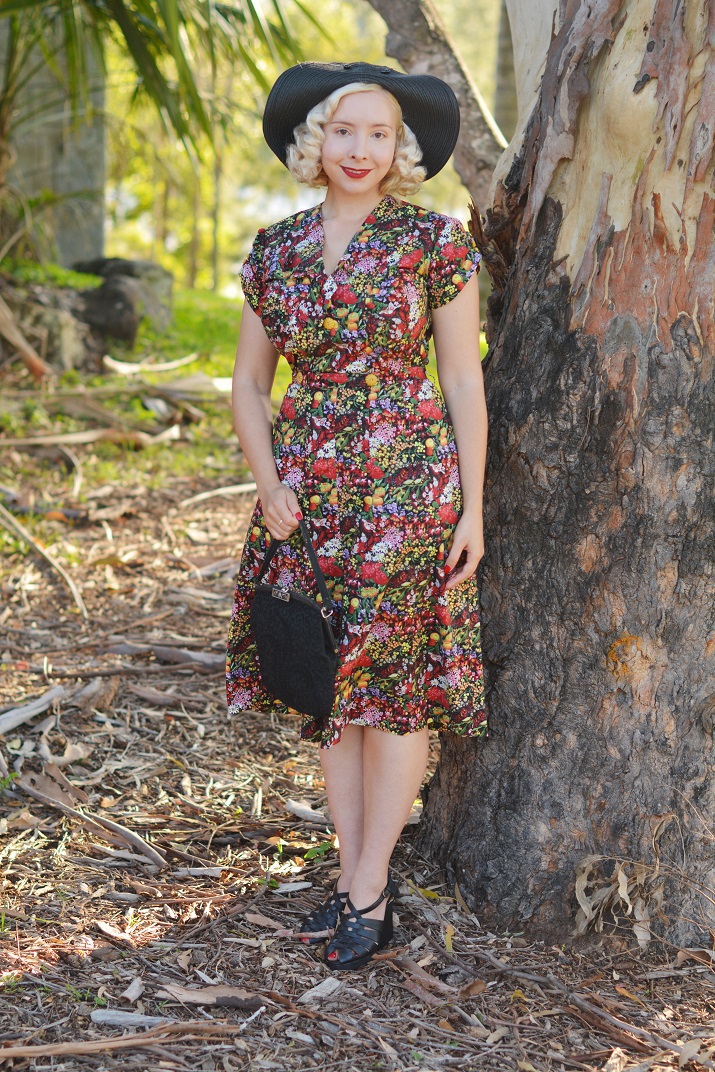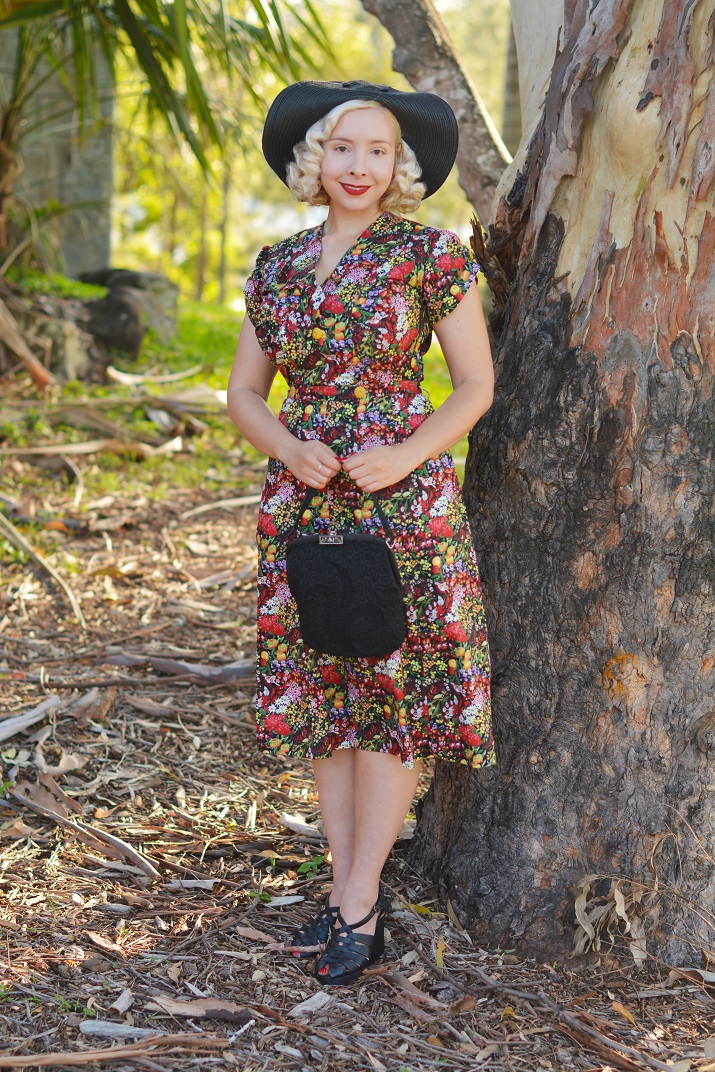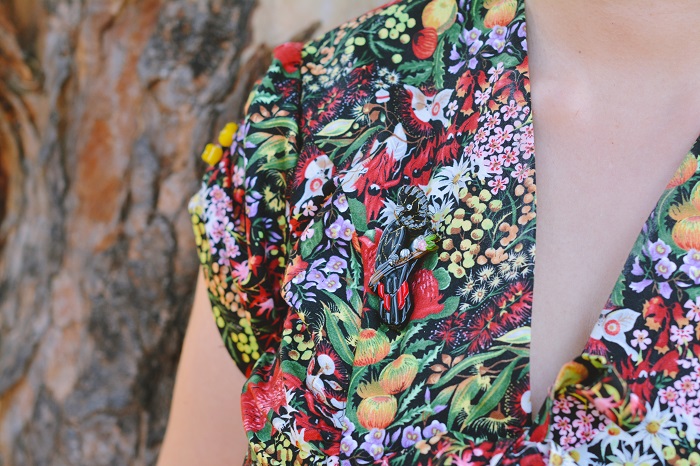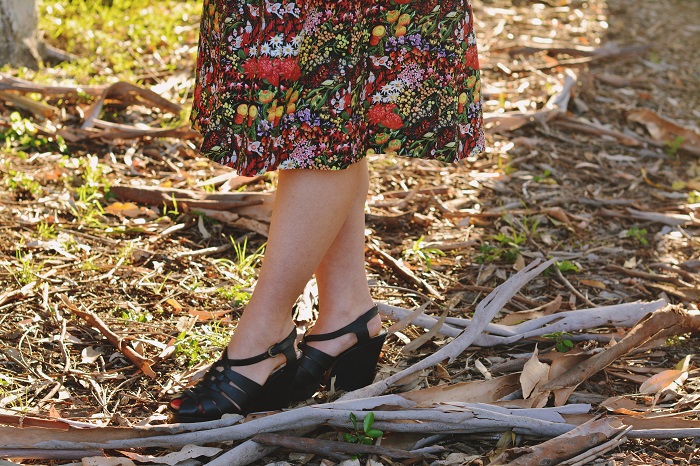 You know when you really love an outfit and have grand plans for it? A really great backdrop, perfect matching accessories…only for none of the those things to work out. But it happens, it's all part of blogging and there are times that I do throw in the towel, and then there are times where I just get on with it and improvise. The latter being the case here, and I feel like I owe this beautiful dress an apology for choosing to showcase it in the most bland and uninspiring of places possible. So instead of taking photos with a really beautiful mural as planned, I thought you know what would be a good idea? Taking photos next to some boring trees, in an ugly park, next to an ants nest. Genius! The green ants were really hospitable though, considering I did stand on their nest several times…
This outfit is special because I have always wanted to own something with Australian native flowers on it. A lot of the time I have an outfit in my head, but it simply does not exist. Or it did, but I'm seventy years too late. One day I was admiring the bouquet of native flowers on my desk, thinking to myself how wonderful it would be if I could own a dress that had these flowers on it. Of course such a thing just didn't exist, although I'm not sure why to be honest! I guess it's because Australian flowers are so odd looking, they're definitely an acquired taste. But to me they are special because they featured heavily in our wedding decorations and have sentimental value for that reason.
So I decided to enlist the help of a professional dressmaker, JacksDaughter on Etsy, and looked at different fabric options until I found the perfect one. In fact, there were so many great fabric options that I had several outfits made in different styles and fabrics. So now my dream of owning an outfit with Australian native flowers is complete, and then some! I'm sure that by the end of the year those of you who have never heard of a waratah or a calistamon will be able to identify them. This dress however may as well be an encyclopedia of all Australian flowers as it features them all.
When I was putting this outfit together I realised that the hat I had planned on wearing didn't suit the outfit at all. It really felt like there needed to be a hat to balance out such a striking print and I panicked when none of the hats I tried worked. I also didn't want to be boring and constantly wear something I've blogged recently (I'm sure you've seen enough of my big straw hat to last a while) but it's not like I could just pop into the shops for the perfect 40s hat! I sat there for a while looking at black 40s hats online and then after seeing some styles come up, it occurred to me that I could do a really dodgy lazy refashion of a cheap crappy Target hat I already had. So with some hat pins to the rescue I'm hoping that I might have got away with it…
Wearing:
1940s reproduction dress custom made by JacksDaughter on Etsy
Rohan Redtail brooch by Erstwilder
Miss L Fire Bolero heels
vintage 1940s handbag