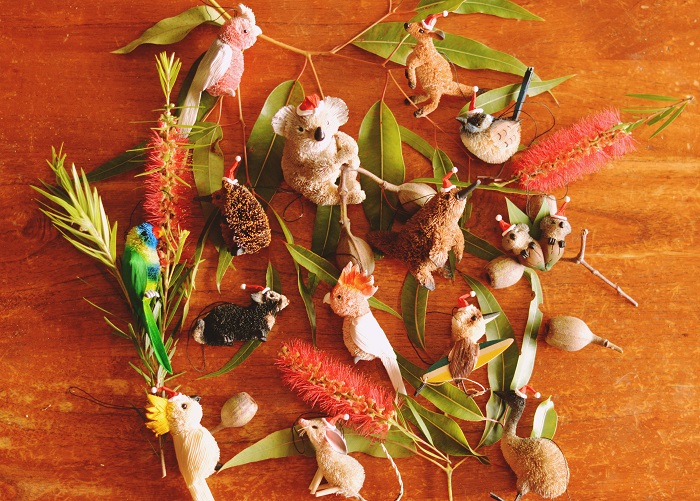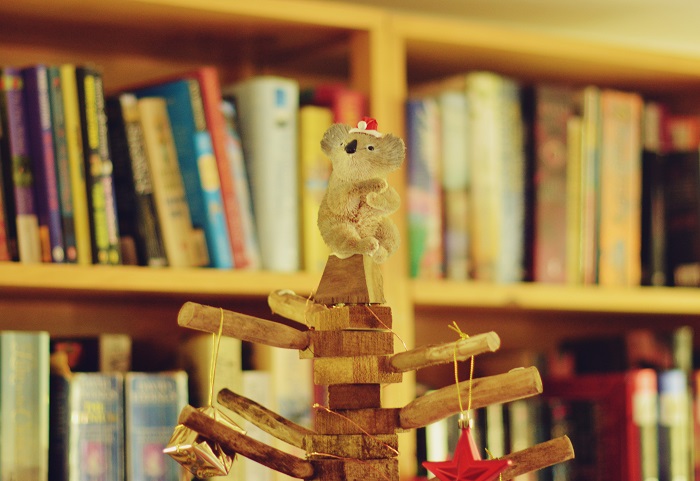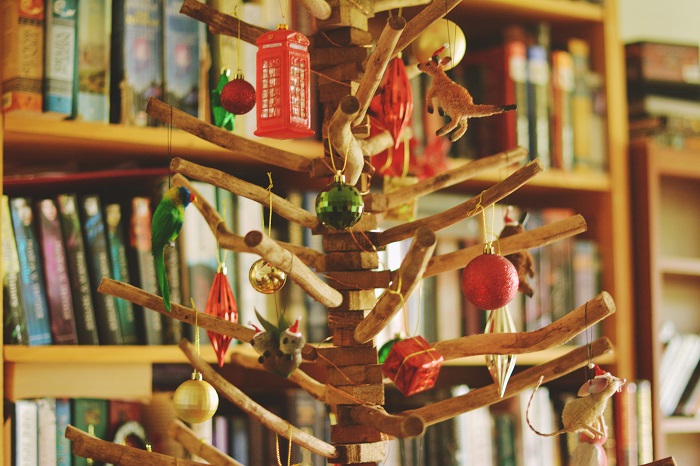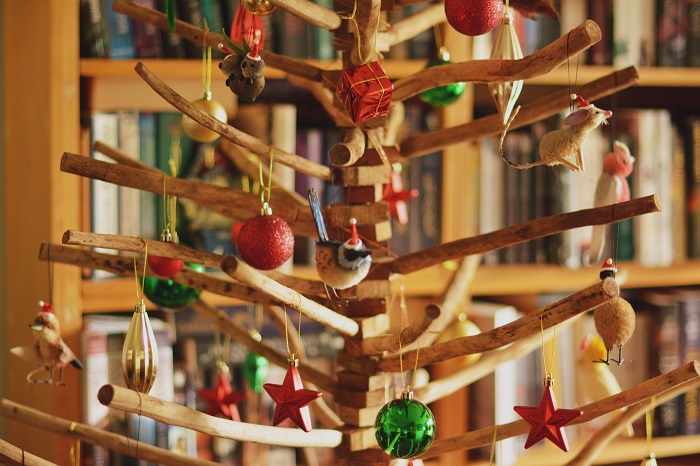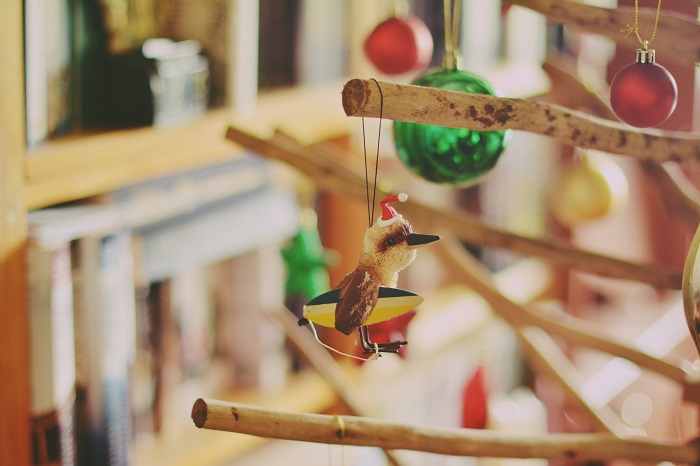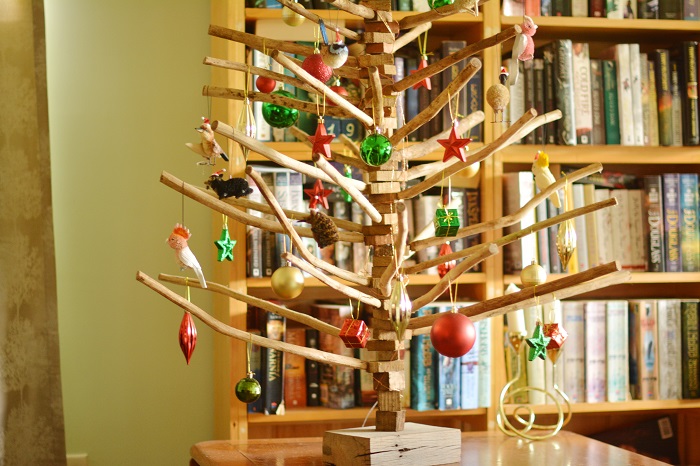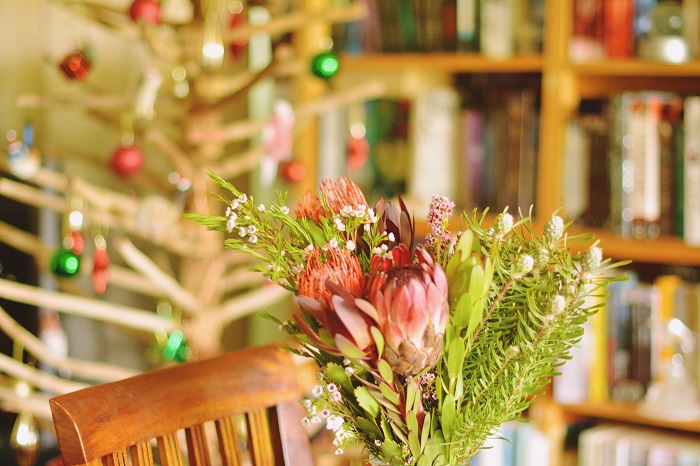 This year's Christmas tree is something a little different. Well, very different! It's definitely been the most contested tree yet – people either love it or they absolutely hate it. Some of the reactions from friends and family so far have been very amusing, because at first no one knew what to think. It all started when I decided on an Australian theme for our Christmas set up. One friend joked that it was my homesickness blues after being away from Australia for so long that I've become a bit obsessed with all things Australiana. That could be part of it, I don't doubt it – but I've always been fond of our animals and after feeling frustrated for years by the unrelateable Christmas imagery this just made a lot of sense.
When I started planning I wanted it to be all very DIY. I wanted to make the tree from foraged branches and make my own baubles. However after several weeks of non stop rain that idea kind of went out the window, I wasn't going to drag wet moldy branches into our living room! The parts for thebaubles never arrived either, so I was feeling a bit defeated. I found the Australian animals online and tried really hard to make sure we got nearly all of them – only to end up forgetting the wombat! I'm hoping that the Australians reading this should be able to recognise all of them, though I do realise that they probably look random to most other people…
And then one day, after hours spent trawling the shops and having had more than enough of Michael Buble for the year, I saw one of these trees in the window of a shop that wasn't one of my regular haunts. I pretty much decided then and there that it was the tree I had been waiting for all this time, and I bit the bullet and caved to the steep price. Soon as I saw it I couldn't picture the animal ornaments looking good on anything else, and that was it. As we made our way through the shops we had several people stop to ask where we had got the tree because they wanted one too – turns out I wasn't the only one with peculiar taste!
In all the excitement I didn't really think about whether the tree would even fit in the car. And it almost didn't…So  we drove home with a good deal of the tree hanging out of the window, wrapped in a plastic Subway sandwich bag to keep the heavy rain off. It was a memorable Christmas experience, that's for sure! It wasn't love at first sight for everyone though, with my father in law remarking that it looks a bit depressing and bare – not very Christmassy at all. When I explained to a friend that I wasn't able to do lunch that week because I'd splurged on a Christmas tree, I think she was expecting something very different. "You spent how much? On a pile of twigs?" Well, a pile of aesthetically pleasing twigs, yes.
Then there was my brother, who was speechless apart from expletives when I sent him a quick preview photo. A few days later we were at the shops together and we came across the same shop and the same trees. He couldn't stop gushing about how cool the movable branches were…and the original concept…until I reminded him that it was in fact that very same tree that had him doubting my sanity days earlier…
Putting the fairy lights onto this tree was the most challenging part. I spent a good half hour staring at four different boxes of lights trying to make up my mind, and then went with some really teeny ones on copper wire. It didn't even occur to me how much of a pain it would be to put lights on a tree like this until I tried,  and realised that I'd made the tree look like it was covered in barbed wire. Which is really not what the Christmas spirit is about after all…So I left the last of putting the lights on the tree to my husband, who had the hindsight to wrap the lights around the tree trunk instead.
Tree: Adairs
Aussie Animals: www.bristlebrush.com.au
Baubles: Kmart