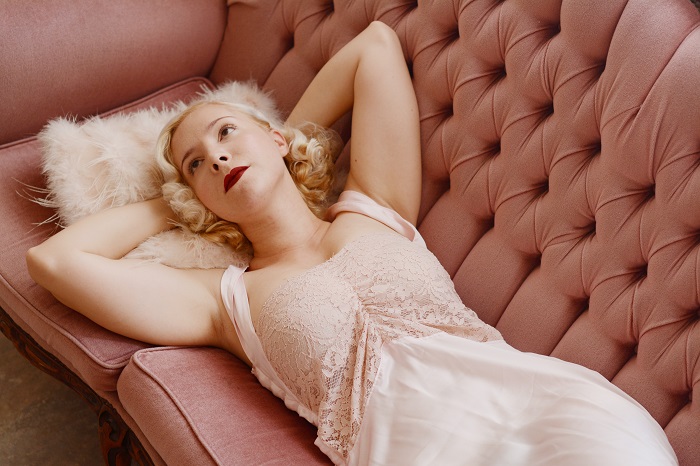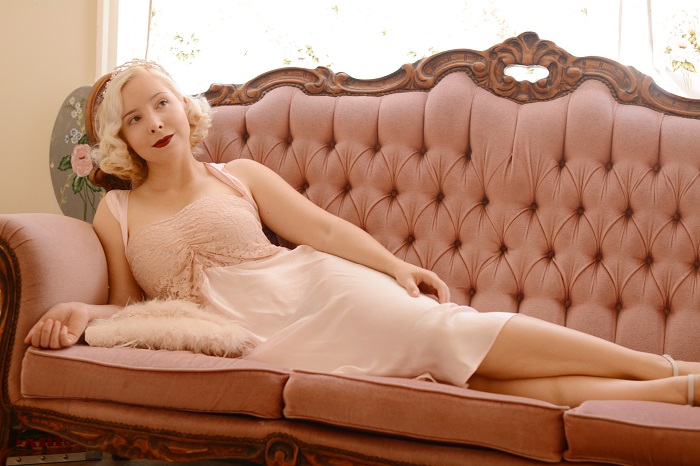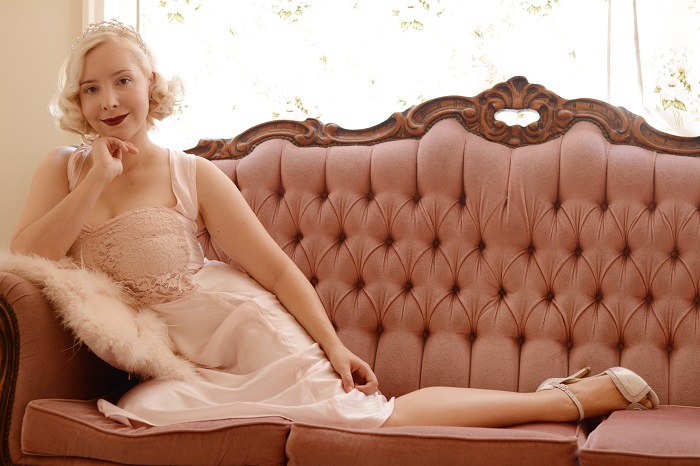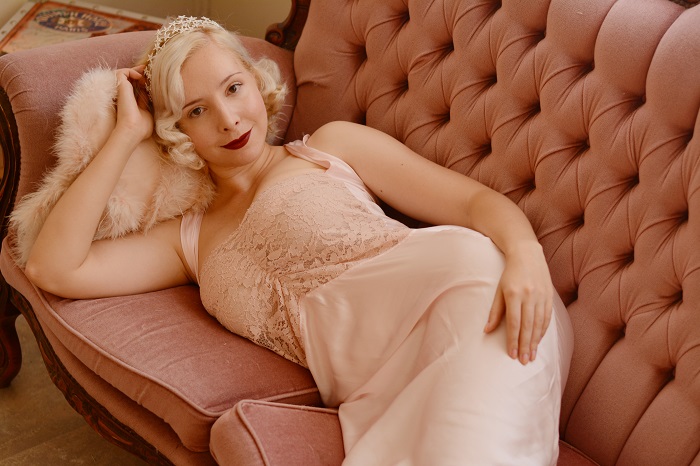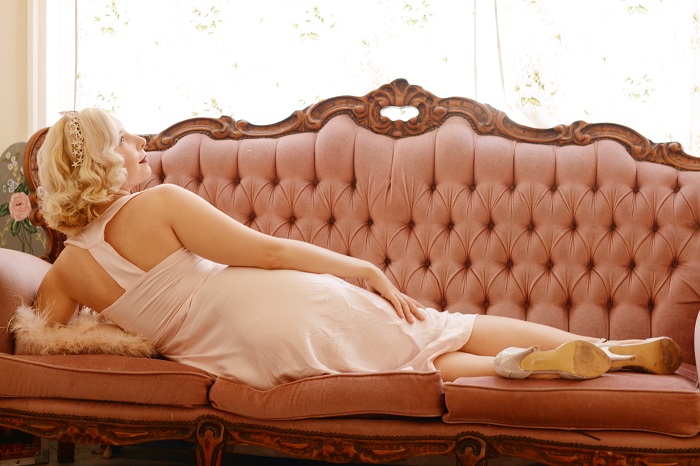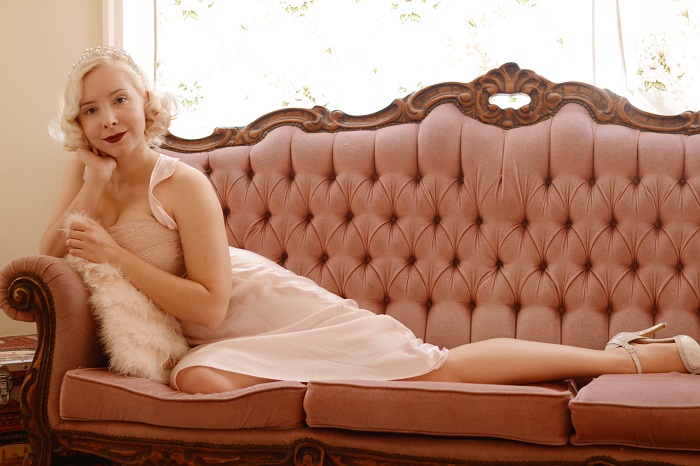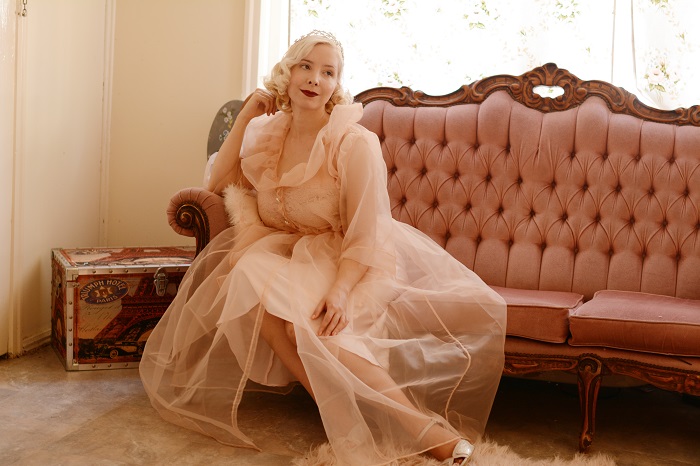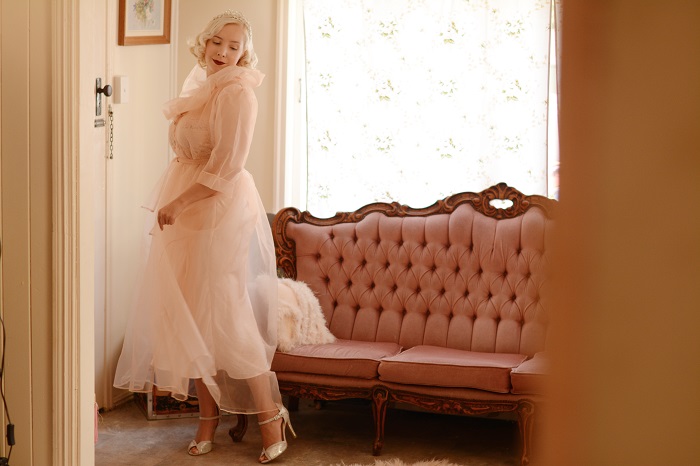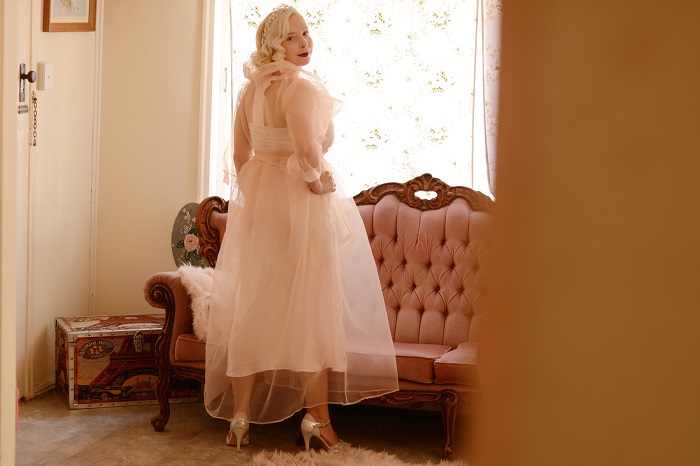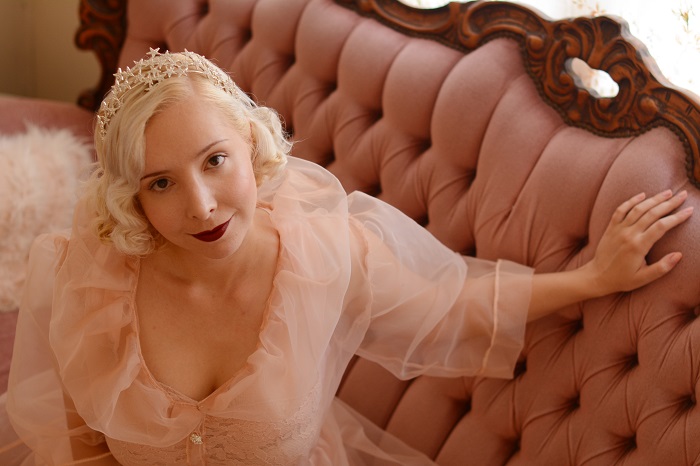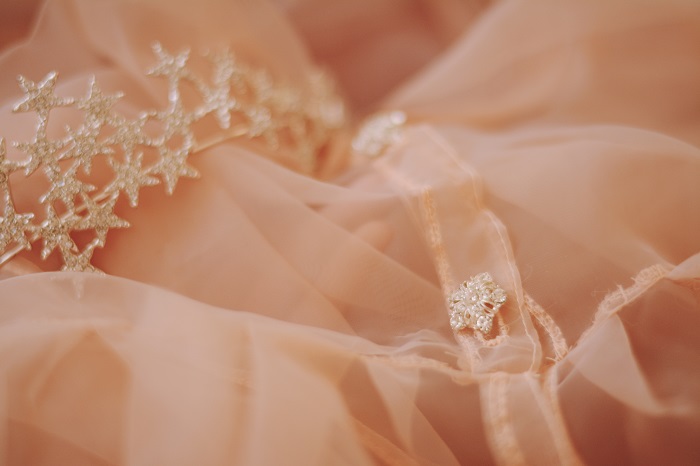 When I think of 1930s lounge wear and lingerie, two silver screen icons come to mind; Jean Harlow and Mae West. Both were queens known for looking sumptuous in silk night gowns and dramatic robes. For this post I couldn't resist channeling a little bit of them both as wearing the Odette nightgown and perfectly complimenting Olivia dressing gown by Evette Dubois made me feel just like a true art deco star.
Evette Dubois is the creation of Melbourne based seamstress Melissa, who specialises in authentic vintage inspired boudoir wear from the 1920s – 1950s, all made in a confection of pastels and decadent fabrics. As an avid collector of vintage lingerie, Melissa's creations are inspired by the pieces in her collection and as a result have the true look and feel of the eras which she is inspired by.
The Odette gown is made from silk and feels divine against the skin, perfect for glamorous lounging or to sleep in on a hot summer night – the open back being a wonderful touch for summer. On the front of the gown is sheer lace under which I am wearing a nude bandeau, something to keep in mind if you don't live alone! The fabulous Olivia robe is made of organza and is designed to show off and compliment the lingerie that is worn underneath but would also look fantastic on it's own on the more daring.
Both of these pieces come in a range of sizes, including custom sizing, as well as in blue or black for the Odette night gown and black for the Olivia robe. Art deco is something that Evette Dubois specialises in and in the shop you will find a fine selection of deco lingerie and lounge wear. The beautiful Ellen of A Wild Tea Party recently featured several glorious 1920s pieces by Evette Dubois which I highly recommend taking a look at for some 1920s inspiration.
All of Melissa's creations are hand made in Australia using vintage materials, giving each piece a unique touch and that true feeling of old world luxury and decadence when worn. To see her wonderful work be sure to visit her shop and follow her on instagram where she shares her latest creations and the vintage photos and illustrations that inspire her work.
Wearing:
Odette nightgown courtesy of Evette Dubois
Olivia dressing gown courtesy of Evette Dubois
Novo shoes
With special thanks to my friend Say CheeseCake Photography for letting us shoot these photos in her gorgeous home!