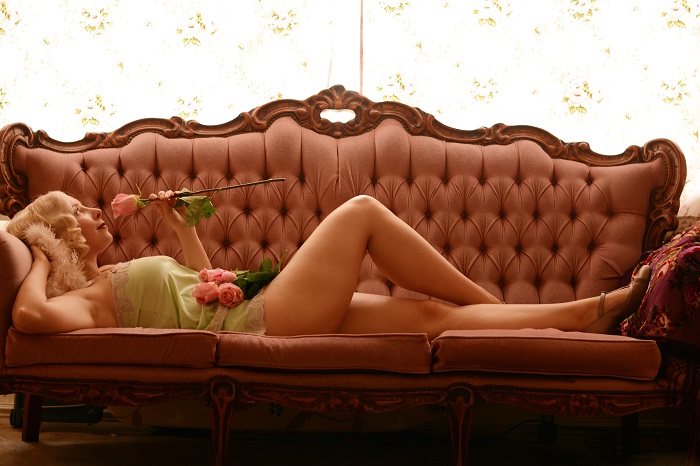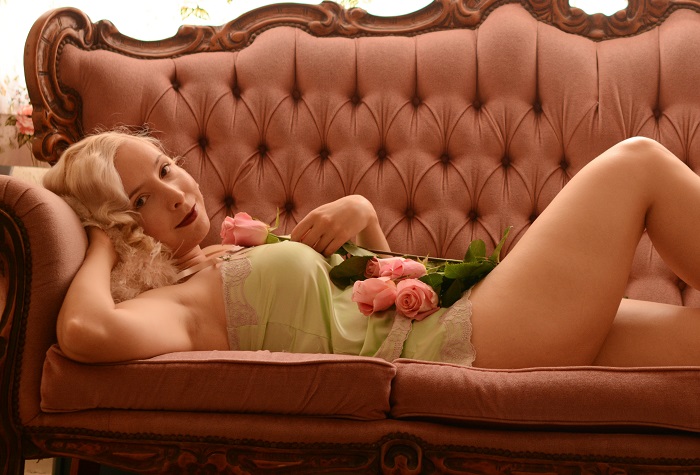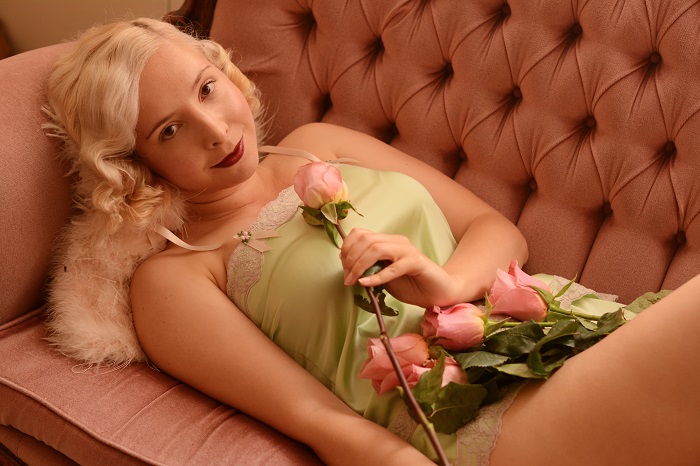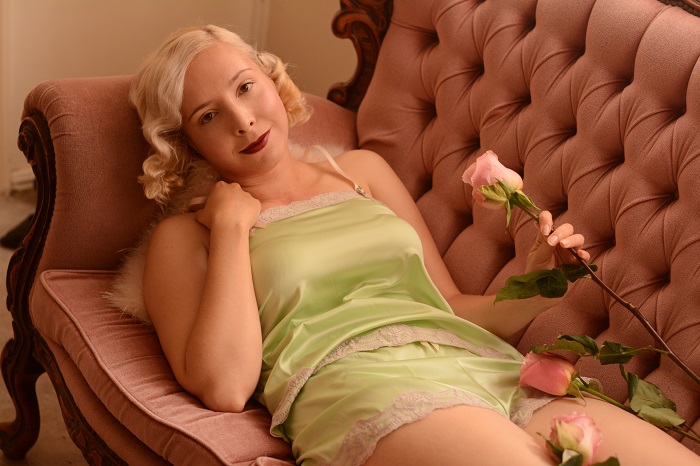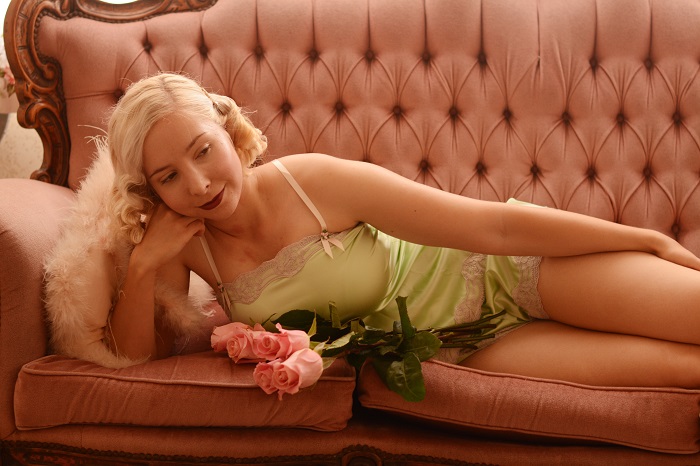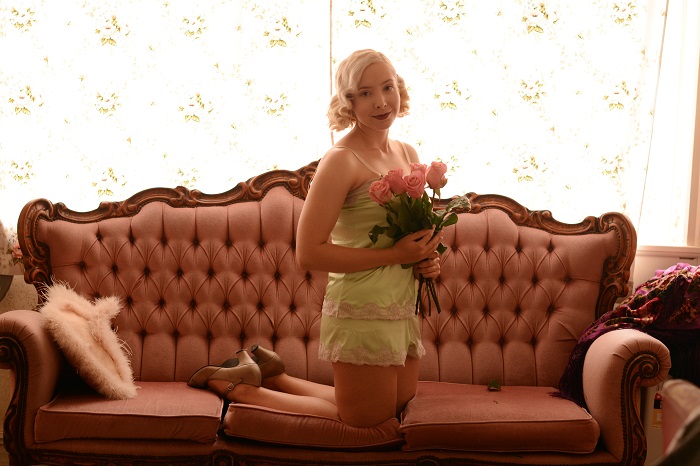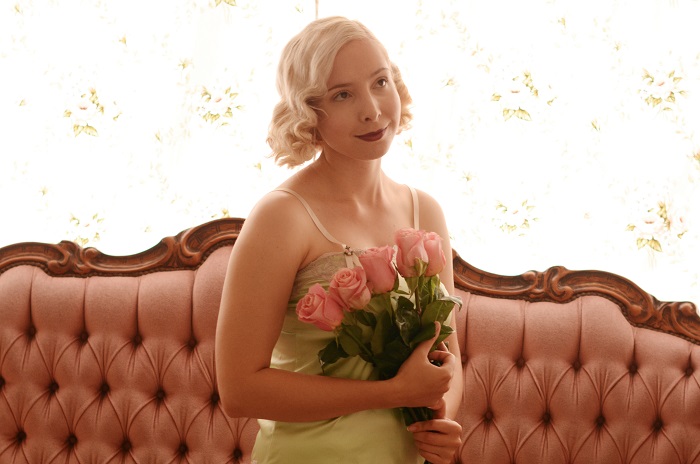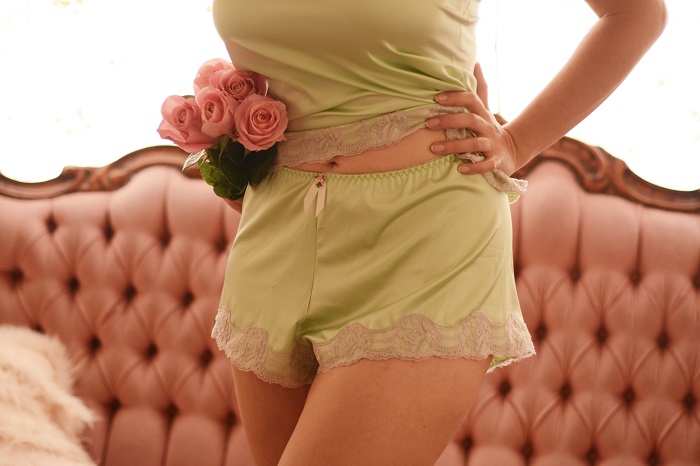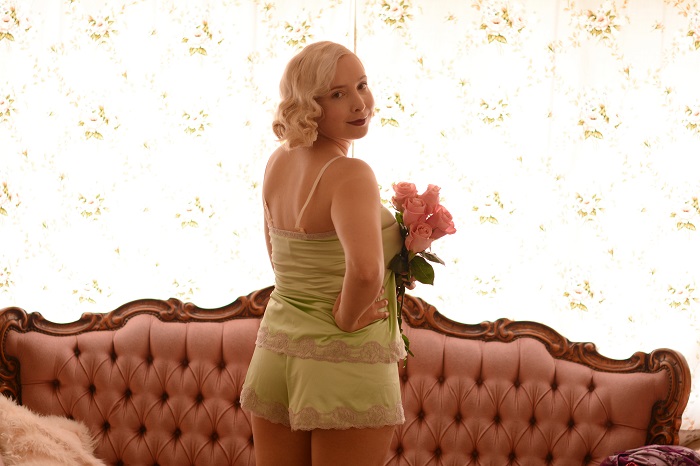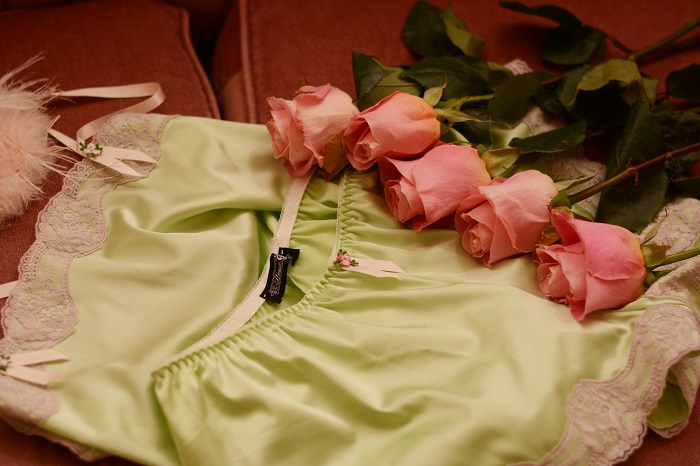 The 1920s were a very exciting decade in the history of lingerie. Tight lacing was discarded in favour of an androgynous silhouette and the conservative, modest, cotton undergarments of the Victorian era were replaced with racy chemises and step-ins made of colourful pastel silks and heavily trimmed with lace and ribbons. In the spirit of  excess that the twenties are associated with today, lingerie was made to be decadent and as elaborate as outerwear.
Compared to the excessive layers worn under clothing in previous eras, the single layer of underwear that became the accepted norm in the 20s was practically scandalous. To go with the relaxed fit of the flapper dress, lingerie in the 1920s was loose fitting. While the twenties are credited with the introduction of the modern bra, the earlier bras of the twenties were worn to flatten out ones bust rather than lift. The most popular lingerie of the twenties consisted of step ins, bloomers, french knickers, camisoles and chemises.
To revive the spirit of the twenties, UK lingerie company House of Satin have recently released their own collection of 1920s inspired pieces, appropriately called the Forever Gatsby collection.  I'm sure a few of you are already familiar with this fabulous company who are known for their beautiful vintage reproduction lingerie, and for this post I am wearing a set of undergarments from the Gatsby collection.
In true ethos of twenties lingerie, the Gatsby collection features a gorgeous range of pieces in very twenties appropriate shades; pastel pink and pistachio green – all beautifully trimmed with lace and ribbons and made of soft, silky, Italian satin. The Forever Gatsby range caters to the modern flappers needs with bandeau bras, tap pants and french knickers, luxurious chemises and comfortable camisoles.
House of Satin have been creating beautiful lingerie since 1948 and today their passion is creating luxury vintage inspired lingerie using the traditional techniques of the past. All of House of Satin's products are handmade in the UK, using only the highest quality locally sourced fabric.
I went for the pistachio green camisole and french knicker set as I love how quintessentially twenties this look is! I also love the added bonus of this set being able to be worn as both sleepwear and lingerie, styled together or separately. After looking carefully at the House of Satin size chart, I went for the chemise and french knickers in a size M. I was delighted to find that the sizing was very accurate and both pieces fit very comfortably!
If you have been on the hunt for your own set of twenties appropriate underpinnings, House of Satin currently have 30% off their entire site for Black Friday sale that will go until midnight Sunday!
Wearing:
Chemise & french knickers courtesy of House of Satin
Georgette Heels courtesy of Hotter
Clara Bow lipstick courtesy of Margarita Bloom