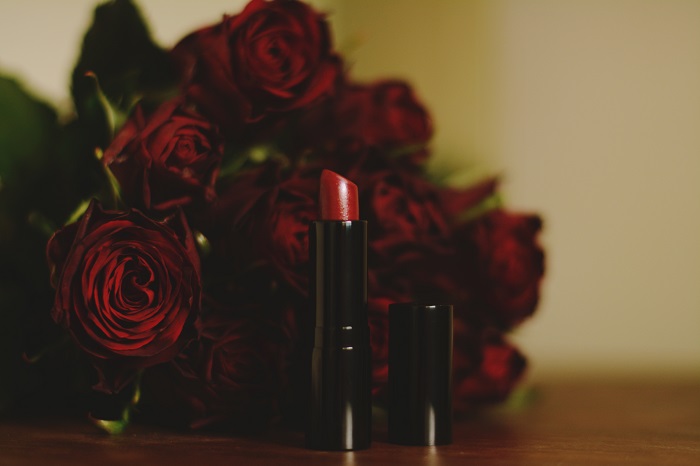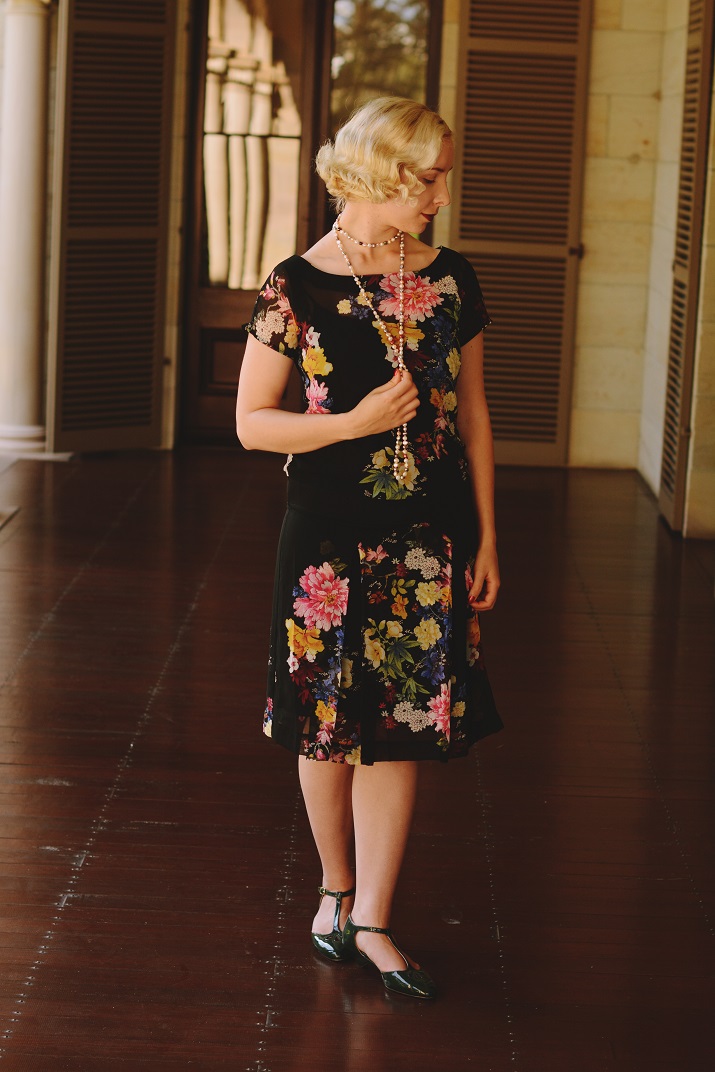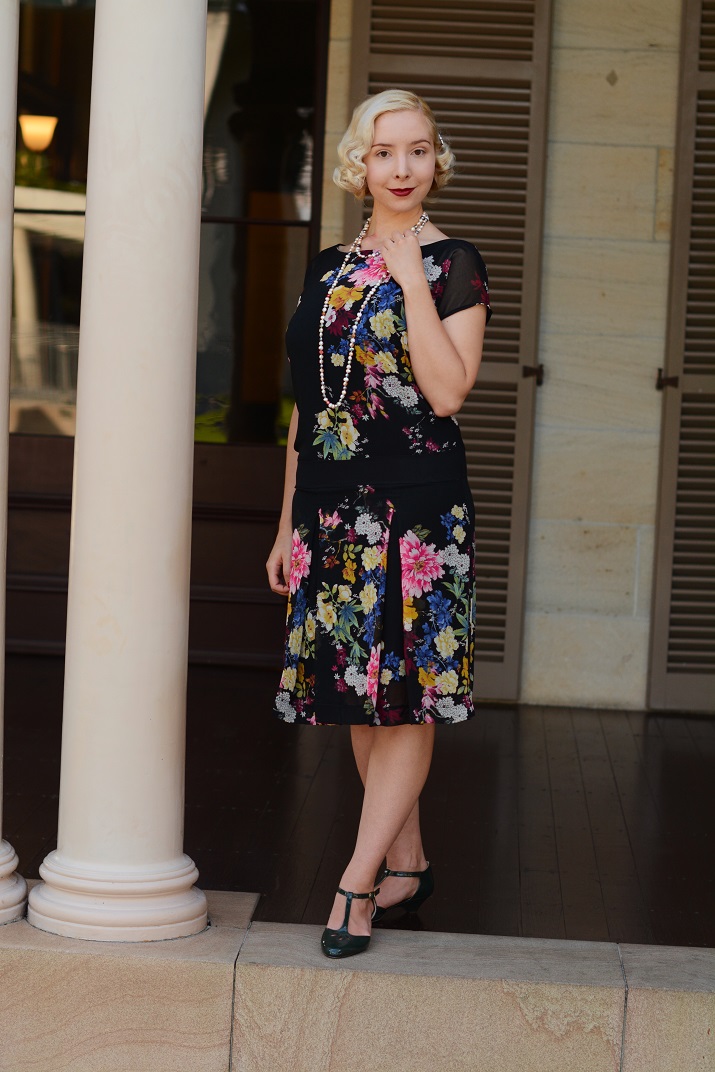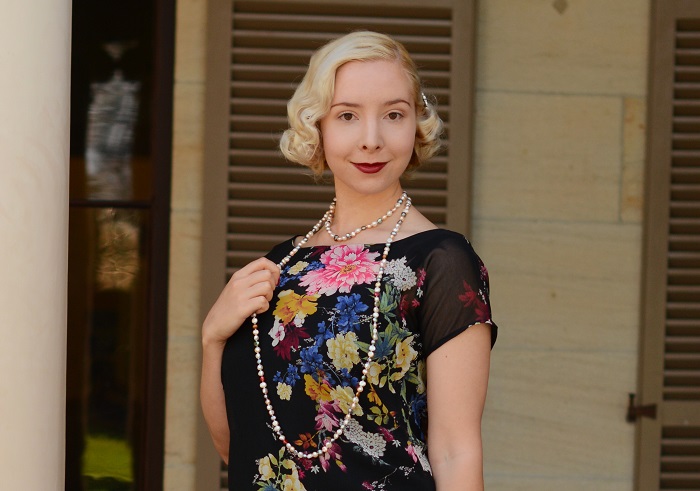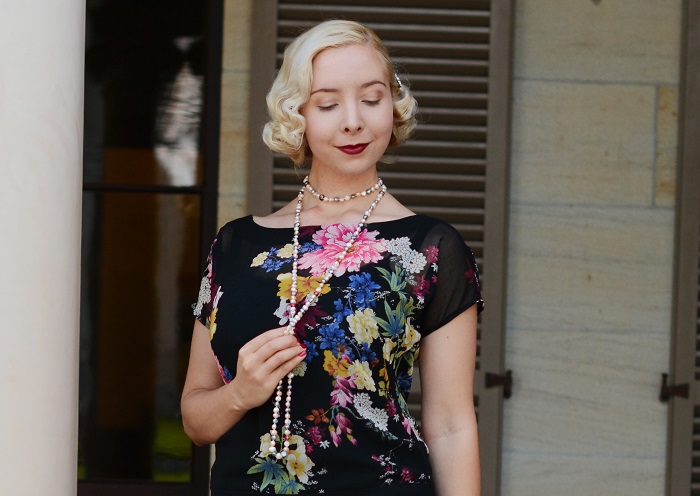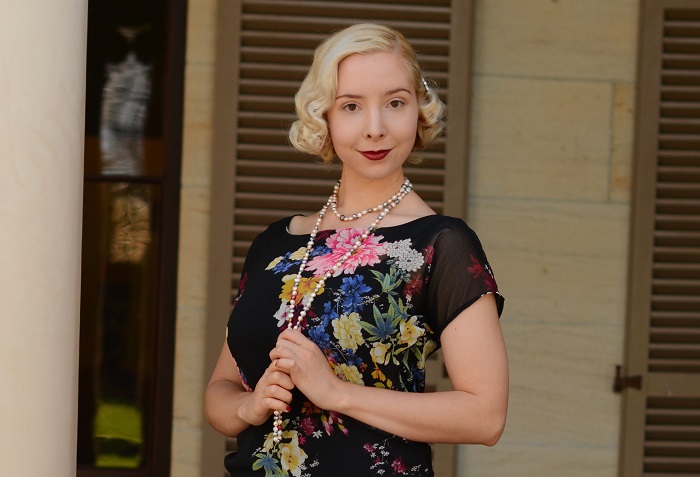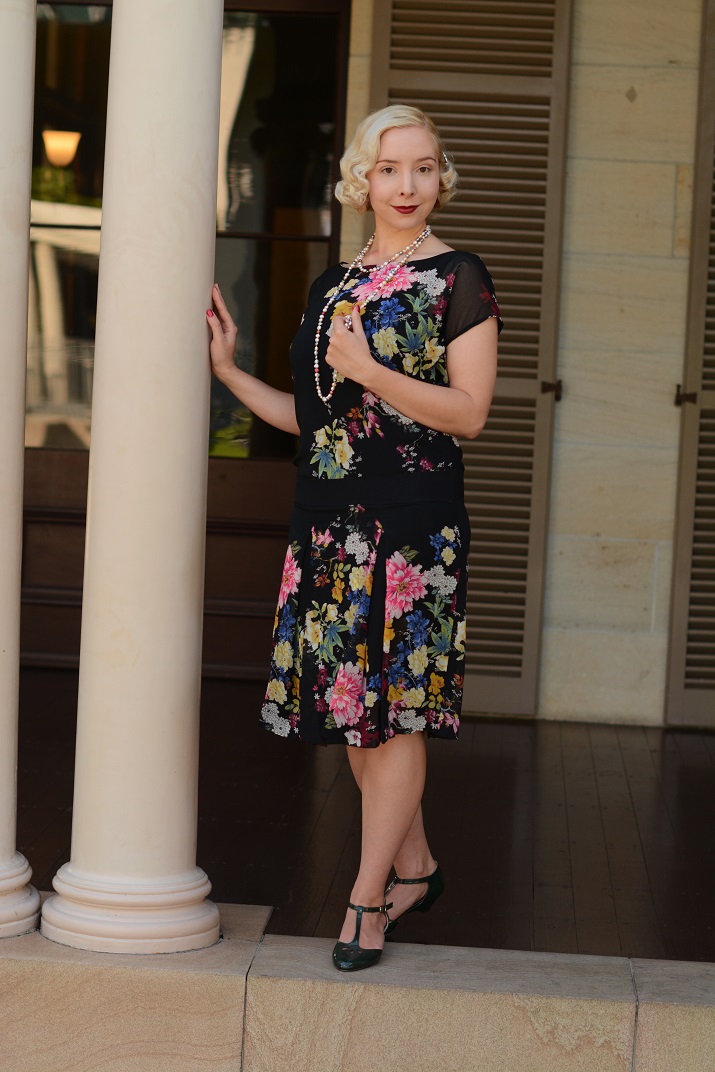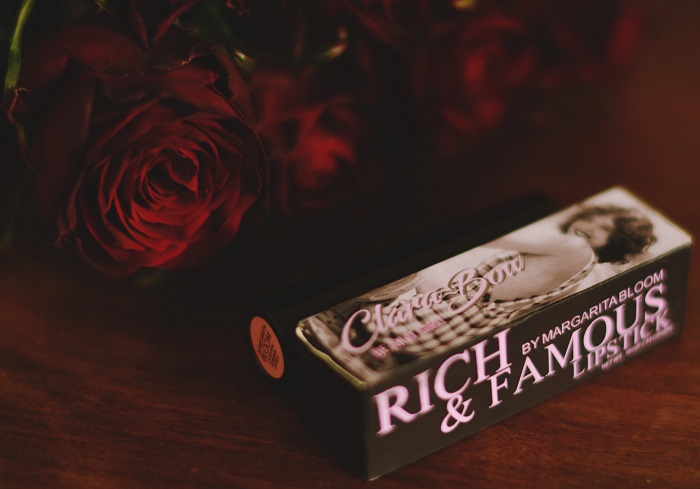 Makeup is such an important part of how we create our vintage looks, and yet it isn't something I have talked about much on the blog. You might have noticed that I wear two lipstick shades exclusively; very dark red, and bold bright red. There are a few reasons I tend to gravitate towards these shades. For starters they are colours that I consider to be the most vintage appropriate when it comes to putting together looks from the art deco period. They also just so happen to be the shades that work best with my colouring and I always prefer a bright bold lip over more subtle tones.
Today wearing makeup is something that we take for granted and do so without thinking, but it is only a hundred years ago that it became socially acceptable for women to wear makeup. While women have been using cosmetics for centuries, the wearing of makeup was previously considered to be a social taboo that came with negative connotations. Those who did wear makeup did so discreetly and opted for a conservative, natural appearance in order to remain 'respectable'.
It was not until the post WWI era of the early 1920s that these attitudes began to change. With the rise of cinema came the fascination with celebrity and people became fixated with emulating the aesthetics of the silver screen. Cosmetics companies introduced a new array of products in order to cater to women who were inspired by popular actresses of the day; Greta Garbo, Louise Brooks and Clara Bow.
A typical day appropriate look of the period began with a generous dusting of face powder to create a pale complexion. This was followed by applying rouge in pink shades on the apple of the cheeks, with rose tinted and raspberry shades being the most fashionable. For a day wear look, a dark shade of face powder was applied on the eye lids to create the look that brown eye shadow would today. Mascara had just come out and was available only in block form. This was used both on the eyelashes and on the brows.
One of the most iconic looks that the 1920 are associated with are thin dramatic brows. While this style was indeed popular among movie stars, it is interesting to note when looking through old photos that regular women did not wholly adopt this look. Most women instead opted for neatly groomed natural brows rather than the dramatic look of very thin penciled in brows. Wearing lipstick became very fashionable in the 1920s and for the first time it was deemed not only appropriate, but fashionable, to be seen applying lipstick.
The most popular shades of the 1920s were dark colours. Dark red shades of claret and burgundy dominated the lipstick trends of the early till late 1920s. In these photos the lipstick I am wearing is Clara Bow Bordeaux from the Rich & Famous range by Margarita Bloom. Gina, the fabulous creator of Margarita Bloom is someone I have been following for many years now through her whimsical blog and equally dreamy social media pages. If you are not familiar with retro beauty brand Margarita Bloom, there is no doubt that you may find yourself overwhelmed by the huge array of beauty products on offer and their gorgeous vintage inspired design.
The Retro Queen range by Margarita Bloom includes the Rich & Famous lipsticks; a vast selection of lipstick shades inspired by the queens of the silver screen. Named after starlets all vintage girls are sure to recognize, the range promises to moisturize and condition your lips. Clara Bow Bordeaux is described as a deep red wine colour and stays true to it's name sake Clara Bow who was known for her dark vampy lips.
Like all of the beauty products created by Margarita Bloom, the lipstick is made in the USA and most importantly of all, not tested on animals! The ethos of Margarita Bloom stands firmly in the belief that animals are not for testing on, but for cuddling. Gina herself is an animal lover and fellow cat mom, and I highly recommend giving her instagram page a follow for adorable pictures of her furry family and updates on latest products!
My first impression on wearing the Clara Bow lipstick was how sweet it smelled and the lovely soft texture that made it very easy to apply. The lipstick is highly pigmented and therefore I was able to achieve the colour you see in the photos in a single swipe. I do my makeup when I get ready for work at 6am and a typical day involves five or so cups of tea, morning tea and lunch before I remove my makeup at 5pm. I found that the lipstick required only a minimum touch up after a meal and there was no sign of unattractive feathering or bleeding.
I first wore the lipstick at the end of August, a windy month at the end of winter. Needless to say given the season my lips were sore and dry, quite a state. After wearing Clara Bow every day for a week my lips were noticeably soft and smooth, a huge improvement! I don't like to sacrifice glamour in favor of lip balm, so the moisturizing aspect of this lipstick is a huge bonus if you want to condition your lips but feel naked without lipstick.
Overall I have to say that I really do love this lipstick, and I have been wearing it non stop so you will be sure to see it in future blog posts! What makes it an every day lipstick for me is the reliable colour, the way it remains tidy throughout the day and the fact that I don't have to worry about it drying out my lips. For the art deco girls out there, the Rich & Famous range also includes several other 1920s & 30s inspired shades; Dear Dorothy L'Amour in Plum Berry, Coy Claudette Cranberry, Hello Harlow Plum, and Carole Lombard Coral Orange. To try one of these for yourself, use the code "harlowdarling" to get 15% off all items from Margarita Bloom until the 30th of the month ending at midnight!
Wearing:
Clara Bow Bordeaux lipstick courtesy of Margarita Bloom
House of Foxy Dress
Bait Footwear Shoes