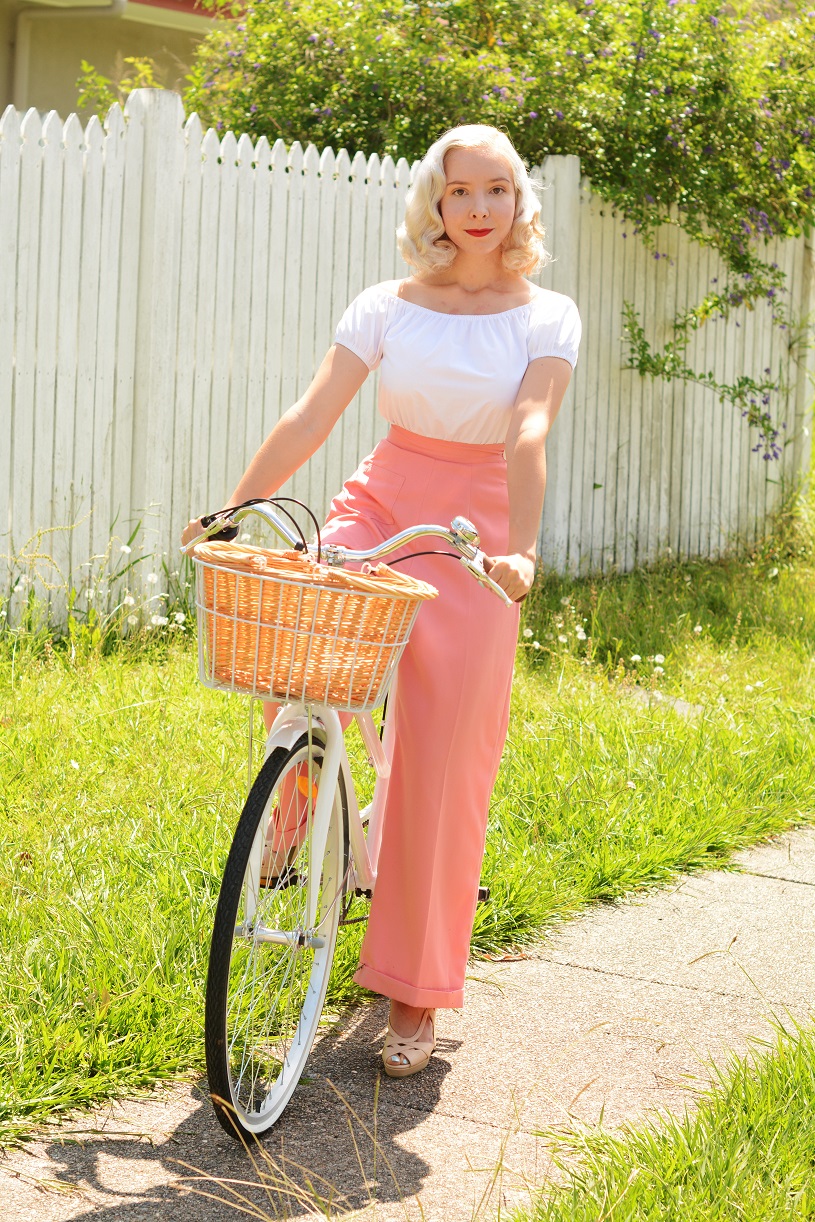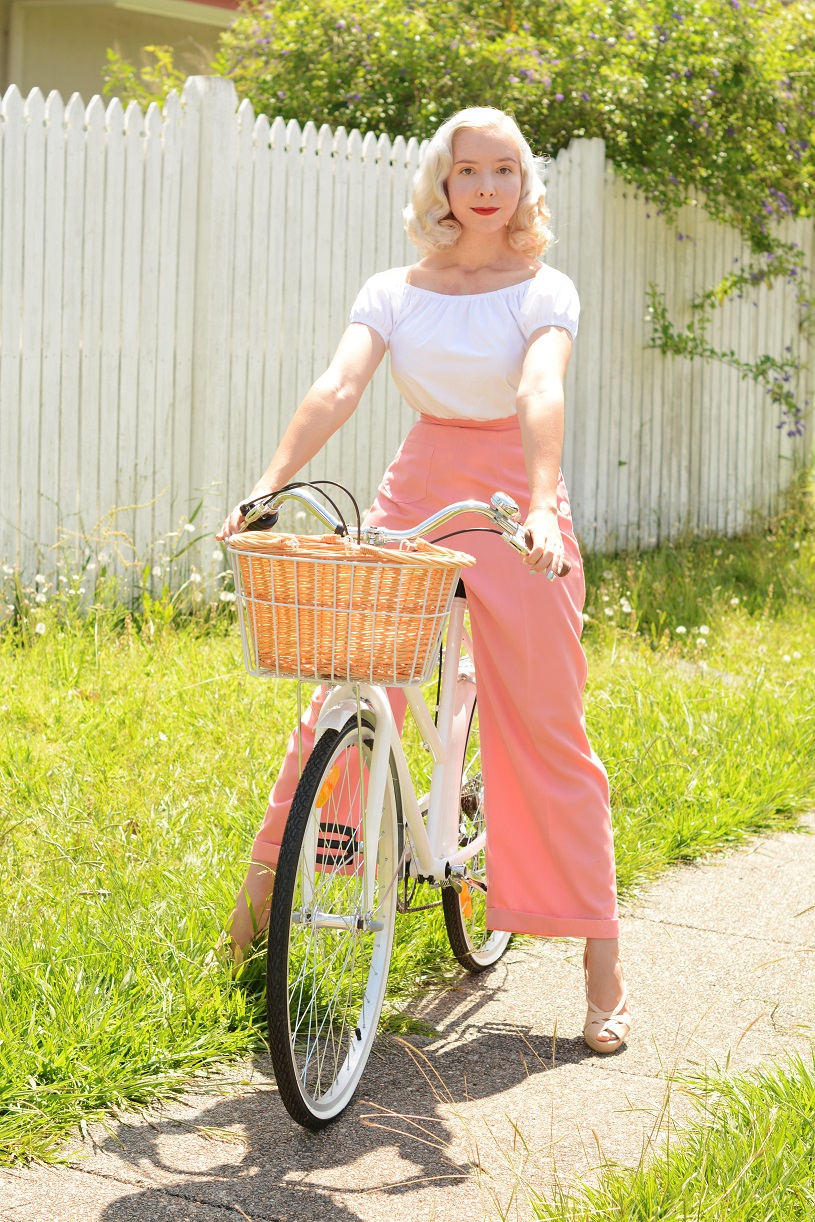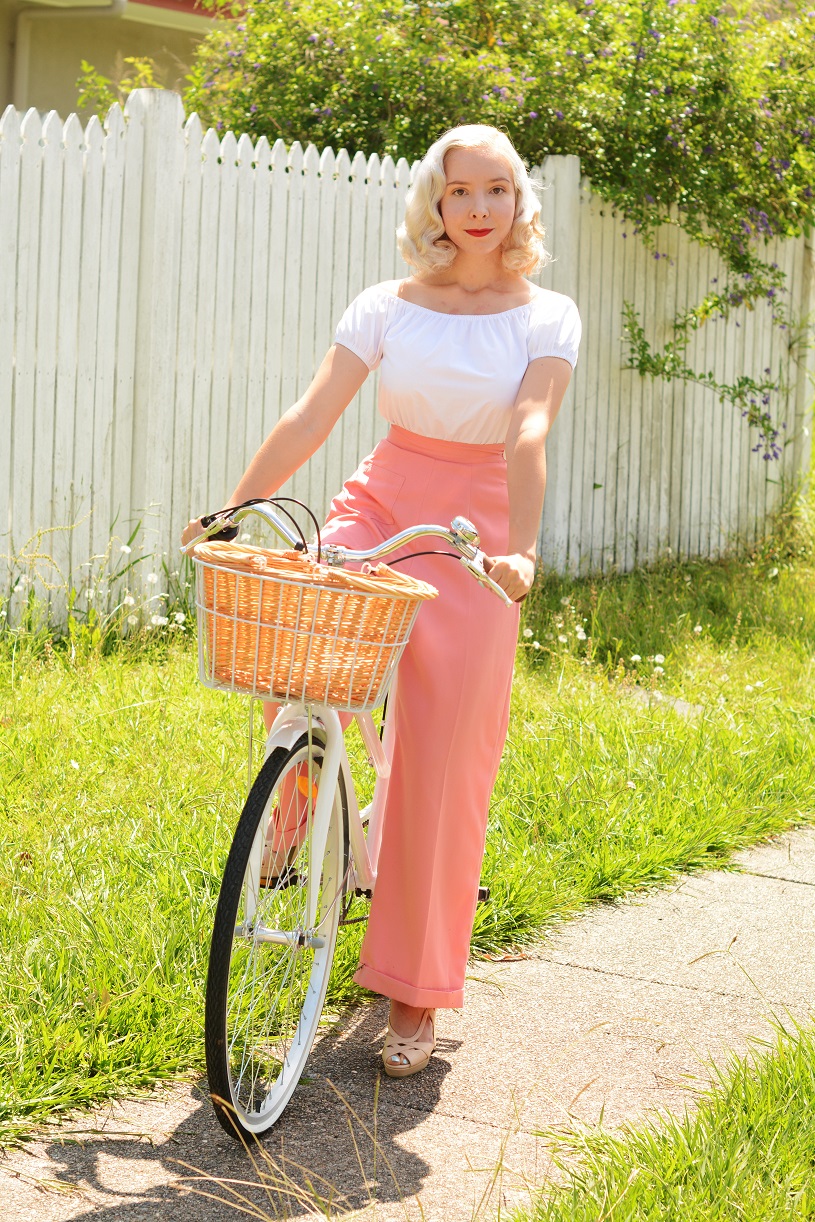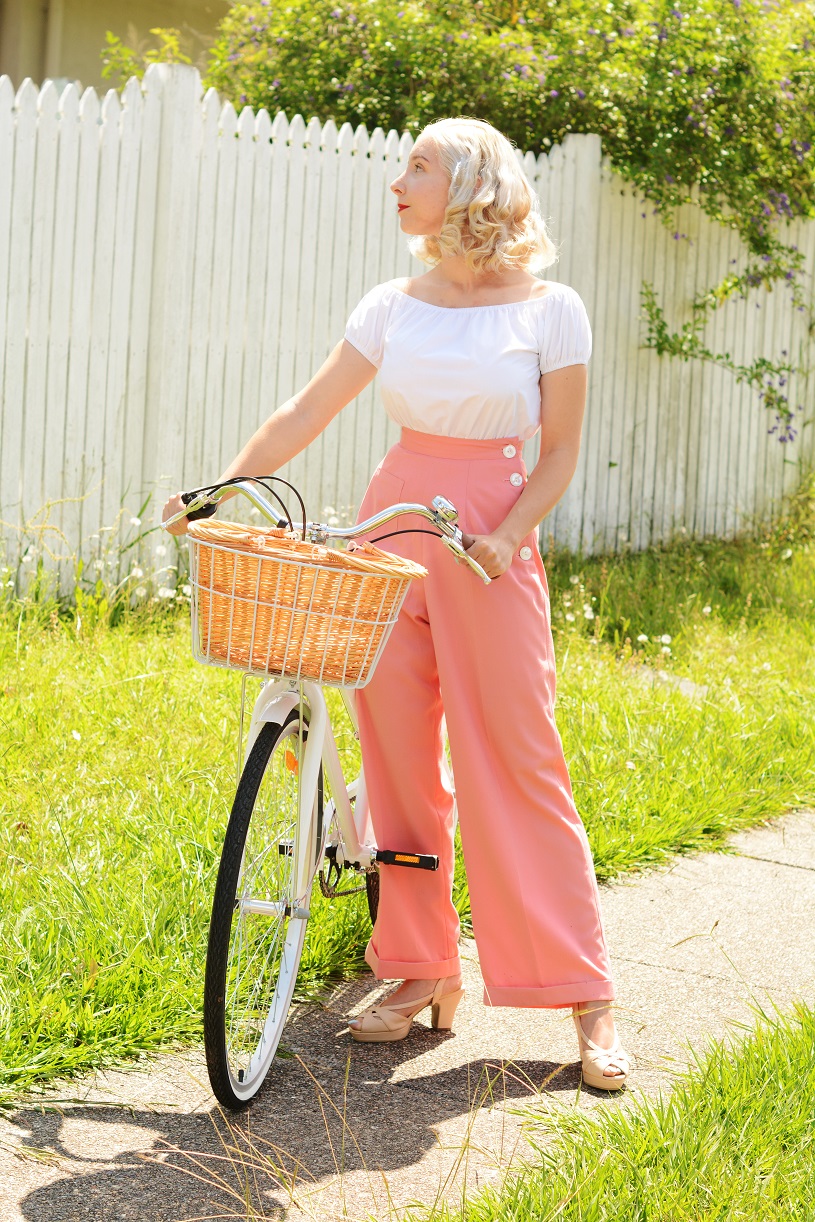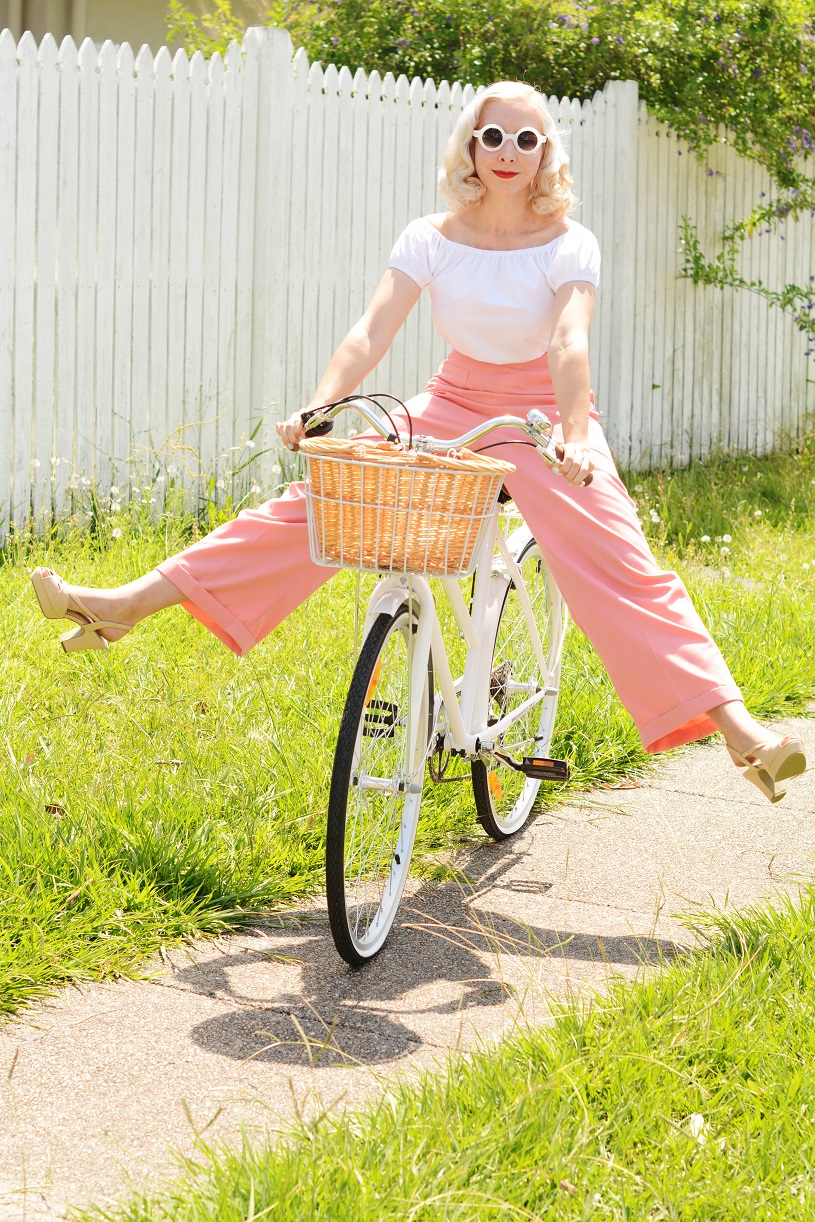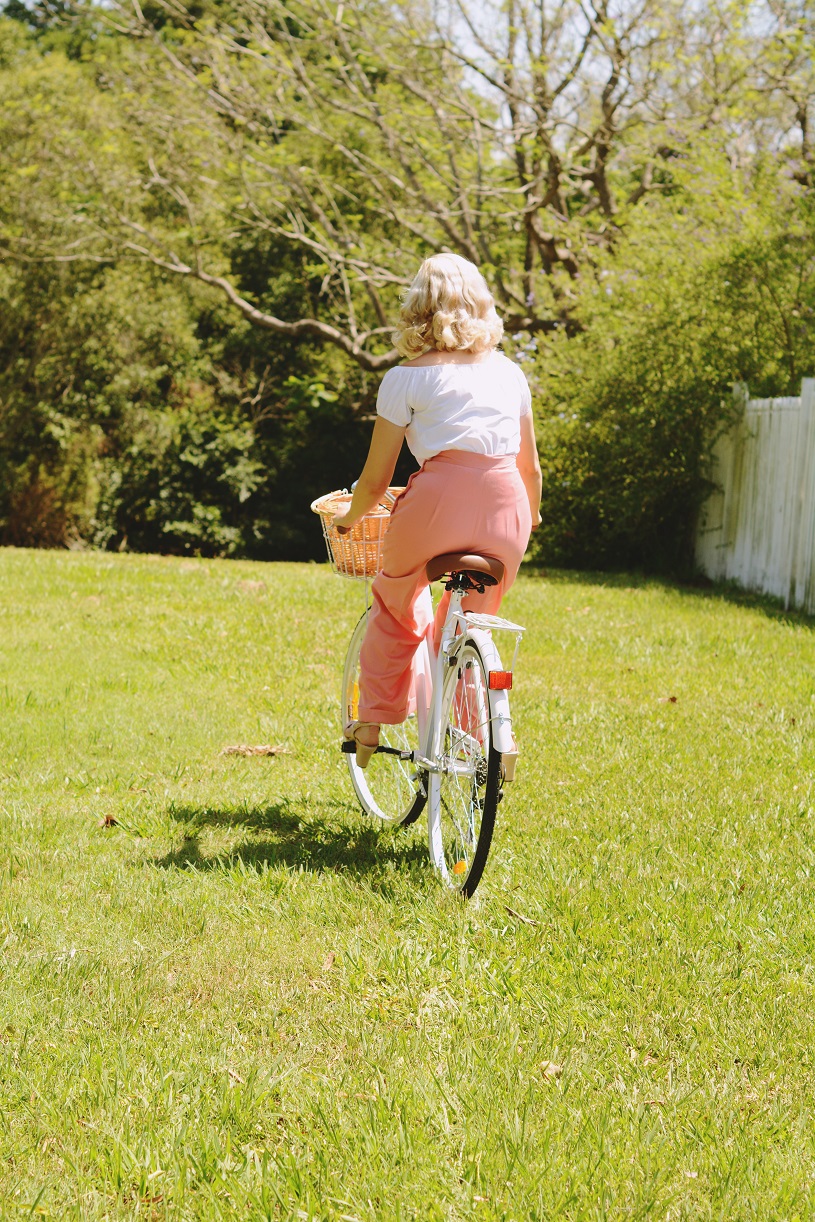 I love wearing vintage swing trousers, but always have a hard time shopping for them. I am pretty short, so the hems pool at my feet and the waist is usually too big. But for the first time ever – I actually have a pair of trousers that fit so perfectly that they did not require a single bit of alteration! These trousers are by
Vivien of Holloway
and are made with vintage sizing, so it is important to completely disregard your high street size and measure yourself carefully following the guide on their website. In accordance with the Vivien of Holloway size chart I went with the size 12, size 26 waist, and found the fit to be extremely comfortable with room to tuck in a blouse.
I took these trousers for a bike ride this morning and was very pleased with how nice and cool the fabric is – perfect for a bike ride on a summer day. While I do often wear shorts when I ride my bike, trousers really are a more sensible choice as they protect the sides of my legs getting grazed and bruised by the pedals. A small feature that I really love too is the little pocket at the front – I put my keys in mine, but it could also be great for holding lipstick for touch ups on the go! The top I'm wearing is the Vivien of Holloway Gypsy Top in Classic White, a true wardrobe staple that I already see myself styling with many outfits to come. This particular top has a peplum that can be styled tucked in or out, and an elastic waist – very useful for this time of year when I tend to expand a little as a result of indulging in rum balls and mince pies.
Vivien of Holloway is another great UK vintage reproduction company who have a huge range of dresses and separates, and I wholeheartedly could not recommend their swing trousers enough as they truly stand out in terms of quality and era authentic appearance. Although Vivien of Holloway is a UK brand, they ship internationally and for us Aussie girls, there is Melbourne retailer of Vivien of Holloway – Christine's!
Trousers – courtesy of Vivien of Holloway
Shoes – Bait Footwear