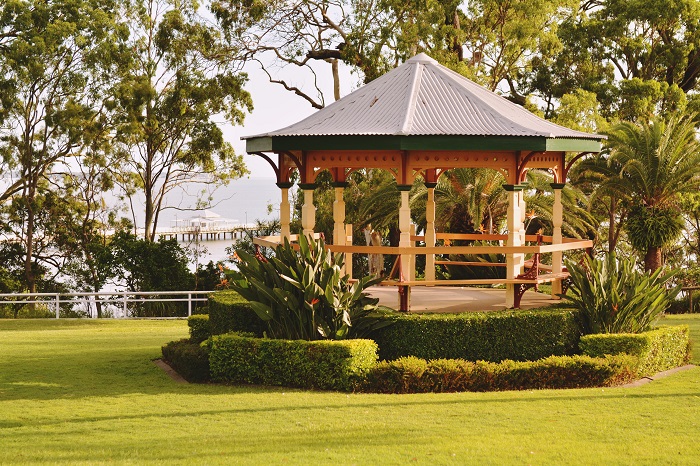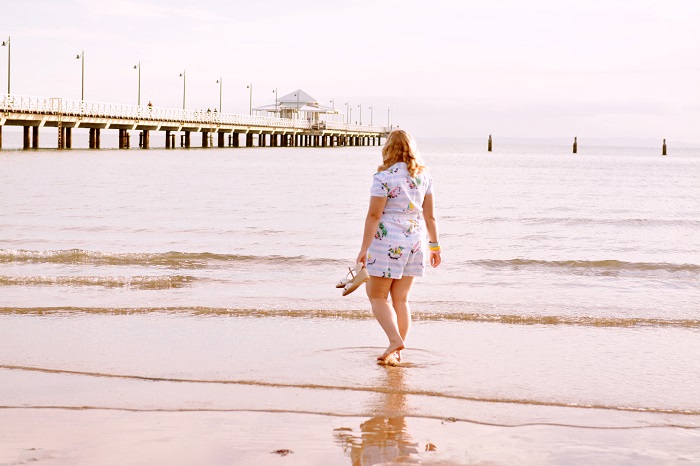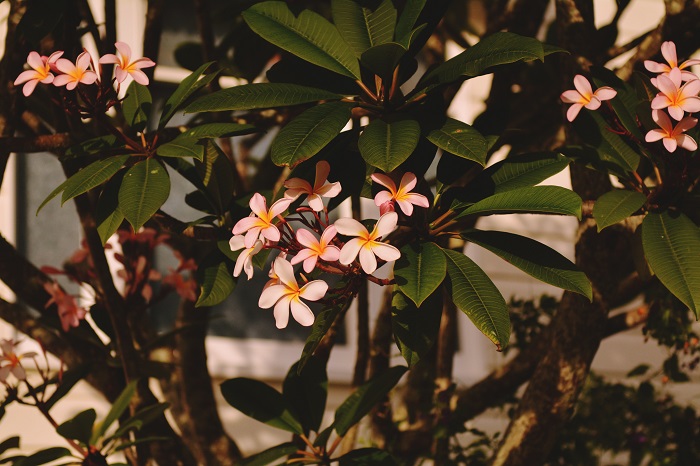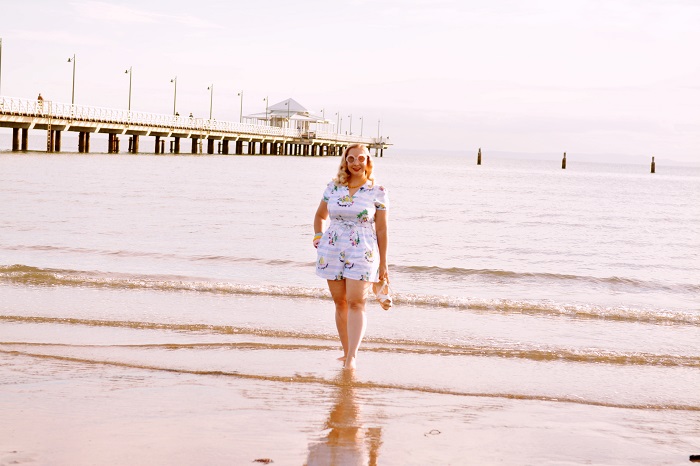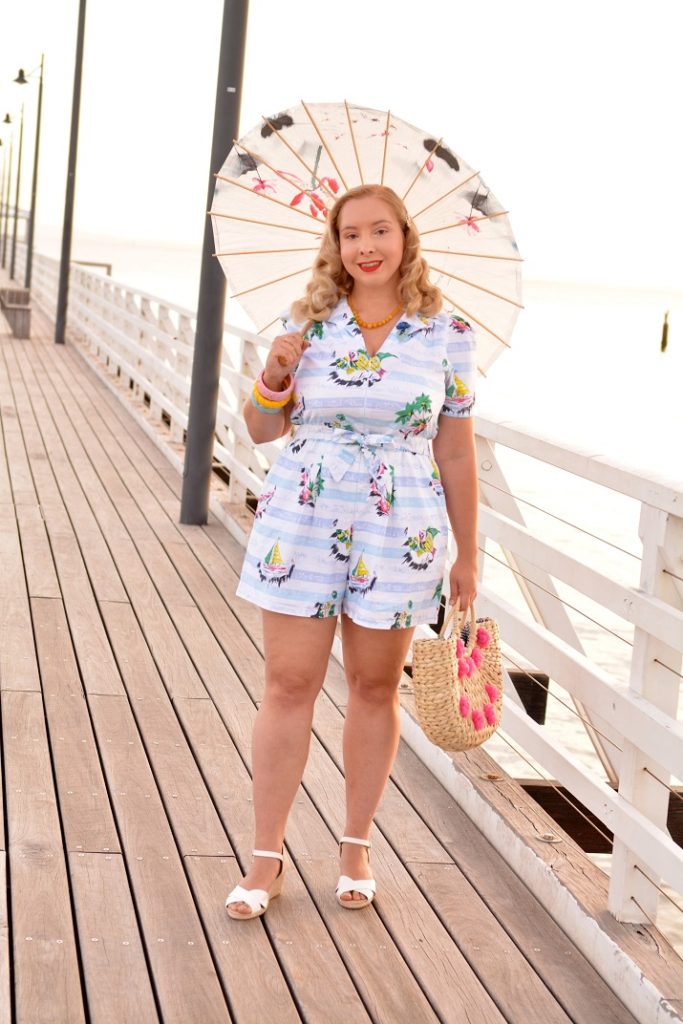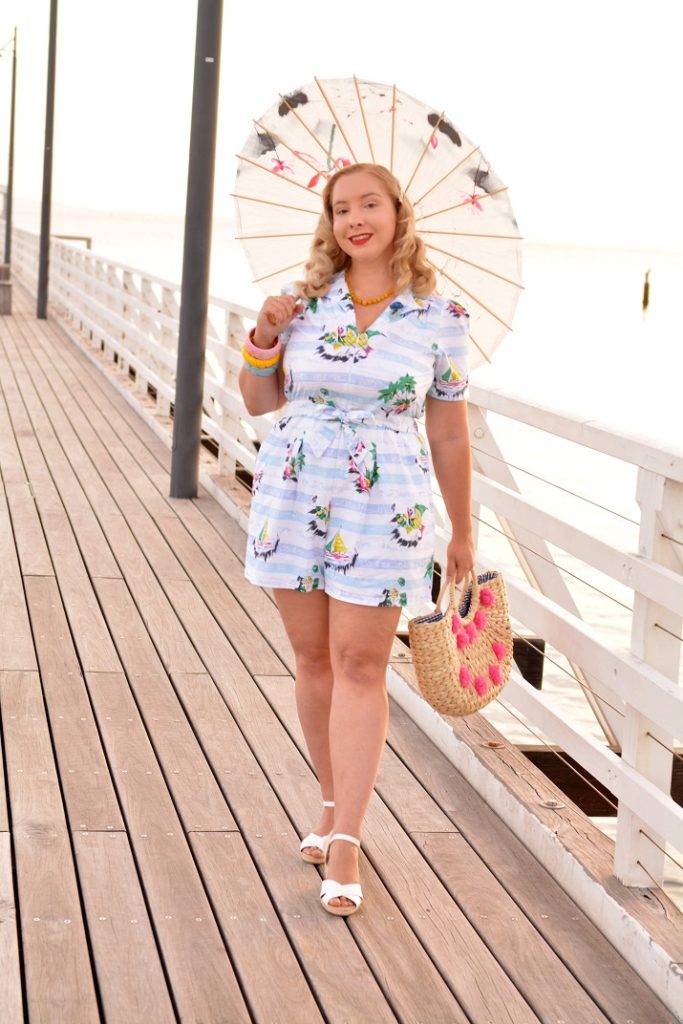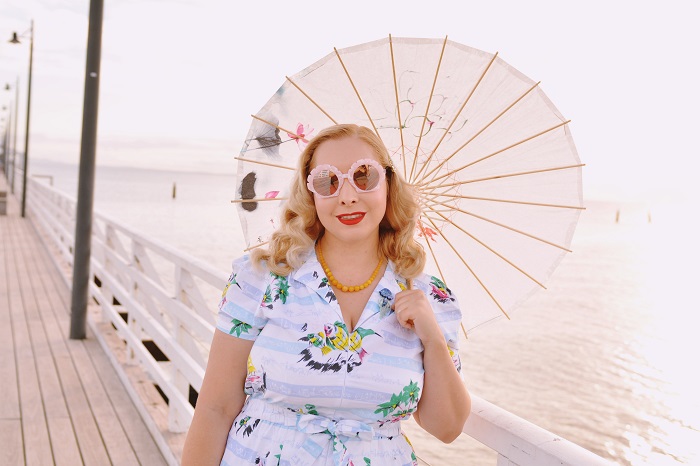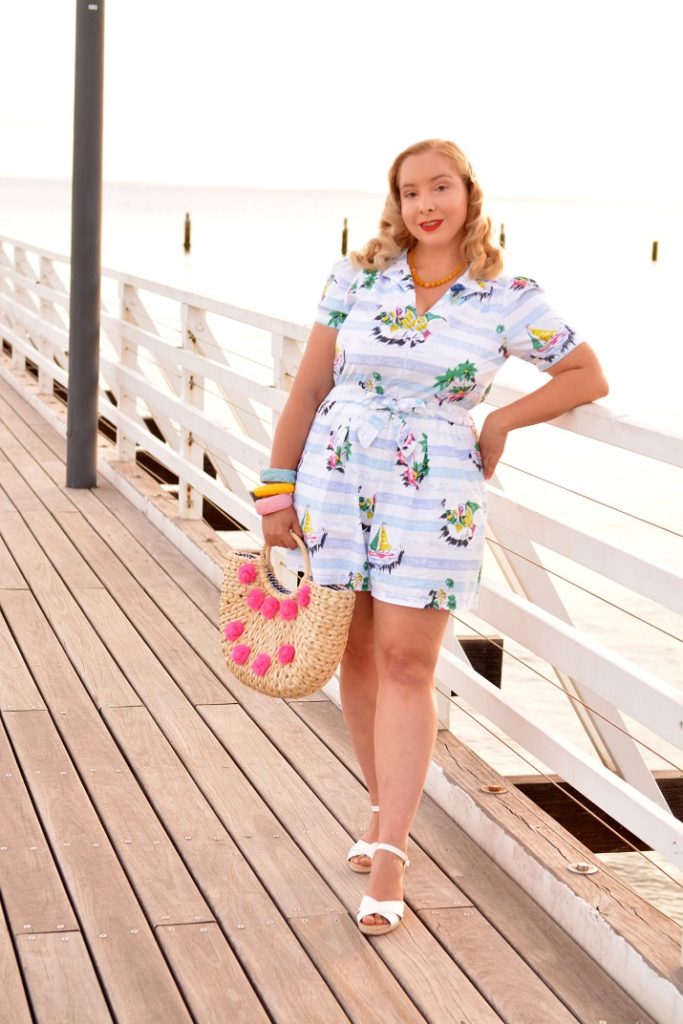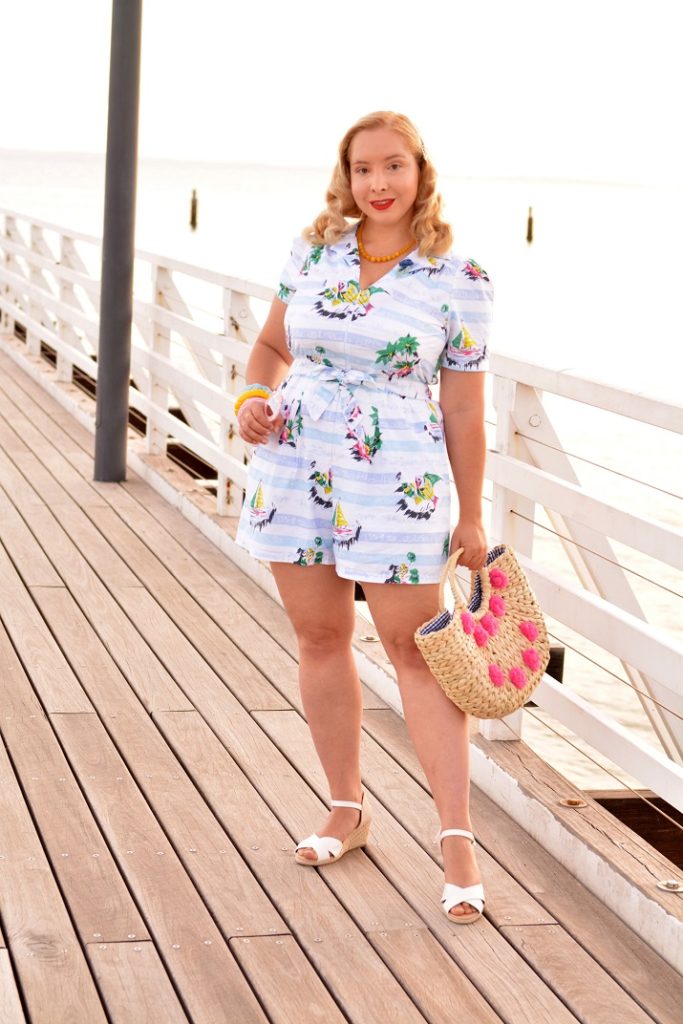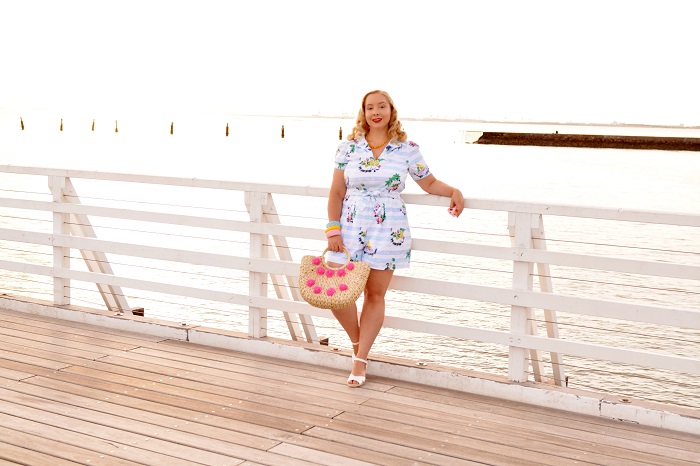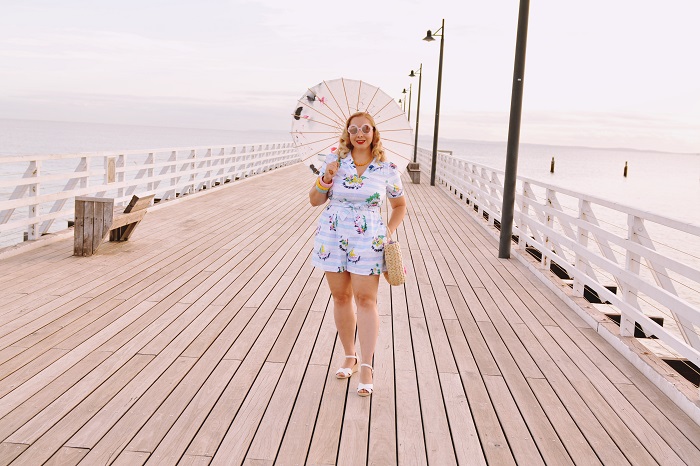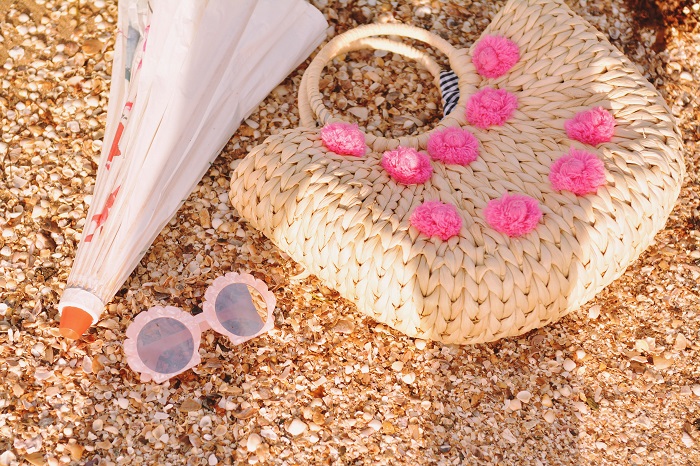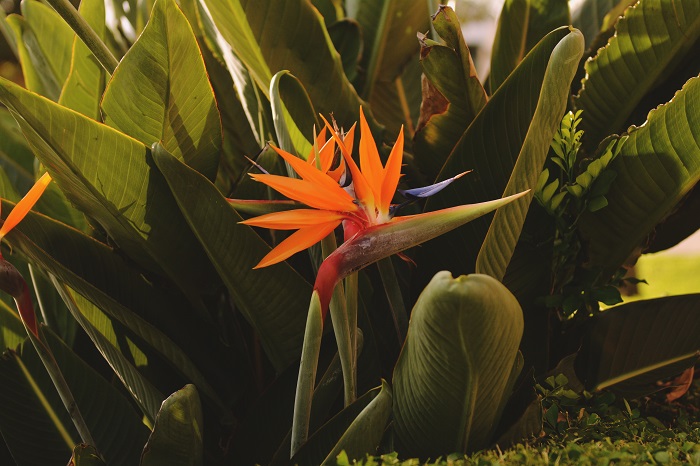 I've wanted a playsuit like this for a really long time! There's so many vintage photos from the 1940s of playsuits like this, they really are a must have wardrobe item. So I was thrilled when The Seamstress of Bloomsbury added the Emma Playsuit to their SS20 collection. I'm hoping that more of this style in different fabrics will feature in their SS21 release!
February in Queensland is typically a very rainy month. So with the prediction of rain for the next few weeks I decided that if I wanted to dip my toes in the ocean now would be the last chance for a long time…Clearly everyone else had this idea as it was a very busy morning at the beach, more so than usual. Don't let what appears to be an empty boardwalk fool you, it took a lot of patience and waiting around to snap a few photos in between large hoards of people passing through!
I feel a bit guilty posting these photos knowing that other states here are in the middle of lockdown. And that my family and friends who live overseas have been in lockdown since last March… One thing I've learned is not to take priveledges like being able to go on day trips for granted. And to savour each outing…because all it takes is a few selfish people doing the wrong thing and we will all be banned from going more than 5km from home.
If you've had your eye on the Emma Playsuit; here's a few things you might want to know. The fabric is slightly different to the original Seaside print The Seamstress of Bloomsbury did a few years ago, which I believe was a soft brushed cotton. This time around the fabric is a crisp cotton, with a slight amount of stretch. But that same gorgeous print from before remains the same. At the front of the jumpsuit there is a clever well disguised zip, just like with the siren suits, making this style very easy to wear.
Something to keep in mind however is that you do need to be able to pull the playsuit up over your hips – so purchase with the necessary wiggle room! I sized up to size 16 for this one because I always like some extra room, and although it was a bit big it wasn't a problem because of the tie waist. I bought the playsuit with intention of having it as a glamourous vintage appropriate alternative to modern day active wear. I love that playsuits like this were worn for playing sport and one of my favourite photos is of Rita Hayworth wearing a white playsuit in this same style.