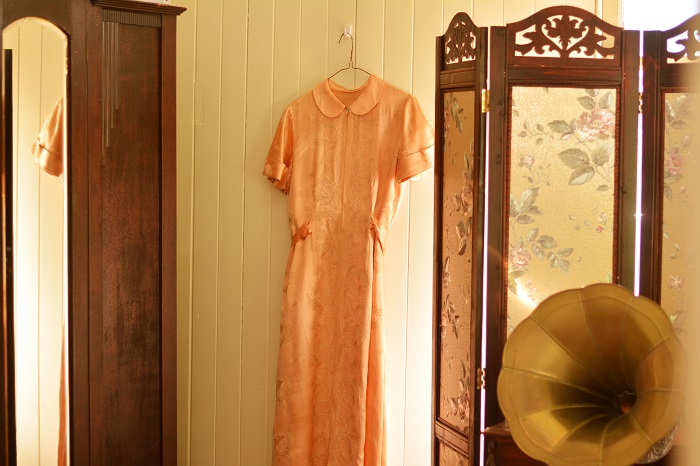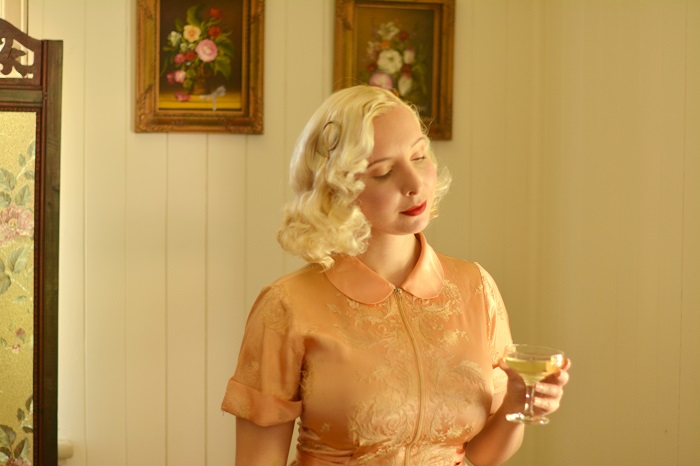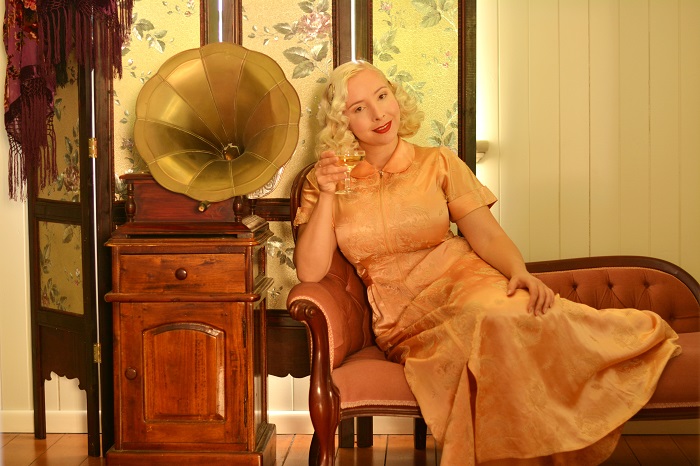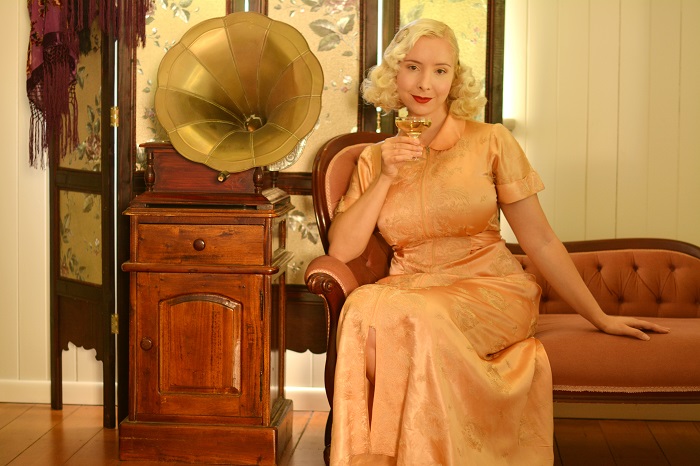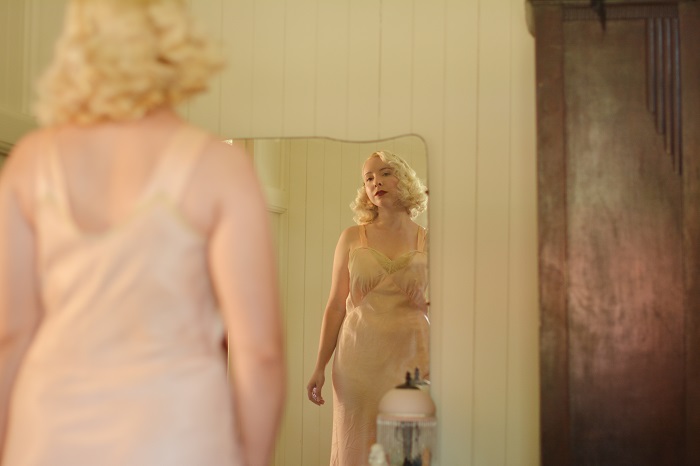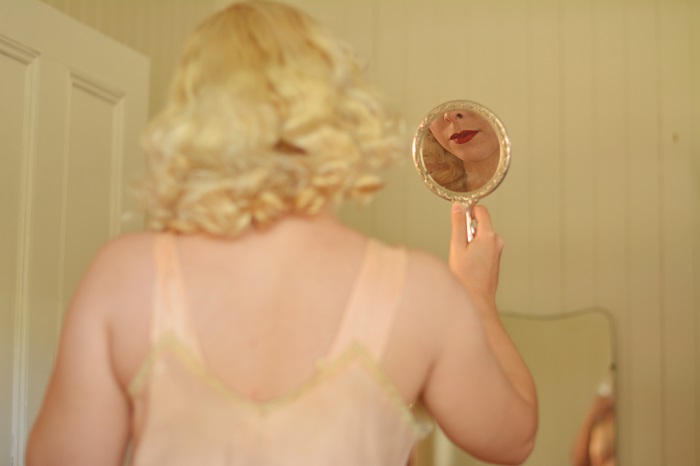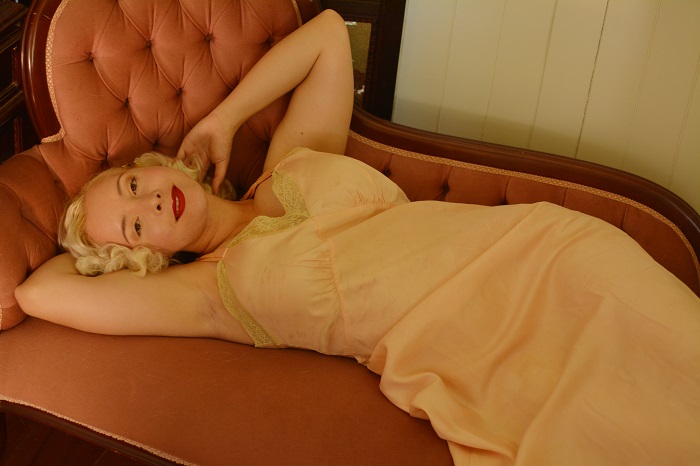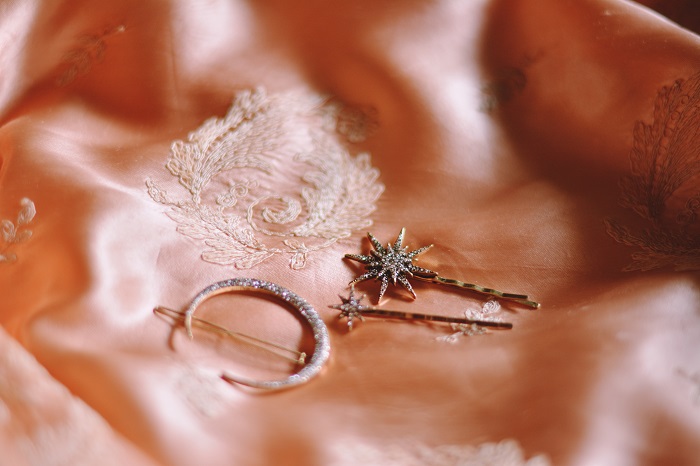 To cut a really long story short, we moved house! And moved to a different city. It all happened unexpectedly and just over the span of a few weeks and now that we are finally settled in our new home it feels wonderful to be able to sit down and write a blog post after all this time. I am so happy with how everything worked out, and I've been enjoying making our new house into a home. Now before you ask, do I actually go to bed in original 1940s sleepwear…no, absolutely not. In fact, this beautiful 1940s gown and nightie set is on loan from my friend Gabriella who collects vintage sleepwear. She's been very kind to lend me some of her most treasured items so that I can document them on here, for sleepwear these days is definitely not what it used to be.
It's fascinating to think that there used to be a time when even sleepwear was no exception to glamour of the highest order. Like this set for example which I initially mistook for evening wear when I first saw it. That said though, I completely understand anyone who might decide to wear something like this as evening wear – in fact I encourage it! You already know how I feel about sleepwear as cocktail wear…
Another thing I don't normally make a habit of is drinking champagne before nine in the morning, but there was just enough for a glass left over from last night and I felt that it would be absolutely sinful to let it go flat. And it was a Saturday morning anyway…I'm sure most of you would agree, yes? My favourite thing about this set is the zip on the gown, it's such an unusual feature and one I haven't seen on sleepwear from this era before. It's very reminiscent of the zips that siren suits had and it has left me wondering – was that the inspiration for the design? Was this owned by a well to do woman who insisted on remaining fabulous even when rushing down to an air raid shelter?
So many questions, and I guess that's one of the appeals that comes with true vintage – the mystery of who owned the item first and their experiences wearing it. I like to think that it belonged to someone in high society, for the fabric is very decadent and perhaps had a life as an actual evening gown before it was retired and made into sleepwear due to wartime shortages. The quality of the fabric, the embroidery and how delicate it all is suggests pre-war to me but I'm definitely open to hearing any theories you might have! Regardless of the real story behind it, it's got that wonderful practicality that I love about 1940s fashion and would be just the thing to have on hand for when someone calls unexpectedly…
Wearing:
vintage 1940s gown and nightie on loan via nancy_wake
hair clips – ebay